When we are talking about kids apps you should be aware about the fact that parenting applications works together for kid's safety also considering privacy protection of their vulnerable data.
These days all kids are using technology, wirelessly gadgets give them educational knowledge, emoji as well as fun and entertainment.
However, with this opportunity comes a risk for kids and their parents. Be aware of the apps when you are downloading them from the Google Play Store or Apple App Store.
In most cases it's good to know which apps are safe for children and which should be avoided or used with caution. There are plenty of useful educational apps, from exploring the solar system to building your own musical masterpiece – but there are also some pretty nasty apps out there.
At a time when kids are spending more time online than ever before and connected devices pose new risks, parents are craving good information to help them navigate the digital world and protect their children.
You can use location tracking apps for your kid safety or even parental control apps could help with kids online privacy.
To help fill this knowledge gap, themacios staff has put together a list of apps that should be avoided by teens and tweens.
When you are looking for a new app for your child, you want to make sure it's safe. But how can you know?
In this article I've collected some of the worst apps for kids, so that you can avoid them and keep your child safe.
Potentially Dangerous Apps for Kids
There has been a lot of talk about social media apps being used by a dangerous crowd. We're not talking about gangs of knife-wielding teenagers or paedophile groups. No, we're talking about something much worse.
There have been various movements to ban certain social media apps – But which app do we feel is the most dangerous? Is it an app that promotes racism, encouraging violence and revenge porn? Or is it one of the big technologies?
You refuse to live in a world where cyberbullying, inappropriate content, drugs, and heavy monitoring are acceptable for kids.
1 Tik Tok
There's been a lot of discussion out there as to which social media app is the most dangerous for children. Some would argue YouTube is the worst, while others think it's Fortnite. Neither of these answers is exactly correct. The answer is TikTok.
As social media platforms continue to grow, some can be more dangerous than others. Platforms such as Facebook have been heavily criticized in the past for providing opportunities for bad actors to target children through these networks but little has been said about everything that is wrong with TikTok.
It's common knowledge that social media can be detrimental and lead to a host of issues, but few know the effect it can have on children and teens specifically.
With TikTok becoming seemingly ubiquitous across the world – it seems like every kid is using it or at least somehow involved with it.
Is TikTok dangerous? Well, the app is one of the most popular on both the Apple and Google Play app store with easy access for children. There are concerns about it's age restrictions particularly the types of content it provides (often videos that contain inappropriate language and behavior).
We believe that some of the "challenges" encourage peer pressure to potentially take part in self-harming activities.
On the positive side, TikTok is a creative app with great feedback. It's fun to use and easy enough for children to navigate on their own. It encourages imagination and has lots of features that adults would enjoy.
However, there are also several reasons why we feel TikTok isn't worth your child using at all. We'll say it straight-up: we don't think you should allow your child to use TikTok.
It is not easy to find apps for kids, especially in the Apple App Store since you have to scroll through so many to find those that are safe for your kids to use. You may wonder if the Whisper app is safe for kids. Is the Whisper app available for kids?
2 Whisper
Whisper is an anonymous social media app that allows users to post secrets and share them with others. It is a great app for teens who want to hear what their peers are saying about certain topics, as well as vent about their own problems or thoughts on different issues.
However, Whisper has come under fire lately because of the accusations of cyber-bullying, which could potentially lead to suicide if someone feels like they are being hounded by the same messages from users over and over.
Another aspect that makes Whisper stand out among the rest, is the ability for anyone to post photos of other people alongside their statement. The photo along with the statement all have different usernames underneath them.
The intention behind this seems innocent at first; possibly to add a visual aid to what you're reading, but it makes the platform completely anonymous; meaning you cannot know whether or not the person who posted a statement is actually saying what they claim to be saying.
As well as this, there can be no accountability, meaning anybody can post anything in complete anonymity and get away with it.
Users can even solicit sex acts and use the app to arrange dates. In fact, many parents are reporting discovering the app on their children's phones and having no idea how it got there.
An anonymous social media platform that often propagates highly disturbing and graphic images, should be strictly off-limits for children.
3 Omegle
Omegle is a popular website with features that parents find to be inappropriate for children. If your kids have a history of chatting online with others they don't know, you should probably limit their access to Omegle.
According to security experts, Omegle is not the safest app to talk to strangers. Although it provides users with privacy and anonymity, it's too risky for kids.
"Be prepared for your children to come across pornography," advises Jordan. There could be full nudity, sexually explicit acts and language, or videos with the potential for exposure to such content.
Other kids might try to persuade others to engage in sexual activities as well. "There's a lot of grooming and predatory behavior," she warns, pointing out that Omegle users don't reveal their identities unless somebody initiates the conversation.
4 Tinder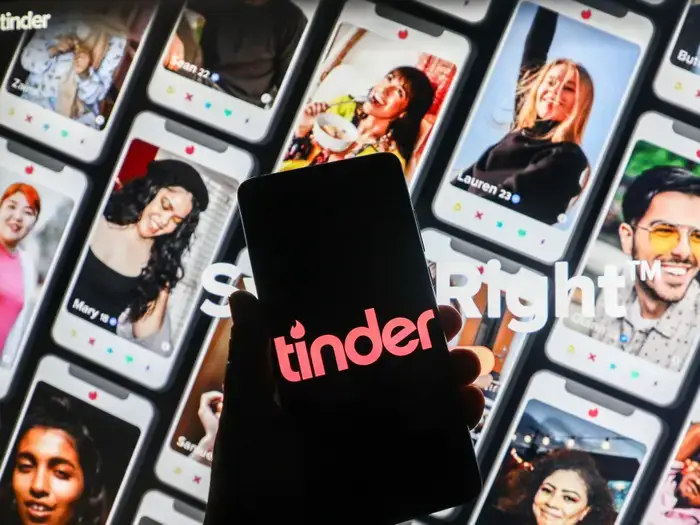 Tinder is one of the most popular dating apps out there. It works like this: you log in and then swipe through pictures of potential love interests in your area. If you see someone you like, you "like" them back and can start chatting with them if they also liked you back.
Tinder and similar sites are a great way to make new friends, but it can also be used for more adult purposes. Since the minimum age is supposed to be 18, there is no verification method in place that ensures that the person on the other end of your chat is actually 18.
Teens are therefore exposed to anyone over the age of 18 who wishes to contact them, leading to predators posing as teens and friend requests from people they have never met before.
The app is popular with young people who are looking for casual flings. It has become notorious for inciting hookup culture among teens, and has many parents worried.
5 Snapchat
Snapchat is a cell phone based massaging and media delivery system which allows users to send photos, audio clips, videos, sketches, drawings and text messages.
These are broadcasted to other users who have expressed interest in their images and may replay them as many times as they like for up to 10 seconds before the image self-destructs into digital space never to be viewed again by anyone.
This app is NOT a safe way to communicate with your friends about schoolwork, gossip, or just harmless fun. It stores personal information about you that could be stolen.
And—instead of free messaging—Snapchat encourages users to send photos and videos that will self-destruct within seconds. Without proper privacy settings enabled and warnings for new users, this app could put your child at risk!
Snapchat is so much more than a messaging application. Snapchat leaked photos display just how harmful this social media platform can be, besides exposing the names of unsuspecting victims and their naked bodies, it also puts a teenager or young kid's information at risk.
6 Kik
Kik is a messaging app that lets you connect with other users in group or private conversations, by one-on-one chat, photo, video, or GIF. The app is popular among teens aged 12 to 24 years old. But did you know that Kik has been linked to more than 1000's of child sex abuse cases?
Even though Kik Messenger is marketed to kids, this app is really only useful for grownups. That's because Kik lets you communicate anonymously and can be used for sexting, predator stalking, and dating. Worryingly, the messenger can even be set up from a child's own phone.
Parents should be aware of this app and explain the risks to their kids before they start using it. Kik appeals to teens because it's a way to connect with others anonymously, but also pose a risk for people looking for explicit images from minors.
7 OkCupid
Apps like OkCupid allow users the ability to match with others by taking personality quizzes and filling out a profile. Older children, especially those in their awkward teenage years, can easily be tempted into wondering how attractive they are to the opposite sex.
While these apps are intended to help teens build their social network and enjoy interacting with others who share similar interests, some of the questions used in the quizzes take on a more adult perspective. This could make kids uncomfortable and open them up to awkward or embarrassing situations.
However, the chance of meeting dangerous strangers or unsavory characters on these apps is high.
Conclusion
The online world can be a scary place, especially when you do not know where to look or what to do. Your child may be curious about trying new things and may want to experiment with their own limits through the online world.
Many of these sites will not be safe for your child. Be sure to monitor how much time they spend on the computer and make sure that you restrict it. Always use your judgement when deciding whether or not a site is right for your child.