Today, we will discuss the best iPhone and iPad photo editing apps. This roundup includes eight popular photo editing apps: Instagram, Adobe Photoshop Express, Picsart, Bazaart, VSCO Cam, and more.
These tools are chosen based on features, popularity, versatility, and user reviews. By the end of this post, you will have a clear idea about each app so you can decide which one to use.
Have you ever taken a photo and wondered, "Wow, this pic is great. But I wish it were even better." But you don't have Photoshop or want to learn how to use it. Luckily, iPhone photo editing apps can provide a wide array of effects, filters, and adjustments that you can instantly try on your photos with just the click of a button.
Regarding photography, a mobile phone is the most used device. Because of this, it's unsurprising that there are countless iPhone and Mac photo editing apps in Apple Store. Some photo editing apps are powerful tools, but sometimes you want a straightforward, clean app that does one thing well.
Also, see this updated list of the best camera app for iPhone and iPad.
Super professional photo editing and photo management apps for iPhone. Whether you are a passionate photographer or a standard smartphone user, there are plenty of excellent apps to discover and use.
Suppose you are interested in something other than the technology behind a perfect photo editing app or how to take better photos. In that case, it's more important to find apps that transform your photos into artwork in their own right.
New iPhones have multiple excellent cameras with a lot of potential. It would help if you learned the art of photography and tips to improve iPhone photography.
If you are bored and want to try something different that can take your creativity level to the next higher level, you must think of doing something creative. What should be better than a photo editing app for iPhone?
The iPhone has some excellent built-in camera features and tools but is limited. Yes, you have a decent variety of filters, but the filters tend to be either too subtle or too over the top. With photo editing apps for iPhone, you can do more than apply filters – you can create collages and overlay Instagram-like effects on top of your photo.
Everyone loves taking photos with their iPhone, but sometimes the iPhone's built-in app just doesn't cut it. Luckily, plenty of apps are available that turn the iPhone's touchscreen into a digital photo editor that rivals Photoshop.
In this roundup, we'll take a look at 8 photo editing apps for iPhone that go beyond Apple's built-in app. They all offer various image filters and editing options to help you manually tweak your photos. Some also include advanced features such as collages, panoramas, and video editing software.
To get you started, here are some of my favorite photo editing apps for iPhone.
Picsart (Free + Paid)
There are several iPhone photo editing apps that can bring a lot of fun to your photos. Many apps help you make minor picture changes and share them with friends. But they cannot deliver what Picsart can do for you. It is one of the best photo editing apps for iPhone if you want to use it for professional purposes.
With Picsart Photo & Video Editor, you can create eye-catching pictures for Facebook, Instagram, Twitter, and other social media platforms. Hundreds of millions worldwide have chosen PicsArt to bring their photos to life. The PicsArt community is filled with talented photographers, graphic designers, and digital artists constantly pushing creative boundaries.
It is not so easy to find a photo editor that can suit your different needs, but PicsArt gives you this and more. It's a collective set of photo editing tools that combines everything you need.
You can edit photos, add text or illustrations, choose from many amazing stickers, or use magic effects to make unique designs. Even if you are not a designer or skilled photographer, this little tool has something for you!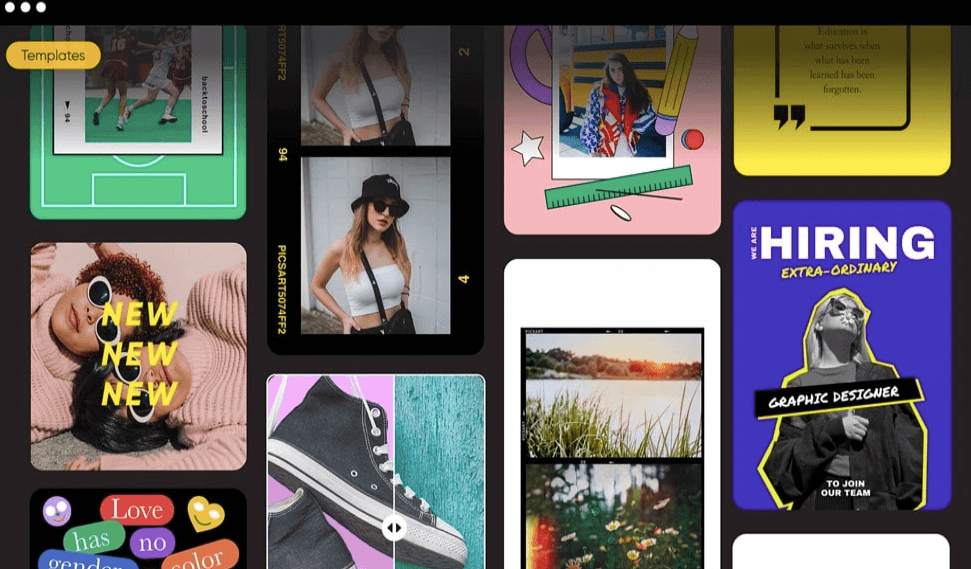 Whether you're a photographer or a casual fan, Picsart makes taking, editing, and sharing images effortlessly. Take unique pictures with instant filters, or turn ordinary photos into stunning images with fun photo effects.
Picsart has thousands of free premium stock images in every style imaginable. Choose from any of the trending filters, or start an editing project from scratch with your photos.
Whether you want to clean up unwanted parts of an image, add text for a comic effect, or erase and replace backgrounds using the Background Eraser tool, Picsart is the only photo app you'll need.
The Picsart app offers hundreds of free tools and effects, including the Magic Tool, which lets you transform photos into unique cartoons. You can add text to your pictures, combine pictures into collages, or create inspirational quotes.
It provides you with all kinds of professional image editing functions, allowing you to make your pictures look extraordinary. This fun photo editing tool allows you to crop, adjust lighting effects, remove objects, and add text to your photos to send or sync to other social media platforms such as Facebook, Twitter, Flickr, etc.
Picsart has all the tools you need to take your mobile selfies and group shots to the next level. From our AI-powered brilliant selection tool that lets you easily blur the background of your photo to our hair color changer that makes it easy to touch up greys, it has got you covered.
Picsart is also great for editing pictures of your favorite places and things, thanks to various stickers and other customizable frames.
No special effects, tools, or adjustments will be needed. This app lets you easily edit your photos and videos like a PRO.
Picsart's photo and video editor is loaded with tools to help you make any picture stunning. Take a boring photo, add some stickers (including exclusive free stickers), and quickly turn your masterpiece into a short video with visual effects. The AI-powered Smart Selection tool makes it easy to blur backgrounds or focus on the person you want with just one finger. Picsart has everything you need for visual expression — Download the app now!
A fast and simple way to edit Photos on MacBook Air and Pro
Photoshop Express Editor (Free + Paid)
Best Professional Editing apps for beginners
Have you ever wanted to remove a blemish, re-color your photo, or even clean the background on your photo? With Photoshop Express Photo Editor, you can easily touch up or completely transform images in seconds. It's a fun and easy way to add unlimited HD filters, adjust tones, remove redeye, crop, and rotate or straighten photos.
I had been checking out Photoshop Express on an iPhone. There were a lot of reviews from people saying it was great. When I first launched the app, it was incredible how powerful and feature-rich this app was.
This app has been able to do almost anything you can do on a computer except display things live on your phone. One of the marks of Photoshop is that you can take any picture, open it up in Photoshop, touch it up a little bit, and then save the photos to where they are still high-resolution files but look as if they have appeared professionally taken by a professional photographer.
The new Photoshop Express is your all-in-one photo editor for quick fixes and unique looks. Fixes start with a single tap to correct red-eye, enhance lighting, or add a tint to only faces in your photo. Enhance with over 200 powerful editing tools, including Cutout, Collage, Auto Tone, and more.
Photoshop Express is the best way to create beautiful photos. The image editor automatically analyzes your camera's settings so you can easily fine-tune the exposure, saturation, curves, and other adjustments.
From beautiful bokeh with a depth of field or a dramatic black-and-white effect to pixelation effects and vignettes, use creative filters to add stunning details to every photo.
The stunning filters in Adobe Photoshop Express will transform your photos into one-of-a-kind artwork. This easy-to-use photo editor works with Photoshop tools you already know and love, like Levels, Curves, Selections, Colors, etc.
No matter what kind of image you're bringing into Photoshop Express (from a mobile device or Adobe Creative Cloud), you can edit them to perfection in no time.
Photoshop Express makes it easy to perfect your images—and have fun while doing it. Pick one of our gorgeous effects filters, like Bright or Charm, and brush on the adjustments for the right look. Or adjust on-point essentials like exposure, auto contrast, and saturation.
Photoshop Express is your everyday edit, enhance and browse the app. It has everything you need to touch up that selfie (because everyone loves a little retouching now and then), change the look of a photo, apply a new effect or filter, or browse from a massive selection of free images.
Photoshop Express is the quick, easy way to edit your photos on iPhone or iPad. Enhance your photo in a tap with new Overlays, including light-leaks, bokeh, and raindrops. Remove any unwanted elements from your photos to create share-ready photos with Advanced Healing.
Explore Color Temperature, Vibrance and other effects with an easy adjustment slider. Remove fog with Dehaze for clear, detail-rich scenery.
You can choose from dozens of unique, fun, and adjustable overlays, including light leaks, bokeh, and raindrops. Touch up your photos with flexible denoise. Adjust brightness, contrast, and more with a simple slider drag. Crop or rotate your photos, then switch to black-and-white or add dramatic vignette effects to create stunning, professional images.
Photoshop Express is a free iPhone app from Adobe Systems that you can use to edit pictures. It's beneficial for those who frequently take photos with their iPhones and have to spend more time editing them to make improvements.
The Photoshop Express app combines four essential mobile editing tools in one fast, easy-to-use package to give you even more control over your photos.
One can Instantly adjust brightness, contrast, saturation, and other photo essentials to improve your shots with automatic presets or just a few simple taps. Then easily share your creations on Facebook, Twitter, or any other social networks you use daily.
Related: What is an HEIC file? How to open HEIC file? and How to convert HEIC to JPG
Bazaart Photo Editor & Design (Free + Paid)
Best Graphics and design app for iPhone and iPad
I recently started reviewing Bazaart for editing pics. Previously I reviewed Photoshop Express, Camera+, and other good apps for simple edits. I wanted to try something new since I was getting bored of them all. As a reviewer in this field, there are various kinds of photo editors, filters & effects that you have to choose from, and the choice is overwhelming.
This app is everything you love but so much more. The new version of Bazaart comes with fantastic photo editing tools to make your photos beautiful in seconds. Editing and creating with Bazaart has never been easier, and the results are awe-inspiring.
Bazaart photo editor is one of the best photo editing apps for iPhone available on the app store. What makes Bazaart stand out among the many other photo editing apps? You'll find over 100 unique filters, stickers, and many add-ons!
The image quality is good when adding filters or fiddling with the little things like cropping or zooming. If you're looking for a good iPhone photo editor, you should try it out.
Bazaart for iPhone is a professional photo editor and design app with a simple, intuitive interface that lets you make amazing photos. Add extraordinary photo effects, filters, frames, stickers, text & drawings to your images immediately.
With Bazaart, you can add artistic flair to vacation pictures and portraits and decorate them with borders, stickers, and text. The app allows you to easily align images and add filters, stickers, text, and more. It gives you access to its internal camera and lets you quickly create stop-motion videos and GIFs.
Bazaart is your one-stop shop for all your photo editing and design needs.
Designed with simplicity in mind, Bazaart offers easy-to-use tools like the magic eraser tool that removes unwanted objects from photos with ease; shape cutouts that let you perfect your collages and add flair to your photography; and the powerful fade tool, which help give your photos just the right amount of light.
With the Bazaart photo editor & design app, you can create amazing photos quickly! Bazaart makes it fun and easy to transform ordinary moments into works of art. Add as many layers as you like, and change your effects, colors, textures, and fonts to create your perfect design.
Use the built-in stickers and shapes or add images from your photo albums or camera. You can even edit your work later or share online!
With an elegant, easy-to-use interface, you can make basic adjustments such as exposure, contrast, saturation, tint and blur, apply any of over 100's of photo effects on your photos, and more!
You can Make your friends look even prettier or make your dad proud by turning one of his nostalgic Polaroids into a work of modern art. You can create beautiful drawings and funny cartoons and give a touch of surrealism to the most ordinary object around you.
Using Bazaart's extensive collection of filters and effects, you can add color, texture, and light to all kinds of things most people never thought were possible. Create a masterpiece now!
Prisma Photo Editor (Free + Paid)
Excellent iPhone Editing app with gorgeous presets & textures
As a photographer, Transform any photo into a piece of art with Prisma Photo Editor, now available for iPhone. Enjoy the work of talented artists worldwide, or try creating masterpieces with over 300 artistic filters ranging from impressionism to hyper-realistic.
The Prisma app is a creative new photo app that lets you apply unique art filters to your favorite photos. Become a true artist and transform your pictures into elaborate works of art. Experience the magic of original hand-drawn artwork created by humans, and apply it to any of your photos.
Prisma is easy to use. Simply choose a photo from your device's built-in camera roll or shoot one with Prisma right away, and it will turn it into art using technology based on artificial intelligence. You can swipe through the various artistic styles and swipe up/down to adjust the strength of the effect.
You can transform any photo into a detailed masterpiece with a single finger tap. This is not Photoshop. Anything you can do in Photoshop can be done on Prisma. Create beautiful works of art with Prisma Photo Editor.
The app applies a "style" filter to your photos, turning even the most ordinary images into works of art.
It works with both portrait and landscape photos, and applies filters to the whole picture or just parts of it to achieve the effect you want. Its result is akin to that of an artist rather than a computer algorithm – a distinctive effect that can be as trippy as it is subtle.
It contains a great mix of filters that helps you transform your photos into amazing pieces of art. Prisma's filters use neural networks so they are different for every photo you apply them to.
The app comes with a collection of edited photos to demonstrate the app's capabilities, such as turning macro shots into lovely nature paintings and portraits into pop art!
Prisma's cutting-edge technology has already made big waves on social media, where users like you share their edited photos with millions of others. Whether surrealistic portraits, double exposure sources, or fine art landscapes, Prisma brings out the artistry in any picture you take.
Adobe Lightroom: Photo Editor (Free + Paid)
Best Photo editing app for taking RAW and DSLR Photos
Adobe Lightroom is a powerful tool for unlocking your creative potential and making your photography look amazing. From automatic to manual, explore the flexibility of this one-of-a-kind app to create unique images you'll love.
Adobe Lightroom has some features, such as powerful tools to adjust light and color in your images and create stunning images from scratch.
Presets are pre-determined configurations for tasks like editing and filtering. With over 70 premium presets created by professional photographers, you can edit your photo with presets so you don't have to reinvent the wheel each time.
Once you open your Adobe Lightroom app, you'll see your photos all in one place. Touch one to see before and after examples from the preset.
Swipe left and right on your photo to see how different presets can dramatically change the same picture. Or, add a new edit with your twist. All these tools are within reach — whether you're a beginner or a pro.
For desktop users, this app is included with your Creative Cloud membership and available for purchase for non-members.
The Adobe Lightroom app helps you get the most out of your camera by ensuring your photos turn out the way you want them to. You get easy sliders to adjust photo properties, tools for crop and rotation, the Retouch tool to change light and color, and more.
The powerful Geometry tools enable users to adjust perspective and straighten lines in their photos. In contrast, the Guided Upright tools help bring photos back into precise vertical, horizontal, and parallel lines to create perfect shots.
The integrated compare feature lets you compare different versions of a photo side by side. In contrast, the selective color tool enables you to create accent colors to emphasize your main subject.
Selective Adjustments allow you to fine-tune your pictures' details by only making edits to specific areas of an image. The Healing Brush removes unwanted, distracting elements, even when retouching portraits. The Local adjustment options are a great way to make advanced color changes with precision.
In addition, advanced color grading now allows you to apply multiple grades in one layer for complete control over digital color.
Adobe Lightroom provides tools for every aspect of your digital photography creation and editing workflow. What Adobe Lightroom gives you: A powerful image organizer with efficient, non-destructive methods for importing, sorting, and editing images.
Profiles and metadata make organizing your digital photos into a snap (just how we collect physical pictures in our homes)—a workspace with broad capabilities and a beautiful aesthetic that makes your digital photos pop.
The Adobe Lightroom Photo Editor's unparalleled power to see instant results, create targeted adjustments where you need them, and preview the image before any changes are made.
Bringing mobile photo editing to a new level, Lightroom for mobile allows you to enhance your photos and easily share them with friends quickly. Whether on the go or at home, it's the perfect tool for capturing life's best moments and getting creative with your photography.
Photoshop Camera Photo Filters (Free + Paid)
Best lens effects and filters for iPhone
Edit your images right in the camera with Photoshop Camera. This easy-to-use camera app has over 100 lens effects and filters inspired by top photographers and Instagram influencers to help you take your photos to the next level — no photo editing experience necessary.
Sharing your favorite creations straight from the app is also simple, so you can quickly start building your own visual stamp and expand your photography portfolio.
Capture the scene around you with various inspiring photographic looks and effects, including analog camera filters, dreamy light, faded color, and more.
Once you've taken your shot, adjust it with intuitive controls, and customize the look using filter packs curated by Adobe's team of experts. From subtle to striking, share your unique vision through your camera for iPhone or iPad.
It is an all-in-one photo editor and camera with stunning AI-powered features, including auto-optimized photo filters for selfies, food, and landscapes, blur background effects, and portrait controls that let you brush in bokeh for your subjects.
The auto-touchup tool applies automatic one-touch fixes for red-eye and bad lighting.
The ability to capture pro-quality shots in low light; audio stickers and Snapchat-like stickers to add sound effects or emojis to your images before sharing them on social media; fun built-in photo frames.
The "Auto-Tone" option offers real-time editing, doing away with unrealistic brightness and contrast levels to make your pictures look like they were taken from life. Thanks to the power of Adobe Sensei, you'll get real-time photographic effects without compromising on quality.
Use Portrait Controls (Bokeh, Face Distance, Face Light, & Face Relighting) to capture the perfect Portrait. The Face Light and Bokeh features create the ideal Portrait, eliminating shadows or glare on your subject's face.
The new Real-Time Effects give you more brightness, contrast, vignette, and realistic textures for a natural look with every photo. Add warmth to winter portraits, make the sun look like it's shining on your palm trees, or change the mood of a twilight shot to make it look like magic happened underneath the moonlight.
VSCO Photo Editor (Free + Paid)
The VSCO app brings professional editing tools to your fingertips. You can choose from a variety of presets to enhance or transform the way you shoot, and save your edits for the future. Try using the sliders to adjust Contrast, Saturation, Vignette and Grain for a subtle or dramatic effect.
The VSCO photo editor app features advanced presets, and photo editing tools to help you take your photography to the next level.
With a complete product library of over 200+ free presets, you can choose from all your favorite cinematic film stocks or instantly turn any image into an exquisite mix of color tone with powerful Split Toning tool. You can edit your images with advanced photo editing tools like HSL, LUTs, Split Toning, Borders and Frames for portrait or landscape images.
With a subscription to VSCO X, your favorite features are now unlimited. Apply any preset from any of our preset packs (Free or VSCO X). Explore hundreds of presets that add vibrance and character with Kodak film simulations, Fuji film simulations, and more.
VSCO's Film X presets give your photos a vintage look complete with scratches, dust, and pinholes. You can create your own unique colors using HSL sliders.
Photoleap by Lightricks (Free + Paid)
Powerful photo editor for iPhone with RAW support
The PhotoLeap app makes it possible to superimpose images in a whole new way. Unlike other apps, PhotoLeap allows you to create double exposure, mixing elements from different photos. With sophisticated layer blending modes and perspective control, PhotoLeap will enable you to create complex compositions easily. It's the ultimate photo editing tool for your iPhone.
Choose a photo, apply a blend mode or textures, and then another image. You can easily switch any layer on / off. The possibilities are endless – ideal for stunning iPhone photography, mobile wallpapers, impressive slide show presentations, etc.
Just take two pictures, and Photoleap automatically finds exciting photo combinations. Blend any picture you want in any way. Make background changes, adjust blending modes, add vibrant neon effects, and combine any images with Photoleap.
Add magic to your photo editing with Photoleap's auto-correction and enhancement features. The mix-and-match duo filters will help you create unique styles. Enhance and correct your photos with one easy swipe. Edit your portrait or landscape independently or together for multi-led images.
Take your photos to the next level by adding textures and light settings.
Lightricks' Photoleap enables you to create the perfect image with intuitive and powerful editing features.
It allows you to adjust or correct the tonality of your photo, set the brightness, apply a vignette to give it a softer look, and much more, all in one place.
Whether you want to fix blemishes, improve colors, add smoke or grain for looks of days past, or create beautiful image effects, Photoleap is the one-stop photo editor for your needs.
It's ideal for photographers and fashion bloggers, but it can also be used by graphic designers or anyone who needs to create unique social media graphics. Photoleap's features include text and photo overlays, excellent illustration tools for graphic designs, great photo filters that make professional and stylish effects, and more.
Wrapping Up
If you like to take photos with your mobile often, you might want to own an app that helps you retouch, add special effects, change style, and create unique collages. These photo editing apps will leverage your editing skill to a professional level, making your snapshots more wonderful!
Finding the best photo editing apps for iPhone and iPad is challenging since many of them are in App Store. Most of these apps have good features and deep levels of customization.
However, the selection can often seem overwhelming, and many of us end up with dozens of photo editing apps on our iPhones or iPads, none of which we use.
Hopefully, this article will help you avoid this fate by presenting some of the best photo editing apps for iOS.
A Sotware and cloud engineer. I have written technolog articles for hackernoon, Instructables, easeus and other reputable sites. More than 7 years of experience in the industry.