App Category: Navigation
Device compatibility: All the apps below are compatible with iPhone, iPad, and iPod touch. All these apps are free iPhone gps trackers with premium subscriptions.
Below apps listed are compatible with iPhone 13, iPhone 12 Pro, iPhone 6, iPhone 7, iPhone 8, iPhone SE, iPhone X, iPhone 11, iPad Pro and more. Follow the below guide to know which are the Best free iPhone tracking apps.
These are the ten best iPhone tracking apps right now to locate and track iPhones:
App Compatibility: Requires iOS 9.0 and watchOS 3.0 or later.
How My team and I tested each app on my iPhone?
I wanted to get my hands on all these apps and see whether they were worth your money.
How do you do that? You have to test them yourself.
So, I installed all the apps (a lot) on both iPhones and spent a week trying each out, just like you might if you were considering purchasing the app. My team and I were thorough and reviewed all the features these mobile tracker apps provided.
We want to make it clear that we are not sponsored by any app developer. This iPhone tracker review is totally unbiased and free from any paid advertisements.
I used every app the exact way it was intended, from Glympse to Life360, and then compared them all side by side— we knew before downloading and testing the tracking apps that it is a laborious process, but someone had to do it.
Before we begin, here's our disclaimer: We are not affiliated with any of these companies and have no connection with them other than as a customer.
Now that we've got that out let's start with…
The GPS on smartphones is impressive. It is instrumental in tracking and finding lost phones. Gone are the days when mobile phones were only seen as no more than a calling phone. Those days are gone. In this age of technology, every single iOS device, be it a low-priced iPhone SE or a high-value iPhone 11 Pro, is equipped with a GPS.
You can easily track the location of your family, friends, or children using the default Find my location app on your iPhone or iPad. Still, we recommend you try third-party tracking apps because of their features.
 The in-built stock GPS app on iOS is powerful enough, but if you want additional features and more customizing, you can go through the list of best free iPhone tracking apps below.
Also gps tracker devices can be used for tracking kids and teens. You can read this comprehensive guide from Parentaldaily where the author recommends gps tracker devices for kids and teens including Jiobit, Airtag and more.
All these iPhone or iPad tracking apps are free to download but sell app-in purchases or subscriptions for more premium features.
If you want to know the best location tracking apps for iPhone, follow this Best free tracking apps guide.
Top 10 Free iPhone Tracking Apps
Work with (iPhone 14 Pro, iPhone 13, iPhone 11, iPhone X, iPhone 12, iPhone 8 and more)
| iPhone Tracking App | Price | Why We Recommend | Features | Pros | Cons | Expert Recommendation | Rating |
| --- | --- | --- | --- | --- | --- | --- | --- |
| Find My iPhone | Free | Built-in app | Locate lost iPhone, remotely lock, erase data, activation lock | Free, accurate, easy to use | Limited to Apple devices only, need internet connection | Apple support | 4.8/5 |
| Life360 | Free, with in-app purchases | Family tracking, safety features | Real-time location tracking, alerts for safe arrival, crash detection, SOS button | Easy to use, offers safety features | Inaccurate location tracking, expensive subscription plans | CNET, Forbes, TechRadar | 4.7/5 |
| Spyic | $9.99/month | Parental control, employee monitoring | Real-time location tracking, call and text monitoring, geofencing | Affordable, stealth mode, no jailbreak required | Limited to basic features, no free trial | Tom's Guide, PCMag, TechRadar | 4.5/5 |
| FamiSafe | $9.99/month | Parental control, family tracking | Real-time location tracking, geofencing, screen time management | Easy to use, affordable, advanced features | Limited compatibility with non-iOS devices | Tom's Guide, Digital Trends, TechRadar | 4.5/5 |
| mSpy | $29.99/month | Parental control, employee monitoring | Real-time location tracking, call and text monitoring, social media monitoring | Advanced features, stealth mode | Expensive, requires jailbreak | TechRadar, PCMag, Tom's Guide | 4.4/5 |
| FlexiSPY | $68/month | Parental control, employee monitoring | Real-time location tracking, call and text monitoring, social media monitoring | Advanced features, stealth mode | Expensive, requires jailbreak | TechRadar, PCMag | 4.3/5 |
| iKeyMonitor | $29.16/month | Parental control, employee monitoring | Real-time location tracking, call and text monitoring, app and website blocking | Easy to use, advanced features | Expensive, requires jailbreak | TechRadar, Tom's Guide | 4.2/5 |
| GPS Tracker | Free, with in-app purchases | Personal tracking | Real-time location tracking, trip history, speed alerts | Free, easy to use | Limited features, expensive in-app purchases | TechRadar | 4.0/5 |
| Glympse | Free, with in-app purchases | Personal tracking, family tracking | Real-time location sharing, ETA sharing, geofencing | Easy to use, no registration required | Limited features, expensive in-app purchases | Tom's Guide, PCMag | 4.1/5 |
| Spyzie | $29.99/month | Parental control, employee monitoring | Real-time location tracking, call and text monitoring, app and website blocking | Affordable, no jailbreak required | Limited features, inconsistent location tracking | TechRadar, Tom's Guide | 4.0/5 |
| Cocospy | $39.99/month | Parental control, employee monitoring | Real-time location tracking, call and text monitoring, social media monitoring | Affordable, stealth mode, no jailbreak required | Limited features, inconsistent location tracking | TechRadar, PCMag | 4.0/5 |
| Find My Friends | Free | Built-in app | Real-time location sharing, location history | Free, easy to use | Limited to Apple devices only | Apple support | |
| | | | | | | | |
| App Name | Price | Why We Recommend | Features | Pros | Cons | Expert Recommendation | Type of Tracking App |
| --- | --- | --- | --- | --- | --- | --- | --- |
| iSharing | Free / $5 | Best for families or groups | Real-time GPS location tracking, alerts for location change, low battery, or SOS, and a panic button | Easy-to-use interface, real-time tracking, location history, and family sharing features | Location accuracy issues, limited battery life, and occasional sync issues | TechRadar, TechUntold, SafeWise, and TopTenReviews | Family and Group Location App |
| eyeZy | Free | Best for Personal Safety | GPS location tracking, alerts for friends and family, real-time safety updates, and a panic button | Simple and easy-to-use, discreet and customizable safety features, and fast and responsive customer service | Limited features and functionality compared to other apps, only available on iOS devices | TechUntold, TechReviewPro, and TechWiser | Personal Safety App |
| FollowMee | Free / $7.99 | Best for small businesses and fleet management | GPS location tracking, geo-fencing, real-time location updates, and detailed reports | Affordable pricing plans, easy-to-use interface, and compatibility with a wide range of devices | Limited features and functionality, occasional bugs and glitches, and location accuracy issues | Business.com, TechUntold, and TopTenReviews | Fleet and Business Tracker |
| LocaToWeb | Free / $1.99 | Best for parents and individuals who want to track their personal activities | GPS location tracking, location history, and real-time updates | Simple and easy-to-use interface, affordable pricing plans, and compatibility with a wide range of devices | Limited features and functionality compared to other apps, occasional bugs and glitches, and location accuracy issues | TechUntold and The App Factor | Personal Location Tracker |
| Family Locator | Free | Best for families with kids and elderly family members who need assistance | Real-time location tracking, alerts for arrival and departure, and location history | Easy-to-use interface, real-time tracking, and location sharing features | Location accuracy issues, limited battery life, and occasional sync issues | SafeWise, TechRadar, and TopTenReviews | Family and Elderly Locator |
Below are the 10 best free iPhone / iPad tracking apps in 2023 right now –
1. Glympse: The Best Free iPhone Tracker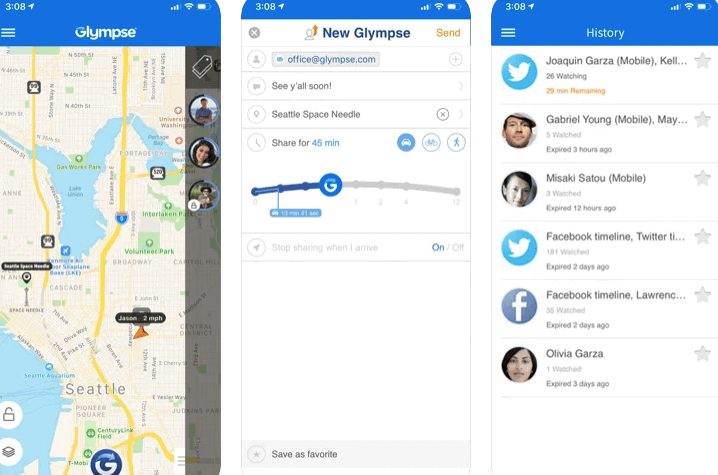 With over 38K reviews and a 4.8 rating, this free iPhone location tracking app is one of the fastest and simplest ways to share your real-time location using GPS tracking with your family and friends.
It is one of the most straightforward yet efficient iOS tracking apps. We reviewed Themacios. We highly recommend this app.
Our Tech Head Writer Parvinder singh says that he has installed this app on his Mother's Galaxy Edge phone and his dad's iPhone SE 2, which works perfectly on both devices.
It comes with a lot of location-sharing and privacy features. It is built by keeping privacy in mind.
Some features
The Glympse Location app gives you a better real-time way to share your location.
Show everyone where you are, and send it to friends and family so they can see the status of your travels.
A more improved app for an iPhone tracker.
Installation across multiple devices.
Enhanced features make it more effective for iPhone tracking.
You can save your trips or the locations you visit to revisit in the future unless you delete them.
Glympse can share your real-time location
with friends, family, and other users of Glympse.
The app is available for free, and it has a lot of location-sharing features.
When you share your location with another member, the app is designed so that the shared location will be automatically removed after some time. The only disadvantage of this app is that you need a data connection in addition to GPS to work it properly.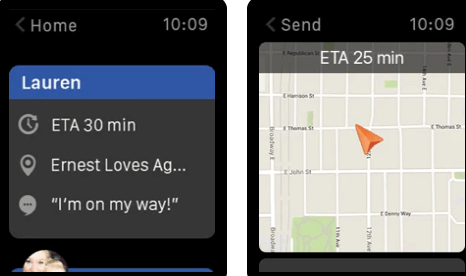 One of the features our team loves is the auto-update feature, which ensures you have constant visibility about your friends and family's locations all the time without missing a beat.
You always take advantage of their whereabouts and can easily reach them when needed; this real-time service works perfectly and can be used by parents and caretakers.
➡ Best tracking app for parents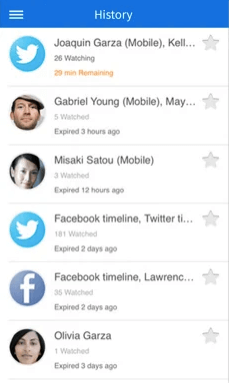 We have checked the application and observed that it runs in the background even when users are not using it to ensure complete peace of mind throughout their day. This may drain your iPhone's battery faster, but it is very helpful in case of an emergency.
Whether planning a group meeting, hiking trip, or cycling out in the streets, your companions will go out armed with their exact coordinates.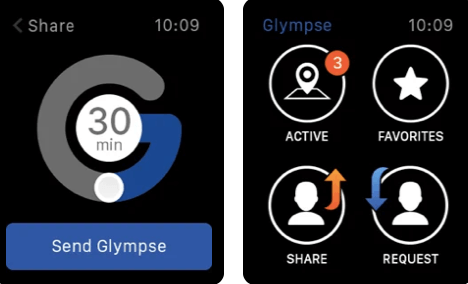 You should also know that this app is a better option if you live in a city where the network connection is not a problem. In our review, we also discovered that the Glympse iOS location tracking app can also share your location in real-time with dynamic maps, which are more informational and intuitive.
You can also share your ETA with friends, family, or co-workers. If you own an Apple watch, then you will be able to use it from there. It was named one of the "15 Best Mobile Apps of 2011" by Mashable and also won the 2014 Webby Award. You can download this free app on your iPhone, iPad, and Touch.
➡ Track Apple Watch: How to find lost apple watch
The app allows any number of people (family, friends, etc) to see where each other is in real time. It also includes enough information to ensure no privacy issues with this application and is a tool to keep families in contact rather than stalk each other.
This allows safety in knowing where your children are instead of letting them walk away unmonitored.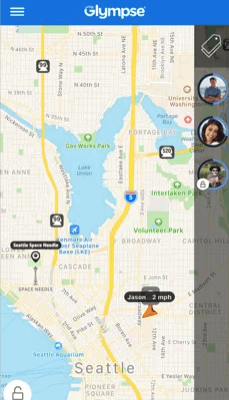 Every day, more and more people realize the importance of iPhone tracking apps due to increasing safety or theft incidents. This has led to many companies coming out with different kinds of monitoring software for this smartphone. A vast range of other apps is available depending on your needs.
Want to use GPS tracking technology for your business? Try the GPS tracking software for vehicles.
If you have a child who is getting close to their teenage years, there are specific apps that will help you track them without them knowing about it. These apps often run in stealth mode, so they don't even know it's there.
➡ How to Share Location on Google Maps
Glympse was first developed for the Android platform, joining a list of amazing apps available exclusively on that platform, including Google Wallet and Tasker. Since then, there has been growing demand from iPhone users for an Uber-like real-time location tracker app. This demand has now been answered.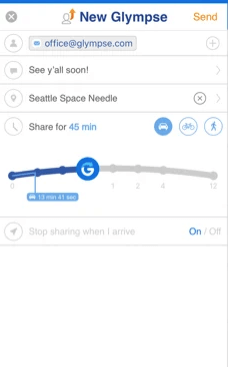 The new Glympse app allows iPhone users to see the exact location of their friends and family members via an in-built iPhone tracker. While sharing your location with someone is not a new capability – cellular carriers have been doing it for years – you are able to do it instantly, just the same way you can share a picture instantly or set up an Uber car instantly.
It is simple to use with a zero learning curve. Other features include location sharing, real-time tracking, secure location sharing.
It gives people confidence in knowing their location of friends, family and partner.
It comes with features that allow you to keep your data safe and private
How to Use Glympse app (on Android also)
Open the glmypse app on your phone.
Click on the menu, on the top left side of the screen.
From the phone (which you want to track), click on share location.


Enter the details like: location sharing duration, destination and phone number.



Share the live link to your family member or a friend.



Why to use Glympse iPhone tracking app?
You can send your location, called a Glympse, along with a message to anyone in your contacts list within seconds.
The recipient can view your Glympse on the web or by using another iPhone app.
The app was developed for iPhone tracking of children and is effective in multiple ways.
2. iSharing: GPS Location Tracker
This iPhone tracker is second on our list as it is highly recommended by our reviewing team, Parvinder Singh and Dan Ackerman.
iSharing has 18K+ reviews on the Apple App Store with a 4.8 average rating, which is excellent customer feedback saying that customers love this app because of its features, usability, and pricing.
iSharing lets you see the real-time location of your friends and family on the map. This app is available for download on iPhone, iPad, iPod Touch, Android phones and tablets, Blackberry devices, and Windows Phone 8.
The app uses your current location to track the people you care about. You can share your location with others, including family members and friends, on a map in real-time.
If you are planning a trip or an outing but don't want to be alone, you can now invite friends or family members to join you, and it is the easiest way to share accurate locations with other users. You can also find out if everyone has arrived at the same place at the same time.
As long as the people you care about have iSharing installed on their phones and have added or approved you in the location-sharing list, they will appear on your map when they accept your invitation. Our team tested the iSharing app on iOS and Android, and it worked like a charm.
The app has a panic alert feature that kids or older people can use, allowing them to send an emergency message and their location to emergency contacts which can be set to any family contact.
We love this emergency contact feature as it can save lives in dangerous situations like car accidents or natural disasters.
The app's History feature lets you view past locations of any person you shared your location with.
3. Life360: Smart and Top rated Location Tracking

Users: 27.2 million monthly active users (MAU) (December 2019)
Founded: 2008; 14 years ago
Native client(s) on: Android; iOS; Windows
Sometimes, we all feel like that; you need someone to watch out for you. Whether you are on the road, at home with your family, or miles away, Life360 is here to help.
Also, Parents want to know the whereabouts of their children. They want to know if their child is in school or playing elsewhere.
There's always a constant worry in every parent's mind regarding their child's safety when they are outside playing with their friends or visiting a friend or family member.
It provides peace of mind by protecting what matters most. Our Tech head, Parvinder Singh, also uses Trackers for his parents, who recently moved to Europe as they can't speak English. He says that this way, he keeps track of their whereabouts and can point out the directions.
Life360 was built to protect and connect the people who matter most: your family and friends. Life360 provides real-time GPS location, interactive neighborhood and city maps, and proprietary protection layers to give users peace of mind.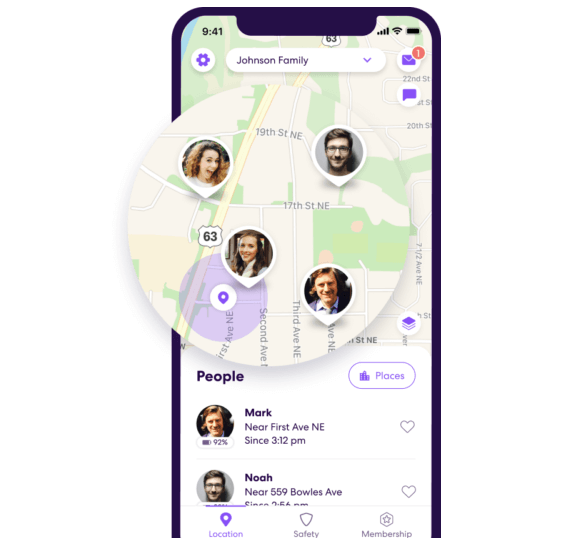 It's easy to use Life360 – Plus to find, track, and communicate with the most important people in your life.
Worried about your child's safety as they walk to school? Who has yet to be at some point? But what can you do about it? Having peace of mind knowing that the kids are OK is one thing, but having accurate, actionable information about where they are and what they are doing is another.
It's easily one of the most nerve-wracking and worrisome things parents can experience.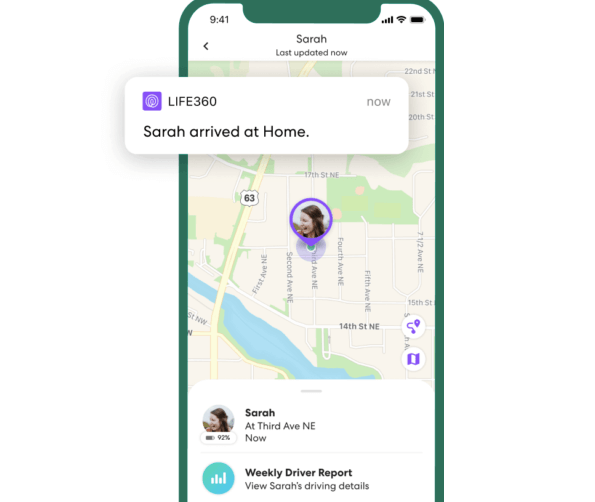 We highly recommend Life360 due to its features and because it brings your family closer than ever with comprehensive, cutting-edge safety features designed specifically for busy, modern life with a freemium subscription and free-to-use features. Still, you must pay for more advanced and premium features like live tracking and SOS.
The free app includes cloud storage for your saved locations, the ability to share these locations with your family, and safety features like "Follow Me" to let you know when your child arrives at school.
➡ Best Location Sharing app for Android
Life360's Family Safety Network lets you easily coordinate get-togethers or stay informed about one another's whereabouts. Quick Alerts make it possible to instantly share your exact location with an essential person who can help in an emergency.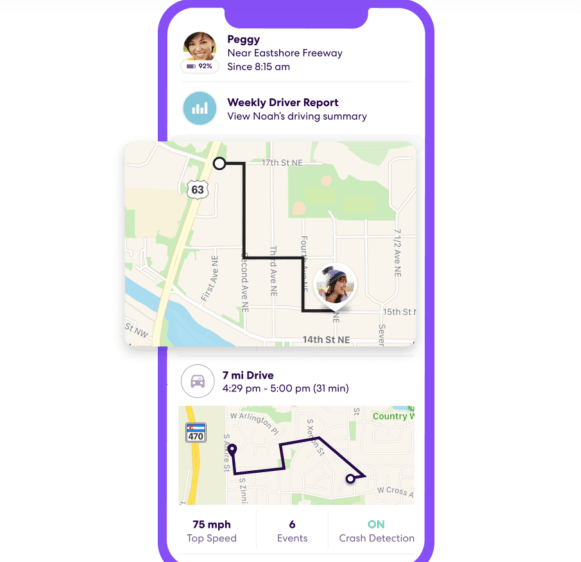 Regardless of how busy modern life gets, the Life360 app is designed to keep loved ones close with features like live location feed, Emergency SOS, and one of our most favorite features is real-time specialist support. We love the support that Life360 provides during the emergency response in any situation.
Real-time specialist support is the reason We highly recommend the Life360 app to our readers. Also, This iPhone tracking app has garnered over 1.1 million reviews on the Apple App Store with an impressive 4.7+ rating.
You get the best family safety protection when you purchase a Life360 membership for today and future generations.
It covers your family and gives you access to our comprehensive suite of innovative new services to keep your loved ones safe and connected — all with a single, convenient monthly payment.
This all-inclusive service offers 24/7 emergency dispatch to certified responder network. There are no long-term contracts or credit checks, and no surprise fees or hidden costs.
Features
Life360 offers extra security for your family.
24/7 Driver Care Support is impressive in case of emergency.
It offers Safe driving feedback and rewards.
Community help in an emergency
Track lost or stolen phones.
Location history is a feature that allows you to see where your loved ones are, how fast they are driving, and where they have been at any point in the day.
Place alerts let you know when people in your circle arrive or leave a place at a particular time of day.
Crash detection alerts your family members if you are in an accident.
The SOS feature allows you to send out an emergency alert to let family members know that something serious has happened.
Life360 is not just a great app for families who have small children, but it is also helpful for older people who worry about loved ones driving on their own.
How it works:
Download the Life360 app.
Create your private, invite-only family Circle.
Choose the membership plan that fits your family's needs.
4. FollowMee GPS Location Tracker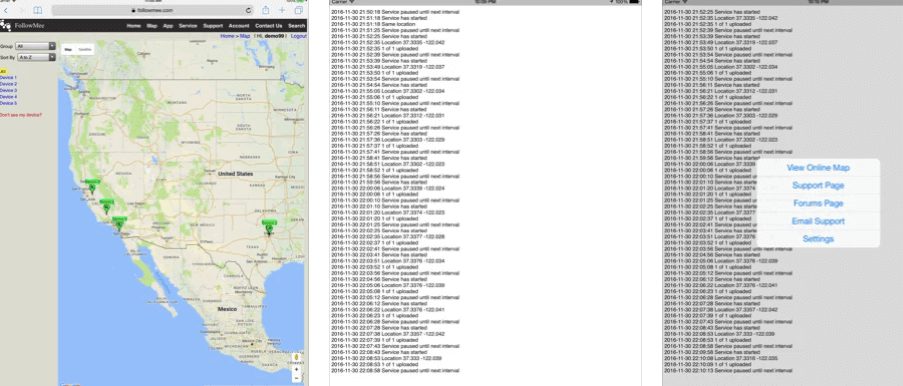 This gps tracking software for your iPhone can easily Track & Locate Mobile Devices using GPS. It is a highly rated app which supports Multiple Mobile Platforms and is available on both android and iOS. This is a very good free iPhone GPS location tracking app that you can use to track your family members, friends, or even your employees. It is a very handy mobile software for tracking and locating other people. You can also simply use the mobile or any web browser to view the last known location for free. Features like: Geofencing, location reporting, location sharing, location tracking and other GPS services are also supported by this tracking app.
The always on feature of this app makes it easier to use and runs in the background while sharing your location. You can track multiple devices from this app even the android one's because it supports cross-platforms. All of the devices will be shown on the map. It will work even if the network connection is not available. The only downside of this application is that it doesn't have any battery saving capabilities like the GPS Tracker app which gets second place on the best iPhone tracking apps.
It is a completely free mobile tracking app which is very well made and does everything right. A highly recommended app with a couple of great features with not too many frills. Overall, a great app for anyone who wants to track the location of an iPhone or iPad.
FollowMee will allow you to quickly and easily send your current location, along with a link through Apple's Push Notification Service to an email address of your choice and/or designated telephone number. This is also accompanied by a telephone call. Use the SOS Panic Button in case of an emergency and it will automatically send your location to someone designated via email and phone call.
FollowMee is a very useful application that perserve your location everytime that you are connected to internet or your device have service. After you turn on your device, the first thing that this app does is to make sure that internet connection is active, if not, then it will start tracking offline and save data in the device storage. If your device has an active internet connection, then data will be uploaded to the FollowMee server that allow you to track passions of your life wherever you go.
The app has a smart algorithm that will track people until they are out of range and then store their location information in the device storage. When members of the family come back in range, their locations will be updated on your map automatically. For example, if you set up a geofence around your home and assign each family member an ID (e.g., Mom = orange), when someone that's assigned as "Mom" leaves home, an alarm will sound on your phone to notify you. When she returns within the pre-assigned range, the system will know that she's back and will not send any more alerts for Mom for the defined period of time.
Pros
Flyover, Look Around, 3D Views
Track the location of your fleet vehicles and employees
History play back
The location tracking is accurate and battery efficient
Cons
No Geofencing
App is outdated
5. Family Locator and GPS iPhone Tracker free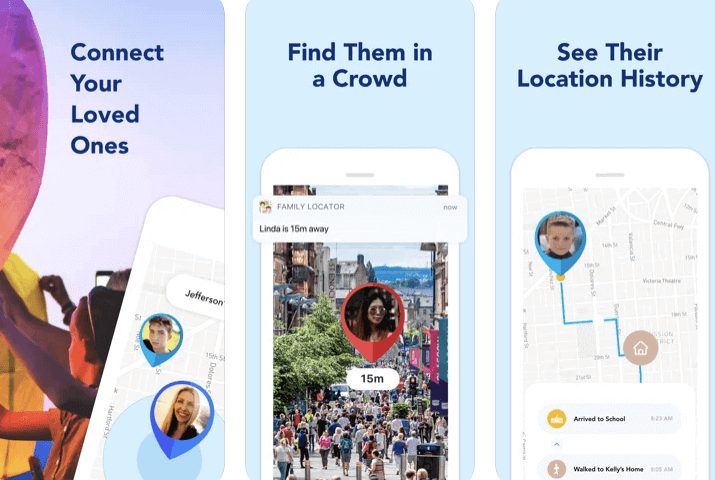 Another top rated GPS Tracker and Friends Tracking app for your iPhone or iPad. It is available to download for free and also comes with a premium subscription. If you go for premium subscription then you will get features like:
Unlimited number of location alerts
Location history for all family members
The Family Locator is a free app that helps you locate your family members using their smartphone with GPS. In addition to showing your children or family members' location on a map as dots, the Family Locator also displays the distance from each member to the phone you are using. The Premium version of this app allows users to create as many dots as they want and send unlimited alerts. This app is especially useful for parents who have children that go on hikes or camping trips, or who drive out of town for a weekend.
It is a great app for locating your family members and friends. It lets you stay connected with your family and share your location with each other. You can create different family groups and get notified when they reach a certain destination. The safety is the priority of this tracking app and can also be very useful in Locating a stolen or lost phone if the app has been installed before. Overall, a great Family Locator app and iOS tracking app which keeps your family secure.
Family Locator is the only solution that has it all. Seamless integration across all major mobile platforms, secure cloud storage, multiple modes for checking in or out of family members, alerts to your phone when someone arrived somewhere…Family Locator even lets you ping family members (like how far away are you?). There's nothing like it on Android or iOS.
Your family is your world. Where are they? Where have they been? Where are they going? By using Family Locator you can answer all of these questions without pestering your loved ones. There are lots of ways to physically connect with your family, but having a way to connect online that works, and that everyone in your family can access from a device they already own is a major step forward. I've been using Family Locator for several years.
Monitoring your family is now easier than ever. Family Locator Premium is now available by subscription. Includes: – Unlimited number of location alerts – Location history for all family members – Panic alarms allow you to send an immediate alert with your location to anyone in your family circle or custom group. All Family Locator Premium subscribers automatically get access to the Panic Alarms feature at no additional cost.
Pros
Activity graph and Geofencing alerts
Get automatic check-ins from family members
Coordinate with your family
Share photos and text messages
6. Find My Friends "official Apple tracker"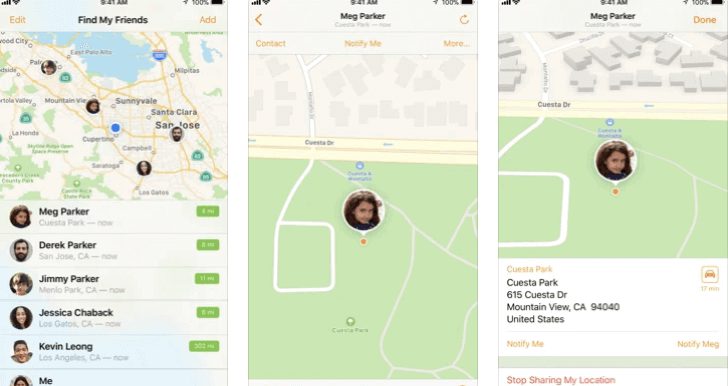 It is an official Apple app for your iPhone, iPad or iPod touch to easily locate friends and family. You can share the location of your iPhone or iPad with your friends or family with just a click. You can always turn off your location so that no one can track you. With just one click you can turn on or off your iPhone location.
Some of the features that this app supports are:
• You can Easily locate friends and family on your iPhone, iPad or on Apple website.
• You can set Location-based notifications
• The privacy controls are very strict and easily accessible.
• You can use Parental restrictions to control and track our kids iPhone or iPad.
• It is totally in your hands whether you want to Share your location temporarily or permanently
• You can also use Airdrop to quickly share your location with nearby iOS devices.
Find My Friends makes it easy to locate the people you care about, whether it's your family, friends, or colleagues. With one tap, you can share your current location with anyone, even if they don't have the Find My Friends app. Location sharing works over Wi-Fi and mobile data, which allows for low-powered location tracking. Find My Friends automatically detects when you're moving so that your location history is kept private and secure. See all your previous shared locations in a simple timeline view.
Find My Friends is one of the best location sharing apps on the market thanks to its simplicity and intuitive design. There are plenty of other similar apps available, but Find My Friends has a myriad features that make it easy to use.
That being said, you'll need an Apple device (an iPhone 5 or newer) to use this app — otherwise, you can't access every feature (especially location sharing) required to access the app's full functionality. This app also lets its users share locations with friends and families, view shared locations on a map, get timely alerts about when someone has arrived at a given location and specify how long your shared location will remain visible (e.g., 24 hours or somewhere else).
If you use the latest version of Find My Friends, you'll have even more ways to share your location with friends and family. Apple has incorporated specialized features based on iPhone, iPad and Apple Watch that allow you to take advantage of new technology to make it even easier to share locations. 3D Touch is probably something you're already familiar with if you own an iPhone 6s and later.
With the updated app, supported devices will display a "location" icon right on the app's icon when using an app on an iPhone 6s or later with 3D Touch functionality. Just push lightly, and then hold down on the icon until it offers suggestions of where you can go next.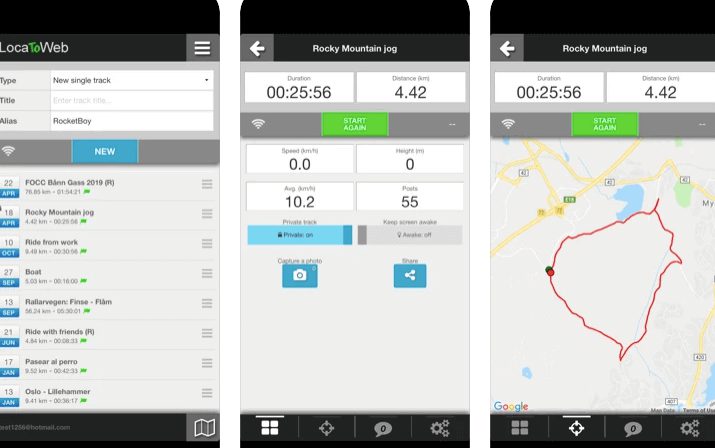 An excellent live location sharing application for iPhone or iPad. This tracking app tracks your location and sends it to your chosen friends and family members. Also, a safe and secure family tracking app that can be used to locate and track kids. After downloading it you can set it to broadcast your location to other family members and friends. LocaToWeb is a great way of tracking your kids location and sharing your current location to others. The live location is almost accurate and it can also give insights on distance and duration. You can also know the altitude of the person and can also track down the speed by which the person is travelling. 
Also read: 7 Most Unsafe – Bad – Worst apps for kids
If for any reason you don't want to share your iPhone's or ipad's location to anyone for sometime then you can use the privacy settings to hide your location. So, your privacy is in your hand and you can easily control it the way you want it. If you are an athlete or a runner then you can use this app to set up race groups to compete with each other as the accuracy of this app is very good. Moreover, it is relatively very low priced at just $0.99. LocaToWeb surely is one of the Best Tracking Apps that you can download on your iPhone or iPad.
8. GPS TRACKER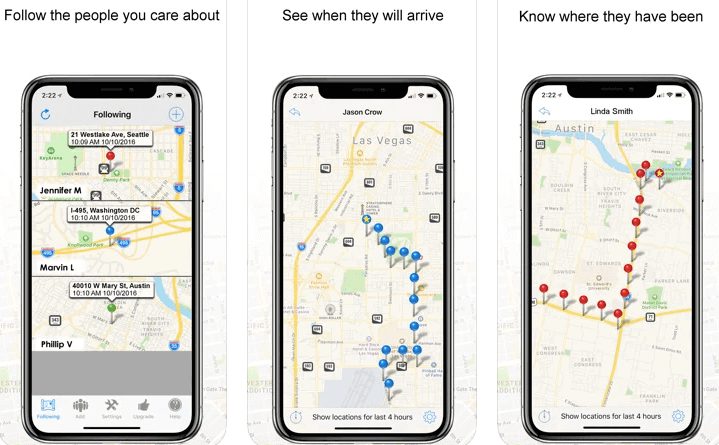 This is a pure GPS tracker with multiple tracking features and capabilities. You can use the 12 hours feature of this location tracking app to know the history of your family, friends or kids for the last 12 hours. This is a really helpful app to track a missing person or lost iOS device. If you have left your iPhone or iPad somewhere and are having a difficult time finding it then you can use GPS Tracker app to locate the lost or misplaced iPhone or iPad. Please keep in mind that this tracking app does not support cross-platform, which means that an iOS device can only track another iOS device. If you want to track an android device then you have to install this app on another android device to track it.
By looking at the reviews and number of downloads which exceed over 2.5 million this tracking app is one of the most popular GPS tracking apps currently available on android or iOS devices. Another important feature that I love about this app is the battery saver. You can turn on the battery saver option in this app whenever your iPhone or ipad is low on battery. You can stop sharing your location with other members anytime. You can download and install this free GPS tracking app from Apple app store
9. Map My Run by Under Armour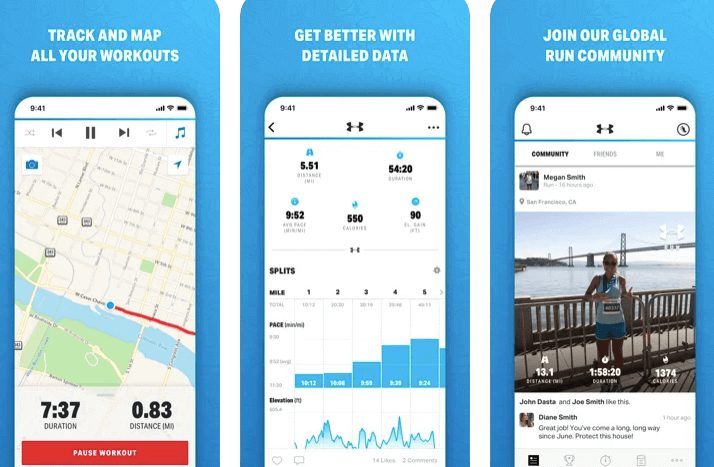 This is one of the top rated GPS Running & Workout Tracker that you can find on the Apple app store. This app is available only on the App Store for iPhone, iPad, and Apple Watch. This tracking app was named as Top 10 Apps for Runners by The Guardian and was also Voted Best Running App in Reader's Choice category on About.com. Due to its customizable Training Plans and personalized coaching tips it was also featured on NY Times, TechCrunch, Wired, & TIME.
So judging by the reputed reviews and thumbs up from the reputed media houses, you can say that this running and tracking app is one of the must have iPhone tracking apps. You can choose from different available plans. You can also Sync your app data with the latest apps and most wearable devices like: Garmin, Apple Watch, Fitbit, Jawbone etc. You can also track your daily calorie intake for a more accurate nutrition diet.
So, if you are looking for a both location tracking app and workout app that can track both location and running workouts then this is definitely a good option. You can also use Apple watch or other wearable tech to track your runs in real time. You can download this app for free on the App Store. You can also buy premium features using in-app purchases.
10. eyeZy (Paid): Most powerful Phone Tracking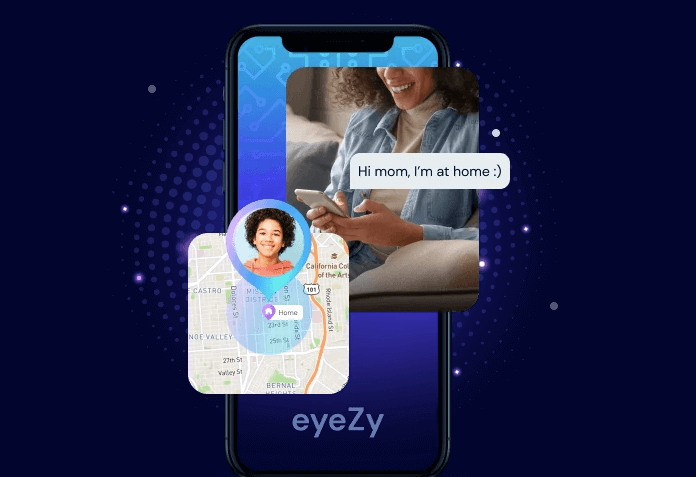 The world's first phone tracker that works for everyone
GPS Tracker. Wi-Fi Logger. Alerts. All in one app.
Track your kids' location anywhere, anytime.
eyeZy is a good way to track people you care about.
eyeZy is an incredible app that allows you to track the whereabouts of any iOS-based device—iPhone, iPad or iPod Touch—and know where they're going, what they're doing, and who they're with. If you want to know where your phone is , Pinpoint will tell you . If you want to know where it's been – even where it has been recently hasn't been turned on – eyeZy has that covered as well.
What makes this app truly useful is that you can set magic alerts, which notify you of activity at specific zones. For instance, if I wanted to track my teenager when he's at home (or his friend's house), I can set a circle around the radius of his home, and when he enters or leaves it I get an alert.
The eyeZy Phone tracker app enables you to monitor the online activity of your children, employees or anyone else who uses smartphones and tablets. eyeZy is the powerful all-in-one phone monitoring spy app that lets you see private text messages, calls, emails, and even locate any smartphone or tablet. You can monitor activity on Facebook and Telegram, as well as whatsapp and skype. Plus, you can view deleted texts from WhatsApp and other applications. eyeZy is an affordable cell phone tracker & spying app with the most advanced features.
FEATURES of eyeZy Phone tracker
Monitor phone calls
Read text messages
Track GPS location
Track social network activity
Get a history of sites visited In addition to parental/employer monitoring, the app is also able to perform call and message detection for any user account, including password reset and two-factor authentication.
11. mSpy Tracker (A premium tracking app for iPhone)
$11.66 for Yearly subscription – Check Offer
$27.99 (Save $12) for 3 months subscription (Save $16) – Check Offer
Read: Does Find my iPhone work when phone is dead
Can track my iPhone be wrong?
There are numerous factors that may affect the accuracy of locating your iPhone, but the important thing is to not base your concerns solely on online forums. Instead, try the tracking app yourself and see if you get any areas of concern. Alert your family to use their cell phone when they are in certain locations or test it while walking around the area. Their results may be different than what you might be reading.
A GPS receiver in the iPhone sends a request to a number of remote servers and uses their replies to calibrate and determine the location. This requires communication with the network and therefore cannot be done if it is switched off.
How far can Find My iPhone track?
Find My iPhone will work anywhere there is cellular service or WiFi. You don't need to be on the same network that your device is on. There are a few limitations with location tracking, for example you cannot track When iPhone is Switched off.
Find My iPhone locates your iPhone on a map using its built-in GPS, or Wi-FI hotspots if it is within range of one. By default, Find My iPhone uses your device's data plan or Wi-Fi to make this determination.
If you are not connected to the Internet, Find My iPhone will still gather location information from the Location Services database stored on your device until you're close enough to connect. Once you're within range of a hotspot, your iPhone sends the location information from the hotspot location to Apple's iCloud servers.
Uses of iPhone Tracking Apps
If you're wondering how an iPhone tracking app can help you, here are some ways in which it can be useful:
Keep Track of Your Kids' Phones – If you install one of these apps on your child's phone and give him or her permission (assuming they're old enough), then you will be able to locate their device whenever they are not around. Most tracking apps let you set up a precise alert radius—meaning that you will know if your child's phone has wandered outside of that area. This can help prevent them from getting lost or hurt while they are playing outdoors or walking home.
Track Your Pets – I've used a similar app to track one of my cats; it allowed me to see where she was when she went missing from the house!
Track Your Spouse – If you have an iPhone tracking app already installed on your spouse's phone, you'll be able to see where they are at any time (as long as they don't change the settings).
Can you track any iPhone?
Yes. As long as your iPhone is on. As long as your iPhone is on an iCloud account, any Apple devices can be tracked. You can track Apple devices, including your iPhone, iPad, and even Apple Watch.
That used to be a question that was asked many, many times every day. The answer, unfortunately, was usually "No." Although there are some extraordinary exceptions to this, most people had no idea where their iPhones were. Now the tables have turned. Now the question is usually one of disbelief or confusion when someone can't locate their iPhone on the local network. After all, you thought it was on your local network, but you can't find it! Where could it be? Where did it go? How far could it have traveled on its own? Did you lose your network connection or is your phone switched off?
How to track a family member's device with Find My iPhone?
Find My iPhone is great for knowing the location of your iPhone, iPad, iPod touch, Mac, or Apple Watch. If you're signed in to iCloud with your Apple ID on more than one device, you can easily track a family member's device. You can also play a sound on a lost device to help you find it by ear. Or if a device has been stolen, you can remotely lock it and erase its contents.
You can use one of the above apps to track and locate your members for free.
How can I track another iPhone from my iPhone?
The answer is Family Sharing. With Family Sharing, you can share the locations of your family members with each other. When your family shares location, you can see the location of up to ten family members at once on a single map—even if they're using different devices. You can also help your family members locate their missing device with Look Around. Location sharing in Family Sharing settings is an additional feature that all family members can enable or disable at any time on their iPhone, iPad, iPod Touch, Airpods, Apple watch and MacBook.
When you turn on location sharing in your Family Sharing settings, you can see your family members' locations on a map. You can also share your location so that they can see where you are—and help them get back together if they're separated. To turn on location sharing, go to Go to Settings > [your name] > Family Sharing > Location Sharing, then turn on Share My Location., then flip the toggle next to Location Sharing. For more information about using this feature, see the Apple Support article About Family Sharing .
Can you track an iPhone through iCloud?
iOS devices can be tracked using Apple's Find My iPhone service. If the device is online, you can locate its current location using iCloud.com over any internet connection. If you're worried about anyone tracking your iPhone, it's fairly easy to turn off this feature entirely, although it will disable some other useful iCloud features. Using Find My iPhone also allows you to send a message or sound an alarm remotely if your device is lost or stolen.
Can I track a family members iPhone?
Let's say that you have friends and family that you want to share iPhone with. You can do that using a function called Family Sharing. It is a great way to show friends and family your location on Apple Map or follow their whereabouts.
What Is an iPhone Tracking App?
Well, what is an iPhone tracking app? It's a mobile software application that can be installed on any iPhone or iPad, and it's designed to help you keep track of the whereabouts of your device—or of any other iOS device that you have authorized.
To use an iPhone tracking app, you'll first need to authorize the software to have access to the location data from your device. This gives it the information it needs to accurately pinpoint its location at any given time. Once it has this access and has been installed, you will be able to track your phone remotely from your computer or another iOS device if you have installed the same tracking app there as well.
RELATED:
How to Turn Off macOS Mojave Screenshot Preview Thumbnails
How to trim, Cut, Crop video in macOS Mojave
How to find WiFi password stored on iPhone
Show battery percentage on iPhone
How to block Adult websites on iPhone