App Category: Navigation
Device compatibility: All the below apps are compatible Compatible with iPhone, iPad, and iPod touch. All these apps are free iPhone gps trackers that also come with premium subscription.
Below listed apps are compatible with iPhone 6, iPhone 7, iPhone 8, iPhone SE, iPhone X, iPhone 11, iPad Pro and more. Follow the below guide to know which are the Best free iPhone tracking apps?
App Compatibility: Requires iOS 9.0 and watchOS 3.0 or later.
How to track an iPhone: 3 Methods
The GPS system on the smartphones is pretty impressive. It is extremely useful in tracking and finding lost phones. Gone are the days when mobile phone's were only seen no more than a calling phone. Those days are gone. In this age of technology, every single iOS device, be it a low priced iPhone SE or a high value iPhone 11 Pro is equipped with a GPS system. The functionality of the GPS device is very useful but it is very easy to use.
You can easily track the location of your family, friends or children using the default Find my location app on your iPhone or iPad. The in-built stock GPS app on iOS is powerful enough but if you want some additional features and more customizing then you can go through the below list of best free iPhone tracking apps.
All these iPhone or iPad tracking apps are free to download but do sell app-in purchases or subscriptions for more premium features. If you want to know which are the best free location tracking apps for iPhone then you can follow this Best free tracking apps guide.
Top 8 free iPhone Tracking Apps (iPhone 11, iPhone X, iPhone 12, iPhone 8)
Now let's get started with best free iPhone/iPad tracking apps that you can download now from the iOS app store.
1. FollowMee GPS Location Tracker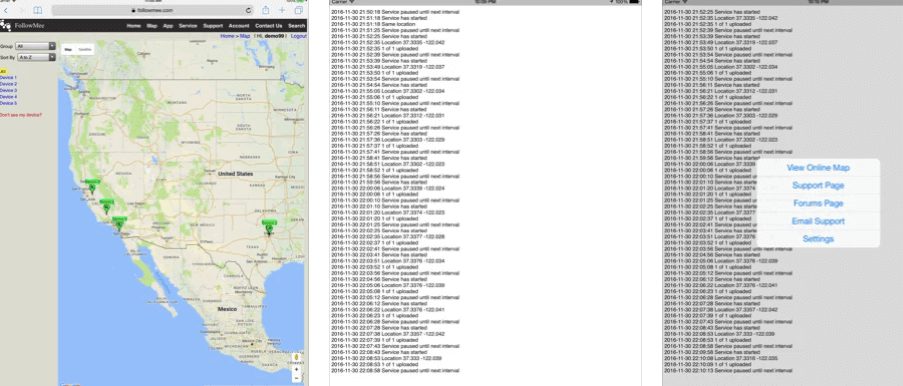 This gps tracking software for your iPhone can easily Track & Locate Mobile Devices using GPS. It is a highly rated app which supports Multiple Mobile Platforms and is available on both android and iOS. This is a very good free iPhone GPS location tracking app that you can use to track your family members, friends, or even your employees. It is a very handy mobile software for tracking and locating other people. You can also simply use the mobile or any web browser to view the last known location for free. Features like: Geofencing, location reporting, location sharing, location tracking and other GPS services are also supported by this tracking app.
The always on feature of this app makes it easier to use and runs in the background while sharing your location. You can track multiple devices from this app even the android one's because it supports cross-platforms. All of the devices will be shown on the map. It will work even if the network connection is not available. The only downside of this application is that it doesn't have any battery saving capabilities like the GPS Tracker app which gets second place on the best iPhone tracking apps.
It is a completely free mobile tracking app which is very well made and does everything right. A highly recommended app with a couple of great features with not too many frills. Overall, a great app for anyone who wants to track the location of an iPhone or iPad.
You can Download it from: here
2. Glympse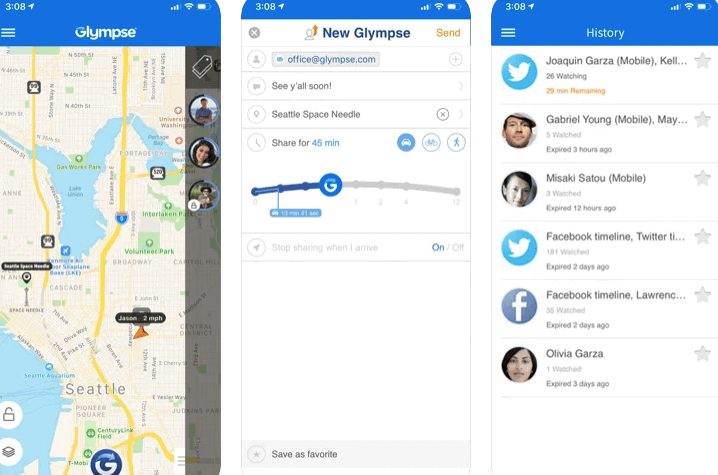 With over 38K reviews and 4.8 rating this free iPhone location tracking app is one of the fastest and simplest ways to share your real time location using GPS tracking with your family and friends. It is one of the simplest yet efficient iOS tracking apps that I have reviewed on themacios. It comes with a lot of location sharing and privacy features. It is built by keeping privacy in mind. When you share your location with another member, the app is designed in a way that the shared location will be automatically removed after some time. The only disadvantage of this app is that in addition with GPS you also need a data connection to work it properly.
if you are living in a city where the network connection is not a problem unlike the countryside then this app is a better option for you. Glympse ios location tracking app can also be used to share your location in real time with dynamic maps. You can also share your ETA with your friends, family or Co-workers. If you own an Apple watch then you will be able to use it from there. It was named as one of the "15 Best Mobile Apps of 2011" by Mashable and also won the 2014 Webby Award. You can download this free app on your iPhone, iPad, and the iPad Touch.
Download it now: here
Every day, more and more people are realizing the importance of iPhone tracking. This has lead to many companies coming out with different kinds of monitoring software for this smartphone. There is a huge range of different apps available depending on what your needs are. If you have a child who is getting close to their teenage years, then there are specific apps that will help you to track them without them knowing about it. These apps often run in stealth mode so they don't even know it's there.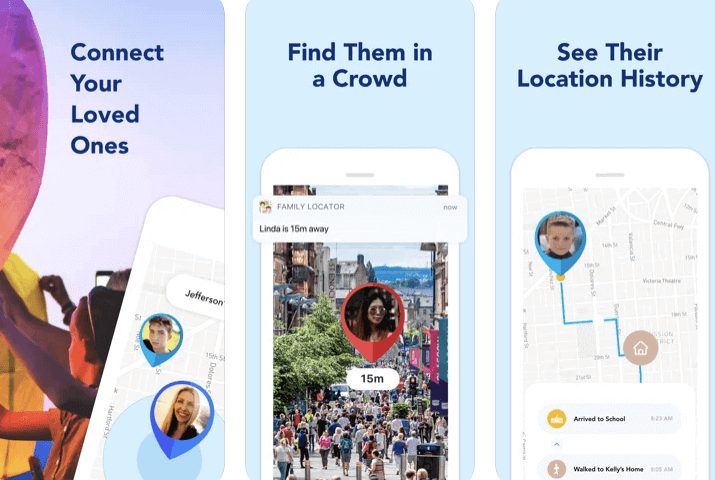 Another top rated GPS Tracker and Friends Tracking app for your iPhone or iPad. It is available to download for free and also comes with a premium subscription. If you go for premium subscription then you will get features like:
Unlimited number of location alerts
Location history for all family members
It is a great app for locating your family members and friends. It lets you stay connected with your family and share your location with each other. You can create different family groups and get notified when they reach a certain destination. The safety is the priority of this tracking app and can also be very useful in Locating a stolen or lost phone if the app has been installed before. Overall, a great Family Locator app and iOS tracking app which keeps your family secure.
You can Download it from: here
4. Find My Friends "official Apple tracker"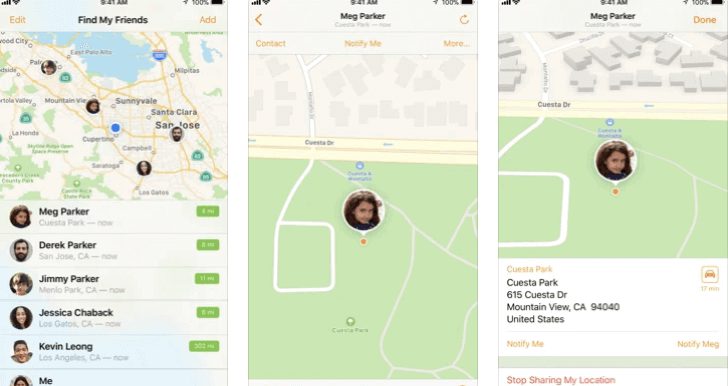 It is an official Apple app for your iPhone, iPad or iPod touch to easily locate friends and family. You can share the location of your iPhone or iPad with your friends or family with just a click. You can always turn off your location so that no one can track you. With just one click you can turn on or off your iPhone location.
Some of the features that this app supports are:
• You can Easily locate friends and family on your iPhone, iPad or on Apple website.
• You can set Location-based notifications
• The privacy controls are very strict and easily accessible.
• You can use Parental restrictions to control and track our kids iPhone or iPad.
• It is totally in your hands whether you want to Share your location temporarily or permanently
• You can also use Airdrop to quickly share your location with nearby iOS devices.
Download it now: here
5. LocaToWeb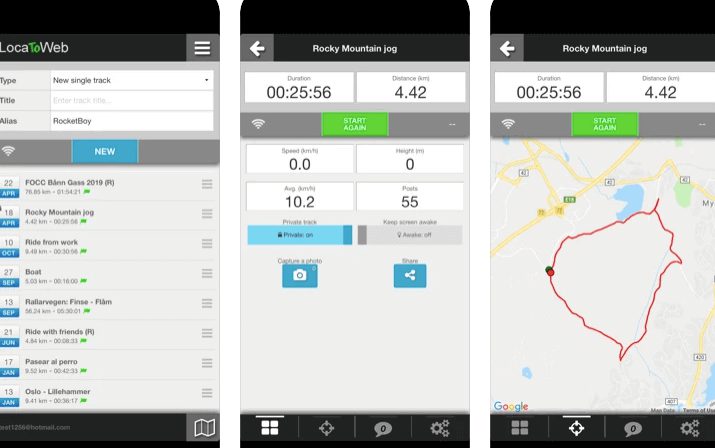 An excellent live location sharing application for iPhone or iPad. This tracking app tracks your location and sends it to your chosen friends and family members. A safe and secure family tracking app that can be used to locate and track kids. After downloading it you can set it to broadcast your location to other family members and friends. LocaToWeb is a great way of tracking your kids location and sharing your current location to others. The live location is almost accurate and it can also give insights on distance and duration. You can also know the altitude of the person and can also track down the speed by which the person is travelling.
Also read: 7 Most Unsafe – Bad – Worst apps for kids
If for any reason you don't want to share your iPhone's or ipad's location to anyone for sometime then you can use the privacy settings to hide your location. So, your privacy is in your hand and you can easily control it the way you want it. If you are an athlete or a runner then you can use this app to set up race groups to compete with each other as the accuracy of this app is very good. Moreover, it is relatively very low priced at just $0.99. LocaToWeb surely is one of the Best Tracking Apps that you can download on your iPhone or iPad.
Download it now: here
6. GPS TRACKER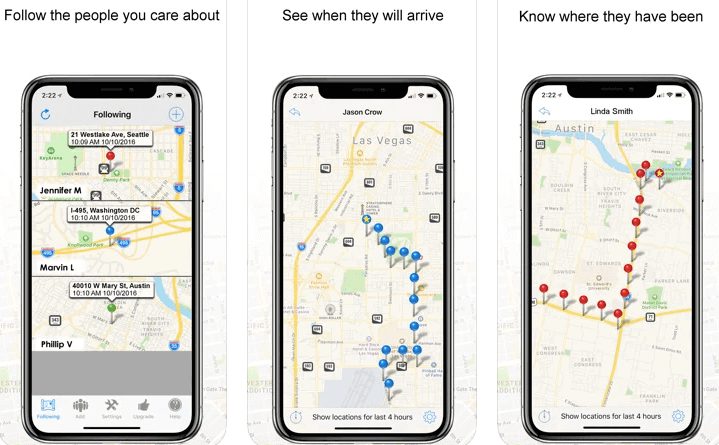 This is a pure GPS tracker with multiple tracking features and capabilities. You can use the 12 hours feature of this location tracking app to know the history of your family, friends or kids for the last 12 hours. This is a really helpful app to track a missing person or lost iOS device. If you have left your iPhone or iPad somewhere and are having a difficult time finding it then you can use GPS Tracker app to locate the lost or misplaced iPhone or iPad. Please keep in mind that this tracking app does not support cross-platform, which means that an iOS device can only track another iOS device. If you want to track an android device then you have to install this app on another android device to track it.
By looking at the reviews and number of downloads which exceed over 2.5 million this tracking app is one of the most popular GPS tracking apps currently available on android or iOS devices. Another important feature that I love about this app is the battery saver. You can turn on the battery saver option in this app whenever your iPhone or ipad is low on battery. You can stop sharing your location with other members anytime. You can download and install this free GPS tracking app from Apple app store
Download it now: here
7. Map My Run by Under Armour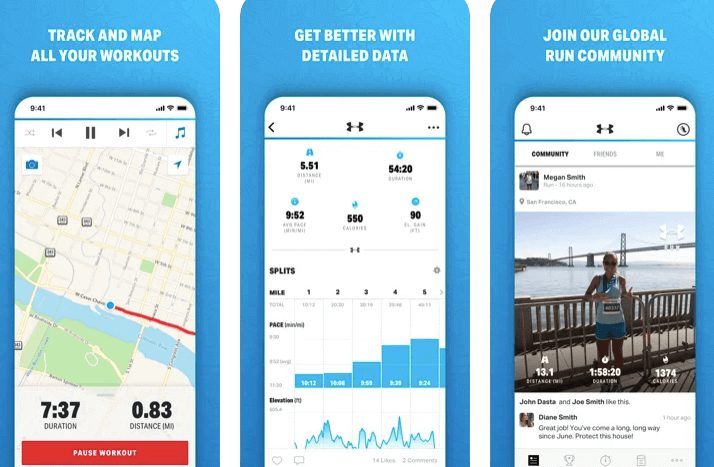 This is one of the top rated GPS Running & Workout Tracker that you can find on the Apple app store. This app is available only on the App Store for iPhone, iPad, and Apple Watch. This tracking app was named as Top 10 Apps for Runners by The Guardian and was also Voted Best Running App in Reader's Choice category on About.com. Due to its customizable Training Plans and personalized coaching tips it was also featured on NY Times, TechCrunch, Wired, & TIME.
So judging by the reputed reviews and thumbs up from the reputed media houses, you can say that this running and tracking app is one of the must have iPhone tracking apps. You can choose from different available plans. You can also Sync your app data with the latest apps and most wearable devices like: Garmin, Apple Watch, Fitbit, Jawbone etc. You can also track your daily calorie intake for a more accurate nutrition diet.
So, if you are looking for a both location tracking app and workout app that can track both location and running workouts then this is definitely a good option. You can also use Apple watch or other wearable tech to track your runs in real time. You can download this app for free on the App Store. You can also buy premium features using in-app purchases.
Download it now: here
8. mSpy Tracker (Free and Paid)
This is one of the best phone locator apps for iPhone and iPad. You can easily track your Friends & Kids GPS Location using this free iphone tracking and locator app within seconds. This free iphone gps tracker is a leading monitoring and protecting app. It is a real time GPS tracker and works perfectly. You can check the location of your friends and family every 20 minutes. One of the best features of this location tracking app for iphone or iPad is that you can even look at the past three months history of your friends and family location.
You can also create virtual fencing zones for your kids. Now, whenever your child enters or exits those fenced zones, you will get a notification on your iOS device. You can create an unlimited number of virtual zones for anyone. These virtual fences or zones are very helpful as you can track the exact location of your kids. Whether they have left the school early or entering the home, you will know it all.
You can also monitor your kids by using the Contact List monitoring feature and keep them safe from predators or unknown people. You can also set an alarm for emergencies on your grandparents or kids devices. Overall a great iPad or iphone tracking app for parents.
You can download and install this free app on iPhone or iPad from iOS App Store. Download it now: Click here
How to track an iPhone by phone number
You can track your iPhone by using a website that allows you to enter your iPhone's phone number to determine where it is. There are many websites through which you can track an iPhone by its serial or IMEI number. Some sites require the use of an app on another phone in order to remotely locate an iPhone.
If you are thinking of tracking a cell phone number, then you want to find an application that works on both Android and iOS. The best option for this is an app called Number Tracker Pro. The best thing about this application is that it will help you to be able to spy on just about any phone that you need to without getting caught.
Using 'Find My iPhone' for iOS
Number tracker Pro (Third-Party App)
Use an IMEI Tracker
Caller ID Name (CNAM) Lookup
Using True Caller app on iPhone
If you are asking yourself "how do I track my own phone number", then you should know that you can track any phone number for free using this app. All that you have to do is enter someone's phone number in this app and it will show you important details such as: name of the person, address, carrier information, email id and more. You can track any mobile phone whether it is used by a person or a business.
Read: Does Find my iPhone work when phone is dead
There are different types of iPhone number tracker apps that can be used by parents to keep an eye on their child even though they are far away. Most of these apps come with a range of features that can help you monitor your child like Social Media Tracker, Calendar Tracker, and GPS Tracking Systems. These tracking systems allow you to confirm that your child is on the right track when they are either on their way home or heading back to school after being out for the day.
How to track an iPhone Using iCloud
There are a number of reasons why you should do this, but one of the best is due to safety concerns. If you want to track the location of an iPhone that is using iCloud, then the process is fairly simple to complete. This allows you to protect your children and keep an eye on them by knowing where they are at all times.
By signing into iCloud, you have an extensive amount of location tracking and data storage that you can control. If your kid is old enough to have their own iPhone, then this is something that you will want to do for a number of reasons. There are several different ways in which you can track the phone if it is lost or stolen. The only downside is that you do need to be connected to a WiFi network or mobile data and if it no longer has service on it, then the phone will not be found.
In Find My iPhone on iCloud.com, click All Devices.
To locate another device, click on the iPhone and it will show you the location of your iPhone.
Can track my iPhone be wrong?
There are numerous factors that may affect the accuracy of locating your iPhone, but the important thing is to not base your concerns solely on online forums. Instead, try the tracking app yourself and see if you get any areas of concern. Alert your family to use their cell phone when they are in certain locations or test it while walking around the area. Their results may be different than what you might be reading.
A GPS receiver in the iPhone sends a request to a number of remote servers and uses their replies to calibrate and determine the location. This requires communication with the network and therefore cannot be done if it is switched off.
How far can Find My iPhone track?
Find My iPhone will work anywhere there is cellular service or WiFi. You don't need to be on the same network that your device is on. There are a few limitations with location tracking, for example you cannot track When iPhone is Switched off.
Find My iPhone locates your iPhone on a map using its built-in GPS, or Wi-FI hotspots if it is within range of one. By default, Find My iPhone uses your device's data plan or Wi-Fi to make this determination.
If you are not connected to the Internet, Find My iPhone will still gather location information from the Location Services database stored on your device until you're close enough to connect. Once you're within range of a hotspot, your iPhone sends the location information from the hotspot location to Apple's iCloud servers.
RELATED:
How to Turn Off macOS Mojave Screenshot Preview Thumbnails
How to trim, Cut, Crop video in macOS Mojave
How to find WiFi password stored on iPhone
Show battery percentage on iPhone
How to block Adult websites on iPhone
Add someone to a group text on iPhone