Want to see who is on the move before they get there? GPS tracking allows you or your family, friends or co-workers to show others your location as you explore the world. Location sharing is the fun and safe way for friends and family to stay in touch, and help out those with an existing medical condition or disability.
Location aware apps for personal devices are rapidly gaining in popularity. Nowadays, mobile phones can use mobile location tracking features to pinpoint where you are around the world, so it is no surprise that there are several mobile phone apps built around this feature.
➡ How to track an iPhone for free: Best free iPhone tracking apps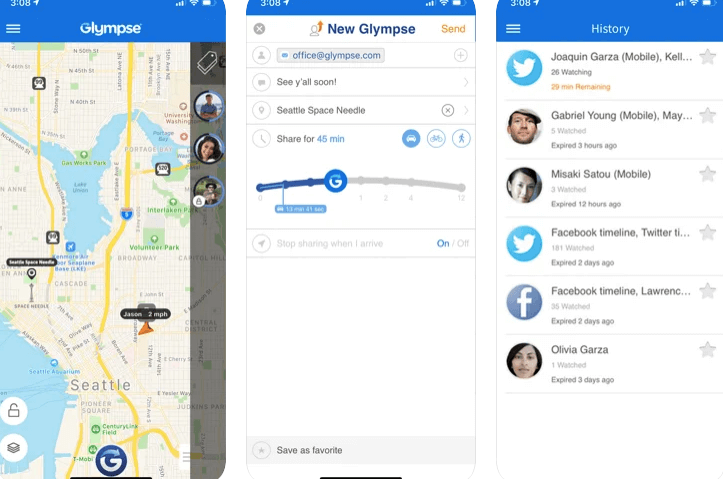 Glympse is a fast, free and simple way to share your real-time location using GPS tracking on your mobile device. This is location sharing on your terms. You decide who sees your location and when!
➡ The Best tracking app for parents
If you are like me, you don't want to share your real-time location with everybody on earth. But I bet you've shared with family or friends at some point. Well Glympse is an app that allows you to create an on-demand location sharing link that you control who sees!
Glympse GPS location sharing mobile application is a fast, free and simple way to share your real-time location using GPS tracking on your mobile device, with any of your family, friends or co-workers. Location sharing on your terms whether you want to see your parents instantly during your commute home from work or want to help locate a lost family member in a crowded mall parking lot. Glympse is one of the best Android and iPhone apps.
➡ Can someone track my Phone? Even If it is turned off?
It is very similar to the previously reviewed Life360 and is most definitely worth hearing about. If you can't see my screen embedded above, they have a video that serves the same purpose just click here to view it.
How to track iPhone and Android using Glympse app
Open the glmypse app on your phone.
Click on the menu, on the top left side of the screen.
From the phone (which you want to track), click on share location.



Enter the details like: location sharing duration, destination and phone number.



Share the live link to your family member or a friend.



How it Works?
Glympse is the easiest way to share your location with the people you trust. It's like sending an email, but with a map. No sign-ups, no login, no app required. Just install Glympse on your phone and share your live location for as long as you like, or for one-time events like meeting friends or family at the airport.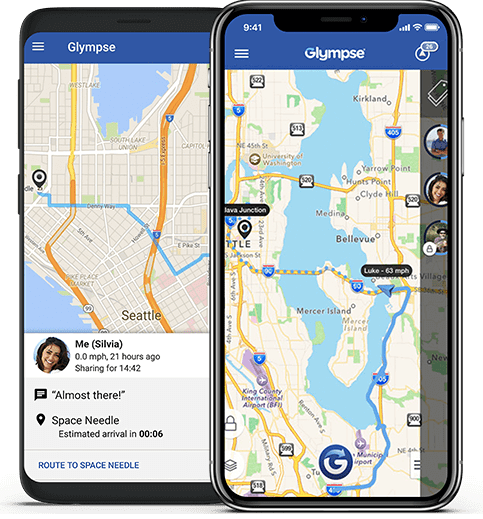 Glympse user can view it from their computer, smartphone, tablet or other mobile device. Share your ETA with family and friends so they know when you'll be arriving. And if you're late — no problem — Glympse will automatically send a follow-up message when you get there!
➡ Map My Walk App Review: GPS Walking / Workout Tracker
Glympse uses your mobile phone's location services and lets users post a status message, therefore it requires ongoing access to your location (GPS and network connectivity).
➡ Walk Tracker: Best Walking App for iPhone
Many Apps have a "share my location" checkbox, but most require your recipient to have the app installed. If you're on a hike and don't want to lug a phone or tablet with you, Glympse is perfect for sharing your location live with anyone–it's as simple as sending a text! (1) Create your Glympse privately. (2) Share a text message invite to join a private Glympse group. (3) Start your Glympse from within the app or from the lock screen. (4) Broadcast your live location.
Glympse App Features:
Recipients can view your location on a map in real time, share your location with friends inside Private Groups, and move the map around so they can see where you are headed at any given time.
Choose whether your recipient sees basic GPS data or fully-detailed mapping for precise arrival info.
➡ Kids Tracker: 5 Apps to Track Kids | iPhone | Android
You can share your location with an individual person or a private group of people. And they only get the location for a configured period of time in other words, they can't keep it forever.
The Glympse app features three options: Open, which allows you to share your location with anyone; Passive, which locates you without revealing your exact location; and Global, which provides visibility everywhere on the globe.
➡ FollowMee GPS Location Tracker
The passive and open options work in the background and offer privacy: people won't know where you are unless you tell them while connected via text or phone call. The global option works while connected to data and requires confirmation of your privacy settings.
Uses of Glympse App
Whether you're running into a coffee shop across town or needing help to find friends at a crowded concert, there are plenty of ways the Glympse App can help you out. The best part is they don't need to have the app installed on their phone – just send them the link and they can follow along and know your location and estimated ETA.
Create a Glympse for your activity (work, school, event, or trip) and easily send it via text or email. Recipients will be able to view your ETA and estimated location on a map for as long as you like. If someone needs more time to make it to the meeting point, simply update the Glympse at any time.
So many reasons to use Glympse! Your friends and family will welcome the near-real-time view of your smart phone's location. Gain peace of mind by letting your spouse know you made it home safely from that awesome restaurant nearby, or let your kids know you're almost home from a long day of work. Runners and cyclists, share your location on the run with friends & family from virtually anywhere in the world. A new way to share location without SMS messages or email – Glympse is the simplest way to share your real-time location.
You can Send a Glympse to a family member or friend as a courtesy notice when stuck in traffic. Provide a Glympse of your arrival time directly from your smartphone to a client – they will appreciate the heads up! Share with friends on Facebook and Twitter the route you have just run so they can track you. Let roadside assistance or emergency personnel find you quickly if you have vehicle trouble.
Some thoughts on Glympse App
The App is totally free but has advertisements. A very well made off with excellent location trcking on iPhone and Android devices.
Glympse uses GPS tracking technology to share your location with other people. It's like texting with your exact location, including route map for easy viewing. It allows you to provide someone with an ETA (Estimated Time of Arrival), drive the route live, or share via social media.
Glympse has many practical uses, especially for parents of younger drivers. Perhaps one of the best features is the ability to send a Glympse directly to an emergency or roadside resource, like AAA or the highway patrol.
The above are real examples of Glympse app usage, I've used this application personally on all of them. But there are thousands of other practical uses for this free application.
Glympse App Review
User Interface

Location Tracking

Security and Privacy

Real time location
Summary
There are thousands of social network app in the market, but glympse is different in many ways. It's fast, real time and easy to use. It also lets you to share your location with anybody on any device using GPS location tracking. Glympse is used by millions of people every month to connect with friends, family, coworkers or anyone they choose — all within a couple taps of an icon.