Walking is good for you. It can be one of the best ways to keep fit and improve your health and well-being. There's a bunch of apps out there to help you do this, so we've rounded up the best walking apps for iPhone – and we'll help you to decide which step tracker app is best for you.
Walking is an excellent exercise that combined with the use of a good app can be great for your health. It's an effective way to get in shape while working out at the same time. But there are hundreds of apps at the App Store, so finding an app that works best for you might be difficult.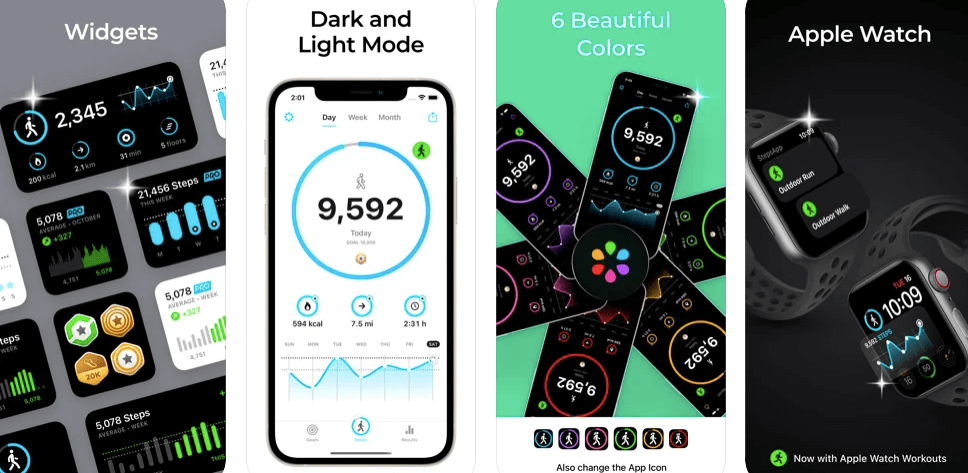 Whether you're looking to lose weight or just want to lower your blood pressure you need to break a sweat every once in a while. The best way to do this is by taking a walk. If you're anything like me, though, walking the same path around the block gets old fast. To avoid boredom and help keep my motivation up I use what I call my walking app for iPhone.
Walking is an easy fitness activity for people of any age or ability. The reason walking is so popular is that it's so portable. No matter where you are, you can find a stretch of sidewalk to go on a walk. That's especially true in today's world, when walking or jogging with your phone is all the rage. There are plenty of iPhone apps that are all about walking, but which ones give you the most for your walking workout?
These walking apps for iPhone will help you stay fit, track your steps, and have fun walking. Each of these walking apps include step tracking technology that automatically syncs data to your iPhone or Apple Watch (if you use one).
You'll find walking attributes like distance, time, pace, calories burned, and steps available on some apps too. Some of these walking apps also keep you motivated with interactive challenges and games to make walking fun again.
They also offer useful features like GPS tracking (if you use your iPhone as a fitness tracker), background music, customizable sound alerts, live-chats with friends/family tracked on the app, automatic reminders to help you stay on track, integration with popular social media platforms like Facebook and Twitter to share your
➡ Best Pedometer Apps for iPhone and Android
Walking apps can be great motivators and tools for planning out your next walk. This article lists the best iPhone apps for tracking your walks, whether on a treadmill or on city streets. Many of these apps also allow you to route your walks and find nearby parks and trails.
Are you looking for a walking and step tracker app? Which is the best walking and step tracker app for iPhone to track steps and miles? When it comes to walking and step tracking apps, there are many options available. So much so that it can seem like a tough decision when choosing what app to use.
The 5 Best Step trackers and Walking Apps for iPhone in 2021
Walking apps are a great way to finance your fitness goals. If you'd like to lose weight, build up your stamina, or enjoy nature, these free iPhone apps can help you keep your daily walks on track. These are some apps to measure distance walked on iPhone.
If you're looking for an app to track your steps or activities, you've probably tried a few already. The good news is, there are plenty of apps out there that can monitor your steps and daily activity. However, not all apps are created equal. Some don't offer the best user experience or may not be as accurate as claimed to be. To help you choose the best walking app for yourself, I rounded up five apps that are worth checking out.
Best app for walking in 2021
The MapMyWalk app works with your favorite wearable device to track and save your workouts. The app also features an instant pace calculator, to show you how fast you're moving at any given time during your walk. You can run MapMyWalk on your phone and use it without a wearable device, and you can even store and save your workouts manually.
You can measure your walking route using this app.
What makes MapMyWalk different from other fitness apps? It's the data. Each step of your workout is mapped out on a map in real time with impressive detail, including live elevation information. When you're finished, your route is uploaded to the website for keepsake. And when you can share your workout with friends, accountability kicks in and you'll be motivated to power walk every day.
MapMyWalk keeps track of everything, including time spent walking, distance traveled, pace, speed, elevation, and calories burned. You won't find this much data on any other fitness app.
Map My Walk is a great way to track, analyze and share your walking workouts with 3D maps that show your personal routes. As seen on CNN, this app calculates your speed, stride length and distance covered during each walk—and is optimized for in-app fitness tracking from a wide variety of devices.
➡ Best Sleep Tracker for Apple Watch
Record your workouts and upload them to the Map My Walk website in a matter of seconds to see a detailed 3D map of your walk and track your progress over time. If you notice something interesting about one of the routes in the app, you can add it as a comment for other users to see or add comments
Pacer Step Tracker
Best Walk tracker for iPhone With health monitor
The Pacer Fit app is the easiest, most motivating way to track your steps and Walking.
Do you want to get more active? Do you wish you could lose some weight? We all struggle to do the things we know are good for us. Maybe it's just one of those days, or maybe it's something deeper. Either way, keep reading to find out how Pacer can help you enjoy your day-to-day life—no matter what your day looks like.
Welcome to Pacer's walking step tracker app. This walking app will help motivate, track, and educate you on your walking activity. Whether you are walking for weight loss, walking for health or walking to manage stress, Pacer will be your walking companion that motivates you! Pacer can even suggest walking routes to take whenever you feel like a walk!
Combining a smart Walt tracker and a comprehensive fitness app, Pacer is the best way to track steps, distance and calories burned. Easily monitor your progress toward your individual goals, use meaningful data to improve your life, and stay motivated with Pacer's fun challenges, outdoor routes, customizable alerts, personalized fitness plans and full-body workouts!
➡ The Best tracking app for parents
The Pacer Watch App provides seamless access to Apple Health for comprehensive step tracking. The Apple Watch companion app displays detailed activity information on your watch face, while giving you quick access to Pacer's features.
With Pacer, you can: – Record and review your outdoor walks and runs – Participate in challenges and engage with the supportive community – Get encouragement from experts and celebrities in the industry – Access fitness plans and training videos – Manage your weight by tracking your weight, body fat percentage and BMI.
It is available for iPhone and Android smartphones. Open to anyone, it allows you to track your outdoor walking, hiking, running or biking. Plus the app also tracks the distance you travel outdoors over time, earned badges by taking daily walks, and awards virtual badges for hitting daily step goals. The Pacer app also lets you connect with friends using Pacer or any other smartphones via Facebook login to help keep you motivated and accountable on a more social level.
The Pacer App helps you maintain an active lifestyle by promoting healthy walking. Set your goals to walk 10,000 steps per day—the daily average recommended by the World Heart Association, American Heart Association and President's Fitness Council.
Pacer Premium unlocks the power of this app in a number of ways, including advanced data reports to help you improve your results in between workouts, in-depth functionality to allow you to create custom customized workouts, coaching tools where friendly reminders will guide you through your day, and access to scientifically designed guided workouts using real world trainers.
StepsApp
Top rated Step Counter app for iPhone and Apple Watch
StepsApp is the easiest way to learn how many steps you take every day. It counts for you by just putting your phone in your pocket. Every day StepsApp tallies your steps and displays your average, maximum and minimum number of steps. As you walk more, it gives you stars to track your progress. You can set Targets, which are based on different daily activities, e.g. to burn 2000 calories do 30 minutes of running per day; or 10 km walking to lose 1 kg (2.2 lbs.) in 1 week; or burn 2kcal/minute.
StepsApp tracks your steps, distance and burned calories using the M12 motion coprocessor of the iPhone 12/12 Pro/12 Pro Max or later, or the CoreMotion API on other iOS devices. In addition to the basic statistics it visualises your activity over time with beautiful graphs to make you stay motivated!
StepsApp has the most advanced step algorithms and is optimized for both Apple Watch and iPhone to give you the most accurate step counting experience. Works with Apple Watch and iPhone 6, 6plus, 5s and above.
➡ The Best running app for Apple Watch: Free/Paid
The Steps App is all about simplicity. Put your phone in your pocket and go, the app will track your steps for you. The simple interface allows you to change statistics like step count between metric (km) or imperial (miles), display your progress in either list format, pie chart or bar graph for quick glance at how you are doing.
Use the Insights feature to see your top activity times. Take a look at Trends to see how close you are to beating your daily goals. Through Apple Health integration, STEPSAPP can send active calories burned and distance walked to Apple Watch. With a user-friendly design and a variety of features, STEPSAPP is perfect for anyone seeking a more active lifestyle.
It tracks every step and uses the superb MotionX sensor fusion engine to pinpoint the steps, calorie burn, distance, stair count, active time and many more health data of your daily life. Whether your walking, running or cycling, StepsApp will keep track of it all. Simply start the iPhone app and then just put your phone in your pocket to track steps. Close the app and open it again to see your progress. The watch app is also universal so whether you're tracking activity with an Apple Watch, Fitbit, Garmin or any other Bluetooth 4.0 device you can merge everything into StepsApp.
You can share your activity on Facebook, Twitter or via email to challenge friends and family to walk more. With the revolutionary smart algorithms in StepsApp you can also easily explore historical data.
Charity Miles
Best free Step tracker and Walking app for iPhone
Charity Miles is a free app that enables you to earn money for charity anytime you walk, run or bike. You earn money for each mile you log–up to $1 per mile.
Get fit and help save lives at the same time with Charity Miles, a free app that enables you to earn money for charity whenever you walk, run or bike. You can even use Charity Miles to push charitable fitness forward by offering encouragement and motivation to your friends, so they can motivate others as well. Whether it's a quick interval workout or a long morning stroll, your activity earns points. For every mile you move, the app donates to charities working to solve some of today's most critical social issues.
Charity Miles works with corporate sponsor networks to round up & donate every mile you walk or run to one of our amazing charities – including United Way Worldwide, Autism Speaks, AIDS Walk New York, Team Coco Chicago Cares, The Movember Foundation, Try This at Home Bullying Prevention Initiative, Humane Society of the US, Best Friends Animal Society, Lance Armstrong Foundation & more!
Whether you walk, run, cycle, or travel, your miles count for your favorite nonprofits with no cost to you. Participating major brands have donated over $3 million towards our Growing list of over 800 charities.
Let's say you're out running errands on Saturday, and your buddy's fundraising for an especially great cause. All you have to do is turn on your phone (or press "start walking"), then go about the rest of your day. You can even go into another app or take a phone call. As Charity Miles senses your movements, it automatically donates money to your friend's fundraiser.
The more you walk, the more sponsors donate to your charity–and the more chances you have to win cool prizes from our sponsors too. Charity Miles combines technology and people power to make it easy to raise money for your favorite cause. Plus, every time someone sponsors you, they're entered into a drawing to win cool prizes from our sponsors like a Grand Prize Trip to Hawaii (or one of several other randomly drawn prizes).
Walkmeter Walking
Walk, Hike, Run & Ride Tracker
Your iPhone is always with you, so why not use it to make your daily walk more fun and rewarding. Walkmeter's advanced features turn your iPhone into a powerful fitness computer — with maps, graphs, splits, intervals, laps, announcements, zones, training plans and much more.
You can even design or walk a new course with our built-in GPS. Better still, Walkmeter works with TrainUp to send your workouts directly to Strava, Training Peaks or Today's Plan.
Simply log your walk or hike and then Walkmeter's patented technology will overlay a detailed, color-coded map of your route and automatically record GPS location, distance, speed, duration and calories burned — all synced with iCloud to your Apple Watch and other devices.
Say you're out walking and you need to know how much longer before your next 5 minute walk interval is. Easy. Press the Walkmeter app for a detailed readout of your current status. Need to see your progress? Press the info button and a graph will appear charting your distance vs time.
Walker can make sure you are getting enough exercise by tracking how many steps you are taking. Walker will record your daily walking activity adding it to your Weekly, Monthly, or All Time records which you can look up in the history area in each tool.
The Walkmeter Tracker App is a feature rich tool that allows you to track all your steps with ease. A unique sensor embedded in the iPhone senses motion, providing information on both speed and cadence, which means you can accurately measure how fast and how far you walk. The tracker uses a barometric altimeter to compute altitude gain and loss, so now you have your true elevation gained for every walk. Stopwatch capability is included for tracking times.
Walkmeter gives you the motivation and insight to improve your daily step count, with all its features designed specifically to help you exercise more by walking more.
Conclusion
Walking is part of most physical activity plans because it's easy, free, and can be done almost anywhere. Whether you walk to your car, to the grocery store, or around the block instead of driving, you're following in the footsteps of thousands of people who have improved their health by embracing this simple yet challenging exercise. There's no doubt that becoming more active is better than not moving at all. But if you want to reap the most benefits, set specific goals for your walks and be sure to integrate other forms of movement into your routine.
Walking is one of the simplest, low-impact activities you can do for your health. A brisk, 90-minute daily walk of at least 10,000 steps (equivalent to five miles) has been shown to reduce the risk of developing heart disease, diabetes, and early death. Keep in mind that if you actually want to reach 10,000 steps by walking during your lunch break or on your early-morning commute, you'll need to step up your pace. At an average of 3.5 mph, it would take about 90 minutes to hit the magic 10K mark .
There's an enormous number of fitness and health-related apps available for your iPhone, and it can be tough to keep them all straight and find the one that will work best for you. I've tested dozens of walking apps to see which ones make it easy to track steps and maximize your fitness efforts. The above list includes several free iPhone step trackers along with a few paid apps.
If you have any suggestion and any favorite iPhone step tracker or Walking app then please share us in the comments!