The Apple Watch is a great device to help you with your exercise and physical activity routines. Its relative small size, ease of use and screen visibility in direct sunlight make it very appealing as an addition to any fitness obsessive. So, which is the best running app for Apple watch you should use?
There are a ton of running apps for your Apple Watch which can make it difficult to choose one. Obviously you want an app with good reviews and ratings since you are going to be wearing it on your wrist for a while. I take a look at some of the best running apps for Apple Watch and try to figure out which one is the best  one for you.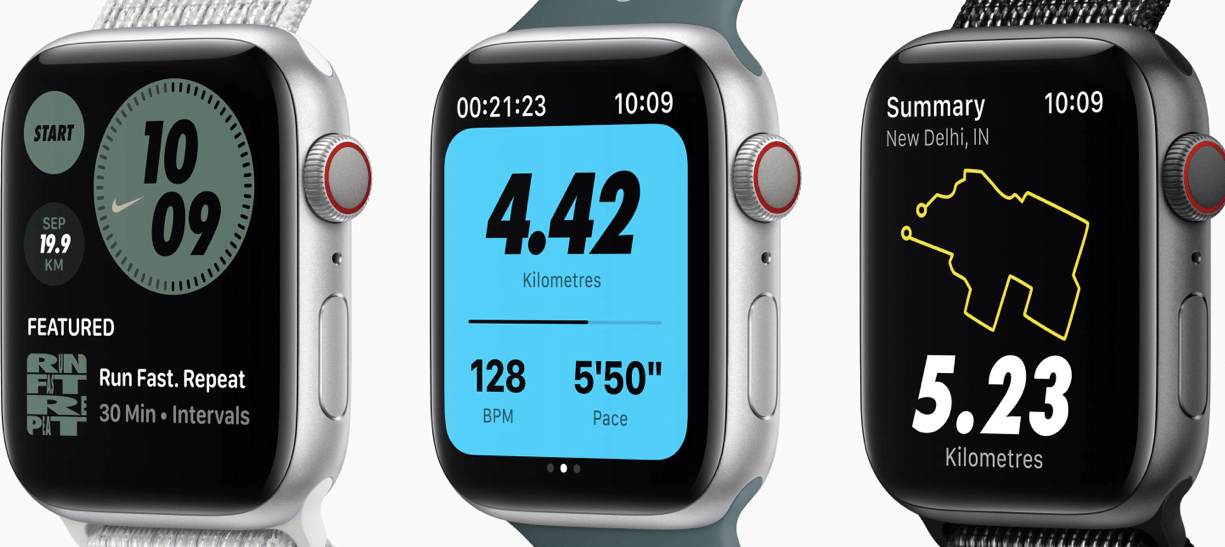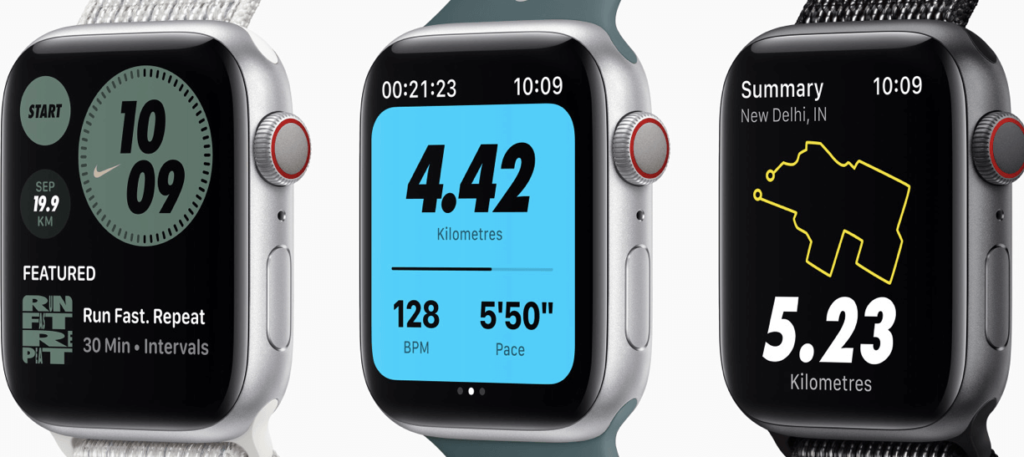 It's common knowledge that running is excellent for your health. Not only is it a great way to become more active, but it can also help you control your weight. Running at the right pace and for the same distance each time can be challenging however. If you fail to build up gradually, you will not be able to keep discipline and may end up injuring yourself. To ensure that you get fit safely, it is important that you choose the right app for your Apple Watch.
Related: Best Apple Watch App for Golf
The biggest selling point for the Apple Watch is its fitness features. If you're thinking about buying one it's highly likely you're interested in using it to track your runs, among other things. I know I was when I got my Series 5 Apple Watch. But choosing the best app for running on your Apple Watch can be hard, so today I'm going to break down the apps I've tried based on my personal preferences.
Related: How to charge apple watch series 4, Series 5 and How to turn off apple watch
The latest Apple Watch Series 6 is a great training tool for runners. The Apple Watch has transformed user experience while being used as a training tool.
The Apple Watch is capable of supporting third-party apps, which means there are numerous great new apps that you can install on your new device. If you're looking to get some extra motivation while running, then one of the best Apple Watch running apps for you is Nike Run Club.
Nike Run Club
Best Free Running Tracker & Coaching app for Apple Watch
Whether you have recently started your running journey or are a frequent runner, Nike Run Club has the tools you need to run better.
Nike+ Run Club gives you everything you need to run better. Because no matter how fast or how far you run, when it comes to running, everyone should have a good time. From Audio-Guided Runs that let you run anywhere at your own pace to workouts created by elite Nike coaches — all designed to get you out the door and back again — Nike Run Club has everything you need to reach your goals.
Nike Run Club is the perfect running partner for wherever your running takes you. Get motivated by your own personal success, and celebrate your hard work along the way with audio-guided runs, helpful coaching cues and unique run challenges from the Nike+ Running Club.
The Nike+ Running Club app uses GPS to track how far and how fast you're running, tells you your pace and even guides you in real-time based on your personal preferences.
You'll complete weekly challenges and see how you stack up against runners around the world as you race toward your goals. Find a new workout challenge or run coach every week, or choose a plan and let them do all the work of honing in on your goals.
Imagine going out for a run with a personal running coach. Not only would your running partner know exactly where to go, when, and how fast, it would also build a better relationship with you by giving you constant motivation and feedback.
This is exactly what the Nike Run Club app on Apple Watch is to me – my dedicated running partner that keeps track of all my runs, gives me feedback and motivation every step of the way, and of course tells me where to go. My relationship with my watch also goes further than just being paired with Apple Watch – it extends into the Nike+ platform.
Whether you are a serious runner or just looking for some fun, Nike Run Club app for Apple Watch is the place to start your running journey. Get inspired with training plans, training videos, motivational stories and advice from professional athletes.
Nike Run Club offers a great experience right from the Apple Watch. It's smooth, responsive and it does everything it needs to. I use Nike Run Club for workouts, tracking my runs and setting up exercise goals. With this Apple Watch app I have a set of tools which motivate me to run more often. Running with Nike is awesome!
Built for runners and designed for Apple Watch, this lightweight app puts the focus on your activity by tracking your distance, time/pace, calories burned and more. Nike athletes and experts guide you, talk to you and cheer you on, making it the motivation you need to run even further.
And with full Apple Watch Series 5 and Series 6 support, you'll never miss a beat as your favorite runs from your watch are wirelessly synced with the Nike Run Club app using the new Nike+Run Club (NRC) app.
Strava: Run, Ride, Swim
Best Cycling and running app for Apple Watch
Strava is the social network for athletes. Track your fitness activity and connect with the global community of runners and cyclists. Use the Strava Running and Cycling Apps to record your run or ride, map a cycling route, then analyse your training in detail to identify trends in your performance so you can train smarter, compete better and achieve more in races.
Strava gives athletes a competitive advantage by transforming the way people run and bike. It allows users to track and analyse their workouts, compare key metrics like pace, distance and heart rate, and share their activities with friends. The Strava app for Apple Watch lets you track your fitness activity at a glance – no need to unlock your phone when you're running, walking or cycling.
You get real-time GPS tracking, activity history, an analysis of your performance and your heart rate. All this on the wrist of your Apple Watch.
An app you can use to track your running, cycling and other fitness activities. The free app gives you access to valuable new insights, includes a range of essential features and – most importantly – helps you enjoy the journey.
The perfect companion for running on Apple Watch, Strava delivers key stats as you work out: distance, pace, speed, elevation gained & calories burned.
Strava gives you 3 ways to train smarter: track, analyze and challenge. Take control of your performance and start logging activities with Strava.
The Strava app for Apple Watch allows you to track your performance and record your activities with GPS. It displays key stats like distance, pace, speed, elevation gained and calories burned directly on the screen of your Apple Watch. The Strava app for Apple Watch also provides heatmaps of your activity and displays personal records on the Activity screen.
Strava Running and Cycling apps have been downloaded over million times. Join the millions of athletes that use Strava to enhance their performance. Whether you're new to fitness or a seasoned athlete, the Apple Watch app for Strava will make every run and ride better. The apps are your perfect running and cycling companions, with real-time audio coaching and guidance directly from Strava's world-class experts.
Related: 8 Best Photo editing apps for iPhone and iPad
A ton of new features available exclusively for the latest generations of Apple Watch to help you get the most out of your run, cycle, backcountry ski, or other outdoor activities.
The GPS-based app allows you to track your run, bike or swim via a smartphone, Apple Watch, Garmin watch or Fitbit. However, you will need a premium membership to enjoy Strava's complete set of features. Active users receive new achievements, leaderboard rankings and perks such as running segments. One major plus point is that Strava comes with an in-depth map for each route that shows time, distance and elevation.
adidas Running App Runtastic
Best Distance, Sports & Run Tracker for Apple Watch
The adidas Running App Runtastic for Apple Watch is the perfect running companion for you. No matter whether you're running a 5k or reaching your first finish line – Runtastic on Apple Watch motivates you every step of the way.
Achieve your personal best with the adidas Running App Runtastic for Apple Watch. Join millions of runners around the world and get inspired to run a little bit further every day.
Run the way you want with your Runtastic running App for Apple Watch. Once paired via Bluetooth, you're one step closer to your perfect run teamed with all the stats and data you need to get there.
Everything you need to stay on pace with your run is at your fingertips with easy-tap controls right on your wrist. Get call alerts when paired with iPhone or newer models. You can now easily control your music playback, triggering the start, stop and skip functions of your tracks via the tiny buttons right on the dial of your Apple watch.
Take your training and tracking to new levels with the Runtastic app for Apple Watch. Get all the stats you need from your performance and stay connected to your social network. Thanks to the intuitive technology, the Runtastic app for Apple Watch is always on hand when you need it most.
There's no need to open or close a heavy app as you can instantly start tracking a run or utilize one of the other available features (e.g. start/pause/stop, weekly running program).
The free adidas Runtastic app is your personal running coach, tracking your activities and training progress as you become stronger and faster than ever. The GPS-enabled running app tracks distance, duration, calories burned, speed/pace and even your heart rate. Plus, workouts are synced to the adidas Runtastic online community for extra motivation and insightful analysis of your performance.
Adidas Running is the perfect training companion for all your running needs. Get a detailed insight into your performance thanks to advanced statistics such as duration, distance, average pace and heart rate. Also check out the map feature to view your route and never get lost again and see the time you've spent in each training zone.
t brings in-depth tracking of your run and cycling sessions, a live map, and automatic GPS position updates so you can see where you are, and exactly where you've been. After your exercise session, a built-in activity overview presents all the relevant data. And it counts steps: Just start with our iPhone app—it automatically syncs your daily activity to Apple Watch.
With Runtastic's newest app, you can forget the hassle of stopping your activity to fiddle with your phone or constantly switch between apps. Premium is most advanced training app that includes all of the features available on iPhone — and now Apple Watch.
Runkeeper Running App
Best Hiking and running tracker for Apple watch
The ASICS Runkeeper app is an easy way to track your running activity as well as achieve your running goals. This app features goal-based exercise tracking, and lets you set targets that help you reach new personal records.
Data-driven, built to move, and designed to perform, present ASICS Runkeeper. With the ASICS Runkeeper app, it's easy to track your run, walk or hike, set measurable goals and see progress along the way. This app was developed to keep you hitting (or moving toward) your stride goals whenever you're on the move. It also packs in essential Runkeeper features such as live tracking so friends and family can follow your progress on social media, alerts that tell you when you hit milestones like 5 miles or 10K steps.
Related: Kids Tracker: 5 Apps to Track Kids | iPhone | Android
With the ASICS Runkeeper app, ASICS is redefining how fitness technology can motivate and help achieve your personal goals. Take off with workouts you love, log runs on the road or track your progress without ever pulling out your phone—now that's progress.
With access to exclusive on-demand coaching content, this free app is also the best way to track your latest workout and analyze your progress as time goes by.
The ASICS Runkeeper app for Apple Watch is a simple way to add some variety to your workouts. Runkeeper for Apple Watch tracks your progress, helps you push yourself a little farther and provides access to your stats so you can see how you're improving over time. Record your runs, distance covered, pace and splits but also where and when you ran and finish times.
You can check the app for new weekly challenges that are tailored to new runners who want to reach a certain distance, or new race-goers who would like to meet their ideal finish time.
With the power of GPS on Apple Watch, you won't need to carry your phone when you're running to see how far, how fast and how long you've been running.
Challenge yourself to reach goals or earn a variety of badges to keep you motivated and inspired as you log miles. Keeps track of your progress towards any goal with smart alerts. Sync stats wirelessly with the Health app on Apple Watch.
C25K Trainer
Top-rated Running app for Beginners on Apple Watch
A completely free app, designed to help you complete Couch to 5k in less than 9 weeks. The C25K Training app will help you get off the couch and start running. With this award-winning app, you can change your life and start reaching your fitness goals.
Created by experts, this fitness app includes thousands of tips, a beginner 5K training plan, personalized coaching, motivational support and much more to keep you on track!
Transform your body with this easy-to-use and effective Couch to 5K app. This app is designed for the new runner who wants to start running as well as the seasoned runner who wants a new challenge. It doesn't matter if you want to run 5Ks, 10Ks, half-marathons, or marathons—this program will help you achieve your goals.
With the Apple Watch C25K app you'll be able to track your progress, listen to your music or audiobooks while on a run, receive coaching updates whenever you like, and get reminders
Whether you're brand new to running or still need to start slow, The C25K App will help you reach your goal of running a mile by your target date. A convenient and encouraging audio coach guides you through the workout and offers assistance when needed. You set your goal, your pace, and your distance, and the app will provide a run schedule from three to thirty-one days. Track your progress with in-app tools that map out each run so you know how far you're going.
Related: Best iPhone tracking apps
Keep up with friends online and work toward common goals together! Run in real time with GPS tracking for accurate distance measurements
The C25K trainer app features convenient audio coaching with alerts between each session that allow you to run at your own pace. Integrated with fitness apps such as Apple Watch and Health, it's never been more convenient to get going on your fitness journey .
Wrapping Up – Top apple watch apps available for running
Running apps is a great way to sync and improve your performance. The new Apple watch has an incredible amount of features but can digital help you perform better? There are many running apps that work well with the new version of the watch. To get you started I selected some running Apps that will ensure you have the best running experience.
The latest running apps for the Apple Watch have thousands of users saying the Apple Watch is the best GPS watch, as well as the best fitness tracker for distance, speed, route tracking, calories and step counting. But it's not all about just numbers.
Exercising with apps for Apple Watch gives you plenty to track and consult while you are running. And when your run is over you can scroll through routes and workout information at your convenience–even see splits all from your Apple Watch.
When the Apple Watch was released, we wondered: what would be the best running apps for it? And how could they compete with Nike Run Club? Since then, a lot of great running apps have sprung up that claim to be the best. There's also been a new watchOS update! In this article, we take a look at all the apps that do more than just track your runs. Check out our list of 5 must-have running apps for Apple Watch.
Get the best running apps for Apple Watch today!