A dieting app is a mobile software application for the purpose of weight loss and healthy living. It is an on-the-go alternative to traditional weight loss and fitness concepts and consists of audio and video lessons on diet and exercise, recipes, shopping lists, workout plans, nutritional advice and even more.
Have you been looking for a weight loss app for your iPhone and iPad? If so, take a look at the following apps and let your body begin its transformation.
Comparison of Weight loss apps
| App Name | Pricing | Features | Workout Type | Meal Plans | Fat Loss | Magazine Reviews |
| --- | --- | --- | --- | --- | --- | --- |
| MyFitnessPal | Free with optional premium subscription | Calorie tracking, nutrition and exercise tracking, progress tracking, and social sharing | All types | Yes | Yes | "A comprehensive and user-friendly weight loss app." – CNET |
| Lose It! | Free with optional premium subscription | Calorie tracking, food and exercise tracking, progress tracking, and social sharing | All types | Yes | Yes | "An excellent app for anyone looking to lose weight." – The Verge |
| 8fit | Free with optional premium subscription | Personalized meal and workout plans, progress tracking, and goal-setting | All types | Yes | Yes | "A great app for anyone looking to get in shape." – Wired |
| My Diet Coach | Free with optional premium subscription | Calorie tracking, food and exercise tracking, progress tracking, and goal-setting | All types | No | Yes | "A great app for anyone looking to lose weight." – Lifehacker |
| Fooducate | Free with optional premium subscription | Food tracking, nutrition analysis, progress tracking, and healthy eating tips | All types | No | Yes | "A must-have app for anyone looking to improve their diet." – Macworld |
Diet plays a vital role in your weight loss program; without a strict diet plan, all your efforts to lose weight would go in vain. For some guidance in your endeavors, entrust one or more of these diet and Weight loss apps for iPhone and iPad without hesitation. These diet apps will assist you along the way.
These days, with constant availability of snacks and unhealthy food, it can be really hard to lose weight. But you know what makes it harder? Failing to keep motivated.
We compiled a list of the best weight loss apps for iPhone and iPad in 2021 using apps and calculating the results using algorithms. Our program searches through subreddits, forums and most importantly has gone through numerous app analyses by users, bloggers and experts. It then shows you the most valuable information we found in one easy to read source.
It's easy to fall off track if you don't have the right tools. That's where these iPhone weight loss apps come in. They'll help you drop the pounds and reach your goals faster than ever before. Most free apps are filled with advertisements or subscription fees, so doing your homework is the best way to ensure you pick out the best Weight loss apps for your money, time, and convenience.
➡ Map My Walk App Review: GPS Walking / Workout Tracker
A lot of people think that weight loss is like a diet: "Go on it, and you'll lose weight. Stop and you'll gain it all back." But it's not. Losing weight and keeping it off isn't about just counting calories; it's more about changing your lifestyle. You need to change what goes into your body and how often you exercise so you can lose the weight for good. Today, there are many fat loss apps available to help you meet your goals — whether that's losing 10 pounds, 50 pounds or another metric entirely.
For most people trying to lose weight and live a healthier lifestyle is extremely difficult, if not almost impossible. This is why there are so many dieting apps for iPhone and iPad. Apple has more than 2.62 million apps in its app store, and this number will grow every year.
➡ Strides app review: Goal & Habit Tracker
What's the solution? Motivation often goes down as the novelty of a new goal wears off. That makes it all about supply and demand. If your supply of motivation can remain high, you should be good to go. The below apps make it easy to keep motivated–by providing a constant stream of reasons why you should stay on track.
Losing weight is no easy task. That is why dieting apps have become incredibly popular over the past few years. Hundreds of thousands of new apps are introduced every month, hoping to find an audience of consumers who are hoping to improve their health and lifestyle behaviors. However, it's not always easy to determine which are the best dieting apps available today.
➡ Walk Tracker: Best Walking App for iPhone
There was a time when it seemed that most weight loss advice was rooted in nonsense. I mean, who didn't hear that grapefruit dieting would help you best lose weight back in the 80s? And apparently carrot juice isn't bad for you either. In any case, nowadays there are a handful of apps available for your iOS device which actually help you lose weight instead of confusing your body with useless data.
If you have tried to lose weight, you are not alone. It's no secret that America has an obesity problem. The Centers for Disease Control and Prevention (CDC) estimates that around 42.4 percent of Americans are obese.
Everyone who's on a diet is on the lookout for the best weight loss apps for iPhone, iPad or Android.
These are the 5 Best Weight Loss Apps for iPhone
The amount of dieting app is incredible, and you might think they can not be useful. But it's not as simple as looking at the overall rating of an app on the app store.
Losing weight and living a healthy lifestyle can be difficult. Dieting Apps listed below can help you to keep track of the calories you consume and the calories you burn. It's not easy to lose weight and stay fit, but these listed diet apps can make it easier for you.
The good news is that you can use your iPhone to make it easier for yourself. From apps to record your calories and workouts, to apps to track your running and biking, there are a lot of great apps out there to help you stay on track. The following 10 weight loss apps for iPhone should be the first three on your list to lose weight this year:
MyFitnessPal: The best weight loss app for iPhone
MyFitnessPal for iPhone will help you to stay a track of your diet and calorie intake more efficiently. With its very interactive interface, user can keep a track of his/her daily calorie intake and also their fat, protein, and carb intake even map out what they exactly eat. There are numerous apps at App Store that takes care of your weight loss. Myfitnesspal is one of the largest weight loss & calorie-counting apps available on the App Store. It helps users count their calories, develop healthy eating habits, and reach their weight loss goals.'
Because we're lazy, we rarely bother to log our meals and exercise into a diary. UnderArmour's MyFitnessPal makes it easy: enter what you ate and how much you worked out, and it will determine the caloric results (and, eventually, your weight loss).
Now, since there is no magic wand for this kind of thing, it may seem like this app is snake oil. How can entering your food intake tell you how many calories you've already eaten? But what the program has going for it is simplicity. With MyFitnessPal counting your calories, you'll never be left guessing how many you've eaten. Just throw your food into the app and it finds the nutrition info for you. Recipes are included, too! More than 7 million people use MyFitnessPal to create a healthy lifestyle and we continue to deliver innovative ways to count calories and manage weight – all in one friendly and easy-to-use app.
➡ Best Sleep Tracker for Apple Watch
MyFitnessPal helps you manage your diet in a way that's easy and user friendly. It integrates with most health apps, food tracking devices, or fitness trackers. The app offers hundreds of foods in its database so all you have to do is type the name of the food in its search bar and it will provide you with nutritional information. MyFitnessPal can help you lose weight, keep your body healthy, form healthy eating habits, maintain the proper body shape, stay fit and maintain your optimum weight.
To be successful at losing weight you need to count calories. MyFitnessPal is a great way for people who are already counting calories or are interested in dieting to manage their calories with one easy app. With this app you won't have to carry around a big calorie counter book, plus it is totally free.
With comprehensive search features, more than 1 million food items in its database, and plenty of community support, MyFitnessPal is one of the leading Weight loss iPhone app. Downloading is simple, and it works with most smartphones. Simply log your food intake—which you can search by brand name, barcode scan, or keyword—and exercise. It tracks your calories burned and helps you monitor your diet with charts and graphs. It even syncs with Facebook to compare progress with friends.
Lose It!: The best app iPhone calorie counting Weight loss app
So you're looking for a way to lose weight, but unsure of how to deal with all of the information out there? When it comes to weight loss apps, few are as committed to helping people achieve their goals as Lose It! Lose It is the perfect fit for those who want simple guidance and support. From tracking calories to monitoring daily nutrition, weight loss, exercise and even hydration—this app is the perfect fit for the dieter who craves convenience along with results. With Lose It, weight loss never tasted so sweet.
Billed as a Weight loss, calorie counter and dietary journal, Lose It! is a well-designed food diary that helps you maintain a healthier lifestyle by tracking your calories and exercise, creating a calorie deficit to reduce weight, and offering a friendly peer support system. Much like rival MyFitnessPal, it's simple to keep track of what you're eating. You'll find this app on the App Store.
➡ 7 Best Pedometer Apps for iPhone and Android: Free/Paid
Lose It! is a free weight loss app that makes tracking your calorie intake easy. It keeps track of your daily intake automatically, and is customizable to your preferences. Users also have the ability to scan barcodes of packaged food to get nutritional information for cheap, processed foods. If you're looking for an easy way to get started on weight loss without breaking the bank, this app is for you.
The UI is incredibly slick and streamlined, as you would expect from a company as fashionable as Fitnow itself. The simple color palette keeps you from being distracted from your exercise/dieting goal, which is a great contrast to the bright colors of MyFitnessPal. The ability to drop a pin on a map and then use that as your starting point for your fitness/dieting is a fantastic feature not available in MFP.
Backed by strong science and an active developer community, Lose It! is the easiest way to get started losing weight. Built around proven concepts like calories in, calories out; it has streamlined its feature set into an easy to use app that leads the pack in terms of both functionality and engagement.
Lose It! for iPhone is an effective tool to help you stick to your diet goals. The app is easy to use and features the same look and feel of its companion app/website LoseIt! If you're already familiar with the website, then the low learning curve will be of benefit to you since you can jump right into tracking your food without having to get used to the app's interface.
The aptly-named Lose It iPhone app is a useful tool for those interested in a customized diet regimen. Here, you can enter basic data — your height, weight, and gender — and the app will calculate how many calories to eat daily to reach a given weight goal. There's a social feature that allows you to meet up with friends in an attempt to lose weight together, but you can also make use of the app's built-in community for advice on eating better. The app includes your own private account, an extensive food database with over millions of items, barcode scanner and GPS on mobile devices, a robust weight tracker and history, the ability to add multiple users across any of our supported platforms.
8fit Weight loss & Meal Planner iOS App
8fit is not just an app that shows you how to lose weight, but in addition it guides you throughout the process in the best possible way. You can choose between plans depending on how much weight you want to lose or where your priority lies, whether it is more important for you to lose body fat or get toned.
"8fit" helps you lose weight with two unique features. First it suggests many custom workout plans for different body targets. With the continually updated sports science knowledge, the app provides intensity charts for each exercise so that you can customize your workout levels. Second, "8fit" suggests meal plan for 40 days based on the checklist of what you are eating every day to be able to precisely estimate how many calories you take in daily time frame.
The best and quickest way to get in shape and stay in shape while you're on the go! "8fit" is a meal planner, fitness planner and weight loss app. This app that has an integrated workout plan totally dedicated to your weight loss, fast and healthy body shaping or muscle building program.
When you sign up with the app, your customized workouts are available right on your mobile device. In addition, the app provides easy ways to track fitness goals and weight loss progress right from your phone. The meal planner makes it easy for you to cook fat burning meal recipes from scratch!
➡ 6 Best apps to track goals – Top Goal Setting Apps
This iOS app is designed by 8fit.com to provide the user with a platform that leads them towards their weight loss goals. The main idea is that users are able to track their progress with every workout they do. They are also shown which exercises have helped them lose weight in the past, so they can decide if they want to focus on the same ones over again, or try something new.
Get the grocery list and the weekly meal planner to start shopping for healthy ingredients that match your requirements. In addition, 8fit offers several interactive videos to show you how exactly to perform every exercise, with progress tracking and essential audio cues while performing Workouts.
My Diet Coach: The best app for making weight loss with Food tracker
My Diet Coach makes the process of losing weight much more fun, with a set of challenges inspired by modern games. Meet your goals to earn points, which you can use to buy things for your avatar—tokens, better phones or houses, or even whole new avatars. Your progress is always visible on the screen, so you always know how you are doing.
A lot of weight-loss and exercise apps offer tools and data to help you get in shape, but we think we've found the best. The idea behind My Diet Coach is to gamify fitness: track your progress and level up as you lose weight, hitting benchmarks along the way. When setting up a new account, you create a character, selecting from a default set of templates or customizing your avatar with 13 different body types. Weight loss gets tracked in two ways—first by inputting what you eat in the app's database, and then by tapping your daily exercise.
Thoughtful design and ease of use already set My Diet Coach apart in the crowded App Store health category. The latest version adds in-app friends, new achievements, and improved food database to keep you motivated on your way to one of three different weight loss goals.
My Diet Coach is a weight loss app that lets you set exercise and eating goals, with points for logging your food, joining challenges from friends and colleagues, and entering your daily step count. You don't have to enter a single calorie with its barcode scanning feature that identifies supermarket products or its online food search function. The graphics are dazzling, too, with a Shadow of the Colossus-like woman on the run from a giant human-like hand representing your hunger cravings. My Diet Coach is like an RPG (role playing game) for weight control.
Fooducate: Excellent iPhone Weight loss app With Nutrition & Diet Tracker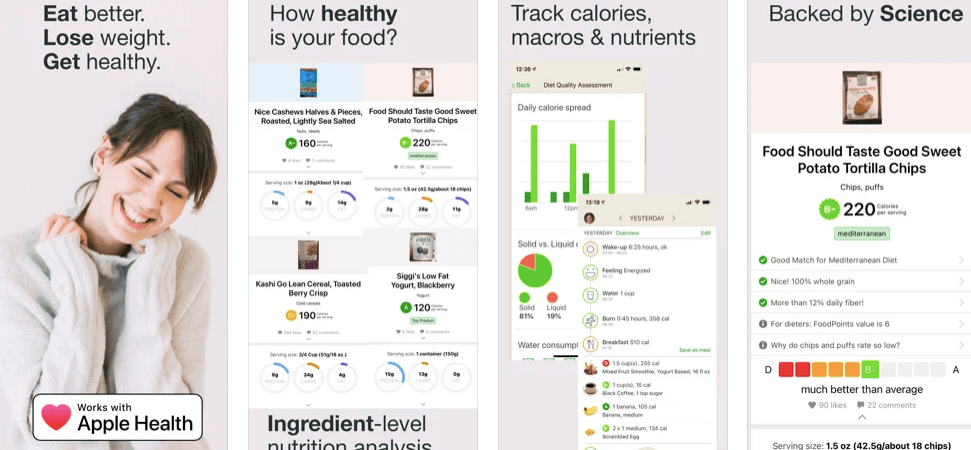 Fooducate will scan the bar code of any food item you want, and provide you with useful information including all the ingredients, nutrition facts, and why it has received an individual rating. The rating works by giving foods marks for positive nutritional attributes such as high fiber, whereas any negative nutritional properties are given a negative rating. It can even give you personal feedback based on your unique diet strategy. You'll soon make smart decisions every time you go food shopping.
Fooducate does for nutrition labels what Rotten Tomatoes did for movie reviews. It lets you know when your favorite snack or meal isn't all it's cracked up to be, but the key is that instead of simply telling you how bad it is, it also tells you why.
One of the most common sources of food in the American diet is prepared "fast" food. Though many would argue that it is convenient, tasty and nutritious, the main reason why fast food is so popular is due to its low cost.
➡ The Best Golf app for iPhone
Many companies add questionable ingredients such as trans fats or high concentrations of sugar in order to cut costs when preparing food. As a result, when comparing foods using their nutritional information, one may be able to conclude that junk food trumps regular home cooked meals. Fooducate has created an app which simply lets you scan the barcode of any food item in your grocery store and tells you how good or bad it is for your health and helps you in loosing excessive weight.
This weight loss app for iPhone uses science and your smartphone to rate your favorite snacks, grocery items, and restaurant foods based on their overall nutritional value. Whether you're trying to lose weight or just eat healthier, Fooducate can help you make smart decisions about the foods you eat.
Conclusion
What is the best dieting app for the iPhone you ask? We've attempted to answer this question by rating and reviewing all of the best dieting apps on iOS.
Some of these iPhone apps will help you count calories, some will make healthy recipes more convenient, and some can even motivate you to never eat a Big Mac again. So download these apps now to make 2021 the year you go from fat to fit.
Shedding the extra pounds really doesn't have to be as hard as it could seem. You can use an iOS app or two to keep your weight loss on track and make it easier to adhere to your weight-loss plan. Everyone knows that exercising and watching what you eat is an important part of losing weight, but staying on top of things doesn't always come easily. Weight loss apps for iPhone can help keep you motivated and broaden your understanding of diet and exercise to include habits that will keep you healthy in the long term.
The iPhone is a great tool for keeping tabs on your diet and fitness. You can easily log what you eat, track your progress and set reminders to avoid straying from your diet. These apps range from simple daily meal planners to calorie counters to more elaborate fitness trackers, but no matter which app you choose, the iPhone serves as a convenient way to monitor – and improve – your health.
S​tarting a new diet can be hard. Although you may try different diet plans, it just doesn't seem to work for you! Perhaps it's because you're not able to stick to that particular diet plan or it was unnecessary. Diet plays a vital role in your weight loss program; without a strict diet plan, all your efforts to lose weight would go in vain. For some guidance in your endeavors, entrust one or more of these diet apps without hesitation.
When we want to lose weight, we look to the internet and go for professional opinions. Sometimes we resort to diet pills and other medical methods. Although these methods serve a certain purpose, they are not totally safe either. There are numerous diet apps out there that can support your weight loss plan. Have a look at these iPhone app reviews and choose the one you need to lose weight in an instant.
How many times have you tried to lose weight? Like, seriously, I'm pretty sure it is the most popular resolution on the planet. And how many times have you succeeded? Tell us in the comments..