With over 15 million apps in the App Store and millions of downloads per day, it can be hard to sift through and find the best golf app for your iPhone.
So here's the deal, I love playing golf. So I'm always looking for apps that can make my game better. There are a lot of golf apps out there for mobile phones, but are they any good? Do they make any difference? Do you recommend using golf apps while playing with friends? How does it affect their game? All these questions were on my mind with this one, so I wanted to do a little research into the facts and find out which is the best golf app for iPhone.
In this post, I wanted to look at how effective golf apps were. At first I was going to review them from an iPhone user's perspective, but then I also decided to try a few golf apps for Apple Watch as well.
➡ How to Improve your Golf Swing
Golf apps have been around for a while now with some being built before the launch of the App Store. However quality has been a problem in most golf GPS apps out there, which is a shame because it can be a great tool to improve your play.
It's always important to find things that can help you on your quest for self-improvement. If you are golf beginner, it can be tough to know what tools are available to make the game easier. But there are many tools out there, including golf apps for iPhone . This article will discuss some of the best golf apps for iPhone.
➡ 10 Best golf club hybrids right now
7 Best golf apps for iPhone right now
You've got apps to help you track your heart rate, how many steps you take a day, and even what you eat. But there's a lot of golf apps on the market so it can be hard to find one that will actually help your game. Below are some of the most used golf apps by golfers on iPhone:
Golfshot: Golf GPS + Caddie
Best Golf GPS app for iPhone
Golfshot is the first to bring to you iPhone tracking of your golf shot distance per club. Golfshot has long been the best GPS golf app on the market for both iPhone and Android phones.
It now features GPS distance measurement as well as Flyover-style round review with detailed stats and graphs, swing analysis with detailed metrics such as Tempo, Speed, Direction and more.
What is Auto Shot Tracking? Auto Shot Tracking is a new feature that automatically tracks your shots, giving you the ability to view detailed stats per club on every single shot on every hole. You can track your club, accuracy percentage, proximity to the cup, and the distance of each shot on every hole!
➡ How to practice Putting at Home
"Stay down the middle" "keep your head down" "smooth swing" are just a few of the lessons golfers have heard over the years. However, your Golfshot Apple Watch application is all about making it easier for you to focus on the game and forget about the mechanics of your swings.
Golfshot updated version provides more detailed stats throughout each hole, providing more detailed GPS data with every shot, ratings and reviews for each course, three new graphics displaying objective data spatially, comprehensive reporting on putts per round, ball proximity to hole locations throughout the round, accuracy of distances displayed in tournament play, detailed tournament scoring for cash games and tournament leagues.
Golfshot is the most advanced GPS golf app in the world, offering accurate distances to the green on over 45,000 courses worldwide. You'll also get real-time GPS distances to hazards and doglegs, live scoring, digital scorecards, interactive 3D flyovers of every course you play, photo integration with your actual GPS phots, advanced stats tracking, smartwatch support, up-to-date news about your favorite courses. All this in a stunning interface that just looks great.
This app represents a significant advancement to the sport of golf and it can be used for recreational purposes as well as to provide advanced details which will help you prepare for your next competition.
Why do you need this one, right? Well, because everyone else has theirs. You need to be as up-to-date as possible with the newest technology and apps to keep you one step ahead of the competition. In golf, it's not about being better than everyone else, it's about being more dedicated and devoted than those around you. Everyone you play with will have smart phones now that can access a GPS device. However, if they have a GolfShot app that calculates distance to the hole based on your lie and elevation above sea level then they have given themselves a slight advantage.
➡ The Best running app for Apple Watch: Free/Paid
Through Golfshot, access your Round Tracker to view details of each round you play. Keep track of your progress with our Player Card. Add friends to compare scores through leaderboards and see their best rounds for each hole. As an Aerial View member, view 3D enhancements of more than 45,000 courses in more than 70 countries with Golfscape satellite imagery. Player Card, Course Maps, Aerial Views, Scorecards, Tee Time Bookings, Friends…these are all included inside the app with no additional fees.'
This app truly has everything you need on the course at your fingertips.
Share your scores of the hole directly to Twitter or save them to Facebook.
Pardie Golf
Play golf Virtually with your friends. Pardie Golf makes it so simple.
Introducing a new golfing trend: Pardie. Real-time. Mobile. Social for your golf game. Rather than sharing your round on social media after your round, PardieGolf gives you an opportunity to show off your skills at the next hole.
Golf has never been more fun or convenient. Whether you're an avid golfer or just a beginner, the PardieGolf app allows you to connect and compete with golfers. From a day challenge, to a summer long golf league with your family and friends, this app is designed to add excitement to your game. The PardieGolf app connects you with other golfers for exciting online contests!
Golfers are now able to share their scores and golf game in real time, publicly and privately with friends not just after the round, but during it. PardieGolf helps you compete against other players from every course in the USA, even if they're not at the same golf course as you.
First you'll create or join a contest. Then play real golf and post your rounds to the app. PardieGolf will handle the rest of the scoring.
Contests can be anywhere from 1 day to 1 year. You compete in contests against friends from around the United States. To play, you will create a contest, play real golf on a qualified golf course and post your rounds to the app. The App will calculate your score based on certain criteria. PardieGolf currently only accepts 18 hole rounds.
Win golf apparel, shoes and accessories at GolfLocker.com! Every time you play and win, your score counts toward guaranteed prizes that are shipped directly to your door. When you play PardieGolf, you get access to exclusive weekly, monthly and annual competitions to maximize the amount of prizes you can win!
With PardieGolf, you'll be able to challenge any of your friends and add a playful competition to your next round of golf. Instead of hustling to determine handicaps and entering scores by hand, PardieGolf allows you to create an account, set up a contest, invite your friends, and play. Download the PardieGolf app, create a contest, invite your friends, and play your best golf!
GolfLogix Golf GPS + Putt Line
Best Golf Score and Stats for iPhone
The GolfLogix iPhone app is one of the best GPS-enabled golf rangefinder that calculates exact distances with free 3D course maps, 4-player scoring, pro-level stats, handicap tracking and discounted tee times. With the GolfLogix iPhone app you can become a more competitive golfer instantly!
Join the golf community with GolfLogix. Take your game to the next level with advanced GPS distances, scorecard integration, advanced statistics, handicap tracking and discounted tee times.
The GolfLogix app for Apple iPhone possesses ground-breaking GPS technology, the capability to plan the best route around a course and to find your way back to your car. To use this app you simply enter the Teeing Grounds, Playing Ranges and Course Details, and this app will produce a detailed navigational map of the entire golf course along with the accurate GPS distances.
➡ 8 Best Photo editing apps for iPhone and iPad
This app also provides full color 3D charts and profile views of each hole and detailed course statistics. Its GPS features include: handicap system that is updated in real time; myGolf Calendar allows you to track your playing partners and stats.
Shoot scores like never before with GolfLogix for iPhone. Beyond distances, GolfLogix shows you detailed green maps which highlight slope breaks and other terrain features for accurate pin placement. The app also has tools to track your game – see how many putts you've taken on different holes, track your handicap index over time, and record your round stats so you know where to improve.
GolfLogix is used by more than 30% of PGA & LPGA pros, and tracks over 100,000 rounds a day worldwide. Course maps are accurate to centimetre, and USGA rules are blacked out on your GPS rangefinder. This helps you know where the hazards are BEFORE you play them.
This cutting-edge technology allows you to pinpoint exactly how far out you are on the green. It will even tell you whether you're under, on or over-reading your putt! It's like having your own personal caddie inside your phone.
➡ How to practice Golf at Home and at the Range
When you sign up for your free GolfLogix account, you can be instantly paired to play better golf. The GPS Greenview Map works exactly like the books the Pros use in tournament play. And with the exclusive GolfLogix GPS Network of over various downloadable courses, you'll have all the information you need to play an unlimited number of courses right on your iPhone.
What's in the GolfLogix app? The Worldwide Maps collection within the app features over 1,000 Driver, GPS and laser-scanned, full color course maps. Simply select your desired golf course to see full hole layouts/scans of each hole, distances from any point to the pin, layups and doglegs. You'll also get front, back and aerial views of each green. You can even save specific golf courses to My Golf and visit them directly from iPhone so you always carry the most recent map with you.
The GolfLogix app is the most comprehensive mobile golf GPS in the world, with instant access to ALL courses in your region. GolfLogix digs deep into the course database to provide data, scorecards, pics and more never before seen in a mobile application. See your golf scores mapped on the course map for every hole, then check out the aerial photo of each hole before you tee off! This level of detail is available on all courses at no extra charge when using GolfLogix!
GolfNow Book TeeTimes Golf GPS
Best Golf Tee times app for iPhone
The GOLFNOW App is the best way to book tee times on your iPhone. Use the app to search available tee times around you with your choice of golf courses. You can filter results by price, time or distance — or even by promo code. When you find the perfect tee time, book it instantly on the GOLFNOW and show up ready to play. Once at the course, use the GPS and scoring to fine-tune your game, and then save your rounds for post-game analysis.
With the GOLFNOW App, you can book tee times on over 6,000 golf courses around the world. Get detailed course maps, accurate GPS distances to all greens and tee boxes, postgame analysis of your game, and real-time weather forecasts for upcoming rounds. Use the digital scorecard feature keep track of your game while you're playing, or at the end of each hole; then send that score straight to GolfNow to tee-time your next round.
➡ Best camera app for iPhone and iPad
The GolfNow app includes professional reviews written by actual golfers, detailed course information including images, GPS functionality to easily locate courses near your location or by area, and booking capabilities for tee times 24 hours a day, 7 days a week.
The GolfNow app for iPhone helps millions of golfers book tee times at exclusive golf courses across the U.S. The continually improving booking engine makes planning quick, easy, convenient and affordable. With enhanced search capabilities and filters for location, time, course type, maximum slope rating, maximum green fee amount and more—finding the perfect tee time when you want is easier than ever. GolfNow map view provides unparalleled functionality for finding tee times.
Download the GolfNow iPhone app today to make your next round easier than ever. With instant bookability, an in-depth course database, and thousands of reviews to help you choose the best course for you, planning your next round has never been easier. Download the free GolfNow app now and start booking tee times.
Golf GPS 18Birdies Scorecard
Best short tracking Golf app for iPhone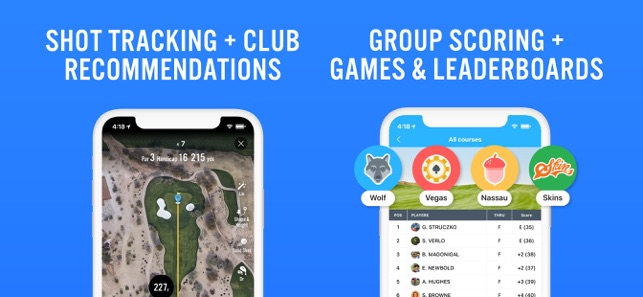 I'm about to tell you the best news of your life if you like golf (and happens to love playing around on your iPhone). Say hello to the wonderful app, 18Birdies. Aside from the obvious benefits of app (deep Twitter integration, fully-customizable push notifications, cool badges and trophies you get for hitting milestones), it delivers on some really neat game improvement features like club tracking, swing plane analysis (believe me, it's fantastic) and more. Welcome to the future of golf!
➡ How to Increase Clubhead Speed
18Birdies is the most comprehensive and fun golf app available. With just a few clicks, this free Golf GPS app will pinpoint your precise distance to the green on over 6,000 courses in the US and Canada. Use it just for fun or use it as a complete training tool that includes swing analysis and shot tracking.
18Birdies app for iPhone is the simple, powerful, and fun way to enjoy golf. Quickly see your target with Plays Like distances based on elevation change, wind, rain, temperature, and more. Get advanced analytics like club recommendations when you're in the zone when playing golf. And tee times at top-quality courses that are open in real time—when available—so you know whether it's worth making the trip.
Organize your game with our smart Scorecard, Coordinate System, Foursomes scoring, and Handicap systems for faster play. Experience the game like never before by playing every hole like it's the Masters, with "Plays Like" distances based on elevation changes, wind, temp, humidity and more.
Play like a pro with this app. The AI Coach helps you diagnose and correct your swing issues before they become bad habits.
On this revolutionary app, you can upload a video of your swing and instantly see what swing faults to correct. It will even give you a custom video tip walking you through exactly how to fix those swing faults. All your golf data is synced seamlessly to one login; track your stats, edit your profile, get ball flight data, and much more!
The perfect companion for any serious golfer, the 18Birdies app makes playing golf more fun and social. Track your rounds, connect with friends, send tips, explore new courses, and be part of a rich golfing community that stretches across the globe!
With GPS RANGEFINDER you can easily see the distance to the green from anywhere on the course. Use it in tournament play, calculate yardages when switching holes, or simply check your distance before making your next shot.
CONNECT AND CHALLENGE YOUR FRIENDS through our proprietary peer-to-peer messaging technology with the touch of a button
TheGrint | Golf GPS & Handicap
Best for handicap and analysing
TheGrint is a mobile golf society that builds an easy to use community focused on improving your game.
Itis a simple, yet powerful app for golfers of all levels. Get a USGA compliant golf handicap and improve your game. The USGA compliant handicap calculator can calculate accurate scores from your iPhone. Built-in GPS with scoring and stats will have you playing with purpose. TheGrint also includes premium features like pin/distance calculations, club tracking, flight tracking, round reporting & more!
TheGrint app allows you to view all of your golf-playing friends' scores and stats. It also enables you to upload pictures taken during your rounds, give or receive "grints," and trash talk your buddies' scores. After a round of 18 holes with friends? Let TheGrint app tell you how everyone thinks you played.
TheGrint is an iPhone app designed to make your course experience even more social. Use TheGrint to view all the stats from the day's round, including fairways hit, greens in regulation, and putts per green. Keep score for bragging rights with automatic hole advance. Swipe through the pictures taken that day until you find that perfect shot to upload to Facebook or Twitter. When that round of 18 over par isn't nearly enough to keep you sleeping that night, The Grint will be ready to help you trash talk.
It is your personal golf GPS Rangefinder, shot tracking and distance calculation. Know the distance of the fairway and get on to the green with high quality 3D rangefinder that calculates distances to front, center and back of the green and flags and markers on the course. TheGrint app analyses the movements of smartphones and paired devices, which allows TheGrint to give golfers a perfectly precise measurement when taking a shot.
Get a deeper understanding of your golf game, and learn to improve with TheGrint's full suite of statistics. See your strengths/weaknesses, as well as a complete breakdown of impacted shots. With tracking capabilities and a host of performance stats, you'll know the next time you're on the course if it was short putts or long irons that caused problems.
TheGrint adds into the mix the proprietary stat, which works by adding together numerous data points to determine your true performance for any given shot. The stats are constantly updated as you play and can even be added to throughout the round.
Golf Pad: Golf GPS & Scorecard
Best Golf Scorecard keeping app
Golf Pad is your "Smart Caddie" – an all-in-one golf rangefinder, GPS system and scorecard. Golf Pad delivers accurate yardages and course maps, tracks your shots and shows you the lay of the land – no more paper maps, yardage books or error-filled GPS devices! Golf Pad also manages your scores, provides detailed statistics and gives you the ability to review every shot you've hit on a hole! Take charge of your game with Golf Pad – it's like having a personal coach in the palm of your hands!
Put your smart phone to use on the golf course. Golf Pad GPS is a new, fast and accurate golf GPS rangefinder, scorecard and shot tracker that works with your iPhone. Download the free app—then download the satellite images of more than 40K golf courses in different regions in. It's easy to use and a lot of fun to play a round with. Everyone will want to brag about their scores when you do.
The Golf Pad app is optimized to save battery life, making it ideal for wilderness play. No registration required! The app conforms to tournament rules as it tracks your handicap index as you play. And if you encounter a course that's not on the database, all you need to do is make an adjustment on the spot and keep playing! It really is that easy. Welcome to golf on your terms.
It tracks all important information about your games including strokes, putts, fairways, sand and penalties. Golf Pad remembers what club you used for every shot and measures the distance to bunkers, water or any other point on a golf course. You can even create a list of goals and Golf Pad will keep track of how much you achieved each month.
This app allows you to accurately reproduce the distances you walked during your round and put yourself at the exact position where every shot was hit – directly on the detailed map of the Golf Pad website.
Golf Pad app for iPhone is designed for professionals, instructors and amateurs alike. It brings powerful features of professional golf tournament tracking to your iPhone device. Using GPS, Score Tracking, Shot Tracking, Course Layout you will be able to put all the necessary data about your game in one app.
Simply choose your course, let Golf Pad GPS measure your distance using its laser rangefinder, and enjoy playing golf!
Do golf apps make any difference?
But are they any good? Do you recommend using golf apps while playing with friends?
Good question. I know at least four people who use golf apps to play each weekend. I also know two people who use them occasionally. They say they help them shoot lower scores than when they don't. Golf apps come preloaded with thousands of courses worldwide; it makes it easier to connect with friends; and using the app increases your awareness of how wind, weather, terrain, and other conditions can affect moment-by-moment decision making.
➡ How to practice Golf at Home and at the Range
Golf apps are capable of taking your game to the next level. Many experienced golfers are finding that they are spending more time on the driving ranges practicing their swing in an effort to make their backswing stronger. Meanwhile, what often goes unnoticed is that they are practicing swing after swing in improper positions. Looking at an app allows you to slow things down to study the correct positions of your body in proper positions throughout your swing. You can then work on mastering them in increments before trying to hit the golf ball. The golf apps also allow you to store personal information, making it easier than ever to keep track of scores and check detailed statistics.
Despite the fact that most people don't use them, golf apps for iPhone are quickly becoming more and more popular. And it's easy to see why. Apps for iPhone are designed for anyone who plays golf on a regular basis, whether they love the game or are just trying to get better at it.
About Golf
Golf is a precision club and ball sport in which competing players (or golfers) use many types of clubs to hit balls into a series of holes on a course using the fewest number of strokes. It is one of the few ball games that does not require a standardized playing area. Instead, the game is played on a course, generally consisting of an arranged progression of either nine or 18 holes.
Each hole on the course must contain a tee box to start from, and a putting green containing the actual hole or cup (4.25 inches in diameter). There are various other standardized forms of terrain in between, such as the fairway, rough (long grass), bunkers (or sand traps), and various hazards (water, rocks) but each hole on a course is unique in its specific layout and arrangement.
Golf is defined, in the rules of golf, as playing a ball with a club from the teeing ground into the hole by a stroke or successive strokes in accordance with the Rules.
A round of golf consists of 18 holes that are played in the order determined by the course layout. Each hole is played once in the round on a standard course of 18 holes. The game can be played by any number of people.
Wrapping Up
Golf apps are a great way to make the most of your time on the course. They provide all the information you need to make better decisions. However, especially when you are playing golf with friends, having a golf app open on your phone can be pretty restrictive. The apps that are truly useful are specific to your game and give you real-time actionable information while playing.
The popularity of smartphones is growing rapidly and for most people it is their primary source of Internet. It is only natural that games and applications for smartphones become preferred and, sometimes, necessary. One such genre is mobile golf apps . Most smart phones come with that capability preinstalled. There are thousands of different golf apps available with their own features, but what do they actually add to the game? Do they make golf more fun? Do you need them when you play in a casual with friends? What will add to the experience and how much time should you spend with your iPhone in hand?
Every week there seems to be a new golf app that aims to improve your game. In the same way as using an iPhone as a golf GPS, why not use an iPhone to improve your swing strength or help you choose suitable equipment? It's only natural that players wonder if the apps are any good.
This was my take on the main golf apps out there for iPhones. Share your thoughts on this list of best golf app for iPhone!