GolfLogix is a revolutionary golf GPS app and online service that has been helping golfers improve their game and enjoy a more exciting and social experience for the past 20 years. GolfLogix has been dedicated to pushing the boundaries of golf innovation through its premier golf app and online service, as well as is renowned for creating the very first Golf GPS rangefinder back in 1998.
GolfLogix is a pioneer in golf GPS, for more than 20 years. Over 5 million golfers all around the world rely on GolfLogix for accurate GPS distances to the front, back and center of the green and accurate maps of any course with 3D aerial views, club stats and scoring capabilities.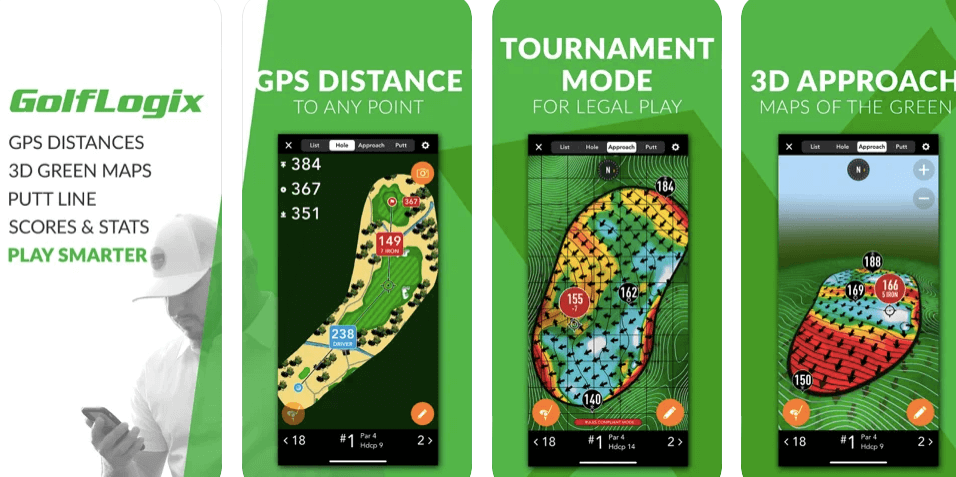 Modern technology has significantly improved the accuracy of GolfLogix course maps, so there is no comparison to their GPS rangefinders and yardage apps when it comes to hitting the right club on the golf course.
GolfLogix gives you accurate yardage to the green, hazards and layups with colorful 3D satellite views of every course. From its revolutionary handheld devices to its award-winning iOS, Android and Windows smartphone applications, GolfLogix has changed the way people play the game.
Accurate Measuring
The revolutionary GolfLogix product enabled golfers to get accurate measures to the front and back of the green and measure their shot distances with ease — all while being more competitive against their 9-hole rivals. The popularity of GolfLogix quickly grew, gaining a respected name as one of the premier golf gps handheld devices available.
➡ Best Apple Watch App for Golf
When you aim at the center of the unique putt line (a landmine-sized target that appears above your green map), you'll know exactly where to land your putts to enable easy 2-putts on long and short putts alike. Never again will you miss a 10ft. par save or 3ft. gimme, or worse yet, 3 putt for bogey!
Golf Logix's new Green Maps: Have you ever wondered how the pros hit every fairway (and often drive the green) on approach shots? It's all because they have firsthand knowledge of all break distances and crown heights. Now with GolfLogix's exclusive new green maps, you can see these same crucial details yourself before you even pull the trigger on an approach shot from the fairway.
➡ Golfshot Golf GPS – Auto Shot Tracking
Putt Line Accuracy
When you've played the same course for years and have committed every break, every contour, and every chip-out over a green to memory, having accurate distances on greens can still be challenging. The same holds true for any approach shot. If you can see a green from 150 yards but don't know how much you need to take off of your yardage or exactly where to aim, your club selection will be hit or miss.
They've invested heavily in their maps to make it very easy to accurately measure breaks and get the most accurate distances available on any golf app in the market. With this new technology and the release of the new Putt Line feature that shows you exactly where to aim, GolfLogix have taken the art of putting and approaching a green to a whole new level! Only GolfLogix has golf maps at centimeter accuracy with the exclusive Green Map technology — almost as if you're standing on the green itself.
Official Tournament Mode
Have you ever played in an Official Handicap Tournament? If not, you might be considering it. You see a friend or a co-worker play in one of these tournaments and they're crushing drives, 60-yards plus — with precision accuracy and are pin-pointing approaches. It looks like a lot of fun, but you wonder if you'll be able to compete and keep up without proper training first.
Don't worry! GolfLogix have got you covered! These official handicap tournaments use the latest and greatest technology-based rules implemented by The R&A (the governing body for golf outside of the U.S.). With the new features designed specifically for these Official Tournaments they have even included the same green map books that these professionals get to use in their tournaments — on your phone!
This app is a free handicapping app that gives you the official USGA course and hole layouts. Forget your scorecard? Don't worry… GolfLogix has you covered with a digital scorecard that keeps track of your strokes, putts, fairways hit, greens in regulation and overall score. Use the advanced GPS fairway maps to accurately measure each shots distance to the green, layup points and hazards (when in tournament mode).
Leave no doubt in your mind how far you need to hit each shot. If you need help on any given hole, refer to the hole-by-hole depth chart or the expert break point charts. You can study the putt line paths (in greens mode) from anywhere on the course.
GolfLogix Golf GPS App for iPhone and Android
Summary
GolfLogix is a free app that transforms a user's iPhone into an essential part of their golf game. This app has been featured by Apple and ESPN, but the most important part is that over 5 Million people have downloaded this free golfing app.