Which is the Best Apple Watch app for Golf? Over the past few weeks, I've tried out a bunch of Apps and shortlisted the below list that I like.
It is a famous saying that says, "Well begun is half done." This adage also applies to the game of Golf. Though, if someone aces his tee shot in the first hole and sees his ball disappear in the hole, it would surprise them. Golfers need to set their goals for every round of the game instead of thinking about becoming professional golfers overnight. It will help if you remember certain things while planning for your first round of Golf.
Apple watch is unique in its capabilities. It's a highly integrated, fashionable, and exciting smartwatch. It's also the most expensive and best-selling wearable. It's a beautiful gadget with some marvelous features. In addition to some of the watch's standout features, we will also talk about the best golfing apps for the Apple watch. These applications will change your perspective on the game of Golf completely.
Whether you're a pro or a beginner, there's an app for your swing. Golf is more than just putting the ball in the hole; it's about precision and accuracy. It's different from other sports, where players can use their intuition and athletic ability to get the job done; Golf involves a lot of strategies. That's why many golfers now use technology to improve their game.
With all of the big-name golf apps released over the last few years, there are so many apps for golfers, especially those who own an Apple Watch and other Apple devices. Today we will discuss some of our favorite golf apps that offer different features so you can find the best one for yourself.
➡ How to Improve Your Golf Swing
Golf Apple Watch apps are an excellent way to keep your golf game fresh on the go. You can check your stats, view weather forecasts, and plan a course ahead of time without having to take your phone with you on the course.
With the number of golf apps available for the Apple Watch, choosing the best or top golf app is becoming increasingly difficult. It's an exciting time for technology, especially considering the latest Apple watch. This can seem overwhelming for an avid golfer or even someone looking to get into the game.
Here are some features you should consider when buying a golf app or picking your favorite from a list of the best golf watch apps in 2023.
Let me tell you about seven helpful golf apps for Apple Watch that can help you make your game more fun than ever before.
Golf GPS SwingU (Free + Paid)
Best Golf app for Apple Watch with GPS, Scoring, Stats and Instruction
Available For iPhone, iPad, and Apple Watch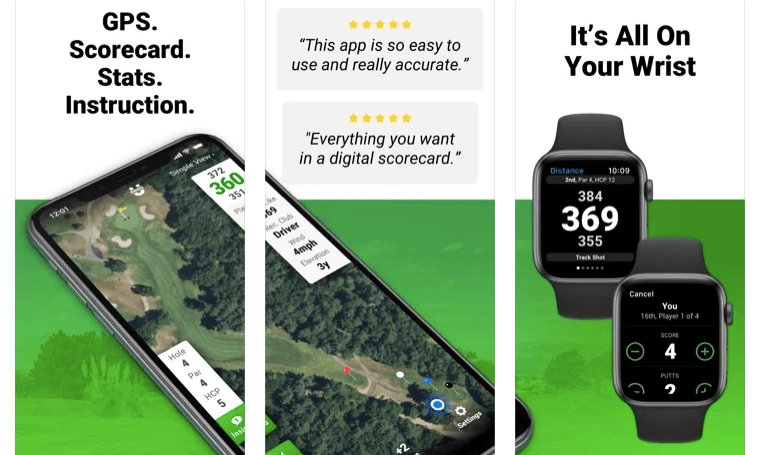 SwingU for Apple Watch is the easiest way to access your full-featured golf GPS app and scorecard while on the go.
Whether you're a pro or just taking your first steps in the golf world, finding the perfect course and measuring your performance can prove difficult. SwingU bridges this gap by providing golfers with an easy to use, accurate rangefinder & scorecard that helps them find the best course and better performances.
It changes the game for golfers by making it simple to track distances to greens, previous shots and layups and share that data instantly with friends. Now, with the introduction of the SwingU app for Apple Watch, you can also capture GPS distances on the go and get accurate scores every time you play.
Golf GPS lets you see distances to the greens, hazards and layup spots from anywhere on the course. Just tap on a hole, putter or club to get distances based on your current position. Satellite photos allow you to actually see the distance from any point to that green. Tap and hold on a spot to see distances to other spots around the green. This works on all holes, including 3D flyover holes!
SwingU Versus is the most fun and intuitive golf scorecard, stat tracker and game analyzer you can find for your Apple Watch. It's designed to make your next round a relaxing experience, by providing you with instant feedback so you can improve your game.
➡ How to practice Putting at Home
SwingU is the app that golfers of all ages and abilities have been waiting for. It allows you to see how your game measures up against scratch golfers, tour pros, even a target handicap. Unlike any other golf app out there, it allows you to analyze your strokes in five categories: driving, approach shots, chipping and pitching, bunker shots and putting.
GolfLogix Golf GPS + Putt Line
Best Apple Watch golfing app with Handicap and 3D Maps
Available For iPhone and Apple Watch
If you love golf but hate the computational part of it, you'll enjoy using a watch. It takes complete control from the scorecard and puts distance to everything around you.
Many golfers now track their game with smartphone devices, but playing holes with your phone in a case clipped to your belt or tucked into your belt loop can be a pain. No, it would be best to have something built for physical use. GolfLogix's app is a full-featured golf GPS application that you can run through the Watch's native operating system and display badges on the Watch's face.
GolfLogix has one of the most impressive Apple Watch apps and is excellent at monitoring your golf game. The app lets you track various stats, including drives, putts, and scores. The app also provides side information about the golf course and specific details about your game, including your power percentage (good luck finding that on the course!).
➡ How to Practice Golf at Home and the Range
GolfLogix Golf GPS app has been revamped and updated for Apple Watch. The new GolfLogix 2.0 has a super simple UI with most of the same great features that you are used to in the iPhone version. With the previous version, it introduced the signature World's Longest Yardage Book compiled from over 35,000 worldwide courses.
Related: How to turn off the Apple Watch
GolfLogix for Apple Watch is the ultimate scorecard, stats keeper, and GPS distance tracker. It automatically knows your current course and displays each hole in standard, playoff, or tournament settings. It can even help select the best clubs and track every shot you hit.
The Club Distance Grid makes it easier for golfers of all levels to get distances from their current position. GolfLogix now provides fairway mapping and green contours so you can see the shape of the green to help you find the right club for each shot. Plus, get true-to-life ground conditions without a physical visit.
GolfLogix is the best golf app for Apple Watch because of its GPS distances, 3D Course Maps in color, and discounted tee times. It's natural to want to know how far it is from your current position to every pin on the course.
➡ How to Increase Clubhead Speed
In addition, what's between tee boxes: are there any hills, sand traps, fences, or other dangerous obstacles that may endanger either the player or the ball? If so, you want a 3D map of this information in the color that lets you know if you are on the green's left or right side. This is what makes GolfLogix perfect for Apple Watch. You get all of this and more.
The Apple Watch is meant to help you do everything faster — better, even. Its simple interface and portability make it the perfect tool for quick communication, productivity, and organization.
There are a lot of apps out there designed to take advantage of the technology in this small package, but only a few utilize its features effectively. One of these apps is GolfLogix. GolfLogix is an innovative app blending GPS technology with GIS data to create a portable golf companion with many valuable functions.
Golfshot: Golf GPS + Caddie
Best Auto Shot tracking and Stats golf app for Apple Watch
Available For iPhone, iPad, and Apple Watch
Golfshot is the first Golf GPS App to deliver Auto Shot Tracking (AST) on Apple Watch. AST notifies you when it's your turn to hit and automatically tracks every shot for you while you play.
Simply start a round on your iPhone or iPad, then keep your Apple Watch within range of the phone throughout your round and rest assured that Golfshot will natively record all of your tracked shots through the end of the round.
From there, simply review them in Golfshot's new Flyover Round Review where you can brag about how great you are to your pals, smack talk them for their records, or just kick back and enjoy reliving those amazing shots.
Whether your golfing enthusiast, using Golfshot for Apple Watch will make it even easier to track every shot, while keeping stats and getting more out of the game. The distance for each of these shots will be recorded in the same way as those that you recorded manually. AST stats and any flyover review for each shot you tracked are also available to view.
Related: How to screenshot on apple watch
Take your entire game on your wrist with active distances including layup yardages, distances to the front, middle and back of greens, and up to 4 hazards and targets per hole. Get everything you need to navigate between shots with ease: club distances, digital scorecard, putting tracker, stat tracking, and even more scoring features for members.
Down to the last few strokes of your match and you can't wait to get back to the clubhouse? Golfshot for Apple Watch gives you distances to key points on the course so you'll know at a glance if you should be worried. You'll get accurate, real-time distances to the front, middle, and back of the green, as well as lateral distance to any point on the green. It's as simple as tapping and holding your wrist up toward the sky – it doesn't get any easier than that.
The Apple Watch Series 6 and WatchOS 7 app is designed to complement the features customers have come to love about Golfshot on their mobile devices. The full suite of features including GPS distances, tee times, scoring, and more are included in the Apple Watch version for those who want them. Customers will benefit from faster loading times and improved battery life over past versions.
Golfshot is the best golf GPS app to track your golf game!
TheGrint Golf GPS
Best Score tracker and Golfing stats app for apple Watch
Available For iPhone, iPad, and Apple Watch
Golf is a notoriously tricky sport to handicap, even for the PGA pros. That's where TheGrint can help. With a full suite of incredibly useful features and an intuitive interface, TheGrint app for Apple Watch makes handicapping, tracking scores, and keeping an in-depth scorecard easier than ever.
What is your handicap? Is that question important to you? TheGrint is the Apple Watch App for golfers who want to keep track of their scores, stats, and handicap.
Just fire up the app on your golf course, and press start on your phone. Then check your wrist: you will have all the distances to the front, middle and back of every green: all the information you need for each hole.

Very accurate, easy to read, highly customizable golf rangefinder. Just like the Grint iPhone app, the watch app seamlessly integrates your Shot Tracking and Game Tracker.
This unique and innovative app will keep you entertained and informed on the course and keep your game on track no matter what level of play you are at.
TheGrint is now available on Apple Watch user. By moving TheGrint functions to your wrist, you can quickly get an overview of your round scorecard, key stats, keep up with the pace of play, and now even read the greens in more detail than ever.
Related: Unlock Mac with Apple watch
Pace of play and greens in regulation are two new functions made possible by the integration with Apple Watch, and they are perfect for improving your games! TheGrint for Apple Watch lets you play like a pro. With the Apple Watch app, the Grint distances your shots and tracks your score with intuitive, watch-friendly layouts.
The Grint Apple Watch app has all the important features from the iPhone app. It allows you to save 9 holes of golf courses and receive alerts for shot distances and penalties. You can also keep score on your Apple Watch itself.
TheGrint is a next generation golf app specifically designed for the Apple Watch. Unlike other golf apps, TheGrint gives golfers an unfair advantage by delivering entire scoring systems in your pocket. With these features, golfers can concentrate on their game without worrying about being distracted by technology.
Related: How to charge apple watch series 4, Series 5, Series 6
Hole19 Golf for Apple Watch
Best free golfing App for apple Watch
Available For iPhone, iPad, and Apple Watch
Hole19 is the best FREE golf app of its kind, giving you accurate yardages, scoring for you and your friends as well as live leaderboards while you play.
When you play golf at a course that it support in-app – it has hole layouts for almost half the courses in the world – when you play on one of those courses, all the details are automatically downloaded to your phone or Apple Watch so that you'll never miss another shot again.
Hole19 can be used simply as a distance finder and score tracker, but for all golfers who want to improve their game it provides detailed analytics to quickly reveal your strengths and weaknesses.
Golf is hard enough, but don't make it harder by standing on the first tee in front of your friends and family not knowing the distance to that intimidating pin. Hole19 for Apple Watch offers accurate and quick yardages to the green and hazards.
It's all there, at a glance, so you'll always know the correct club. Plus Hole19 lets you measure shot distances on the course from your wrist, and you can add rounds of golf using just your iPhone or Apple Watch.
HOLE19 combines the best aspects of GPS devices and smartphones into a single app. It's a premium golf rangefinder and scorekeeper with digital extras for stat tracking, augmented reality, and social media sharing. HOLE19 allows you to focus on your game instead of your phone or GPS device by using maps, distances, and accurate hazards marked by professional golfers.
I've been using the app since it was first released, and I'm absolutely in love with it. It's the perfect combination of hardcore and casual golfers. If you play a dozen rounds a year and want to keep all of them in one place, this is an awesome option for you.
The beautifully redesigned Hole19 Apple Watch app not only gives you an immersive and fast golf GPS experience but also tracks every single shot you take. In fact, Hole19 is now even faster making it easier than ever to get distances while your phone stays in the bag.
This user-friendly golf app helps you enjoy the game more with real time GPS golf range finder, live scoring, analysis tools and more than 43,000 courses in over 200 countries worldwide. Hole19 will allow you to break 90, be a better putter and make smart course management decisions.
V1 Game: Golf GPS Distances
Caddie Scorecard Stats Tracker
Available For iPhone, iPad, and Apple Watch
V1 is a fully featured, stand alone golf shot tracking app that calculates accurate adjusted yardages for you and your friends on any hole on any course. No matter where you're playing. V1 runs exclusively in the background and delivers you yardages at the time of your choosing to make sure you're fully equipped to play great golf.
How do you improve your game? I think that it's generally accepted that most people improve their game by practicing, however there are other ways to take your scores down. One way is to play faster, and another is to get more precise with your shot locations, i.e. becoming more accurate with your distance measurements.
To take the latter approach you need a high quality golf gps rangefinder and for that we recommend the new V1 Golf App! Made by the makers of V1 Pro golf , it brings proven auto-shot detection technology to the Apple Watch and other iPhone's and iPads.
V1 Game is the top rated golf app for Apple Watch. The Apple Watch makes a great companion to V1 Game, providing easy and convenient access to shot tracking. Tracking your shots delivers immediate benefits in the game of golf, which includes keeping score, measuring distances to hazards, keeping stats and analyzing your play.
V1 Game with Apple Watch compatibility provides the first ever in-round GPS rangefinder and performance tracker for Apple Watch. Need to know how far to the front, back, or middle of the green? Just ask V1 Game. Want to know your score at the turn and your projected low round total? V1 Game will tell you. And after your round, V1 Game will provide in-depth statistics so you can truly understand what you're doing right and what you need to improve on.
TAG Heuer Golf
Available For iPhone, iPad, and Apple Watch
TAG Heuer, a global luxury Swiss watchmaker, has created other golf apps before (iPad/iPhone) but now TAG Heuer has released its Golf app for Apple Watch. TAG Heuer continues to innovate and create cutting edge technology to enhance your golf game.
Despite its super fast growth, the golf industry still lacks a digital device capable of bringing not only competitive values, but also precise and accurate timing throughout the game. Being fascinated by this challenge, TAG Heuer Golf has once again enlisted the expertise of its exceptional engineers to bring you an innovative solution, designed to deliver a new form of performance tracking.
TAG Heuer Golf for Apple Watch is first-of-its-kind with exclusive 3D maps of more than 39,000 golf courses around the world. Get precise distance to the green and hazards on over 20,000 courses in the US. Measure your shot distance with impressive accuracy. And view your scorecard while on the course.
Apple Watch is already changing the way I live my day-to-day life. And TAG Heuer Golf by TAG Heuer enhances that experience as it provides golfers with valuable and quantifiable information in the palm of their hand.
The app lets golfers know exactly how far they are from the hole, and retrieves accurate distance measurements on the course quickly. For those who like to keep track of their results, TAG Heuer Golf stores personal records so you can see how you fare over time.
The app gives you access to statistics, tracking and mapping. The ultimate benefit being that you can improve your game with real-time stats such as distances using just your watch.
TAG Heuer Golf benefits from rich Watch OS integration. As such, the Apple Watch becomes a useful driver during golf play, for instance by helping you select the right club with our real-time club recommendation feature. Information such as the distance of the hole, score and course layout can be displayed directly on your watch without you having to reach for your iPhone
Wrapping Up
Let's be honest. When it comes to golf, playing golf is just the tip of the iceberg. That's what makes the game so addicting – there is always an area for improvement or a challenge just around the bend. And using technology can be a great way to help you meet those challenges. Many golfers have used their phones on the course to get accurate distances to the hole or water hazards.
When buying a new Apple Watches for yourself or someone else, is it better to head out to the golf course or run down the local mall? As a beginner golfer you may wonder if it's even worth spending hundreds of dollars on an app for your wrist. While it may be just another novelty, I decided to give the golf apple watch app a try and see if it could help my game.
It's always a struggle to find the best golfing apps for Apple Watch. Some apps simply don't work as intended or not at all. So we did some research and put together a list of our favourite golf apps for the Apple Watch and hope you like the list.
I you want to suggest any other golf apps for apple watch, please do contact us or just comment below.