If you love the game of golf, let this app help you play better and enjoy it more! Golfshot GPS gives you accurate GPS distances to all of the hazards and course targets, along with Virtual Caddie advice and information on every course. It's available for both Android and iPhone.
Do you sometimes get frustrated at golf not being as easy as it looks on TV? Are you tired of walking off the tee, standing over your ball and wondering, "Is this the right club?" With Golfshot nearly any question you have during your game can be answered by looking at your phone.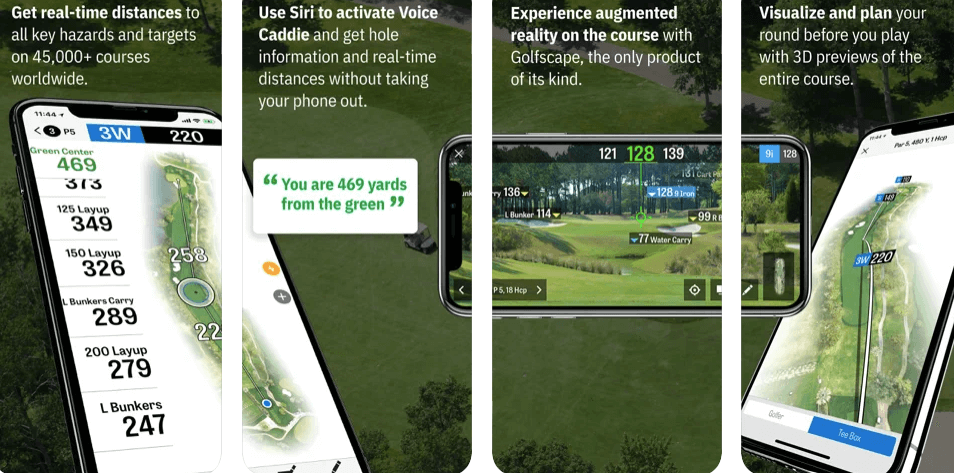 When using a golf GPS, you can see the exact distance of your shots to target and you can also track the accuracy of your tee shots. Using that data, I was able to make course adjustments on the fly and improve my numbers immediately. Whether you're the type that likes to hit the range, play a few holes, or go on a golf trip every now and then — it's always important to be prepared. Golfshot is the easy way to keep your game in shape, wherever you play.
The Golfshot app has been topping the App Store paid apps list since it was launched, and there's a reason why-it is simply the best GPS golf app in the world. The Golfshot iPhone app gives you accurate course maps on over 50,000 courses, GPS distances to green and hazards, shot tracking, automatic hole advance, scorecard tracking and statistics, leaderboards, and more.
➡ Best golf app for Apple Watch
Whether you're a casual golfer or serious about your game, Golfshot is the only golf app you will ever need. Play golf like a pro with a convenient and easy-to-use golf GPS.
Golfshot on Apple watch
Golfshot is now the first to bring to you Auto Shot Tracking (AST) with Apple Watch.
See below for a list of features you will have with Golfshot's AST feature.
Automatically track every shot on every round: Using distance recorded from your Apple watch, Golfshot will automatically fill in shot distances, speeds and accuracy.
No need to press buttons or wait for the app to measure yardage, it's done automatically and all shots are saved in your Round Review.
Get accurate distances per club: For the first time ever, Golfshot knows how far you hit every club in your bag, meaning when you select a club from inside the app, it will tell you exactly how far that specific club goes on average.
Track EVERY new shot: With your watch Golfshot can now track every single shot on the course to help improve your game at even the most basic level. Have fun golfing again!
➡ GolfLogix Golf GPS App for iPhone
Whether you're playing a new course, or a well-known favorite, Golfshot provides measurements for every hole and detailed statistics for every player. It tracks your distance, score and location in real time so you can accurately gauge how to improve your game and make smarter bets. Take the guesswork out of your round with our powerful statistics based on your playing history.
Scoring & Statistics
Golf GPS apps will give you scores, statistics and are easy to use. Some of the best golf apps let you track distances, hole information and your score in a way that's more convenient than carrying around a pencil and paper. And with augmented reality views on your iPhone or Android phone, you'll be able to see how far to the pin every time.
Stay organized with digital scorecards and statistics that go where you go. View and update your handicap and course stats, share your round results with other Golfshot members, and use the GPS feature of your phone to virtually walk and play famous courses with Golfscape AR. Only Golfshot offers this level of golf organization.
Golfscape AR is a great augmented reality tool to help you accurately judge yardages while playing golf. View distances in a completely unique way and be confident that your yardage is always right. It automatically correlates to the distance gps on a course. Just aim your phone at any point on the green and get real-time yardage in one click. Your device does all the work, making it easy for you to perfect your game.
The Golfshot App is the easy way to keep your score, track club and ball stats, and improve your game. Use this golf GPS app to track your stats and analyze shot patterns on or off the course, and see distance to any point on or around the green. Never be surprised by a big number again! Designed for both iPhone and Android users, discover how fun the details of your game can be.
Conclusion
Lose the guesswork with powerful statistics based on your playing history, and share it all via email, Facebook and Twitter. Top golf courses? 3D flybys? Game Breaking distances? Don't know if you can go that far off the tee? The Golfshot app has you covered. With advanced GPS scoring, automatically track your distance and accuracy, view your game at a glance, and use the Apple Health app to track activity and calories burned on the course.
Golfshot gives you all the tools you need to improve your game, starting with 3D flyover previews of every hole on courses you play often.
Save details of your rounds, see where you're making mistakes and correct them going forward. Then head to the course knowing that you've prepared. Golfshot is just as useful off the course too — with statistics about your practice sessions and detailed reports for each round, you can visualize your game and spot weaknesses before it's too late.
Golfshot Golf GPS - Auto Shot Tracking Stats
Summary
Get comprehensive hole details including yardages to hazards, fairways, front, back and middle of greens. GPS displays your location on the golf course with distances to the front, middle and back of green. Play golf against accurate yardage targets with Golfshot's AutoShot Tracking stats feature.