Apps for writers are not all created equal. Some apps help with the writing and organization process, while others help polish and distribute your work. Not sure where to begin? We have a list of the best 7 Mac apps for writers and authors, so you can get that novel written in no time.
If you have a Mac, then Pages should already be on it. This is the default word processor on Apple computers that comes with an impressive number of features. You may not have ever looked further than this default app, but it is worth your while to explore what else is available. There's a world of writing tools out there and they are capable of doing so much more than just writing a letter.
Do you write a lot but not like writing? Am I just amazing or am I gifted? or How to Write my paper using these apps? There are several apps that can improve your writing, if you know how to use them. You don't have to be good at writing in order to make use of these apps. If you know what does what and how it makes your experience better, then you're well-equipped to get the most out of them.
This list will show you some of the best writing apps for Mac that can be really useful if you want to edit your text, make it sound professional, or just write down some thoughts there and then without starting over from scratch every time.
➡ Most Useful Apps for Students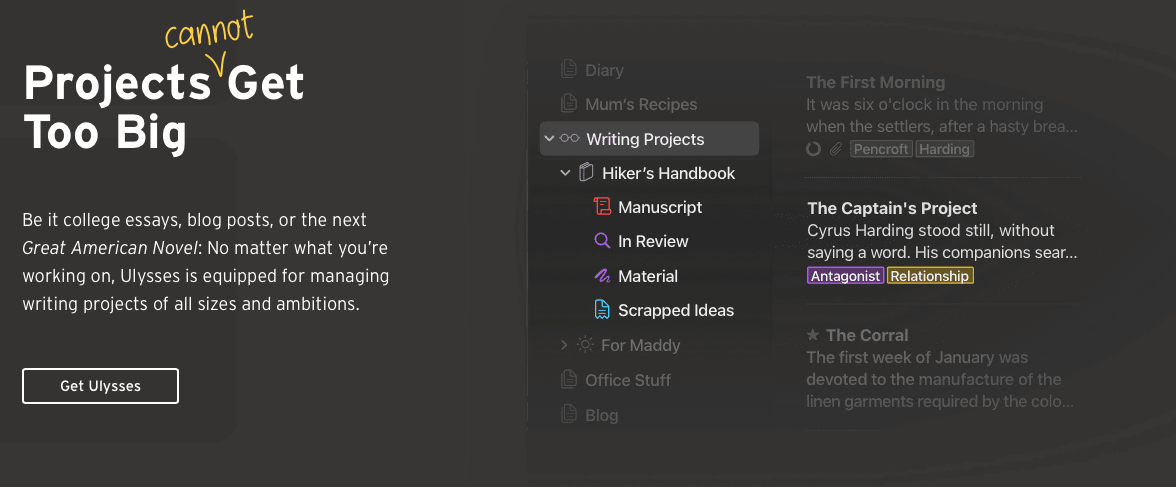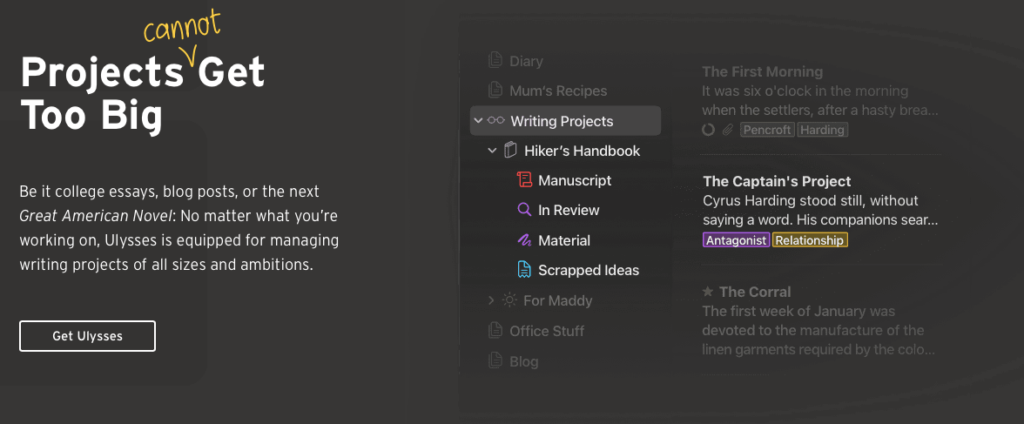 There are times when you want a visually focused interface that is easy to use, and Pages can be that software. And there are other times when you want a highly configurable writing app, with all the tools under your fingers. The Mac has apps to match every whim, from simple to sophisticated. Below, I will present seven Mac apps for writing and I'll also tell you where I think Pages fits in too.
➡ Best MacBook for college Students
There are plenty of writing softwares available on the market. From the desktop to smartphone, software companies are trying to tempt writers in using their product. But what is the best writing software for Mac? What should you look in a service of this sort? Is there anything we can do without a software? In this article, I want to share my experience as a writer and talk about the most crucial things when choosing such kind of tool – no matter it's for Mac or Windows computer.
By the end of this article, you should have a clearer idea of the different writing app options that you have at your disposal. Whether you're a student, teacher, professional writer or screenwriter, there's bound to be an app on this list that will interest you.
5 Best Writing software for Mac
As a writer using a Mac, there are plenty of tools for you to pore over. In fact, there is a huge number of software designed with writers in mind — both for fiction and non-fiction writers; from novelists to memoirists. Here's a list of the top seven apps for writers on Mac OS that can help you to be more productive when writing your next book or article.
1 Ulysses : The best writing software for mac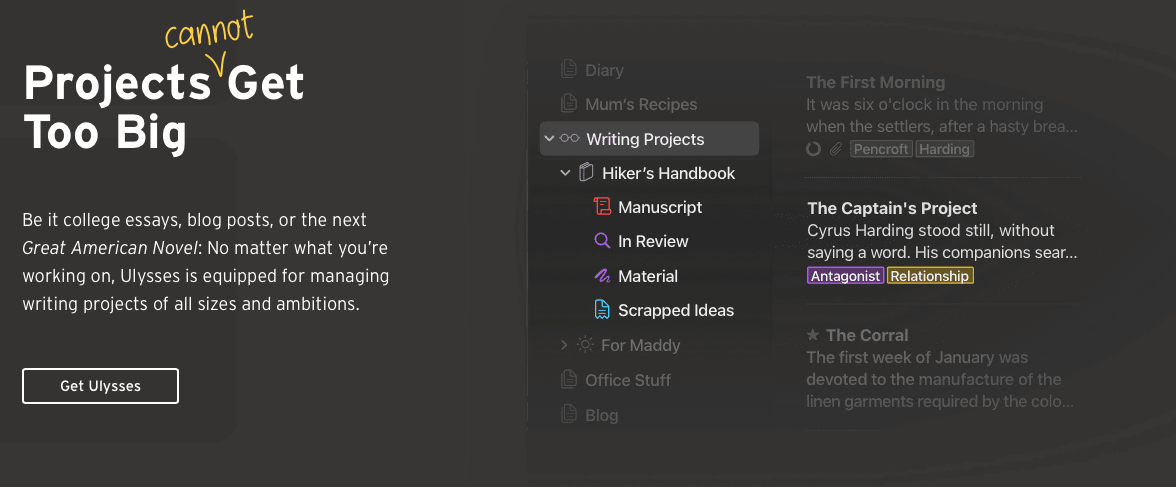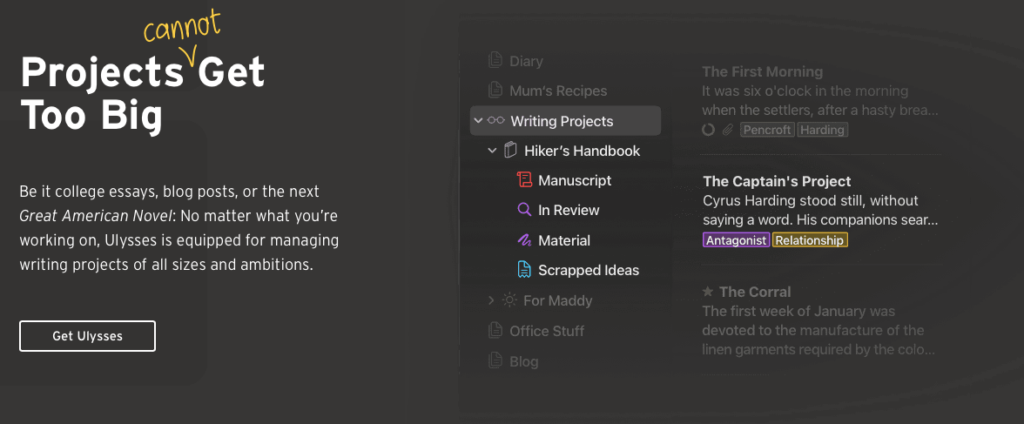 Ulysses is a text editor for Mac that's been my go-to writing environment for the past few years. It strikes a great balance between being both a simple word processor as well as an environment that supports everything you need to create and organize your writing.
A clean and simple toolbar sits at the top of the screen, ready for everything from formatting text to coding with Markdown, to fine-tuning layout and adding images or other multimedia content. But below that is where things really start to get interesting.
Like I said, Ulysses is a writing environment. It's not a basic word processor like Word or Pages. This can make it seem a little scary to use at first, but it's actually ridiculously easy to get started with. The first thing you need to know about is the fact that Ulysses uses styles. These are like headers and footers in Word: you include text as part of these; this text does not change when you export your document as HTML (making collaboration much more efficient). And, if you want to make changes, you go to the settings and choose the style in question and apply any changes there. That's how powerful the styles are and how flexible the combinations of styles can be.
Ulysses' built-in grammar and style check helps you avoid mistakes and meet the exact tone of your writing — be it the breezy style of a blog post, the research-focused precision of a scientific report, or the whimsical flair of a labored pun. You can rely on Ulysses to handle the tough checks on spelling, punctuation, capitalization and more, as well as suggest alternatives to common copy/paste mishaps.
In the course of my testing, I've found that there's a lot to love about what you can do with Ulysses. If you're an iPad or Mac user who writes more than emails or quick notes, it's an app well worth checking out for your own use—even if it isn't yet perfect for everything I want to use it for.
The best writing apps for Mac are great tools to help you put your ideas into words. You can write better blog posts and articles quicker and easier with these apps. As you can see there is a plethora of writing apps on the market, but which one is the best? After a closer look at each of the best writing apps for Mac it is clear that Ulysses has the edge over its competitors.
Ulysses, although costing $50 per year, is well worth the money if you are looking to write more efficiently and in a distraction-free environment.
2 Highland 2 : Best Screenwriter for mac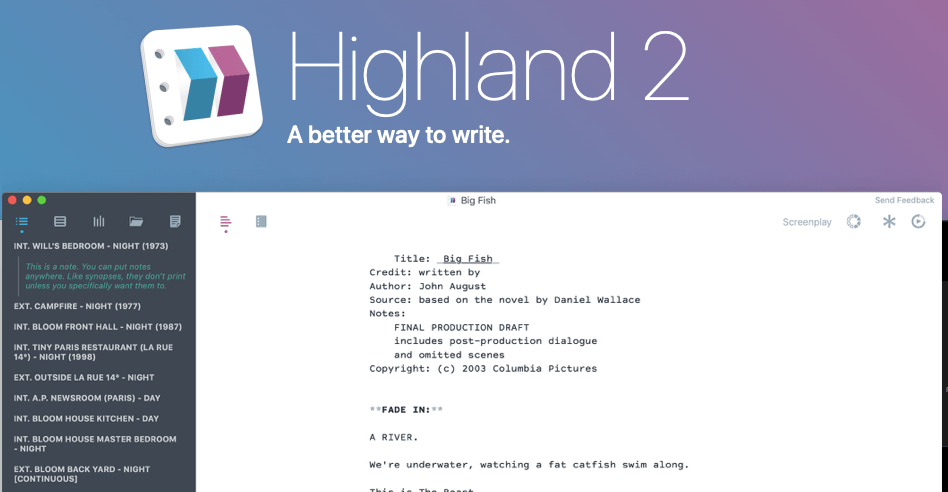 Highland is just a cleaner, purer way to be creative. My mind is calmer and less cluttered when i use it because I can write prose so easily and jump to dialogue when that's more intuitive. Outlines have never been easier for me to create! While writing my first book with Highland, I saw my daily word count get higher and higher every day, then saw that reflected in the all-time writing stats on the dashboard. It's like having a coach cheering you on with every keystroke!"
Highland 2 is an intuitive, powerful, modern screenwriting application that helps you focus on telling your story. Whether you're writing a screenplay, teleplay, stageplay or radio play, Highland's unique features and simple interface help you get the job done quickly. Highland is used by many professional screenwriters because it has a longer track record than most of its competitors.
Forget about "Action" or "Dialogue" tabs. No more pre-editing, no more manual formatting, because Highland does all the hard work for you. Highland's unique algorithm can understand what is what in your text, and therefore makes it a lot easier for you to concentrate on the content. Instead of spending ages on formatting every single screenplay page so Highland wouldn't stink at page breaks and scene headers, now you don't need to do that anymore.
Screenwriters depend on their word processing programs to format their scripts in a given manner. Highland is a free, open source screenwriting software ("creative writing software") that formats your script in the industry standard format. It's better than Final Draft and less than half the cost of other industry standard programs such as Movie Magic Screenwriter. Highlands page formatting algorithm is so smart, it doesn't even need any input from you to format the page according to proper screenplay format.
Simple, lightweight and distraction-free, Highland helps you get from first draft to final manuscript what others only dream of doing. The Highland app is not just a distraction-free writing tool. It also includes features built for other writers such as an easy outline builder, metadata manager (so you never lose track of character names), the ability to add images and more.
Gender Analysis is a great tool for examining how gender dynamics play out in a script. Have you ever wondered if the men in your script talk more than the women? Or the opposite? Sifting through thousands of lines of dialogue to tally up female vs male speaking roles can get pretty time consuming.
Wouldn't it be easier to just flip the gender of all the male characters and see what that does to the statistics? Gender Analysis reveals the number of male and female characters in your script, not just how many words they speak. It shows you a breakdown of male and female characters on a per-scene basis, revealing who's important and who could be removed without losing the story. You can also use it to try out different scenarios — for example, what would happen if a male character was removed? What if there was a female character added?
Features
Simple point and click interface
Clear and concise instructions
Visuals for every step of the process
Automatic error detection and other useful features
It allows screenwriters to write the way they want to by supporting many different screenplay formats.
It supports many languages and has writing prompts.
It helps writers develop focus and discipline by tracking time spent working on projects.
It has a unique note taking feature which makes it easier to structure stories.
This app can help you with your screenplay.
Real-time collaboration
Outline ideas and structure
Write anywhere, even offline
Distraction free writing environment
Powerful search tools
Drafts and versions – history of every version of your document
You can use this app to generate a blog post.
You can choose the tone in which the post is written.
The app will deliver the content you need to write the blog post along with its title and topic.
The app will deliver the sections of the post that you should write in order to include your takeaway at the end.
This is a useful tool for anyone who has to write blogs as part of their work or otherwise.
3 Slugline : Write Screenplays on Mac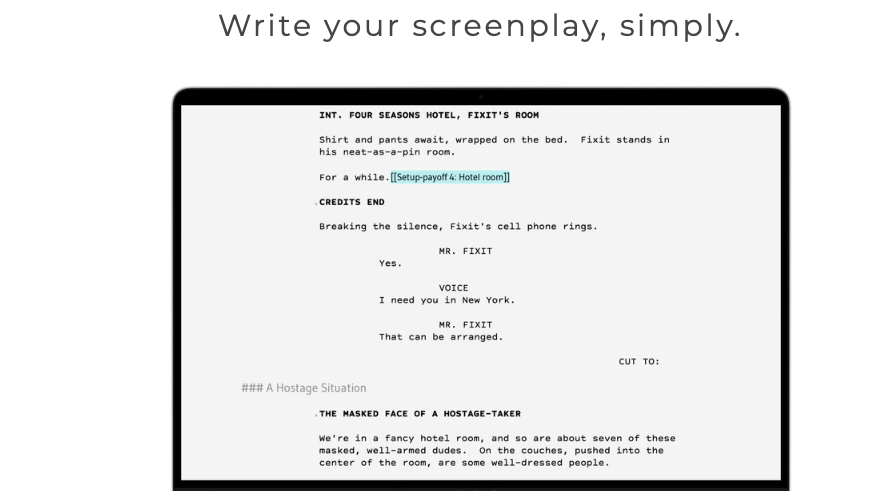 Slugline is a Mac app that removes all the distractions of other screenwriting tools, so you can just write. It's distraction-free, but when you need to place your screenplay in context, Slugline has powerful features like simple outlining, a story timeline, and color-coded notes. Simply write, and let Slugline take care of the formatting for you.
Slugline is designed for screenwriters who want the simplest, most elegant way to write screenplay format. Just type—or dictate—and it's there on the page. No menus, no commands, no markup. Word processors include invisible formatting codes that are distracting and tedious to learn. Slugline formats automatically as you work—reducing complex technicalities to simple choices.
Slugline 2 is the fastest, most effective way to write for film or TV. Just type your screenplay, using the intuitive formatting panel to add elements like scene headers, action, dialogue, parenthetical, transitions and more—as you type. Slugline automatically paginates and formats your screenplay to industry standards as you work, so you can focus on what really matters: telling a kickass story.
It uses fountain to combine the speed and flexibility of plain-text writing with the convenience of traditional screenwriting software. It uses plain text, so your work is universally accessible and future proof. Plus, you can take it anywhere. Without learning arcane formatting rules or special file types, Slugline files are portable and searchable.
Features
Slugline does the hard work of formatting your screenplay to industry standards as you type. No need to worry about margins, tabs and spacing. Slugline makes sure your script looks great no matter what you do.
You can store your Slugline documents wherever you like: online, in iCloud or locally on your Mac. Your documents will always be synchronized across all your devices—and with Slugline's parental controls, you don't have to worry about kids misplacing scripts that are stored in iCloud Drive.
Drag and drop an image from Safari into Slugline to instantly create a screenplay fragment. Or copy a rich text URL from Safari and paste it into Slugline to automatically create a slug-based link in your screenplay.
You can even drag a Folder containing images from the Files app and drop them into a Slugline document—the images will appear in the correct order, time-stamped for you!
Printed on paper or PDF, your screenplay is indistinguishable from one made with apps costing much more
4 Textastic : Best for Coders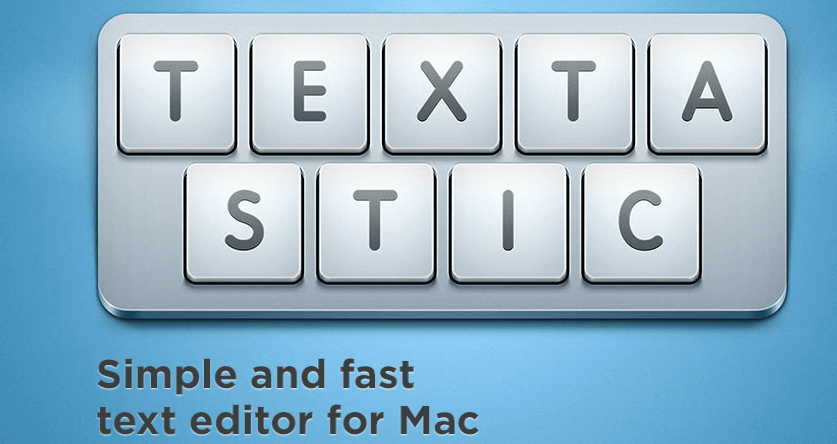 Simple and fast text editor for Mac
Textastic for Mac is a fast and versatile code, markup and text editor. The app is a sophisticated text editor with syntax highlighting for source code and many other languages. It also includes powerful features for prose, such as Markdown preview, typography and word counting.
Some features:
Powerful text editor with support for more than 80 source code and markup languages.
Integrated file browser with support for creating, copying, moving, renaming and deleting files and directories.
Fast project-wide search and replace using regular expressions. Document outline for HTML and LaTeX documents.
Autocompletion for many languages including HTML, LaTeX, PHP, CSS, C, JavaScript and Objective-C.
Multiple simultaneous cursors to modify multiple parts of the document at once. Recordable macros to quickly perform frequent editing operations.
Emmet support for writing HTML code faster.
12 fonts with adjustable font size (up to 24pt). Three themes available: "Day", "Night" and "Distraction Free".
5 Scrivener : Best book writing app for mac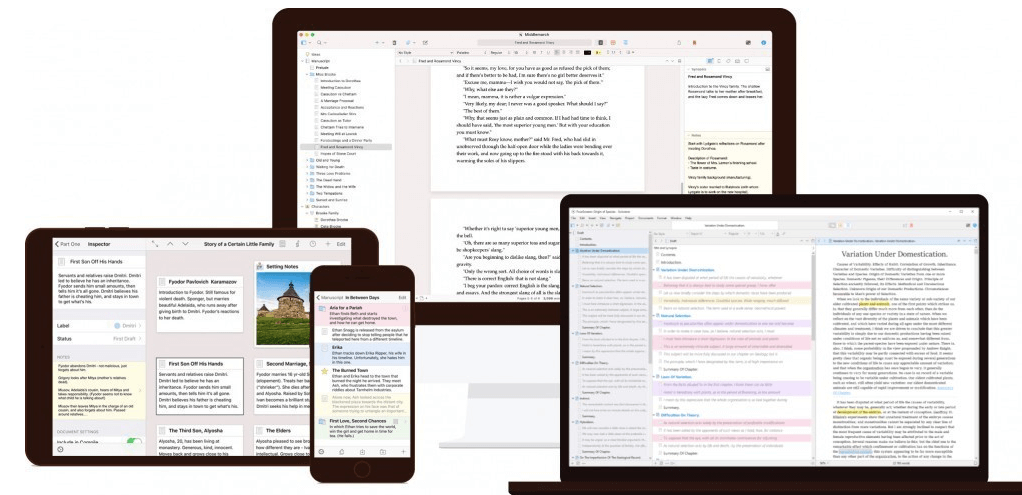 Whether you plan or plunge, Scrivener works your way. Scrivener is the premier book writing software. It has all the tools you need to create your book from start to finish: Structure and breakdown your manuscript, write and edit individual chapters, then pull it all together into a single document ready to export into industry standard formats.
All the tools you need to fulfil your writing vision are at your fingertips, ready to go when inspiration strikes. From mind maps and index cards for brainstorming to character registers, corkboards and a powerful full-screen mode for organising and structuring your work, there's always room for a story to grow.
With Scrivener you can view research alongside your writing and compose text in any order. Use the corkboard to plan as you write and switch between views when revising. Create a full manuscript, or export separate chapters or scenes and combine them later to create your book. You can also keep online backups of your work, maintain different versions of your writing, organise notes and research, and easily switch between projects. Take Scrivener with you on all your devices at home, in the office or on the go—or use it in any native language.
Scrivener takes the pain out of the writing process. Outline and structure your ideas, take notes, view research alongside your writing and compose the constituent pieces of your text in isolation or in context. Navigate long or complex documents by moving around a virtual index card for each section.
Scrivener has already been enthusiastically adopted by best-selling novelists, screenwriters, students and academics and even serial procrastinators. With robust outlining, image handling, reference material support and much more, Scrivener empowers you at every stage of the writing process – putting your masterpiece within reach.
6 OmniOutliner : best for novel writing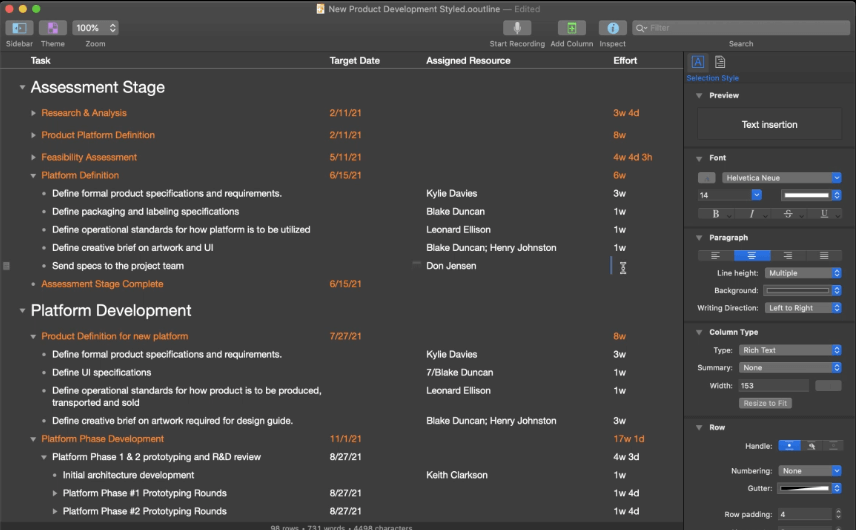 Work faster and more intelligently with OmniOutliner Professional, an incredibly flexible application for creating, collecting, and organizing information. Seamlessly move between planning and doing with powerful outlining tools, boost your productivity with automated features, and use customizable templates as the basis for all of your outlining projects.
No matter how small or large the project, OmniOutliner helps you brainstorm, organize, and share your ideas in a clear and concise manner. Craft outlines to help plan events, nurture brainstorm sessions, study language learning concepts, organize genealogy research—whatever the task at hand is! Add a hierarchical structure to complex ideas, organize unstructured information, and collect bits of text from all over. Then keep it all together with cloud syncing. Start your next project with OmniOutliner.
OmniOutliner gives you a quick way to create documents that never go out of style—outlines. In OmniOutliner, you can make lists, run through a series of steps, or set up and fill out an as-complicated-as-you-like form. But best of all, it's easy to switch gears when you need more room for typing, by using the full-screen mode in macOS.
It provides an incredibly minimal interface but allows you to add as much structure as you need. Create documents to quickly capture and organize your thoughts, or outline your long-term goals and actionable steps to make them happen. New drafting tools let you add color, lines, and highlights so you can format documents beautifully.
7 iA Writer : Free Writing software for mac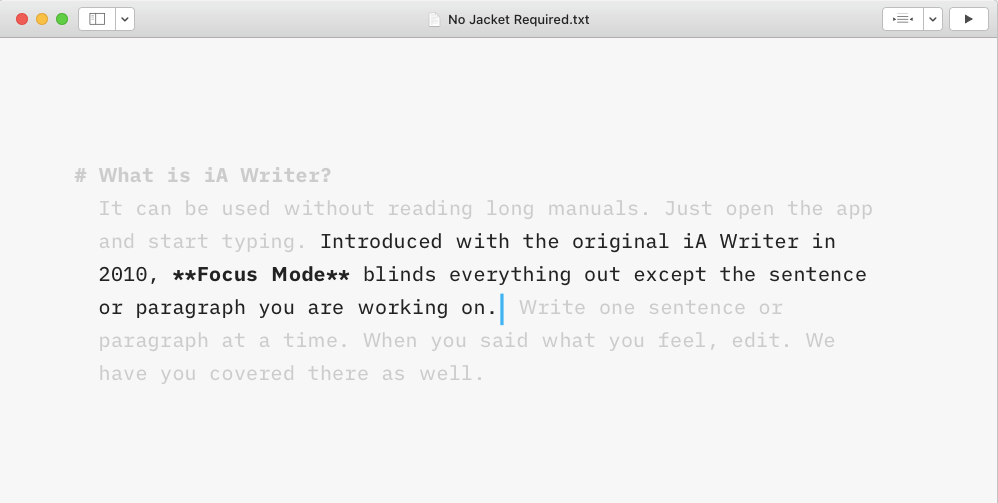 Designed to assist you in organizing and clarifying your thoughts, iA Writer makes it easy to bring words out of your head and onto the page. With a minimal, distraction-free interface, iA Writer is design to help you focus on the content.
From the start, it has been conceived as an editor for everyone: from seasoned authors to students looking for a tool to structure and clarify their research papers. Simple list templates let you structure your documents for school assignments, notes for your next meeting or lists of topics you want to cover in an article or essay. With typewriter scrolling turned on, iA Writer prevents you from getting lost in your document while writing.
iA Writer is unobtrusive, so you can concentrate fully on what you are writing. The app has three focus modes: Focus, which highlights sentences according to the Flesch readability index; Sentence, which highlights the current sentence in a paragraph; and Focus Flow, which makes the remainder of the text dimmer. Use them wisely to keep your hands on the keyboard and your mind in the text.
What do writers use on Mac?
As a writer, there are various tools and apps you need to get work done. There is no right or wrong set of tools. It depends entirely on the way you like to work. This is not a definitive list of the best Mac apps for writers but it's a selection of my personal favorites that I use on a daily basis.
The best Mac apps for writers and authors
OmniOutliner.
Slugline.
Ulysses.
Scrivener.
iA Writer.
Which is better Scrivener or Ulysses?
While both Scrivener and Ulysses are writing and compiling tools, Scrivener wins in terms of functionality, flexibility, and price. It also has a very user-friendly interface. Though it may not be as simple to use and straightforward as Ulysses' interface, it provides more control and detailed options for the user.
Is MacBook air good for writers?
The MacBook Air is a portable laptop known for its suave design and silence in operation. While it's not the cheapest option when it comes to laptops, Apple products have always delivered an amazing user experience and have always been worth the purchase price.
Since MacBooks are thin and light, it's the perfect machine for writers who travel a lot. It is my recommendation to any writer who travels often to grab a MacBook Air.
Some thoughts on best Writing Software / app for Mac
There are lots of great writing apps for your Mac, so I decided to narrow down the list and picked out our favorites. These apps are not only useful for digital creators in creative fields such as screenwrights, music composers or journalists, but can also be used by anyone who wants to get things on paper faster and easier than before.
What's the best app for students, teachers and screenwriters on Mac? I've tested all of them, and here is my conclusion: The winner is Ulysses. It may take a bit of time to understand how to use Ulysses properly, but it is really worth it. It is one of the best writing tools for Mac.
So, to wrap it all up, here are your best-of-the-best Mac writing apps. If you're looking for a new text editor – an editor that can actually save you time and boost your productivity – then "Ulysses III" is definitely worth your consideration. It's also an excellent choice if you're a teacher looking for a capable and easy-to-use writing app.