Slugline Writing is an app for iOS and Mac devices that lets you write and share your ideas. As you write, the app automatically saves your work in the cloud, allowing you to access it from any of your devices.
You can also share your thoughts with friends, family, and colleagues by email, social media, or even by sending them a link via text message. The app allows you to create project folders to keep your writing organized and provides tools to keep track of your word count.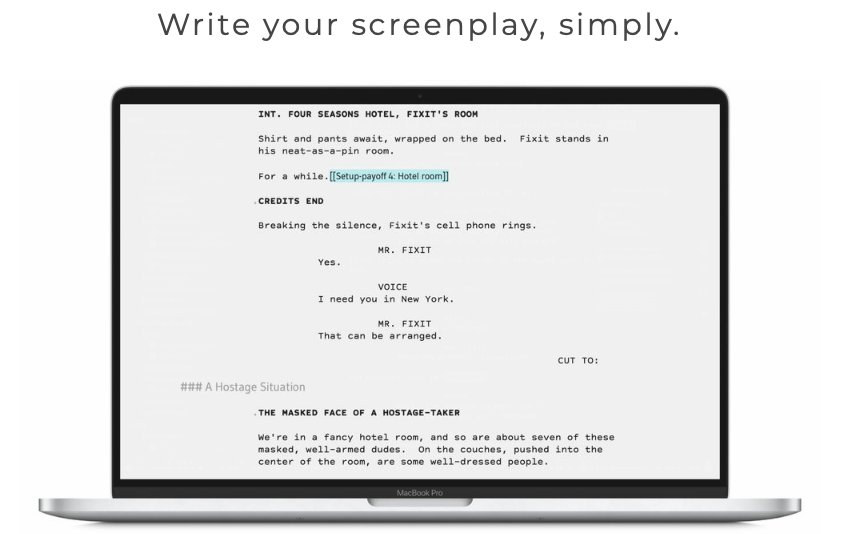 Slugline allows users to create outlines, jot down notes, add subheadings, and even set up milestones in the story, giving it the advanced organization of a dedicated writing program without the need to learn a new interface.
It also allows you to collaborate with other writers to write and edit together online. The app's clean design and intuitive user interface makes it perfect for both beginner writers and seasoned professionals who want to spend less time editing and more time creating.
➡ 21 Tips To Be More Productive at Work
It's not just an app for writing screenplays, but it can also help with your short stories, novels, and stage plays. Slugline uses a different approach from other screenwriting apps on the market today. It focuses on giving its users a better experience for writing their scripts. This is done by showing them what they've written as they're writing it, instead of waiting until everything is finished before they can see anything.
It even has a unique feature that helps you see your own script in a new light. You can highlight sections of your script and then the app will show you which scenes come before and after that section. This makes it much easier to focus on certain sections while you're working on them.
It's meant for people who have never written a screenplay before, but don't want to be intimidated by the process. The app combines an intuitive visual interface with useful notes about structure, formatting, and style that helps users create their own scripts.
➡ The Pros and Cons of Technology in Education
Slugline has been designed to be as accurate as possible with regards to screenplay format. This means that it doesn't require you to change your script into something else just to use the program.
It also means that this isn't just a writing tool; you can use Slugline to get your ideas down quickly and then bring them into another program if you want to continue working on them. As you write, Slugline provides reminders of standard formatting rules (such as double spacing after each slug), and even validates your script against the rules.
➡ Best Tech Tools for Small Business in 2022
Slugline Features
Automatic formatting – Slugline turns your plain text into a screenplay. Just type your script and Slugline will indent each line, add character names and slug lines, and format everything else.
Sync files with iCloud and Dropbox, or work locally – Work on your scripts wherever you are, on all your devices. All changes are automatically synced across all devices via iCloud or Dropbox.
Works with iOS 11 Drag and Drop and Files app – Drag files into Slugline from any app that supports drag & drop (including Notes). You can also transfer files via the Files app or by emailing them to yourself from other apps such as Dropbox.
➡ Best Planner App for Students 
Helpful structure templates – Slugline's famous Integrated outlining – Notes, Scene Synopses – Outlining, drafting and finalizing a screenplay in one app!
The most powerful features of Slugline are the templates for each of the major screenplay structures. The templates are designed to help you get started with a blank page and then move from there. You can start from a template and edit as much or as little as you want, but we recommend starting with a template that feels like something you already know so that you can focus on getting your story down on paper.
Once you have your outline in place, it's time to write the first draft. We call it "drafting" because we don't expect it to be perfect or even great right away; we just want to get all those words into some kind of order, so we can see what they mean together. When you create a new draft in Slugline, it automatically uses your existing outline as its outline… meaning that if you change anything in your outline, the draft will change too!
Notes & Scene Synopses –While writing your script, Slugline allows you to take notes on scenes and on entire scripts—which can be helpful if you want to remember important details about characters or locations for later use in revisions or rewrites. The notes feature also allows for scene synopses which can be handy if you're trying to remember who said what when during a certain scene within a larger action sequence or narrative arc.
➡ 5 Best Writing Apps for iPad users
Drag-and-drop Outline – Create an outline of your story with just a few clicks. Organize the scenes into acts, sequences and beats to quickly see the big picture.
Live Compare for Tracking Changes – See what's changed instantly as other writers make edits in their own copies of the script.
Inline Notes – Keep track of important notes in the margins of your script using text or emoji.
Automatic Scene Headers – Slugline automatically generates scene headers as you type so you don't have to worry about formatting them yourself.
Scene Breakdown – Break down each scene into beats and characters with character descriptions, dialogue, and scene directions.
Scene Details – Record shot descriptions, camera angles, and more for each scene.
Character Descriptions – Write detailed descriptions of characters including their looks, personalities, motivations and conflicts.
Script Notes – Record notes about scenes or characters as they come to you while writing the script.
The Verdict
If you're a screenwriter looking for an alternative to Final Draft or Highland, Slugline is a terrific option. It's not the most complete screenplay-writing application on the market. But as far as basics go, it covers all of your bases. You still can't import an existing screenplay into it—but you can export one into Final Draft files, or even PDFs . 
➡ Ulysses App Review: Ultimate Writing App for Mac, iPad and iPhone
Slugline also lacks many of the formatting options offered by other apps on the market, such as Scene Numbers and Page Counts. And you still have to be a little careful when writing dialogue (though there are some shortcut commands to make that process easier). Overall, though, this app is a terrific way to write your scripts on your iPad, and it's definitely worth taking a look at if you're in the market.