Let's be real here – organizing your schedule as a student is no easy task. Between exams, class assignments, and countless other tasks, it can feel like there's no time left in the day to get anything else done. That's why you need the best planner app for students.
Planning an important event or you just want to stay organized? Maybe you're a business owner and want to share your agenda with co-workers? In order to find the best planner app, I first need to let you know what is a planner app. A planner app is an app that helps you get organized. It allows to plan, manage and keep track of events, tasks and deadlines without the hassle. A good planner app is also easy and intuitive to use, so it was no easy task finding the best planner app for students.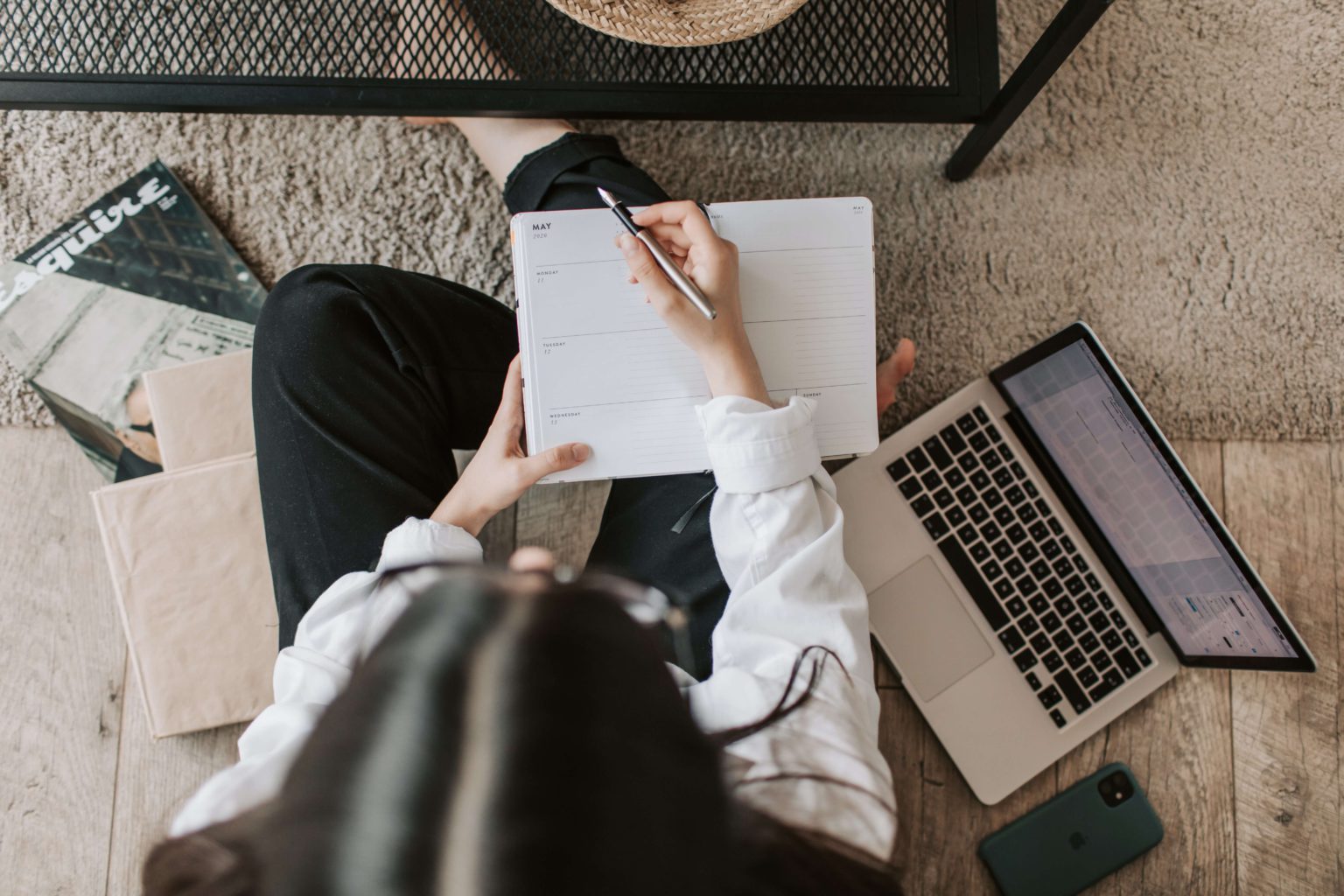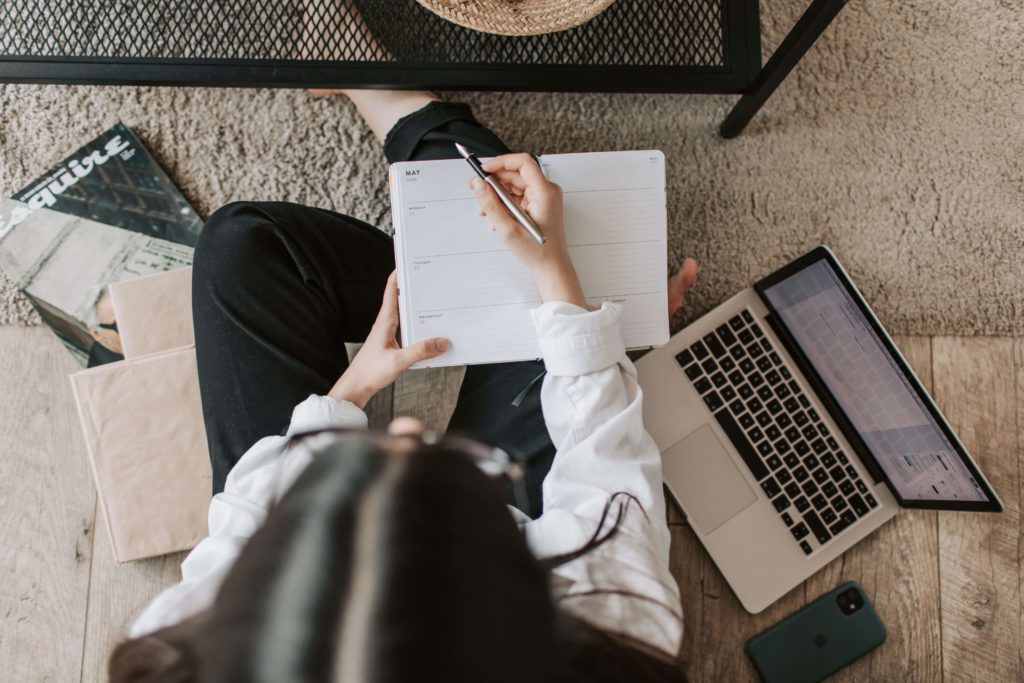 Todoist Review: Productivity Planner for students and Creatives
Todait Review: Smart study planner for Students
Microsoft To Do Review- Capture Tasks & Set Reminders
My Study Life Review: Planner for Students – Teachers
Egenda Review- Powerful homework manager for students
myHomework Student Planner Review
Easy Study
Chipper
Power Planner
StudySmarter
iStudiez Pro
Students need a planner to schedule their time effectively. Planning comes in handy in different phases of life, but is significantly important for a student. There are plenty of online and offline planners students can use, but most of them are quite complicated. Even if a student is new to planning, it doesn't mean he or she does not need a planner. In fact, calendar apps for students make planning much easier because they're simple to use, yet feature-rich.
Students can also MicMonster's free text to speech technology to convert any text into natural audio for college or social media projects. With MicMonster's text to speech technology you can convert English, Spanish, Hindi, German and many other language texts to speech within seconds.
➡ Reasons Why You Should Use a Daily Planner
Features a Study Planning App must have:
An app is supposed to be user-friendly. With this, we mean that application is straightforward, simple and easy to use.
If your app has a lot of characteristics that are too hard to use, then the application is useless.
The main point of having an application is saving time and being productive in your studies.
So, you need to have an app without any modifications or within few clicks that can help you perform your tasks.
An app should have standard features like setting a daily routine, reminder alerts, adding classes and exams, etc.
Having all the relevant information such as deadlines, task list and contact details in one place makes it easy for students to maintain their work.
Most of the time students get confused about where can they find the information they want when needed? But if you have an app then these problems will be resolved as you will have everything arranged in a manner on your smartphone.
An app designed to help students plan their day, week, month and year.
Plan your daily schedule, organize and view all your classes in one place.
Efficiently manage multiple projects, synchronize your work with other devices.
Easily plan and keep track of your assignments, exams and deadlines.
Track grades, receive notifications as grade updates become available.
View individual course information including course description, professor name, office hours.
You need an application which has all the basic features a student needs and you can use them accordingly.
Here is a list of the best planner apps for students:
Todoist is one of the best student management apps available right now.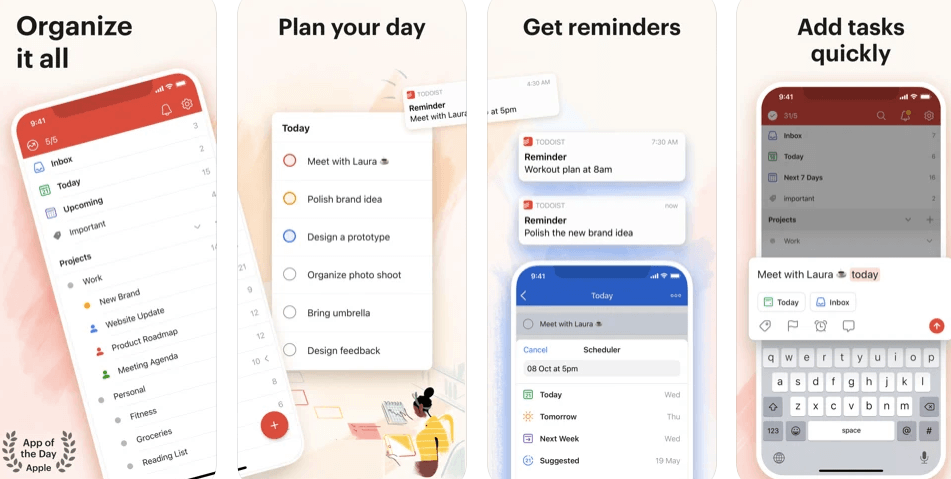 Todait is a popular task management app that can be used as a student planner. It's free to use, but there are paid versions with extra features. The basic version of Todoist is free and works on Android, iOS, Mac OS, Windows 10, and the web. You can create tasks and projects in Todoist and organize them into folders. You can also set reminders so you'll never forget an assignment again!
Todoist is a simple, but powerful task management app that lets you manage your entire life in one place. You can use it for work, school, home, or a side business. You can create as many projects as you like and easily color code them to keep organized. The app also integrates with many other productivity apps like Google Calendar, so you can add tasks right from there.
➡ Best study apps for students
Here are some of the ways Todoist can help you stay on top of your work:
Scheduling reminders for upcoming tasks
Adding deadlines for each task (and setting them by time or date) so you don't miss anything
Creating subtasks if necessary
Setting priorities so that the most important tasks get done first
Using labels to categorize tasks into projects
➡ Best Way to Use a Daily Planner
Todait Planner is the most effective time management app for students, business owners & everyone in between.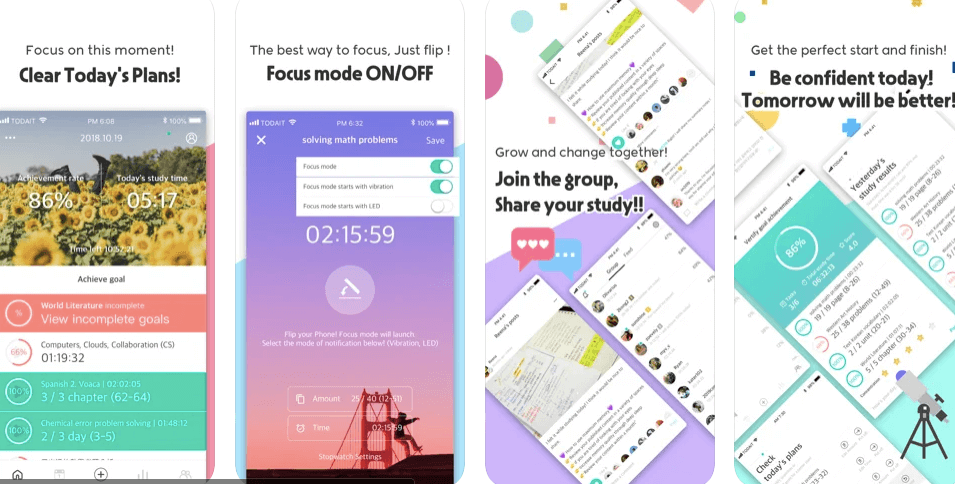 Todait is another great option if you want something that works well on your phone or tablet. It has a clean interface that makes it easy for you to add tasks by voice command (just say "add task"). Todait also has great sync options so you can access your reminders from anywhere.
If you're a student, your life is full of deadlines. You need to manage your time well or you'll end up cramming for exams and writing papers at the last minute. Todait can help you stay on top of all your assignments and projects with a simple, straightforward interface that lets you schedule tasks for specific days and times. It also sends reminders to ensure that nothing slips through the cracks.
Todait has all the features you'd expect from a to-do list app, but it's also one of the best planner apps because it lets users set up study sessions. For example, you can use Todait to organize what needs to happen during these sessions and when they should occur. This helps students create a routine that builds in time for studying each day instead of cramming at the last minute before an exam or paper due date.
➡ Tips To Be More Productive at Work
With Todait, students can create study timers and set goals for their sessions so they know exactly how much time they have left until class starts or an assignment is due. They'll never be late again!
Todait is an excellent student planner app that not only allows you to schedule your studying sessions but also helps you to keep track of the progress you have made towards achieving certain goals.
Moreover, this app comes with an intuitive interface as well as customizable study sessions and reminders, meaning that it offers students the kind of organization and goal setting they need.
➡ Most Useful Apps for Students
➡ Best Writing Software for Mac
Todait offers both free and paid versions that come with advanced sets of features, such as study statistics and a host of ready-made themes. The free version is ad-supported, although the ads can be removed with a simple in-app purchase.
Overall, Todait is a simple planner for students, especially for those who want to make sure they're studying enough. It helps you visualize your progress and set important deadlines for each of your goals.

3. Chipper
Chipper is easy-to-use time management app for students.
Chipper is the best planner app for students. It's a simple app that helps you focus on the most important tasks and track your progress. You can also add daily to-dos, history, and notes to keep track of your life. Chipper is fast and easy to use, which makes it great for students who want to get organized in a hurry.
Chipper has a lot going on, but none of it is overwhelming. It's very easy to use and set up your own schedule. The interface is clean and simple, so you can focus on the task at hand instead of spending time learning how to use the app. The best part about Chipper is that it's free and also have paid subscriptions. And if you have trouble with scheduling, Chipper has a built-in activity planner that can help you figure out what time frames are best for certain tasks.
You can add an unlimited number of tasks and events, set reminders and repeat tasks, track your progress and productivity, add notes, and more. The app provides an easy-to-use drag-and-drop interface, themes for customization, detailed statistics about your performance, backup and sync across multiple devices, and much more.
➡ Best Plagiarism checker for Students
We found that Chipper is the best option for students who are looking for a full-featured planner that provides the convenience of an all-in-one, portable package.
Although the price might be off-putting at first, bear in mind that this planner packs in pretty much every feature you could ever need to organize your studies.
It's easy to use, offers plenty of customization options, and even rewards you with imaginary cash as you make progress.
Chipper takes some getting used to, but it's worth the effort for serious students. It can help you get organized, stay on top of your schedule, and set goals. In addition, it includes features that will motivate you to keep studying. However, managing your tasks in Chipper can be confusing, and some errors were detected during testing.
Overall, this is a good choice for serious students who want to stay on top of their coursework and are willing to put the time into learning how to use the app.
Very useful mobile app for keeping track of your tasks, assignments, and important deadlines.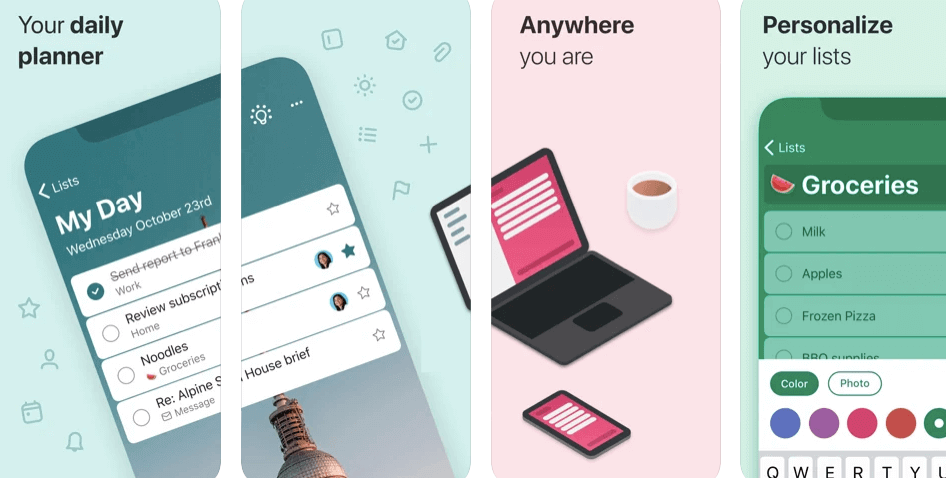 Microsoft To Do is an app that helps you create a list of tasks and set reminders for them. It's great for students because it allows you to prioritize your assignments by due date or subject. You can also share lists with others so they can help make sure things get done.
The app also integrates with Microsoft Office 365, which makes it easier than ever before to keep track of your school work while using other Microsoft products like Word or PowerPoint. This integration is especially useful if you're already using these programs at school or work."
While it doesn't have as many features as Chipper, it still makes it easy to track your assignments, projects and exams with an intuitive interface that gets right down to business. The app also has a list feature that lets you make customized calendars and bullet points. If you're looking for something more complicated than a basic calendar app, this should be your go-to option.
Microsoft To Do is a smart task management app that makes it easy to plan your daily routine. You can create your own task lists, organize them in any way you want, group related lists together in one place, share them with classmates or colleagues, assign tasks to other people, get notified when they're done, and more. The app also provides cross-platform access across mobile devices and computers so you can stay organized no matter where you are.
With incredible cross-platform support, Microsoft To-Do makes it easy to get things done from virtually anywhere. You can quickly review your day's agenda by checking the widget on your home screen throughout the day, or add tasks with a single tap through the app itself. With such solid cross-platform support, Microsoft To-Do feels right at home on laptops, PCs, smartphones and tablets alike. It integrates beautifully with Office 365, so you're always up to date with what's happening at work and never behind when it comes to work-related tasks.
My Study Life Planner for students is the very best in scheduling, planning, and note taking.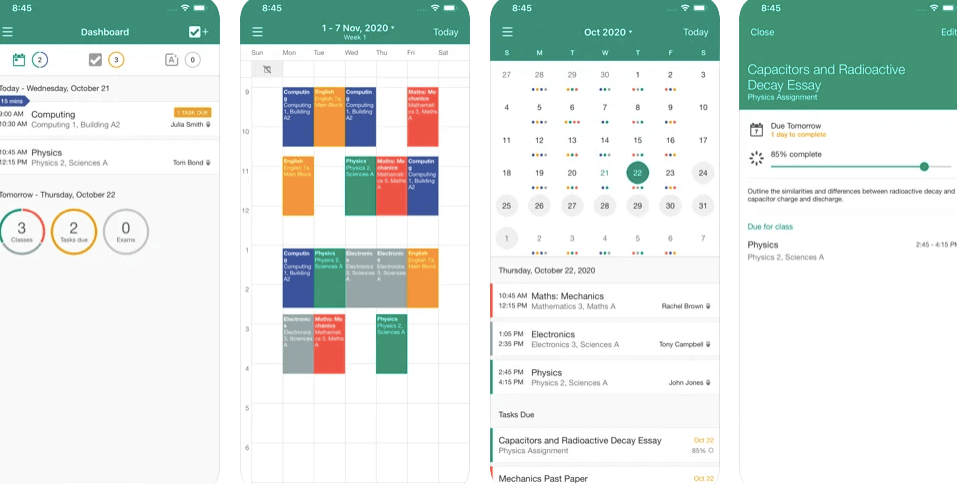 My Study Life is an amazing app for students: it is simple, clean and very easy to use. You can enter all your classes and assignments in just a few minutes. It has a calendar view, which shows your whole schedule, and a list view, which gives you more details on each item. You can also set up reminders to make sure you never forget about any of your upcoming exams or assignments, as well as recurring tasks like homework and studying.
The first thing that makes this planner app stand out to me is that you can set a reminder for upcoming tasks. This is perfect for students who want to be reminded of an assignment or exam for example. I also like that you can add your classes and events to this app as well.
It's not just for tracking assignments and exams, but also for keeping up with your schedule too! The design of this planner app is very user friendly. You can see all of your classes on one page, then click "show details" to see what homework you have due or what exams are coming up next week.
The best feature in my opinion though would be the ability to create an account so that you can access your calendar across devices. This means if you're on desktop it's still there when you go mobile! It also means you don't have to worry about losing any important information because everything will always be backed up online at MyStudyLife.com.
This planner really is for everyone: it lets you synchronize all of your classes, exams, and assignments across multiple platforms to keep you constantly organized and on track. There are tons of features, including daily notifications about upcoming deadlines, which means no more excuses for procrastination.
The app has many useful features:
-It has a calendar view where you can see all your upcoming events on one screen so you don't have to go through each day individually. This helps students manage their time better because they can see what's coming up and when they should be finishing up an assignment or preparing for an exam.
-You can quickly add tasks and reminders to your calendar so that nothing slips through the cracks during busy days when there's a lot going on at once (like test days). Students are known for procrastinating until the last minute — but with this app it's easier to stay on top of things so there aren't any surprises later on!
-If you struggle to remember holidays or class rotations, you can input that information in My Study Life as well.
-Your dashboard displays all your upcoming assignments, exams, and classes. This way, you'll never forget about that assignment that's due tomorrow.
The clear display of academic tasks with due dates and color-coordinated to-do lists is the first thing you'll notice when you open the app. The simple design makes it feel quite clean and easy to use, so there's no clutter or busyness on your screen.
Once you select your classes, tasks automatically populate on a table in list format so you can easily track assignments as they get due. You'll also be able to see a calendar view of all your upcoming events/tasks without having to leave the app. If that's not enough for you, there's an option to sync it with Google Calendar and iCloud!
My Study Life was the overall winner for two reasons: first, it has a lot of functionality for students that other apps don't provide. For example, not every app lets you input detailed information about every individual class: room number, module, time, teacher—the list goes on. Second, it's mobile-friendly . Most other apps aren't formatted well for the small screen; My Study Life is easily the best for viewing and adding tasks on a smartphone.

6. Egenda
Egenda, the easy to use online Project Management App, is well suited for Students and Job Seekers of all ages
A lot of students find it difficult to stay on top of their assignments and keep track of due dates. Thankfully, there are a number of helpful apps that can make the task easier. Egenda is an especially good choice. It is flexible, easy-to-use, and has a lot of unique and helpful features.
Egenda is a planner app for students that helps you organize your assignments and keep track of your due dates. You can enter in all of the courses you are taking this semester and create a list of assignments for each one. Egenda will give you reminders about upcoming deadlines so you won't forget to turn in any work, and it will also tell you how much time remains until a due date or exam.
The app's interface is simple and easy to navigate. It was designed with students in mind, so it has everything you need to stay on top of your schoolwork without any extra bells and whistles.
Another great feature is that Egenda allows you to set up reminders for yourself on specific days. This means no more last-minute cramming or late nights working on an assignment because you forgot about it! And if something comes up unexpectedly—like a doctor's appointment—you can also move around your existing reminders without having to delete them entirely or start over from scratch.
This app is especially useful for students who have busy schedules; it gives them the ability to quickly glance at what needs to be done at a given moment. If, for example, they're running late for class or need to make dinner plans with friends, they can look at the app's calendar view rather than having to check each assignment individually.
The goal of Egenda is to be a planner that allows you to schedule your semester. But in order to get the most out of this app, you should have a clear picture of your schedule before you start using it. If you don't know what courses you will be taking, or the due dates for assignments, this app may not be helpful to you. Still, Egenda can be an effective study tool for visual learners who need to see their schedule laid out in front of them—and for this it has a lot going for it.
With a simple, intuitive interface and its useful features, Egenda is one of the best options on the market. Whether you're looking for an app to help you manage time better or to organize your tasks, this school planner helps foster mastery of both skills.

7. Easy Study
Easy Study is an innovative student planner app that makes personal planning easier and journaling effortless.
Easy Study is one of the best planning apps for students who want to study effectively and efficiently. The app has been created specifically for college students and high schoolers who need help with exam preparation, essay writing, doing homework and so on. It offers over 80 different study tools that will help you to achieve your goals whether you want to improve your grades or get more friends.
It has features like custom reminders, snap photos of notes and more. It also has an add-on feature called Easy Study Pro that offers even more functionality like note taking tools with audio recording capabilities.

8. Power Planner
Power Planner is a free time planning app that is great for students.
This app helps users plan their lives by creating schedules and organizing their tasks into separate categories (work, home etc.). It also lets users sync their calendars with Google Calendar so they don't miss important events or deadlines (which is especially useful if you use multiple devices). You can add additional notes and attach documents or photos as well as share them with other people (friends or family members).
Pick a class, pick a semester, and Power Planner will let you outline every single assignment along with its due date. The app is a schedule planner for students, made to be simple and easy to use. It's perfect for middle school, high school, and even college students. In addition to keeping track of when each of your assignments are due, it can help you keep track of when your tests are.
Power Planner helps you manage your study life
It's perfect for students whether they're in middle school, high school, or college.
With Power Planner, you don't have to worry about forgetting class times and assignments.
You can even estimate your GPA with Power Planner.
The free version of Power Planner may be lacking some features.
Power Planner is available on iOS and Windows 10, but not Android.
You can add your own classes, or import course data directly from your school.
You can color code tasks by class, or set overall priority levels.
It has daily, weekly, monthly and yearly views.
You can view all assignments in one place to see how they affect each other.
It integrates with Google Calendar to make your life even easier.
Power Planner makes managing your study schedule easy.
It lets you create different projects with due dates and deadlines so that you don't miss anything important. There are also options for adding notes, reminders and voice memos so that you never forget anything. The app is available on both Android and iOS devices.
Power Planner is a solid app, especially for its price tag. It's not just a simple planner that you might use in class – it has an abundance of useful features and premium upgrades. Right now, Power Planner is one of the most well-rounded tools on the market, especially given its range of optional add-ons. While there may be other study planners out there that offer similar functions and more, they just aren't as easy to use or customize as Power Planner is. And if you're looking for a tool that you can use not just on your phone but also on your laptop or desktop computer, then this is the one for you.
Overall, Power Planner is one of the best tools for every student in need of assistance with their studies. It takes what would be an extremely time consuming task for you and breaks it down into manageable pieces. Instead of being overwhelmed by the sheer amount of work that needs to be done, Power Planner gives you a comprehensive study planner and grades estimator to make planning classes, studying and grading a much easier process.

9. StudySmarter
StudySmarter is one of the leading websites on how to design your schedule to help you study smarter.
This is one of the most popular study apps for students. It's available for both iOS and Android devices and it can be used offline as well. The app has some really great features like an integrated calendar that lets you add your classes and exams along with their dates and times.
StudySmarter is an academic planner and flashcard app.
You can collaborate with other students to create or edit flashcards.
Annotate documents.
Create study groups.
Visualize your study time by using charts.
The app is free to download, so you can try it before paying.
You'll be able to upload documents and add annotations.
Upload any document you want and use the app's integrated PDF reader to view it.
If you collaborate with other students or classmates, you can use the StudySmarter planner app to organize study groups.
Use flashcards to help you study for exams by creating your own or using flashcards that others have made.
Use the best study app for students to stay organized
This planning app has many features that will allow you to better organize your studies.
You can also add notes with each class or exam so that you don't miss any important information during lectures or exams.
The bottom line is that StudySmarter is a well-designed app that can motivate you to meet your academic goals. The StudySmarter features make it easy to stay organized without sacrificing any of the details. It's easy to use, and great for sharing information with the people you study with most often. The integration with Dropbox and Google Drive makes it simple to upload documents, and its flashcard sharing feature makes it easy to help others learn along with you.

10. iStudiez Pro
iStudiez Pro is the perfect all-in-one academic planner, grade calculator, study time estimator, time tracker, and room/project scheduling app for students.
This is another great app for students who want to make sure that their studies don't get messed up by any outside influences such as friends who want to hang out or parents asking about dinner plans etc.. This app lets you create separate schedules for each class so that you don't mix things up while studying at home.
It comes with a calendar view, task list, reminders, and more. You can also sync your iStudiez Pro account across multiple devices, including your computer and tablet.
If you're looking for an all-in-one solution to help you study smarter, iStudiez Pro is one of the best planning apps for students.
iStudiez Pro is the perfect tool for students to plan, manage, and organize their schedules. This planner app allows you to quickly and easily input your course schedule with the "class type" feature that automatically suggests what class it is based on the information you provide. Color-coding classes allows you to visually scan your classes and assignments in a snap, while a "time pinning" feature allows you to set specific tasks for a day and get them done.
Color code classes and task to create your own visual experience
Customize the app using icons
Add professors contact information
Add daily tasks and arrange your schedule visually
The app will send you alerts about upcoming deadlines and class schedules so you don't miss anything important.
iStudiez Pro's "Grade Tracker" allows you to enter the grade for each assignment and the weight of the assignment. Then, the app can predict your final grade in the class based on your current grades.
The app also has a feature that shows your upcoming schedule and tasks, but in a less detailed manner that is more useful when you are away from your desk.
iStudiez Pro is a great app for students who like to organize their classes visually.
iStudiez Pro is designed specifically for students, helping them organize their studies from class schedules to assignments and exams/quizzes. This planner gives you the ability to plan your classes and make sure you are up-to-date on all your homework. Color code each class and symbolize each due date.
For each class you can add assignments, their due dates, and specific tasks associated with them, along with the grading scale (A to F or 0–100%), and other course-related info. You can have your schedule right on your phone or table so that you'll never miss an appointment. You'll never lose track of homework, exams and tests.
Create classes, add professors, schedule due dates for assignments, then link those assignments to specific tasks. iStudiez Pro will sync with your calendar so you always have tasks scheduled in your calendar.
myHomework is an app that enables students to schedule, manage and organize their homework, so they can spend more time on studying and learning.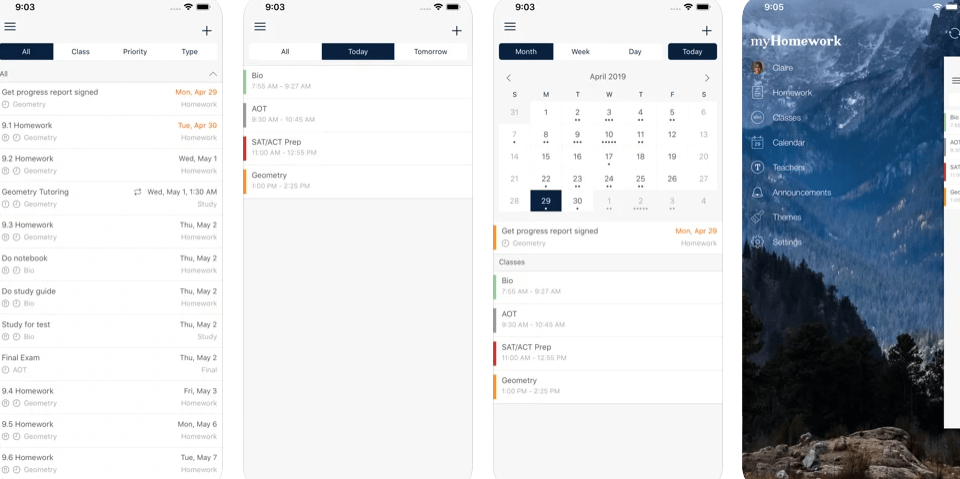 MyHomework Student Planner is a simple, straightforward way to keep tabs on your studies. This intuitive app generates a color-coded class schedule, as well as a calendar that organizes your upcoming classes, assignments, and tests. It also creates a clean list of homework assignments, which makes it much easier to remember important due dates.
To get started, simply input your class schedule and any upcoming assignments. myHomework Student Planner will then generate a color-coded class schedule, as well as a calendar that organizes your upcoming classes, assignments, and tests. With this visual way of organizing your day, you'll never forget about flash cards for a test tomorrow—nor will you miss your friend's birthday or an exam the next day.

Things Students must do with Schedule planner apps to succeed
If you're a student, you know how important it is to stay on top of your schedule. You have classes and projects, not to mention studying and homework. Keeping track of everything can be overwhelming — especially if you're not good at keeping an eye on the big picture.
Schedule planner apps can help you keep control of your busy schedule by helping you plan out your days and weeks in advance so that you know what's coming up and when. They also offer features like reminders and notifications so that you don't forget anything important.
Here are some things students need to do with schedule planner apps:
Organise your classes and homework.
The first thing that you need to do with a schedule planner app is organize your classes and homework. This will help you stay on top of your schedule and make sure that you don't miss any important events or assignments.
Keep track of their grades.
The second thing that students should do with schedule planner apps is keep track of their grades. This way, they can ensure that they are working hard enough in all of their classes so that they can maintain good grades throughout the semester.
Find ways to manage their time effectively
The third thing students must do with schedule planner apps is find ways to manage their time effectively. If you have a busy schedule, it's important to make time for studying, eating and sleeping so that you don't get burned out before the end of the semester or school year!
Take advantage of all the benefits that student planner apps offer
The fourth thing students must do with schedule planner apps is take advantage of all the benefits they offer. For example, some apps allow users to create new events or reminders right on the spot if they think of something new while looking at their calendar! This makes it much easier than having to write everything down on paper or in an online calendar application.
Create a study plan for each class:
If you've got a ton of classes to take, creating a study plan for each one can help ensure that you get through them all successfully. Schedule planner apps allow users to set goals for themselves and then track their progress as they move toward those goals. This helps students find out where they need more time for studying or where they need more time spent doing other things so they can complete their goals faster.
Make sure appointments don't fall through the cracks:
Students with busy schedules often have trouble keeping track of dates, times and places for important appointments such as doctor's appointments or exams.
Set your weekly schedule.
The first step to making good use of a schedule planner app is setting up your weekly schedule. It's important to know when all of your classes start and end so that you can plan accordingly.
It's also important to keep track of homework deadlines, projects and tests so that they don't fall through the cracks. If you want help with setting up your schedule, there are many free online tools available that can do the job for you.
Plan your activities and tasks for each day of the week. It's important to include classes, homework assignments, exams, study time and other responsibilities.

Keep a list of your deadlines and assignments.
A good way to stay organized is by keeping a list of everything that needs to be done in order for you to succeed in school. This includes tests, projects, homework assignments and any other tasks or projects related to classwork or studying for tests. You should also keep track of due dates for each assignment on this list so that nothing falls through the cracks and gets forgotten about until it's too late!
Create a checklist for all of your due dates so you don't forget about them at the last minute. This can be useful when planning out your week or when you're trying to stay on top of things throughout the semester.
Use color coding to distinguish different types of tasks or activities on the same day (e.g., green for class time, red for studying). This can help you visualize where your time is going so that you can make adjustments if necessary (e.g., adding more study time in order to pass an exam).
Schedule planner apps are great tools for students because they can help them stay organized and get their work done on time.

Mark important dates in your calendar, including deadlines and exams.
It's important to mark important dates in your calendar, including deadlines and exams. However, this isn't enough. You also need to add reminders for each deadline or assignment. Taking a few moments of your time before leaving the class will save you a lot of time (and stress) later on.
Add some margin time between tasks when planning your schedule, so that you have some room for any unexpected surprises that might come up. Mistakes tend to happen when we are too busy and stressed out. So it's better to plan ahead than try to cram a bunch of things into one day. And if something does go wrong, having a little time cushion will allow you to recover from it without getting behind schedule or having to cancel other plans.
For example: If you have an exam scheduled for Friday at 1pm and another one on Saturday at 3pm, put some time in between those two events so that you can study for both exams without feeling rushed or overwhelmed by all of the work required!

Add reminders for each deadline or assignment.
Next, add reminders for each deadline or assignment. If you have something due every Monday at 5pm, set a reminder for 4pm on Sunday so you remember to get started that day. By setting multiple reminders for the same task, you'll be less likely to forget about it.
For example, if you have a weekly assignment for class, set a reminder for one week before it's due (to get started), two days before it's due (to finish it up), and one day before it's due (to complete it).

Turn all-day events into big ones on the calendar to create more room for your daily tasks.
Turn all-day events into big ones on the calendar to create more room for your daily tasks. For example, if you have an exam on Tuesday at 2 p.m., add the exam to your schedule planner as a large event so it doesn't get lost amid all of your other classes and activities.
Then, use smaller blocks of time around that larger event to add everything else you need to do that day — like study, go out with friends or even have lunch with a professor (if they'll let you).

Set goals, then outline the steps you need to take to achieve those goals.
The first step toward your goal is to set a deadline. Once you've done that, break down your goal into actionable steps. Once you know what needs to be done and when it needs to be done by, you can start scheduling them into your planner app.
The schedule planner apps are great for monitoring your progress on a day-to-day basis. But if you want to see how well you're doing with respect to your larger goals, try using an app like HabitList or Lift to keep track of how many times per week or month that you accomplish each task on your list.

Plan ahead and map out your schedule for the following week before it starts.
This will give you a clear idea of what's going to happen during the week and you'll know exactly when to fit in time for studying, hanging out with friends, etc. You can then adjust your plans accordingly as the week goes on. Keep in mind that if you don't know what needs to be done at any given moment—or if it feels like there's too much going on—then chances are good that something is wrong with how your days are being mapped out.
Take advantage of "free time" by doing something productive during those hours instead of just waiting around for something to happen. One great way is to plan out your day so that work can be completed before class or meetings start; this way, when classes end at 11am you'll have more than enough time to finish whatever needs getting done without rushing back home first!
Planning out your schedule for the week may seem like an unnecessary task, but it's actually one of the best things you can do to set yourself up for success. If you map out your schedule before the week even starts, you'll avoid any last-minute scrambling for what to do next or, worse, having nothing to do at all. You won't have to worry about missing anything important that's coming up because you already planned for it in advance.
Plus, you'll be looking ahead and planning to accomplish your goals—something that can give you a sense of peace of mind by ensuring that you're not just doing things as they come up, but working towards something bigger.
The added bonus is that when you follow this tip, it makes scheduling the rest of your tasks and activities much easier during the week. You'll know exactly which days need more attention than others and what pockets of free time can be filled with quick tasks.
Once you've mapped out your schedule for the week, stick to it! It will be easy to get distracted if you don't have a plan in place, so try not to stray from what was decided in advance.