Writing apps are note-taking and document creation tools specifically geared toward the goal of helping you be more efficient in your writing.
Previously, I shared a post about writing apps for Mac and iPad writing apps, and it struck a chord with all of you. So, I thought I'd share some best apps for Writers. These will help all of you that use a smartphone and a PC, whether it be iPhone or Android or Windows or a MacBook.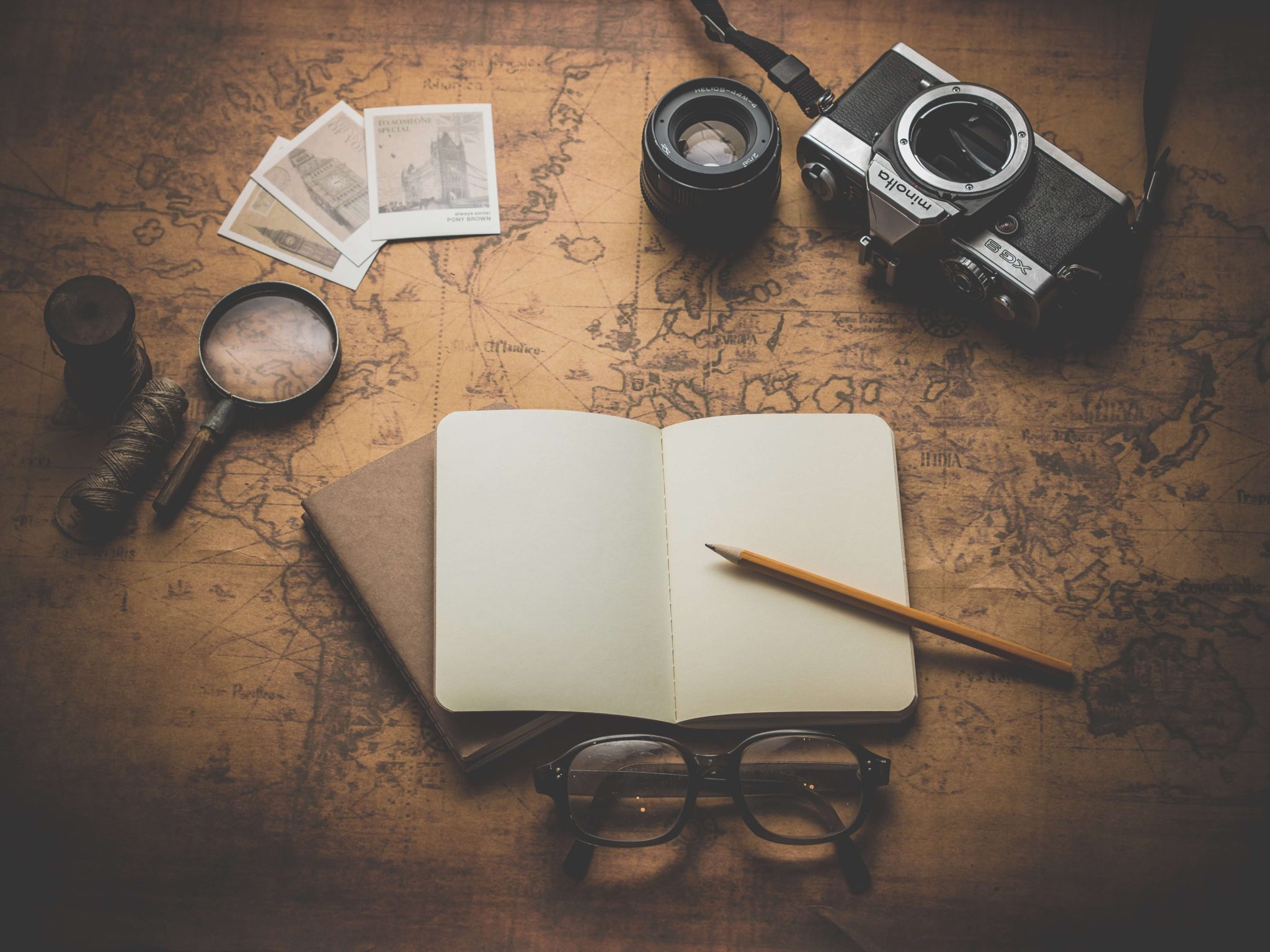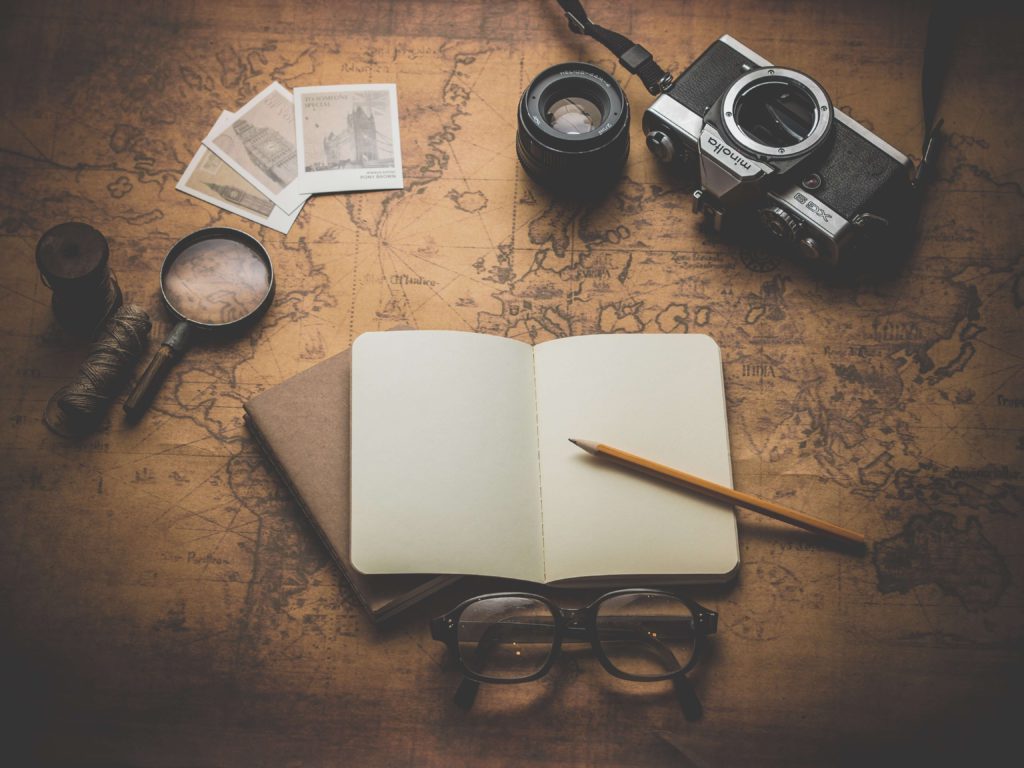 If you're a writer, chances are you want to be more productive and want to publish more often. You know that in order to be more productive, you need the right tools, but with all the computers, phones and writing apps out there, it's hard to decide which tools you should use when writing. Well no worries, I have a few suggestions for apps that can help. Take some time to check them out and let me know if you have any recommendations!
Writing is a form of art. And it's not just done in your head or on paper, but with a computer. So if you're looking to write with your computer to help organise your thoughts while writing, then you're in the right place. I've compiled this list of writing tools for authors and professional academic writers, like Scrivener and Final draft, that make writing easier.
Are you ready to sell your idea and get your book accepted? Are you sure you have a winning proposal on your hands? If so, here's 10 cool apps that can help you write the best book possible!
The Best Apps for Screenwriting
Screenwriting apps can be a great tool for writers looking to get their ideas down on the page faster. The best app for screenwriting is one that offers all the features you need in an easy-to-use format. You should be able to export your script as a PDF or DOC file and make revisions easily.
The best screenwriting apps also offer templates that allow you to follow industry standards when formatting your scripts. You can also track word count and see how long each scene takes up in minutes.
If you're looking for a way to write faster, these are some of the best screenwriting apps out there:
1. Final Draft: Streamlined screenwriting and editing while collaborating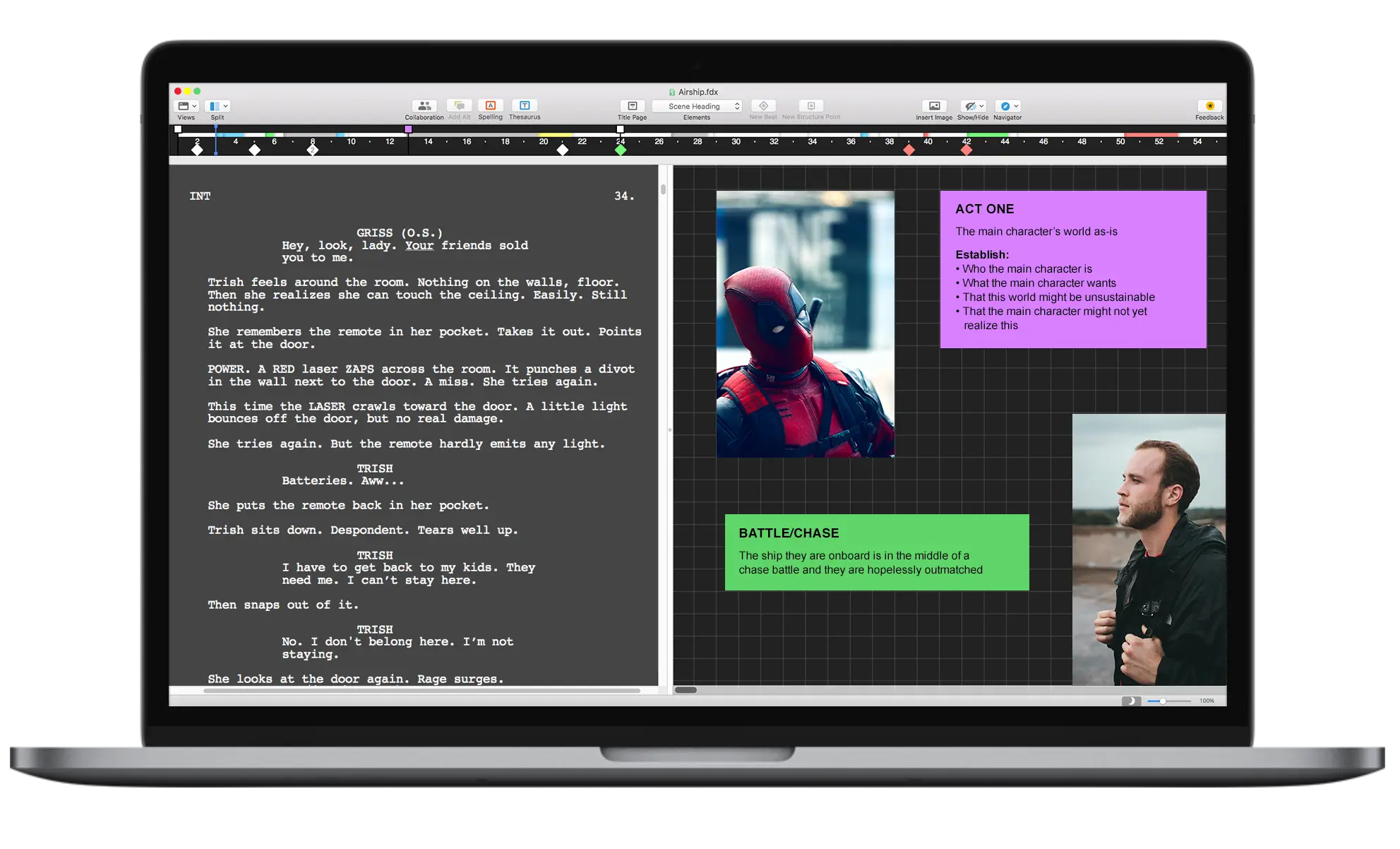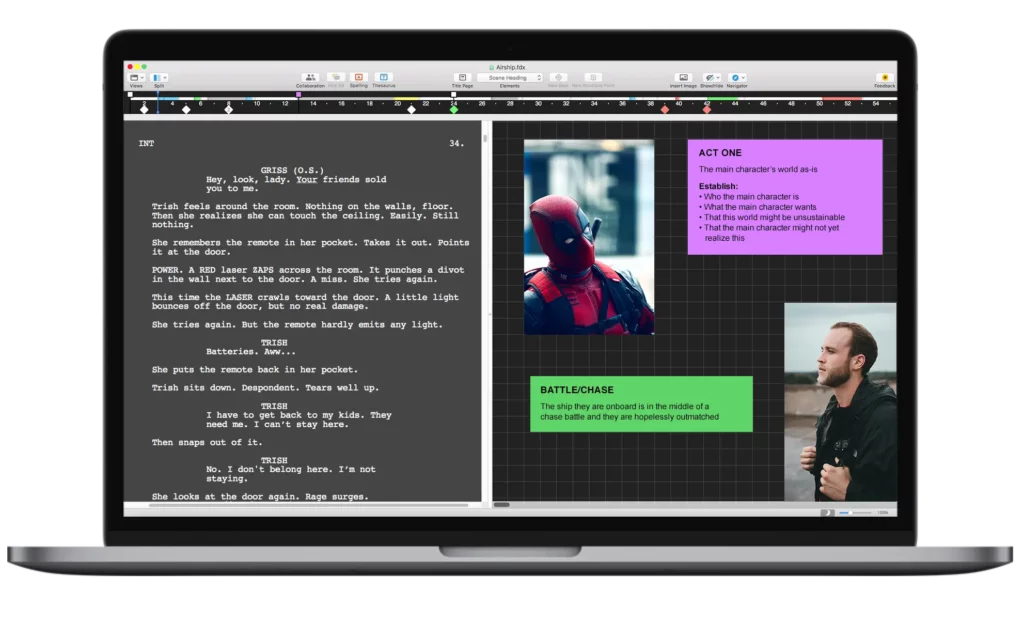 This app is one of the oldest and most popular screenwriting apps on the market. It has been used by many famous writers and directors, including Joss Whedon and Quentin Tarantino. Final Draft has tons of features that make it one of the best screen writing apps out there, but it's also very expensive compared to other options ($250), $199 right now.
Final Draft is a professional screenwriting application that can be used on both Mac and PC computers. It allows you to write, edit and format scripts in real time, with support for multiple languages. Final Draft also features automatic formatting tools that make it easy to format your script correctly with just a few clicks of the mouse.

Features
Final Draft 12 has a beautiful new look and feel.
Section: Final Draft 12 automatically formats your script to industry standards.
A play module lets you work in alternate formats such as theatre, audio and more.
Story Map is an all-new visualisation tool that helps you find and fix story problems through beat sheets, storyboards and summaries.
The Beat Board is a flexible new outlining tool for writers who enjoy working with index cards.
SmartType remembers everything from character names to locations so you can focus on your story instead of typing the same information over and over.
Collaboration Mode allows you and a writing partner to work on the same script remotely from anywhere in the world.
It has all the usual formatting tools for writing scripts.
Section: It also has a special panel for notes and comments, so it's easy to work with other people on the same document.
You can also export your work as PDF or text file, or even in HTML format.
Final Draft is one of the best writing applications on the market
Final Draft is the industry standard for professional screenwriters, and is used in virtually every Hollywood studio. Final Draft allows you to write, edit and format your scripts with ease and speed.
Final Draft also has a powerful script collaboration tool that allows you to work on scripts with multiple writers simultaneously.
Final Draft is available in two versions: Standard and Professional. Both versions allow you to write, edit and format scripts on Windows or Mac computers. The Professional version adds additional features like custom formatting styles, character tracking and more.
It comes with a lot of features, and it can be used to write scripts for television shows, movies or theater plays. It's also a great tool for building storyboards for films and animations.
Final Draft allows you to work with multiple scripts at once in order to organize your work more effectively. It has a built-in spell checker that automatically highlights misspelled words as you type them in real time, which is a great feature if you're working on a deadline. The app also provides many useful tools that help you create professional looking documents easily and quickly.
The most obvious benefit of using a writing app is that it can free up your schedule by making your entire manuscript-to-fancy-type layout process automatic. This allows you to focus on other, more important things. As an added bonus, this also cuts out the repetitive actions involved with formatting your manuscripts via desktop publishing software, enabling you to finish more quickly.
Final draft is the ideal choice for those who need a full suite of tools to write, edit, and polish their creative work. It isn't the best choice if you don't really need the advanced features. The cost of Final Draft is hard to justify if you primarily write short documents, but the bottom line is that it is a high-quality product that is well worth any reasonable price.
➡ The Pros and Cons of Technology in Education
Final Draft is still our favorite, despite its costly price tag. The app's simple layout, intuitive features, and free writing mode give it an edge over its competitors. That said, Quip offers a similarly positive writing experience at a more budget-friendly price point. Both apps are invaluable to experienced writers, but if you're looking for an easy way to take your writing to the next level, Grammarly is the app for you.
Final Draft is available for both iOS and Android devices.
2. Fade In : Used by professionals writing for motion pictures, television, video games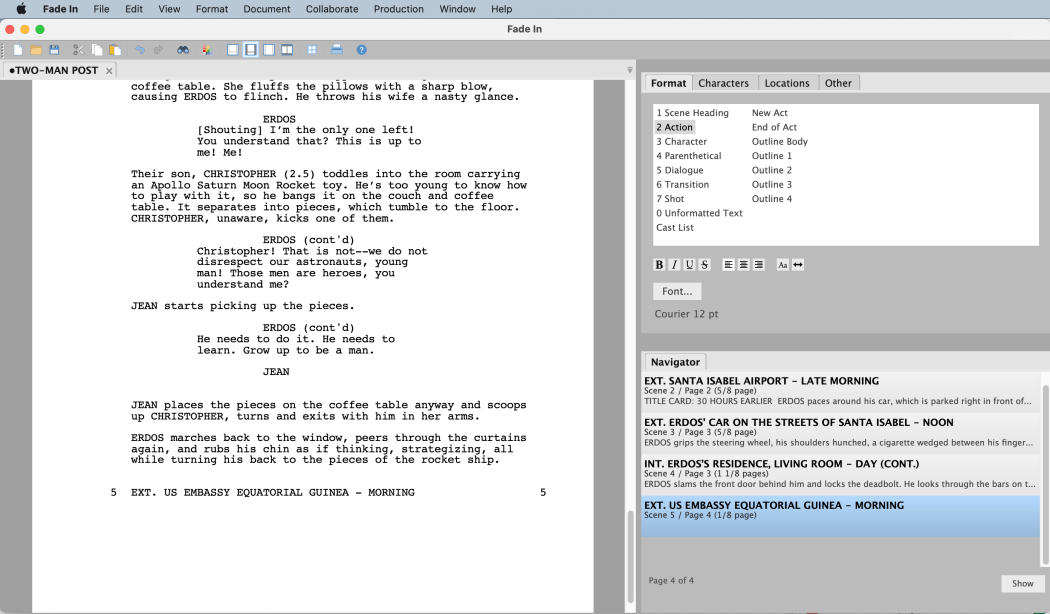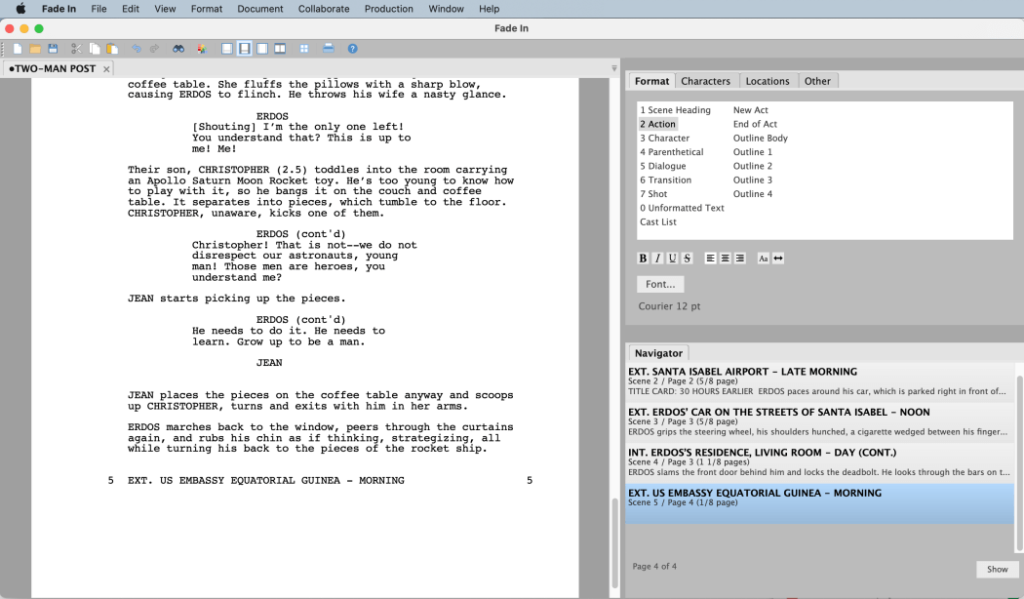 Fade In (Mac/iOS) is another popular option that has been around since 2006 and has been used by writers like Joss Whedon (Buffy the Vampire Slayer), Stephen King (The Dark Tower) and Neil Gaiman (American Gods). The app offers more than 80 themes for writers who want to customize their screenplays before publishing them online or printing them out on paper.
Without a doubt, Fade In is the best option for professional level writing, which makes it worth the cost. Fade In is a very advanced screenwriting software that allows you to import PDF documents, as well as write your screenplays in full screen or windowed mode.
➡ Best Planner App for Students
This software also allows for easy access to special movie formats like 3-camera shooting and even shows the script the way it would appear on a large motion picture screen. If you're a serious writer, then this might be worth looking into. It has all of the bells and whistles you could ever need when writing a movie, but can still be used on the fly when you're out of town working on a clients screenplay.
Scripts can be formatted for film or television.
It has standard templates for industry standards.
You can use parenthetical words.
You can change the typeface and set it in a custom font.
Scenes can be moved with drag and drop.
Note cards are available to organize ideas on.
Fade In Pro is a full-featured word processor for writing screenplays, scripts and stageplays.
Fade In also offers many advanced features such as real-time collaboration, cross-platform syncing and much more.
Fade In has all the basic features of a screenwriting program, plus a whole lot more.
The spell checking feature in Fade In Professional enables you to check the spelling of your script.
You can assign action and dialogue to different colors by character or by type.
Fade In has an auto-complete feature that fills in words for you as you type.
You can also customize the list of words for this feature.
You can jump to any label, character, scene heading, or general note in the whole script.
Color Code Labels – For example FADE IN is bold and green, EXT. is bold and blue (scenes taking place outdoors), INT. is bold and red (scenes taking place indoors), etc.
Fade In is a powerful screenwriting software with some great features that make it really easy to use.
Fade In Professional Screenwriting Software is perfect for screenwriters, journalists and technical writers to produce, revise and format screenplays, stage plays, novels, reports, articles and much more.
Fade In is the most powerful screenwriting software available, hands down. If you're a professional writer, or serious about becoming one, it's the only program you'll ever need. The only real downside is the price for new users. While there are monthly payments to help offset that cost, it will still run you $129.95 (USD) to download it from the company's website. Additionally, there's no free trial of Fade In available, so be sure that this screenwriting program meets your needs before committing to it—even if that means looking into other options like Final Draft.
➡ 6 Reasons Why You Shouldn't Buy an iPad for a Student
Personally, I think that Fade In is a good choice for pros who are serious about their screenplays and want something with greater than 4 characters of "invisible" formatting. No, it isn't the cheapest screenwriting software, but I think the extra money you shell out for Fade In will be well worth it for anyone who is taking writing seriously, especially if you find yourself regularly switching between Apple platforms.
3. Script Studio – For Screenwriters, Playwrights & Novelists
There are multiple screenwriting apps available in the market. But, there is one app that stands out from the rest.
The best app for screenwriting is Script Studio. This app supports a number of formats including PDF, Final Draft FDX, Fountain and plain text files. The app also provides you with an option to export your script into Final Draft format.
Outline your whole project from start to finish with Script Studio.
Let Script Studio automatically format your screenplay as you type, so you can focus on the story.
Create character profiles for each of your characters.
Script Studio keeps track of your story objectives and provides a straightforward checklist
Organize your ideas and research into virtual corkboards so they're always at hand while you write.
You can type your work or dictate it with Dragon NaturallySpeaking.
You can collaborate with other writers in real-time.
The best part about this application is that it can be used on both Android and iOS devices. You can also install this application on your computer if you want to use it there too.
Script Studio comes with some great features that make it easy to write a screenplay from anywhere and at any time. It also has an auto-save feature which means that you don't have to worry about losing your work even if your phone goes off or runs out of battery power while writing a screenplay.
We think Script Studio's many features will prove useful to anyone writing a screenplay (for film, TV or theatre), teleplay or stageplay, or a novel. It isn't just screenwriters and playwrights that can benefit from Script Studio though. Novelists can use it too to spark ideas and develop them into full-length works of fiction. And even if you're not writing a screenplay, you can use Script Studio to create in-depth character profiles which will help you better understand the characters you are creating.
Though certainly not for the beginning writer, Script Studio offers a large variety of tools that will assist experienced writers and Hollywood hopefuls in the creation of their next great novel or screenplay. The comprehensive software offers two levels with different features aimed at specific writing needs. Whether you're working on your first screenplay or looking to take your talent to a new level, Script Studio is a solid choice for writers across the spectrum.
As you can see, Script Studio has multiple uses, whether you're a playwright, novelist or blogger with a desire to document the story development of your writing. It might be the first step towards creating that epic screenplay or novel. After all, there's no harm in getting down on paper (or digital pages) what's going on in your head. Script Studio is compatible with Apple and Windows devices.
The Best app for writing a Book or Long form content
There are several Writing Apps out and I have used a few of them. The two that stand head and shoulders above the rest in my opinion are Scrivener and Ulysses. Both Ulysses and Scrivener are the two best apps on the market in my opinion and they both have free versions (with many of their features available on both).These are the best novel writing and book writing apps:
1. Scrivener: Go-to app for writers of all kinds, used every day by best-selling novelists, fiction writers, students, academics
Scrivener is the king of writing software. It has been around for years and used by novelists, journalists, screenplay writers, academics and students alike. What makes it stand out from the other writing software is its organizational capabilities within the writing project. Planners can use it as a way of tackling large projects by breaking them down into smaller sections and keeping them organized. The best part is that you never lose sight of the big picture and can easily reorganize your writing project at any time.
Scrivener is my go-to writing app of choice. The interface is clean and intuitive, allowing me to focus on the task at hand without unnecessary distraction. With it, I can organize my ideas (and research) with ease, and format the project in the best way possible for my final deliverable. The mobile versions are both well designed, too, making Scrivener a great choice across all platforms.
This may not be the program for wannabe writers or creative writers, but if you are a novelist, it has everything you need to get a project well underway and keep an overview of your work at the same time. It's perfect for organizing and outlining work before getting down to writing. The best part is that you can use Scrivener to write prose, edit screenplays, or even design video scripts. It's not free, but it offers more bang for your buck than any other app in this list.
In a world full of half-baked writing tools, Scrivener stands out from the crowd, offering support for virtually every facet of the writing process. If you're serious about composing your next work, Scrivner has all the tools that you need for success.
Scrivener is the preferred writing app for hundreds of thousands of authors.
It's easy to use, powerful and provides you with everything you need to create your next masterpiece.
Scrivener is available for both Mac and Windows operating systems.
Scrivener lets you write in "sections" that can be moved around.
You can see the big picture as well as details like your title, synopsis and notes.
Organize your research materials, character sketches, and outlines in ways that make sense to you.
Scrivener can tag, label, color-code, and organize your writing in several different ways.
You can make sections of your project into a separate document.
Scrivener will remember where you were working last in each document.
Scrivener has a "snapshot" feature that can save versions of a document so you can compare them later.
The "corkboard" interface allows you to move sections around like post-its on a corkboard.
Includes core features that make it easy to format text for print or ebook delivery.
It's designed for creative writers from poets to novelists.
Use it for a blog post or a PhD dissertation; it's flexible enough to meet all your writing needs!
When you need an app that lets you focus on creating content without getting bogged down in formatting issues, Scrivener fits the bill.
If you're writing a professional report, a novel, or any kind of lengthy work, Scrivener is an indispensable piece of software. With a simple and intuitive interface, logical structure for all your files and content (including images), support for footnotes and images, handling of large projects with thousands of files and multiple sub-projects, and mobile versions for both iPad and iPhone…there's not much more you could ask for in one app.
It's rare to come across a tool so consistently praised, and so unanimously recommended by professional writers. Clearly, Scrivener has its fair share of devoted fans out there.
2. Ulysses: A powerful tool for professional book writers
A powerful tool for professional writers. It allows you to easily write novels and books, share stories with others, collaborate with others on projects, or just export anything your heart desires to WordPress, Medium, or any other blogging platform. Ulysses is more than just a simple text editor as its companion desktop app gives you sophisticated tools that allow you to convert your text files into ebooks and multimedia publications.
Ulysses comes with a price tag, but for Mac users craving a well-made, comprehensive writing app, it's worth it. It has several attractive templates to get you started from the moment you download the app. You can also organize your documents in folders and sub folders, which is incredibly helpful if you have a large catalog of works.
Also, Ulysses contains a robust options menu with all the bells and whistles you would expect from professional program. It supports all types of media from images and PDFs to audio recordings and links. There are even extensions available on the app store to add features that aren't already built in.
The clean interface and countless customization options make Ulysses a great choice for those of you wanting a powerful tool that's also easy to use. And while Ulysses has a lot to offer, at the same time it keeps things simple and straightforward with minimal clutter.
Ulysses is a writing tool that's designed to be pleasant to use.
Ulysses can export your writing as HTML, and it has a new feature that helps you design a website from your content.
Ulysses is simple to use, but you can configure it to work with many different writing workflows.
Ulysses gives you real-time previews of how your writing will look when published on the web.
Create folders to group your projects, such as one folder for blog posts and another for personal notes.
You can have multiple sheets within one project in Ulysses.
You can add images to Ulysses projects.
You can write in either markdown or plain text.
Try out Ulysses for yourself to see if it makes you a more productive writer.
Ulysses has a lot of great things going for it. From its minimalist interface to its first-class Markdown implementation and built-in export features, Ulysses is a nicely designed app and a great choice if you're looking for a writing tool to use on your tablet or desktop.
It's also not necessarily expensive, as the basic in-app purchase will set you back $5 per month. You'll get access to a few extra features and eliminate the ads that appear inside the app. Whether or not this is worth the extra dough is up to you: after all, some people are perfectly happy using their favorite text editor instead of spending money just so they can turn off advertisements (and maybe save a little bit on text storage space). Even so, Ulysses is still well worth checking out as a writing tool if you prefer something more substantial than your average word processor.
In the end, Ulysses is a solid writing app for people who can afford its price. It has just about everything that you need in a top-of-the-line writing tool. Its iCloud syncing, clean design, and iCloud sync alone are enough reasons to choose it. If you're looking for a fully customizable writing environment, though, then Ulysses isn't for you. There are plenty of other options available that allow editors to choose their own features.
The Best Writing App for Medium, WordPress Blogs, and More
There are plenty of writing apps to choose from, but most of them are designed with specific uses in mind, such as blogs, WordPress or Medium. What do you look for in a writing app? Is it functionality, design, ease-of-use, or all of the above? If you're looking for some help finding the right app for your projects and business, check out the list below. We've reviewed a variety of options that are worth considering!
1. iA Writer: Powerful tool that helps you focus on writing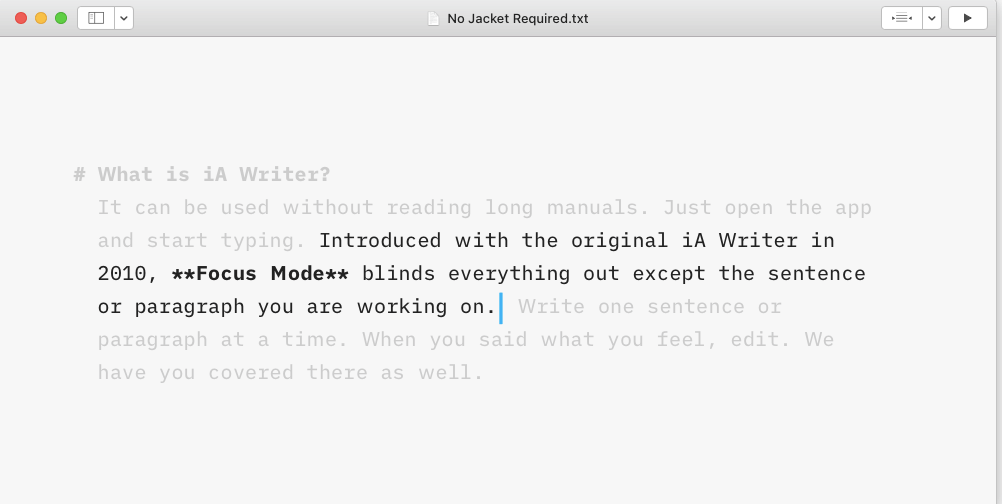 iA Writer is a minimalist, distraction-free writing app that helps you focus on your words. It's easy to use, it looks great and it helps you write faster and better.
➡ 26 Best study apps for students for effective learning
With iA Writer, you have a writing app that not only allows you to do what you do best (write), but also promotes the creativity of others. iA Writer is a unique combination of writing and publishing tools, which offer students and teachers alike a new way of capturing writing.
What's more, the results will be displayed in a professional, magazine layout directly on your iPad. You no longer need to worry about formatting or leading a class presentation or sending in your final essay — iA Writer will handle it all for you.
Built for distraction-free writing:
Focus Mode helps you concentrate by dimming everything except the text
Focus Mode is 'always on' in full screen mode
Focus Mode can be activated with a keyboard shortcut or by clicking on the app icon in the menu bar
Distraction-free writing is automatically saved as you type; changes are automatically saved when you stop typing.
iA Writer is designed for writers who want to focus on the words. It comes with all the features you need to get things done: iCloud sync, Markdown support, distraction-free fullscreen mode, formatting tools and more. It's made by Information Architects (IA), a design agency in Berlin that builds award-winning products for the Mac, iPhone and iPad.
Why We Love it: iA Writer is a minimalistic writing app that gets out of your way and lets you focus on what matters most: the words themselves. It's available for both Mac and iOS devices, allowing you to seamlessly write on whichever device you're using at the time. You can also sync your files across all platforms, so you can continue working from any device without having to worry about losing your work.
The Best Feature: The unique distraction-free mode makes it easy to focus on writing without being distracted by other apps or notifications popping up on your screen.

2. Byword: Markdown app for writing in plain text efficiently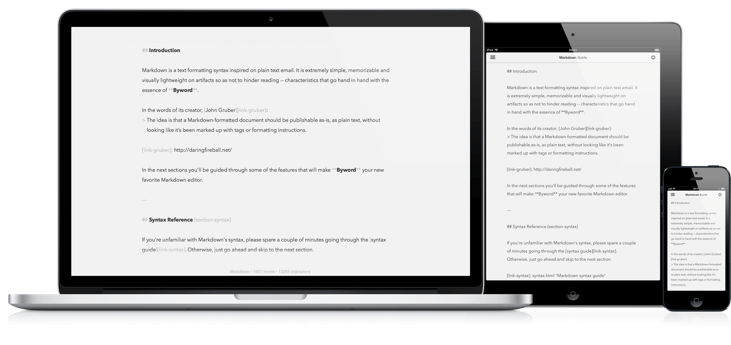 Byword is a simple, uncluttered text editor for Mac and iOS that's designed to help you focus on what matters most: your writing.
It can be used to write articles, notes and stories. Byword is the perfect place to start your next blog post or book.
Byword has an impressive range of features:
Themes – choose from nine different themes and make Byword your own.
Auto-save – never lose your work again! Byword automatically saves your document as you type.
Export options – export as HTML, RTF, PDF or plain text. You can also email documents directly from Byword.
Copy/paste images easily from the clipboard or drag & drop them onto the editor window.
It transcends the language barrier and does its job with aplomb. The streamlined writing functionality needs no learning curve, and the interface is clean and based around the bare essentials. This app does not have undo/redo or text formatting but that does not matter. It's a basic app that only focuses on saving data in files. My personal favorite part is the ability to take photos from your camera roll as a distraction-free background. Add all of this up, and you get an app that gets straight to business with only one purpose: writing.
In regards to its layout and design, Byword really is one of the best writing apps available. I like the simple, clean look of the application, which makes it quite easy to use, albeit not the most exciting app aesthetically. You can change the colors, font type, and font size throughout the app, but there's no way to add a personal touch with any sort of custom color schemes or background images. If this bothers you, although it won't be an issue for everyone, you can just use your own text editor instead.

3. Hemingway Editor 3: One-click integrations with Medium and any WordPress blog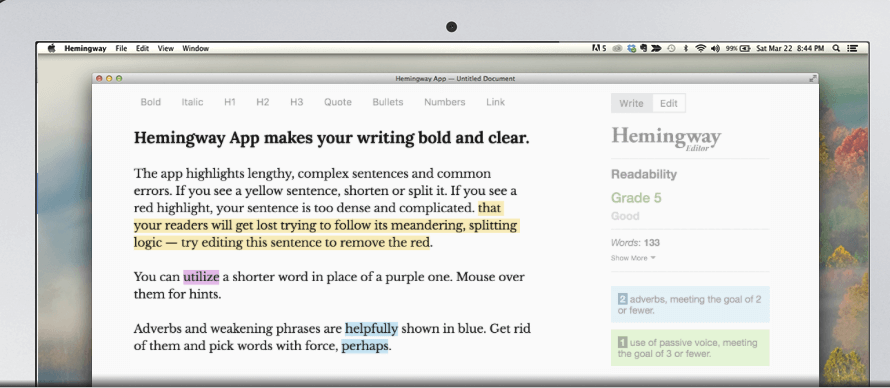 The Hemingway Editor is an excellent tool for students who are looking to learn the basics of writing, and a web-based application that makes editing simpler than ever before. The application not only helps students identify the concepts they are having trouble with, but it also provides instructors with a way to track student progress and improvement in their writing skills. For both teachers and students, the Hemingway Editor offers an extremely efficient and easy way to edit text, making it ideal for a wide-range of users.
The Hemingway Editor highlights words and phrases that are "hard to read", such as long sentences, passive voice and complex vocabulary. The program also shows how much time readers spend reading each sentence on average, and how many times they would have to reread the sentence to understand it fully. In addition, Hemingway Editor offers suggestions for improving your writing by changing the length of sentences or rewriting passive voice into active voice.
Simple, powerful interface
Suggestions for revision
Count the number of characters and words in the document
Hemingway is a great app for writing
It highlights lengthy, complex sentences and common errors; if you see a yellow sentence, shorten or split it.
If you see a red highlight, your sentence is so dense and complicated that your readers will get lost trying to follow its meandering, splitting logic — try editing this sentence to remove the red.
Hemingway checks your writing for overuse of the passive voice.
Option to publish from within the application
Allows direct sharing to Facebook, Twitter, and WordPress
Hemingway is an easy-to-use app that will help you make your writing clear, concise, and easier to read.
The Hemingway Editor is a well-designed, easy-to-use, and easy-to-install application that performs well on both Mac OS X and Windows machines. For an affordable price, it can turn your experience with Microsoft Word into a writing experience.
We recommend Hemingway Editor as a must-have writing tool for anyone who wants to write. It's a no-nonsense editor that can whip your writing into shape with just a little bit of guidance.
The best Writing app for Mac
There are so many writing apps hitting the market that it can be hard to choose the best option for your needs. Some writing apps are robust, packed with features and others simpler and less expensive. Let's explore the best options for Mac users.
1. WriteRoom: A simple, distraction free text editor for the Mac.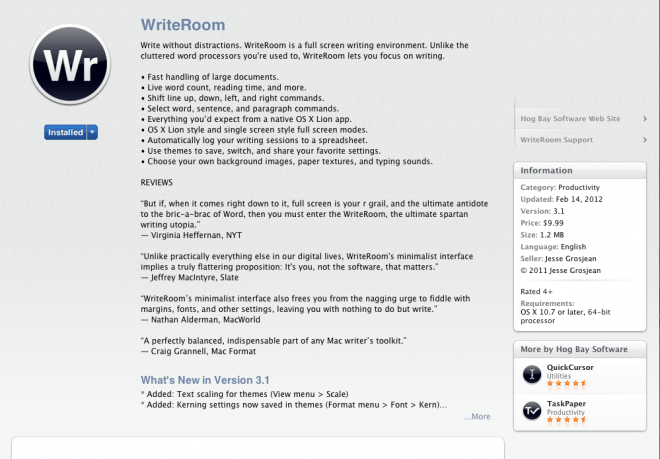 WriteRoom is a full-screen writing app with minimal distractions. It's available on Mac and iOS devices, with more than 1 million downloads on the Apple App Store. The app offers several themes, including dark mode and night mode. WriteRoom also offers an optional export feature that lets you send your work to another app like Final Draft.
I found that there is a need for a balance between the usability and mechanics of writing in a notebook and the convenience of computing. At times it would be nice to have access to a word processor quickly, but most of the time I receive benefits from writing by hand. For this reason perhaps there are not many options for writing apps currently on the market. Ultimately, I decided that Pages is my best bet because it offers me the ability to type notes and keep them synced across devices as well as printing. At the same time, it allows me some control over formatting when I want it with its page set up and margin options. Finally, it's Mac only so if you use Apple products there's not much else to consider.
WriteRoom is a distraction-free app.
WriteRoom is easy to customize with features like font, line space and color.
WriteRoom functions well as a full screen, but it can also be used as a floating window.
The ability to create a new document simply by pressing the shortcut key (Option-Command-N) is a time-saver I appreciate.
WriteRoom provides an option for toggling on and off the status bar, which displays word and character counts along with other useful information.
WriteRoom has no formatting controls so you can't type bold or italics, but you can use keyboard symbols to create asterisks and underscores instead of actual stars and dashes.
WriteRoom lets you export and import documents from Dropbox, iCloud and email.
There are multiple WriteRoom apps for Mac, iPhone and iPad.
There are options for customizing the composition of a document in terms of alignment, font size and color of the text and background.
With WriteRoom you can use themes to change your workspace's appearance and choose among a variety of fonts and colors.
If you want to write in an app that lets you view only the words you're writing that's free from distractions, consider WriteRoom.
WriteRoom is a simple, bare-bones writing application that keeps your focus solely on the text you're working on. What's more, it doesn't bother you with any distracting windows or menus. And with the ability to work offline, you'll never have any problems with your writing session being interrupted due to a lack of connection.
In the end, it boils down to what you want out of your writing environment. In our opinion, WriteRoom hits the right marks: it's not too simple or complex, and it doesn't force too much on you. It doesn't have the craziest of features, but it does have enough for those who like to tinker with their writing tool into the wee hours of the night. We'd recommend that anyone looking for a minimalist writing solution take a look at this app.
2. Highland 2 : Great for writing short stories, novels, essays and other types of works.

Highland 2 is great for writing short stories, novels, essays and other types of works. It's also an excellent tool for creating notes and working on longer documents.
Highland 2 is highly customizable and extensible. You can change the look of the site by creating your own stylesheets and themes. You can modify the templates to customize the layout and style of your blog posts and pages. And you can add new features to Highland 2 using plugins.
Highland is the most feature-rich writing app I've ever encountered. It's packed with so many useful tools that you can use to improve your writing, from character and setting generators, to full library tools and spell checks. It even has a built-in dictionary and thesaurus. Plus there are tons of other useful options for writers of all levels.
Highland, like other text editors such as Byword, have pros and cons. I prefer them to WYSIWYG editors because they allow you to view your work the way that it will look when published. If you are an Evernote user there is a great connector for Importing, Exporting, and version control of your research notes inside of Highland. The auto-save feature is nice if you forget to do it manually (like me). And an added bonus is the fact that no matter what device I am on when I write this post, my changes will appear almost instantly on my blog page. This saves from having to duplicate the post.
This program is a fully functioning word processor, spread-sheet, and presentation program. It also has some very useful features that allow you to write shorter documents directly in this program. The greatest thing about it is its simplicity. If you're looking for more of a Microsoft Word-type experience, this is the writing application for you.
The highland-cli tool can be used to convert Highland files into HTML pages. This lets you use Highland with your favorite text editor, or integrate it into your build process. Highland also comes with a command line interface that lets you convert Highland files on the fly while working on other projects.
How Much Do Writing Apps Cost?
You can write on your computer with a simple word processing program like Microsoft Word. But if you're looking for something that helps you write more efficiently, there are many writing apps available for your smartphone or tablet.
Some of these apps are free, while others cost money to use. You can even find some free apps that have premium versions that give you extra features. The price of the app will depend on the features it offers and what type of device it's compatible with.
Writers often use their computers to write long documents because they have access to all their files and can easily move from one document to another without losing their place in either document. But many writers prefer using their smartphones or tablets because they're portable and easy to carry around with them wherever they go. That way, they'll never be without their work no matter where they go!
The most basic writing apps are free, but they may offer only limited functionality or support for a specific type of document. For example, Microsoft Word is free and offers many features, but it does not support other file types like PDFs or spreadsheets. Other writing apps may be cheaper than Microsoft Word but offer fewer features or only support one file format.
More advanced writing apps are more expensive because they offer more features and support more file formats. Some of these apps have monthly or annual subscription fees as well as one-time costs for upgrades or additional functionality.
You can usually try out a writing app for free before deciding whether to buy it, so test out several different apps and compare their features before deciding which one best suits your needs.
The good news is that most of these apps are very affordable and cost less than $100. That said, if you're looking at screenwriting software or a program designed specifically for book authors, then you'll find that pricing gets a little more expensive.
If you're looking for screenwriting software, then prepare yourself: You'll pay through the nose. Most screenwriting software costs between $70–$250. This is because they're designed exclusively for screenwriters and provide all sorts of bells and whistles that make it easier for them to write their scripts quickly and efficiently.
There are exceptions though — such as Celtx which costs $50 and Final Draft which costs $199 (discounted from its normal price of $250). Both these programs offer up solid features without breaking the bank.
Why Use Writing Apps?
Writing apps are useful for students and professionals alike. They provide a simple way to organize your writing process and make it easier to see what you have written.
Some people use writing apps as a way to organize their thoughts before they start writing an essay or article. Other people use them while they're actually working on their project.
If you're looking for an easy way to share your ideas with other people, then using an online service like Google Docs might be the best option for you. If you want something more customized and user-friendly, then using Word is probably better suited to your needs.
There are many reasons why someone might want to use a writing app:
Organization – Writing apps allow you to organize your thoughts and ideas into separate files that you can access at any time. This allows you to manage multiple pieces of work easily while keeping everything together in one place.
Editing – Writing apps offer tools that allow you to edit your work before it is published online or otherwise shared with the world. This can help you find mistakes or typos before they become public knowledge!
You can set up writing apps to your liking. You can create templates that you can quickly load up every time you want to write something new.
You can have more than one writing app on your device at once. This is especially useful if you're working on more than one project at once, but don't want them to mix together.
They offer more features than most built-in word processors (which are often limited). For example, Writer Pro offers spell check, synonyms and word count all built-in so they're always there when you need them.
You can use them as a backup for important files if something happens to your computer or phone.
Get More Done
Writing apps allow you to write on the go from virtually anywhere. This means that you don't have to be in front of a computer to write and format your content. All you need is an Internet connection, which means you can continue creating content as long as you have access to the web.
Save Time
Writing apps allow you to save time by helping you optimize your workflow. They can also help reduce the amount of time spent on editing and formatting by allowing you to do this directly within the app itself, which saves time in the long run by eliminating extra steps when creating and publishing content.
Create Better Quality Content
The ability to edit directly within an app means that there is no need for additional software or plugins like WordPress or Wix, which can often create issues with formatting when used for simple tasks like adding links or editing text size or font style/color.

Do you want to write stories, blog posts or something more technical?
Writing apps are an essential part of any writer's toolkit. Whether you're writing fiction, non-fiction, or anything in between, there are plenty of great options out there that can help you get your ideas down on paper.
If you want to write stories, blog posts, or something more technical (like how-to guides), there are plenty of writing apps out there for you to choose from. Here's a look at some of our favorites:
Storyist is a powerful, yet simple, authoring environment for writing and refining novels, short stories and other works of narrative fiction. It has everything an author needs to get started — from powerful outlining tools to robust outlining formats and handy reference material. It also includes a built-in word processor with support for footnotes and custom stylesheets.
You can get started right away with a blank page or an outline – no need to think about where to start or what to say next
You can easily switch between different types of writing (e.g., poetry, prose, screenplays) without changing any settings or opening new documents
Your work is automatically saved as you go along so you don't lose anything if you leave the app for a while or accidentally close it.

What are the features you should look for in a writing app?
Writing apps also offer a lot of different features that can help you to improve your writing skills, including:
Focus Mode
In Focus Mode, all of the other features are turned off so you can focus on writing. You can set how long it takes for Focus Mode to be activated automatically after you stop typing. This is great if you tend to get distracted while writing and need a few moments to collect your thoughts before continuing.
Word Counts
WriteRoom has a word count feature that lets you see how many words or characters you have written during a session. The word count feature is helpful for keeping track of your progress and seeing how much more work you have left to do.
Auto-Save
In this age of technology, it's easy for computers to crash unexpectedly — especially if they're old or overheated. It's always good practice to save your work often so that if something happens, you don't lose everything you've done up until that point. The auto-save feature automatically saves your document every few minutes so that even if something bad happens (like a power surge), all of your hard work won't be lost forever!
Export options
Depending on what kind of content you're creating and what platform you intend to post it on (e.g., Facebook, Twitter), you may need different export options available in your app. Many apps offer support for popular social media platforms like Facebook, Twitter and LinkedIn as well as blogging platforms like WordPress, Blogger and Tumblr. Some apps even support Evernote integration so you can export your work in a variety of formats including Microsoft Word documents, PDF files or plain text files that are compatible with most word processors (including Google Docs).
Spell checker.
It's important to ensure your grammar and spelling are correct before submitting a piece of writing for publication or grading. A good spell checker will catch most mistakes so you can avoid embarrassment later on when someone points them out!
The ability to create an outline before you start writing.
This helps you structure your content, making it easier for readers to follow along as they read through your content. It also helps you plan out a story or article, so you don't lose track of what you want to say while writing. To create an outline, just type in bullet points and indent them.
Full-screen mode.
This feature lets you view all of your writing space on one screen instead of having multiple windows open at once (which can get confusing). This also saves time because it prevents you from having to move between windows every time you want to switch between tasks or open new documents (which is very easy with Windows 10).
Easy formatting options:
You want to be able to format text quickly and easily, without having to try too hard. Look for an app with easy formatting options like bold, italics, underline, font size and color. Also look for shortcuts so you can insert links easily or use code like emoticons or emojis.
A distraction-free interface:
Distractions are the enemy of productivity — especially when it comes to writing. You want an interface that keeps out unnecessary bells and whistles so you can focus on what matters most: creating great content that engages your audience.
Collaborative writing –
Some apps let multiple users work on the same document at once, while others require you to create separate documents for each user.
Version control –
Is there a way to track changes made by different people? Can you revert back to an earlier version if something goes wrong?
Integration –
Is there integration with other services such as Dropbox or Google Drive? Do all users need to sign up for accounts separately from the app itself?

Is it easy to use?
If you've used other writing apps before, the answer to this question should be easy to answer. However, if you haven't used any other writing apps, this could be a more difficult question.
In general, most people find it pretty simple to get started with a writing app. You simply open the app and start typing. The more advanced features can take a little bit longer to master, but for the most part, you'll be able to learn how to use a writing app in just minutes.
The best way to see if a particular writing app is easy to use is by trying it out yourself. Most of them have free versions that allow you to test them out before investing money into purchasing anything.

When considering your choice of writing app, it's important to consider all aspects of what you need.
When considering your choice of writing app, it's important to consider all aspects of what you need, and then make a decision on which one is going to work best for you.
Writing style:
Do you prefer to write long form articles or short notes? Is handwriting your thing? Are you looking for a distraction free environment or do you need lots of formatting options and other bells and whistles? This will help narrow down your options.
Interface:
Do you like to write with a keyboard or pen? Do you need access to formatting tools such as bolding or italics, or do you prefer to just write without all the extra fluff? The interface can also be important if your device is touch screen only (such as an iPad) because some apps may not be compatible with onscreen keyboards (including Apple's).
Syncing:
How important is it to have all your writing automatically synced across devices? Do you want it only stored locally on your phone so it doesn't get lost if you lose