Apps that can help you convert PDF files into word format on iPhone
If you have saved PDF files on your iPhone and want to change them to Word, you need to seek help from the best PDF to word converter apps for iOS. PDF format is no doubt one of the safest formats in the world. Still, this format has some cons, which urge users to convert it to Word or other editable formats.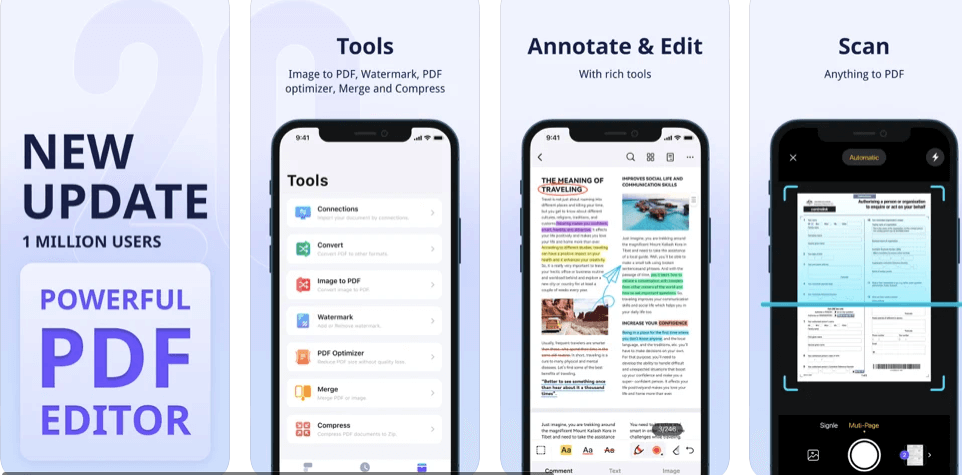 PDF can be a great format for all types of documents, but the problem is that if you want to make edits—like adding annotations or creating tables—you can't do so without the original program used to create it.
Are you aware that it is possible to save a PDF file as a Word document on your iPhone and iPad? There are apps available that let you do just this. Converting a PDF to Word document will allow you to edit the text in the same way as any other word processing program. This could be useful if you need to alter some text and make changes within the file.
Converting PDF documents can also be useful if you want to use some of the content in your own documents or create ebooks from some old textbooks you may have lying around the house.
In this article, we will not discuss why you need to change a PDF file to Word. Rather, we will tell you about the best apps that can help you make this conversion for free and with complete accuracy.
Best applications for converting PDF to Word on iPhone!
There are hundreds of iOS applications that can help you change PDF files to words, but in this article, we will tell you about the most powerful ones.
1. PDF Converter, Reader & Editor
If you are looking for a free and reliable application that can help you change PDF to Word, this is the right app. As the name tells us, this PDF file converter can help you read, edit, and convert files for free. Handling PDF files can be very easy if you have this app.
In this application, you will find more than thirty different PDF conversion and editing tools. All you have to do is pick the tool that suits your requirements and input your PDF file on it.
You can change your PDF files to Word, jpg, txt, png, gif, and even HTML formats with this all in one PDF converter app. The application integrates with your local storage, Dropbox and Google Drive so you can easily extract and manipulate PDF files saved on all three of these platforms.
2. PDF Element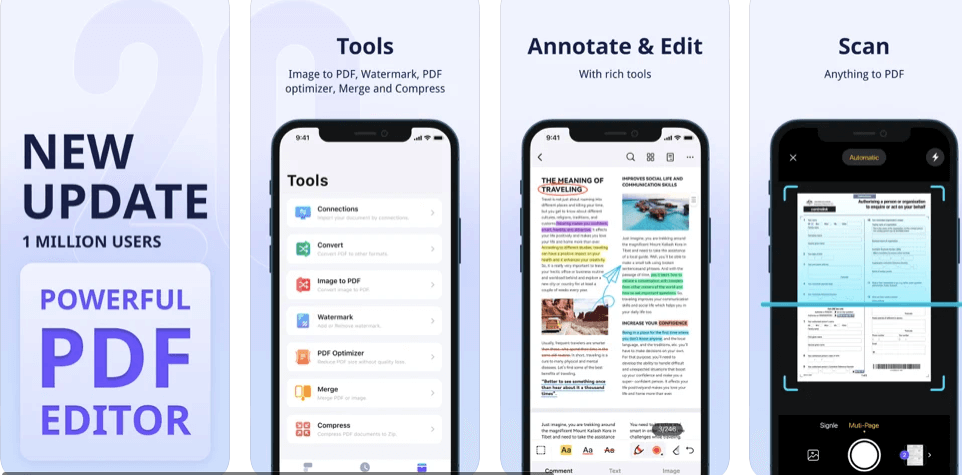 PDF elements are one of the most famous platforms for PDF manipulation. You can utilize this platform via a website or get its application version from the iOS store. The PDF element application is very easy to use, all because of its friendly interface.
PDFelement is an ultimate PDF reader / editor with all the features to read, annotate, edit and protect. The new version of PDFelement comes with a refreshed UI, as well as loads of new features, including better support for box view and accessibility. It also has many other new features in both iOS and Mac, such as shared review, better conversion performance and more.
➡ The Best Free Online Video editor Software tools
PDFelement for iOS boasts many advanced features that include merging, splitting, OCR, annotating and protecting your documents on the go. Super intuitive and lightweight, it lets you work on PDF documents from anywhere in the world, increasing your productivity.
You can create a single account across all platforms to access all documents, wherever and whenever. Its amazing features include:
An integrated cloud service that helps you get connected anytime, anywhere
Enhanced annotation tools to save more time and enhance productivity
Streamlined user-interface operation flow, rich editing experience and more.
Also, know that this pdf file converter is free to use, except for some in-app purchases. If you want to convert PDF to Word or vice versa, you need to try out this application. Some of the additional features offered by this app include free file sharing and annotations. Here you should try to use this app offline; this means that you don't need any connection to convert PDF to Word!
3. PDF to Word Converter with OCR
This is another convenient PDF to word converter that can help you change your files on your iPhone. You can use this PDF converter on your iPhone and your iPad. The best thing about this PDF to word converter is that it doesn't limit you on the number of files.
You can use it for parts as well as batch conversions. If you have many PDF files saved on your iPhone that you want to change to Word, you should try this app. This PDF converter application uses OCR to help you extract text from an image or a scanned PDF file for free. This app is easy to use, so you need to try it out if you are a new user.
4. Easy PDF – PDF to Word Converter
Easy PDF, as the name tells us, is a friendly application that can help you convert PDF to Word. If your sole purpose is to change PDF files to Word, we suggest you try out this free app. This  pdf converter app can easily import PDF files from your local storage space, Dropbox, and iCloud. The best thing about this converter is that it allows you to change PDF files to Word and vice versa for free. You don't need a web connection to use this app.
5. PDF Converter Ultimate
This is an all-in-one application that you can easily install on your iPhone. This converter is known as the ultimate converter because it is capable of changing PDF files to all kinds of editable formats. You can convert PDF to Word, jpg, excel, text, and more than twenty different formats.
The best thing about this PDF to word converter is that it helps you change scanned images to text or your desired format. The application is powered by AI and Ocr technology, so its results are quite accurate.
6. Foxit PDF Reader and Converter
The PDF converter by Foxit is best for iPhone users from all across the globe. You should know that this PDF file converter application works in more than twelve different languages. It can be installed on both iPad and iPhone.
Foxit's PDF Editor has a clean interface and an elegant design. Foxit PDF Editor is an app that lets you edit your PDF files on the go. The app allows you to annotate, highlight or underline text within a PDF file. You can also insert notes and add text boxes. Additionally, you can export the edited file in TXT, JPG or PNG format, which means you won't have to worry about compatibility issues when sharing online.
➡ Best Photo editing apps for iPhone and iPad
PDF Editor is specially designed to edit PDF files. With 100% compliant with the current PDF ecosystem, no long waits to open PDFs and lightweight on your device resources, Foxit PDF Editor provides you with a most efficient, intuitive and cost-effective way to easily manage your PDF documents.
The important thing about this application is that it is lightweight and doesn't exhaust this device's resources. The converter also offers protection features to help you secure sensitive information on a PDF file.
Some features:
You can insert new text or images
Underline or strike out text
Rotate and delete pages
Add links to various webpages, watermarks, stamps and bookmarks
Remove sensitive content
Combine multiple documents into one
Encrypt/decrypt files and
Convert PDF files from and to other popular document formats.
➡ How to edit background of Photo
Foxit PDF Editor provides a word processor environment to edit a PDF document. The word processor in Foxit PDF Editor allows you to drag and drop objects (text boxes, images, checkboxes, etc.) into your PDF files. You can also copy and paste text from and to other applications safely without losing the text's original format, such as font style, size, color and more. Furthermore, it allows you to choose how the pages of your document are displayed (one page at a time or multiple at once).
These are the top PDF converter apps you can use on your iPhone without cost or experience!