You have a video, and want to edit it to make an awesome movie. But do you know which is the best free online video editor software in 2021? Today I'm going to show you the top 5 free online video editor software tools that can help you with that.
Making video is fun. Sharing your video with people is exciting! But when you want to create an awesome video, finding free video editing software for internet users seems difficult.
Fragmented information, unclear features, and unclear pricing policy makes online video editors less than an ideal service for every person looking to create excellent, engaging videos for your business or media projects.
Editing videos is often a difficult, time-consuming and expensive process. But it doesn't have to be. Thanks to the rise of web video and the many different online video editors available, editing videos is easier than ever.
What are you looking for? Pick your online Video editing tool. All online video editors are not created equal. Some are good at certain types of edits, while others are miserably bad. You need to make sure you are aware of what each one does well. A good video editor will improve the quality of your videos, but a bad one can kill them overnight.
➡ Best Photo editing apps for iPhone and iPad
There are a lot of online video editors out there if you surf the net. There are some you can use for editing your family videos and there are some for those who want to do more professional stuff. But how to know which one to choose? That's why we created this article to advise you and explain what we consider as the top five free online video editors.
Video editing is a very demanding task and can take up hours of your time. You would be passionate bent on achieving the highest quality result you possibly could. Whether you're producing your first minute video, or want to mix effects and change the background to make it look like you're on Mars, choosing the right software to edit your videos is fundamental.
According to statistics compiled by the Pew Research, more than 72% of Americans use social media. Your customers are active on social networks, and that means that there is a good chance you can covert them into your customers using your video content. A lot of people still think about video as being limited to just YouTube. Video is turning up on all kinds of social network these days, however, especially on Instagram, Facebook, and Snapchat.
If you've ever edited a video, you know that video editing is an intricate and complex process. When done correctly, your videos will grab your audience's attention and lead them through your marketing funnel. However, producing professional promotional videos for platforms like Instagram, YouTube, or Facebook isn't as easy as it seems.
Brainstorming ideas for videos can be time consuming. You'll waste precious time and energy trying to edit the videos yourself, only to realize your results leave something to be desired.
These are the 5 Best Free Online Video editor Software's right now
The phrase "You get what you pay for" exists for a reason. When it comes to video editing software, there are free tools out there like Windows Movie Maker and iMovie (for Mac) that will help get your vision across. But using a professional software designed specifically for videos will make the difference between an amateur cut and professional-looking product video.
Here are 5 best free online video editing software to use for your online business:
The Best Online Video editor for Social Media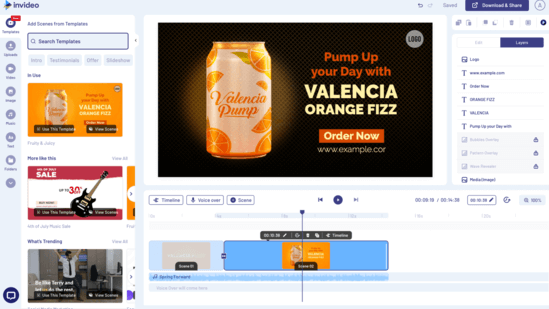 InVideo is a powerful free online video editor that can be used by all kinds of users, from a novice with no previous video editing experience to a professional. InVideo comes packed full of useful features and has been developed to be the complete solution for anyone who wants to edit video online.
Specifically designed to work with social media, this app allows users to easily share videos created on it. It provides users with a wide range of templates, ready to use videos and solutions for their advertising needs. The innovative online editor allows users to create completely customized videos from the added materials.
InVideo video editing lets you have complete control over the music, sound effects and narration of a local or syndicated production. You can also add a photo before the text scrolls. With InVideo's intuitive "drag-and-drop" interface, you can move freehand while recording for professional-looking video productions.
➡ Best camera app for iPhone and iPad
The InVideo platform enables you to have everything you desire. It provides an amazing video asset library integrated within the video editor, so you can browse all of the content with just a click of a button, without being blocked by third-party platforms that ask for money to use their service. You have access to millions of media assets that are compatible with any kind of project without any copyright limitations.
With all of the video pre-created components and video templates, topics, and more that are incorporated into this innovative new program, you can save hours of time that usually go into producing effective, professional videos. Additionally, the program is very compact and easy to use. It will let you produce videos for any internet marketing strategy, from affiliate promotion to product launches to Facebook ads. InVideo is a way to construct your video as a compact product, so it feels as good as it looks.
FlexClip
Free browser-based video editing software.
FlexClip is a free and powerful online video editor that is packed with features. FlexClip gives you all the tools you need to publish engaging, professional videos in a matter of minutes. With everything from animated backgrounds, holiday templates, to excellent quality stock video, there are thousands of video combinations that can keep your viewers engaged.
Websites, blogs, online magazines, and other platforms are ideal for sharing videos. But if you're not an expert video editor, putting your videos together can be a time-consuming challenge. That's where FlexClip comes in. The video editor allows you to create your own video clips—and then to share them with just one click. You can even search there library of over 2 million stock images and videos for the best clips to use in your video project.
You can overlay text on your video with beautiful fonts and effects, and enjoy the smooth transitions of FlexClip clips. Make your videos look great on social media, such as Facebook, Instagram Stories, and more, with appropriate ratios of height and width settings.
Choose from hundreds of sleek fonts to add a splash of personality. The aspect ratio feature lets you fine-tune your videos, ensuring they display correctly no matter how they're shared – whether it's on Instagram, Facebook, Twitter, YouTube or anywhere else. FlexClip also offers transitions and effects to ensure your video stands out from the crowd.
FlexClip is a one-stop online video editor that combines the functionality of a variety of existing editing programs. It can be used to add text, transitions and effects to videos created with other software such as KineMaster, Adobe Premiere, and Pinnacle Studio Pro.
Magisto
Free video editing software that's great for presentations
Award winning Magisto online video editor turns all of your everyday type videos into high production value movies. This video maker automatically selects the most relevant photos and videos, adds professional themes, intros, outros, effects and music to produce stunningly beautiful results. Magisto is easy to use by anyone with an internet connection.
Magisto is an online video maker that allows you to create movie clips by movie clips, all without the hassle of post-production. Add text, images, titles, and effects to tell your own story in just minutes!
➡ How to edit photos on Mac: Two Ways
Just login with your email address or log into Facebook or Google account, select the photos and videos you want to include in your video, choose a style to suit your occasion, set any additional options you wish to use, sit back and watch as Magisto creates a beautiful movie.
Magisto turns your life into movies, with easy-to-use editing tools and elegant themes. Magisto's technology transforms everyday videos into beautifully edited movies automatically using the magic of artificial intelligence. Use it to edit videos you shoot with your phone or take from social media. Work on your movie at home or on the go.
Magisto app allows you to produce high-quality video with your smart phone. It is very easy for a new user to edit videos. But, it provides a lot of options for experienced users as well. There are various styles that can be used as a template for editing. You can choose the best styles from popular, family, business, social templates. This can be previewed by hovering the cursor over thumbnail. Some styles may need to upgrade to be used even though it gives you instructions on how to purchase those upgrades.
Magisto is an excellent choice for editing video on the go. It has a simple layout that is very easy to use, whether you are new to video making or have editing experience.
PowToon
Best Online video Editor for animation and story telling
A picture is worth a thousands words. It is even better when you can bring your picture to life with PowToon's online video editor. With PowToon, you will give your company that professional touch when you are creating projects that will be published on the internet or in front of a live audience.
PowToon is one of the best online video creation services out there. It has a free version, easy to use, has hundreds of effects and templates, and works great on most devices. Whether you're using PowToon to create an infographic, company intro video, animated banner, or just for fun, the service never fails to impress.
PowToon's easy installation and simple drag and drop style editing will help you create great videos that include text entry, photos, sounds, music, professional animations and interactivity. Whether you're sharing your ideas, explaining something you love, or making a movie trailer for that indie film you're working on, PowToon can help bring your ideas to life.
PowToon helps you create animated, narrated videos to engage your website visitors, promote your business, teach online courses, enhance sales funnels and so much more. There are many drawings that you can choose from to put your project into action. The PowToon Premium allows you to export your video in HD quality, which enables you to easily upload it onto your website, blog or social media accounts.
It's ideal for anyone who wants to create animated videos, from students and teachers to businesses, non-profits and anyone else looking to get their point across or just have some fun. Thanks to its intuitive interface, you can easily select scenes, characters, props, sound effects and music to craft the perfect cartoon with the help of PowToon's video tutorials.
ClipChamp
A well-known free online video editing tool
ClipChamp is definitely amongst the best free online video editors. It is an intuitive tool for video editing, conversion, encoding, compression, webcam recording. It's easy-to-use interface allows beginners or intermediates to complete their video editing or processing with ease. The output videos are directly saved on the computer or google drive without the requirement of any post-processing software.
Besides video compress, ClipChamp also provides video converter and webcam recorder as well, letting people convert all popular videos (such as MP4, MOV, FLV etc.) to ClipChamp support videos (3GP, 3G2, AVI, MPEG4 etc.), and let people record their own image from webcams or create a video from recorded pictures automatically.
The instant you start using ClipChamp, you'll see what sets it apart from all other video editing software. They have stripped away all the complexity and made the online tool instantly intuitive. Adjusting brightness, saturation and contrast is a cinch. You can also add transitions, text, overlays, backgrounds – or "paint on a video" – either free-form or following a template.
Create pro-looking videos with our simple drag and drop features. Simply upload your video, trim, crop, rotate and flip it to match your needs. Adjust brightness, saturation and contrast with ease. Also add transitions, text or even draw directly onto your videos.
The free version of ClipChamp offers basic clip trimming. You can create square or 4K videos with your still images, choose from a featured library of royalty-free videos and images, or upload your own. For advanced editing features, there is a paid version available.
Wrapping up the free online video editors list:
Picking a professional video editing software for your business may not be an easy decision to make, mostly because there are a lot of options out there. If you have already decided to use online video editing service to edit your videos, you will be facing even more decisions.
Video editing software tools are available in plenty nowadays. As a matter of fact, even your smartphone comes with a built-in video editor. But when it comes to professional needs, you need a software for editing videos, something that is powerful and versatile enough to present your ideas in a most impressive way possible.
My first video editing software was Windows Movie Maker. It came with my Windows 7 and it worked for basic home videos. I mainly used it for creating a slideshow from a collection of still images which gave a nice movie feel to it. I didn't know anything about frame rate, compression ratio, or audio bit rate back then. All I wanted was to create an interesting movie out of my photos.
There are a lot of video editing software available. You can find a full range of them, from consumer friendly to the one used by the professionals.
If you are using a online video tool for editing on your MacBook or on Windows please share the tool with us.