Should I upgrade macOS on my Mac? That question might seem like a simple one to ask on the surface, but there are plenty of factors that can help you determine if this is a good idea or not. The major thing you need to consider is, does my computer meet the requirements for the new version of macOS?
While there are many reasons to upgrade to Apple's newest macOS, there are also some compelling reasons not to do so. To help you make the best decision, let's take a look at the advantages and disadvantages of an upgrade and discuss who should and shouldn't upgrade.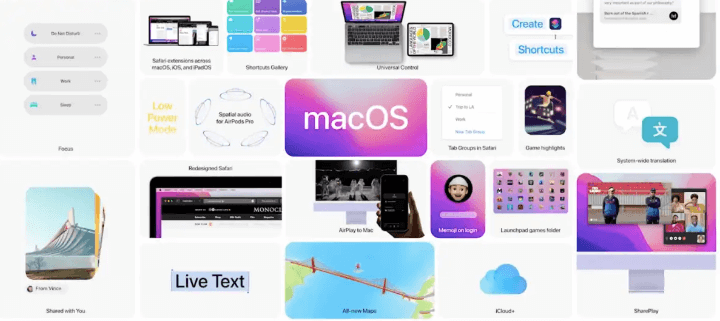 While the latest operating system from Apple was undoubtedly exciting, whether or not you should upgrade your Mac to macOS Monterey is a different story. The answer depends on you and your workflow. While many users were excited to immediately install the OS when it was released, others gave no second thought to the announcement, and are still happily using macOS Big Sur.
The latest version of Apple's macOS, codename Monterey, is available to download now. Like previous versions, developers are recommending that users install it as soon as possible. With plenty of new features, there's no denying that macOS Monterey has been improved since Big Sur was released last year. But in this article, we'll find out if the improvements have been significant enough to warrant an immediate upgrade or if you should wait a little longer to see what happens next time around.
There are several reasons you might be waiting to upgrade to macOS Monterey. You don't have enough storage space. You have important files on your computer that will be deleted after the update. You have too much work and can't take the time to do something so menial as updating your operating system. If any of these apply to you, then you need to read this article.   
macOS Monterey: Why you should upgrade now?
With macOS Monterey adding new features, there's a good chance you'll want to upgrade. Whether it's the new security features or the productivity enhancements, you'll gain something from this update.
We recommend our users to upgrade to macOS Monterey despite knowing that it has some flaws on functionality. The reason we insist is that further versions tend to be more secure and are timely updated.
Notes and Live text
The main reason why you should upgrade to macOS Monterey is because of the new features. You get Quick Note, Live Text, and Focus. The Shortcuts app is my favorite new feature on Monterey. You're able to create an automation shortcut using a series of actions to help you do the same thing over and over again. To some, this might seem like a waste of time. But if you find yourself doing repetitive tasks every day, then this could be very helpful.
➡ How to use Live Text in iOS 15: iPhone and iPad
Low Power Mode and Airplay
The latest release includes features including a new AirPlay feature called "Shared with you" where you can download content from another Apple device; two new email features, Low Power Mode and Smart Compose; and an interface change in Safari to an easier way to save web content to read offline.
iCloud+ and Safari
There's a lot to like in macOS Monterey, but one of our favorites is iCloud+ which gets everything working together. It has the Hide My Email feature that allows you to create email aliases for your real email account, HomeKit Secure Video support, and Private Relay (still in beta), which hides your IP address and location while you're on the web.
First off the built-in Maps application has been completely revamped, with more simplified controls and a reworked interface. macOS also has a new and improved Books app, and Safari now comes with the tabs feature, which allows you to create and name your own groups of tabs, making it easier to organize them.
The macOS 12.1 update that Apple released in December adds even more features. The new features include the highly anticipated Universal Control feature, which lets you use a single mouse to control two Macs or a Mac and an iPad.
And for those who have been looking for iOS-like features, Picture in Picture is here! This feature allows users to watch full-screen content as it floats over other apps on the desktop. In addition, SharePlay is finally here—this FaceTime feature that allows users to share media with their contacts who have iOS 11 or macOS High Sierra installed. For example, a FaceTime group call can watch an Apple TV show or listen to Apple Music together.  
macOS Monterey is packed with powerful new features, but the update also includes some deep under-the-hood enhancements. From security updates to performance improvements, Monterey includes everything you need to have a better experience on your Mac whether you're at home or in the office.
macOS Monterey Upgrade: Why you should wait?
If you're currently running macOS Big Sur and are happy with it, I'd advise waiting for a few weeks before moving to Monterey. Although you might want to take advantage of all the new features as soon as possible, Apple will continue supporting macOS Big Sur for many months after the launch of macOS Monterey.
Bluetooth connectivity problem
Overall, macOS Monterey is a big step forward, but it does come with some flaws. If you own a MacBook, you might seriously consider waiting for the next update as users are reporting a serious battery draining bug caused by Bluetooth. If you turn off Bluetooth before putting the MacBook to sleep, battery life is unaffected , though that's not an ideal solution.
Universal remote is not functional right now
The second reason you might want to consider waiting is that you'll probably want to wait until Universal Control is available. Universal Control lets you connect an iPad to a Mac instantly, where you can use the iPad or use the device as a second screen.
Safari Update
If you want the new Safari, you actually don't need to upgrade to Monterey to get it—it's part of Safari 15, which is available for macOS Big Sur.
Safari 15 for macOS Big Sur includes a number of new features. You can now set a custom wallpaper for your Home Page, easily manage extensions, and quickly open tabs from your other devices by clicking the cloud icon in the Smart Search field. It also introduces Privacy Report, which shows you how Safari protects you while browsing the web, an updated tabs design to make them easier to see and use, new start page customization options, a redesigned Reader mode that removes most website clutter, and more.
➡ How to change Safari background on iPhone / iPad: Custom background
Bugs and Fixes
If you're willing to wait, we suggest you hold off on the public release of macOS Monterey. Apple's big macOS update includes several fun features, like a Universal Control that lets you control multiple devices with your Mac and a new Focus mode that helps you get work done by getting rid of distracting notifications. However, if none of these features are essential for your use case, you may be better served waiting for a few months until more bugs are ironed out and newer apps have full support for the new software.
➡ How to block websites on Mac: Safari, Chrome, FireFox
If you are a macOS user and have an older Intel Mac with a T2 security chip, don't install the new update yet. A common issue in the new operating system, is that it bricks Macs with T2 chips. Apple has said that this issue was identified and fixed as of November 2021. Please note that Apple procedures its updates to the public gradually, so some users will receive the update right away while others may need to wait. If you haven't received it yet, it's recommended to wait until Apple releases a statement that fixes for older Macs are included.
Another reason not to upgrade is memory leaks. macOS Monterey has had a lot of recent issues, like a data tracking problem and a bug that causes performance issues. If you're experiencing memory leaks, it's important to note that this is more likely a memory allocation bug that will be fixed in an OS update. This problem has been reported by users on Monterey—the most recent macOS version. There should be updates out soon to fix the issue, so don't hesitate to update if you're using Monterey or any earlier software version.
Themacios recommends its users to Upgrade to macOS Monterey
If you're a fan of the macOS aesthetic, you won't notice much difference between the two operating systems: the icons and dock haven't changed, Control Center looks and feels the same, Spotlight notifications appear in their old spot, and so on. However, you will notice apps behaving a little differently—they'll have more distracting new window chrome even when they use only dark mode themes. Despite these relatively minor changes to the macOS aesthetic, there are some promising new features that might make Monterey worth an upgrade.
The update brings some genuinely impressive changes to the way iOS devices interact with televisions and other screens in your home.