With so many browsers on the market today, it's hard to know which one is the best for your mac. Safari is included with the Mac, but is it really the best for your Mac? Which are the next best browsers for mac? How about in 2023? Let's find out!
The best browser for Mac laptop is the one that fits your needs. There are many good browsers out there, but no single right choice. In 2023, most websites will be mobile-friendly and use responsive design that adapts to whatever browser a user has. As a result, the specific capabilities of each browser won't matter much in five years.
Also, Check out the Best browser for privacy
if you want to maximize your Mac experience, here are a few tips on what to look for in a browser:
1) Make sure it's fast
2) Make sure it saves passwords securely
3) Make sure it has a "reader mode" feature
4) Be mindful of how much memory the app uses in the background
5) Check out its add-on support
6) Consider your privacy needs: Is the browser open to tracking?
In each category, our pick for the best browser for Mac is the one that best fits your needs.
With the many devices and platforms you can use to access the internet, it's not surprising that there are numerous options for web browsers. There are even options for iPhone, iPad and Android mobile devices. For desktop or laptop computers, there are still plenty of choices. With so many options out there, it can be hard to decide which one to use. We decided to investigate the most popular desktop web browsers on Mac (see the chart below).
>> How to block websites on Mac: Safari, Chrome, FireFox
We wanted to find out which browser is best at displaying websites, so we looked at how each browser performed in two areas: how quickly browsers loaded websites and how smoothly websites ran when they were already loaded.
We also tested Safari Vs Chrome using Octane 2.0 javascript benchmarks. Check out the results for both Safari javascript speed test and Chrome javascript speed test.
To test these factors, we used WebPageTest , a popular website speed testing service. We loaded each browser with ten popular websites and recorded WebPageTest's scores for both load time and performance (which is a combination of all scores besides load time). Below is our comparison of browsers' scores.
Key Takeaways
Macs have a reputation for being more user-friendly than PCs, and that's especially true when it comes to the computer's operating system. But even though the Mac interface is intuitive, it can still be difficult to find the right software to do everything you want to do. Among the essential programs are browsers, which are designed to search the Internet and access content on the World Wide Web.
The most popular browser on Mac is Safari, and it's easy to see why. It loads pages quickly and has built-in features like auto-fill forms, a built-in search bar, and an ad blocker. Safari also lets you sync your bookmarks between multiple devices using iCloud.
For advanced users who want extra privacy protection or other features that aren't available in Safari, there's Firefox, which is available for free from Mozilla. Firefox was once solely a browser for advanced users but now has versions for Windows, Mac, Android and iOS devices.
You can also Change Default Browser on Mac with ease.
To browse incognito (hidden) or check out a specific site without saving cookies from previous visits, try Chrome from Google (you can also download a mobile version for Android). For those who don't need all the bells and whistles of other browsers but want something that works fast and efficiently, stick with Safari.
Which browser is the fastest for Mac?
With so many browsers to choose from and so many claims to the fastest browser, it can be hard to separate the facts from the fiction. What's more, there are a number of different metrics you might use to judge speed: page load time, JavaScript performance, HTML5 support, etc. That's why we put three of today's most popular Mac browsers—Chrome, Safari, and Firefox—through a rigorously scientific test to determine which browser is best for your needs.
We tested each browser on a MacBook Air running the latest operating system. We performed six tests for each browser:
-HTML5 Test
JavaScript Test
Page Load Time Test (using a custom page)
Speed Index Test (using CloudFlare)
Google Octane 2.0 Test (using Google servers)
WebXPRT 2015 Test (using benchmarktest.com)
The test results for the fastest browsers for Mac are in. These results were determined by a series of tests conducted on a MacBook Air to see which browser performed the best overall. The tests were run by recording the start and stop times of a browser window opening and closing at regular intervals. These start and stop times were then converted into approximate frames per second (FPS), and compared against each other to find out which browser was faster, resulting in some interesting findings.
Clearly, Safari is the winner here, with Chrome finishing second and Firefox close behind. Internet Explorer was by far the slowest of all browsers tested, but as it's included only with Windows, its inclusion here isn't terribly surprising.
➡ How to change Safari background on iPhone
The reason for Safari's superior speed is pretty clear: its rendering engine (WebKit) is consistently faster than that of any other browser, so it should come as no surprise that even though it has less features than Chrome or Firefox, Safari would still perform better overall. However, this doesn't necessarily mean that you should switch from Chrome to Safari—all else being equal, Chrome tends to offer more features and streamlined user interfaces that make browsing easier overall.
These are the 6 best browsers for Mac right now
Chrome. Safari. Firefox. Which browser is the best for Mac in 2023? Ask yourself a few questions before committing to Chrome or Safari. Will you need to use a plugin? Is compatibility important to you? Or do you require speed, an ad-free experience, or both? Does your laptop have touchscreen capabilities? This list includes the best browser for Macs through 2023 and beyond.
1. Safari – The Best browser for Mac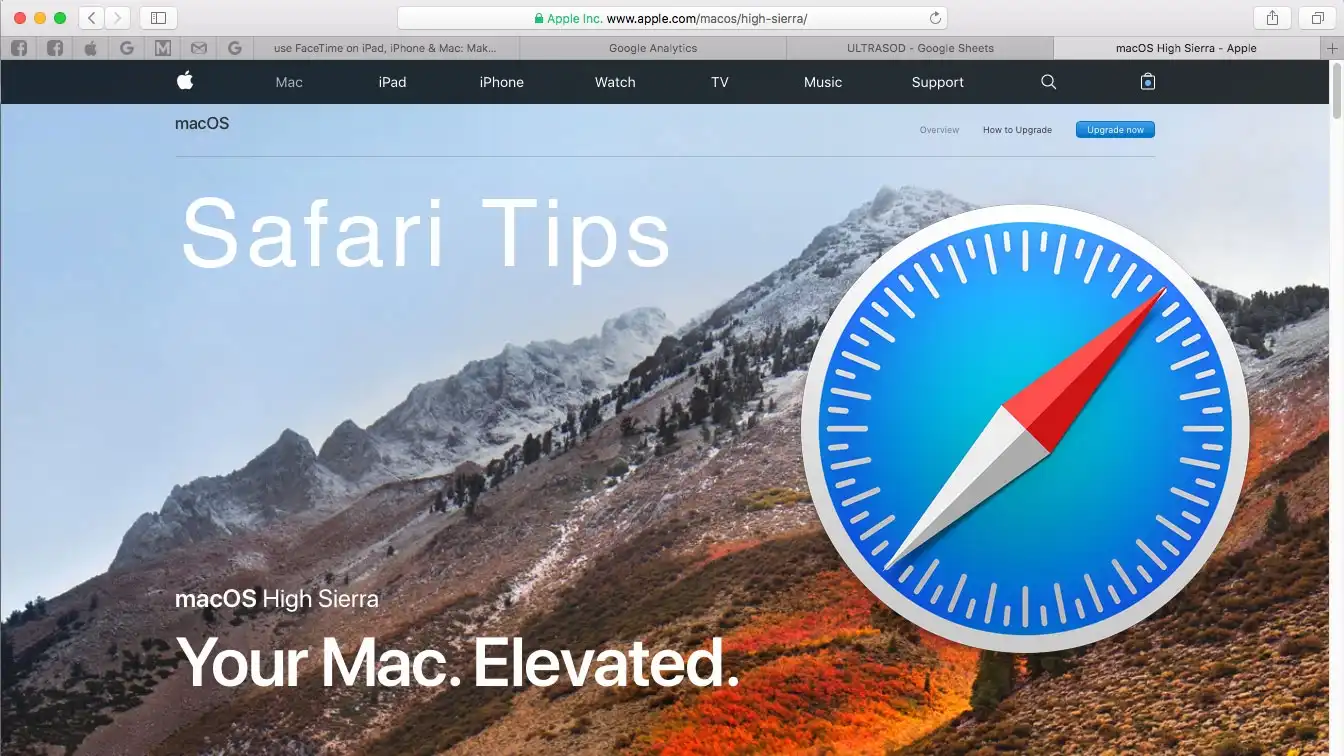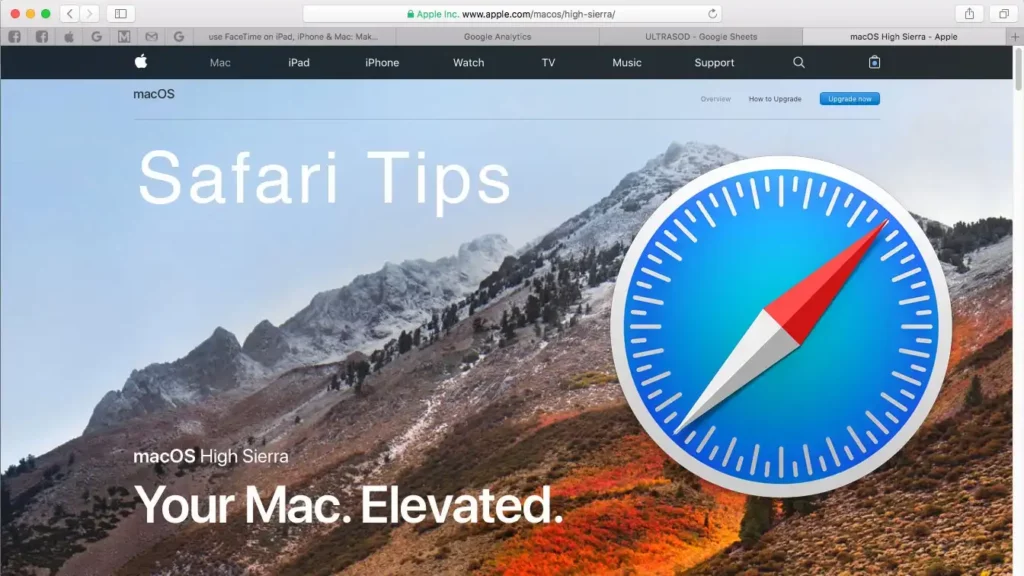 Safari is the native browser on Mac computers, and it's by far the most popular choice of browsers among Mac users. Safari has a lot of features that make it stand out from other browsers, with key features including:
Safari syncs bookmarks, passwords and tabs across devices through iCloud. This means that when you log into your account on a different computer or device, all information from your previous session will be available to you. This is especially useful if you use Safari on multiple computers (as I do), as you can always easily find the tabs you had open on your other devices. You can also choose to sync your browsing history this way.
Safari has a smooth and intuitive interface that makes it easy to use, even for users who aren't particularly familiar with web browsers or have little experience with Macs. The address bar at the top of the screen automatically suggests sites you've visited in the past and those you frequently visit, allowing you to navigate quickly back to some of your favorite destinations. The function keys change based on context, so if you're browsing in full screen mode or in reader mode, they can adjust Safari's preferences specific to that action.

The iCloud Keychain feature can be used to store your usernames and passwords online, so Safari will remember them for you when you're logging into your favorite websites. This feature is especially useful because it keeps your information stored safely online without ever sending it over the network unencrypted—your passwords are kept private.
When you get a new device, if you already have an existing Apple ID and password set up for iCloud, all of your information will immediately be available on the new device once you connect it to the internet. If not, setting up an Apple ID with iCloud is extremely easy.
➡ How to change safari background on Mac
With this feature, Safari has improved its functionality dramatically with an array of tools that makes using the browser far more intuitive than it used to be – whether you're surfing the web or interacting with social media sites like Facebook or Twitter.
It features a tabbed user interface, which allows users to easily access multiple sites at once by switching between them. Its intelligent data-saving features help users minimize bandwidth usage, and its security features provide protection against malicious websites and downloads. Safari is highly customizable, with support for user-created extensions that allow you to add functionality like ad blocking and form completion.
Safari supports many modern web technologies—including HTML5 video and CSS3 media queries—and has a built-in Web Inspector that lets users view their site as it would appear in other browsers. The browser also has excellent support for Adobe Flash content on most sites, although Apple recently announced plans to phase out Flash altogether in favor of HTML5.
The user interface of Safari is clean and simple. The menus are well thought out making basic tasks easy to accomplish without having to hunt through multiple layers of menus or dialog boxes. It is easy to add bookmarks, organize them into folders, and even sort them by topic or name.
The tabs in Safari each hold the title of the open page, making it very convenient to see where you are going when you move from one tab to another. The tabs also display thumbnail images of the pages you have open, which makes it easy to see what page you have open. You can also drag pages between tabs or drop a page onto a new tab to create a new page. Tabs can be rearranged or moved around on screen with drag and drop, and they automatically resize as you change the size of your window. The tabs also support keyboard shortcuts making it easy to switch between them, close them, or rearrange them all with just a few keystrokes.
If you are looking for a browser for your Mac, it really comes down to how you feel about Safari versus Chrome. Both browsers offer excellent performance and feature a growing number of extensions. The more streamlined interface of Safari may appeal to some compared to the more design-centric approach that we've seen in Chrome. Either way, both browsers will get the job done and are worthy choices for your Mac.
Speedometer tests for Safari
Comparing each iteration of the test results, we can see that Safari generally has a higher score in most iterations, with an average score of around 67.5 runs/min. Chrome, on the other hand, has an average score of around 32.6 runs/min.
In the first iteration of the test, Safari scores 57.53 runs/min, while Chrome scores 50.62 runs/min. In the second iteration, Safari scores 21.58 runs/min, while Chrome scores 62.65 runs/min. In the third iteration, Safari scores 14.50 runs/min, while Chrome scores 61.36 runs/min. In the fourth iteration, Safari scores 28.72 runs/min, while Chrome scores 67.89 runs/min. In the fifth iteration, Safari scores 75.42 runs/min, while Chrome scores 68.44 runs/min.
>> Check out this Safari Vs Chrome Speed test comparison for better understanding.
In the sixth iteration, Safari scores 93.77 runs/min, while Chrome scores 6.658 runs/min. In the seventh iteration, Safari scores 96.54 runs/min, while Chrome scores 1.553 runs/min. In the eighth iteration, Safari scores 93.27 runs/min, while Chrome scores 24.11 runs/min. In the ninth iteration, Safari scores 92.98 runs/min, while Chrome scores 8.437 runs/min. In the tenth iteration, Safari scores 96.20 runs/min, while Chrome scores 14.92 runs/min.
It's important to note that these results may vary depending on the type of device, operating system, and other factors that can affect browser performance. These results should only be taken as general guidelines and not definitive statements about the performance of Safari and Chrome.
Safari on MacBookAir (2.13GHz Intel Core i5) with 8GB RAM and 512GB flash drive
Pros
Fast and lightweight
Great tab-switching feature
Distraction-free "reading mode
Excellent iCloud Keychain integration
Cons
Does not work on Windows operating system
2. Google Chrome – Most Versatile browser on MacBook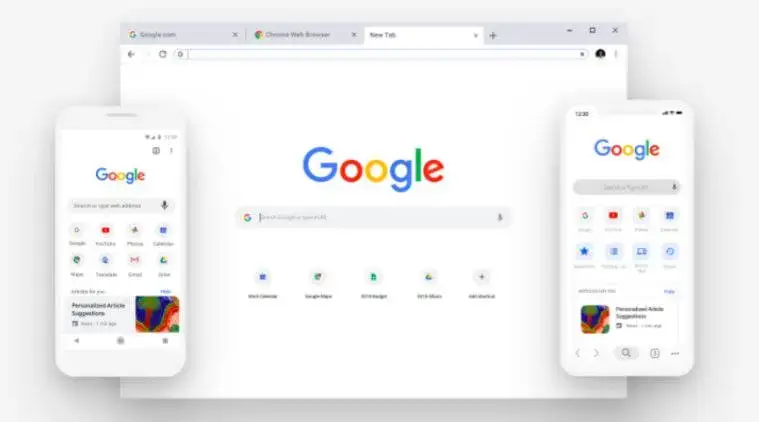 Competing as the most versatile browser on a MacBook, Google Chrome is a product that has revolutionized the way we use the internet. With it's unique features and superior speed, Google Chrome is the best choice for anyone who values the efficiency of their internet usage. Created by Google in 2008 after an announcement by Microsoft that they would be discontinuing their popular browser, Internet Explorer, Chrome brought a new level of simplicity and ease to using one's computer. With it's simple interface and instant search capabilities, Google Chrome is an excellent program to use while checking your email, or even while working on a school project.
➡ Best antivirus for Chromebook
Private browsing, easy bookmarking, and continual syncing across all devices are just some of the many reasons why users should choose Google Chrome when using their MacBooks. It's been said that Google Chrome can lead to increased productivity as well as better overall anatomical health (Dell). This is due to the fact that there are no distractions present within this web browser. Because searches are instant, there is no need for users to manually search for something on the computer itself. The user can simply open up a new tab and begin searching for whatever information they might need at that moment. This saves time and energy for those who value quickness and convenience.
Google Chrome is my personal favorite browser and I believe that it is one of the most versatile browsers available for Mac computers. Google Chrome is a free browser and downloads straight from the internet. It is extremely easy to navigate after downloading, especially if you are familiar with Google or have used their other products such as Gmail or Google Drive. The user interface is extremely clean and simple to use, making it great for the everyday computer user.
>> Make chrome faster – How to speed up Chrome browser?
Google Chrome's extension library is a rich collection of extensions for adding tools or apps directly to the web browser—nearly 190,000 of them in total. To start browsing, head to the Chrome Web Store and click "See all" at the top. The first page you'll see lists categories; it's easiest to start with one that seems most relevant to your interests. If you're looking for useful extensions that can help you be more productive or manage your time better, try the "Productivity" or "Time Management" tabs. You can also search for specific extension names in the search bar on the top right-hand side of the screen.
Chrome is able to sync your settings and bookmarks between any number of devices you might own—your home computer, your work computer, your tablet, or even a phone. It also has an excellent built-in spell checker and can auto-fill information into forms on web pages for you.
The ability to translate webpages into different languages in real time is one of the best features of Chrome. In addition to being great for traveling abroad or interacting with people who speak another language, Chrome's translation feature can help you out if you ever get stuck reading a website written in a language you don't know. Just right-click on any text written in a language you're unfamiliar with and select Translate to English from the menu that pops up to instantly translate the page into English.
If you're concerned about security on the Internet, Chrome has plenty of settings that allow you to turn certain things on or off depending on how cautious you want to be when surfing. Although not quite as speedy as Safari at our Jetstream 2 tests gave it a score of 130, which still is very respectable. The majority of users won't notice a difference between the two browsers in day-to-day use though.
Chrome's biggest advantage comes in the form of its frequent updates. Google is constantly adding support for more and more platforms, from Android and iOS to Microsoft Windows and Mac OS X, which means that there's always a good chance that the browser you use will have the features you need for the apps you use. It supports plenty of extensions and lets you customize your settings to your heart's content.
Even though it has a reputation for being a memory hog — sometimes unfairly, as Chrome can be run with low memory usage — Chrome is frequently updated and generally runs well on most devices. On top of that, it supports Chromecast devices, so if you're using it primarily on your laptop or desktop computer, but want to send something to your TV, that's an option.
Features of Chrome Browser For Mac:
Translation: Chrome has a built-in translation function that allows users to translate text in any language on the web. This includes translating entire webpages or just parts of them. The feature is similar to popular online translation services like Google Translate, but its real-time nature makes it more convenient than other options. There's also no need to copy and paste the text into an extra window—everything is done directly within the browser.

Voice Search: In addition to being able to translate text, you can use voice search directly within Chrome on your Mac to quickly find information on the web that you want without having to type each word individually. All you have to do is click the microphone button on the omnibox (the area where you enter search terms in Chrome) and speak what you're looking for—Chrome will automatically recognize your request and provide links with relevant information when available.

Privacy Control: If you want to keep your activity private while using Google Chrome, you can easily clear all activity from within one week, one month or three months by clicking on the History tab under "Privacy."

Synchronization : Chrome's ability to sync your data across multiple devices is one of its primary selling points. If you're working on something on your desktop computer at home and want to pick up where you left off on your mobile device when you leave the house, it's just a matter of signing in with the same account.

In addition, if you're looking for something on your phone but can't find it in your current tabs, Chrome can search your desktop for matching text or images to help you locate whatever you were looking for (which is particularly handy when you can't remember what site you were browsing on). You can even view all of your open tabs from all of your computers at once.

Incognito Browsing Mode: Google Chrome for Mac is a powerful Web browser that offers varied features and user-friendly interface. One of the most important feature of Google chrome is called Incognito mode, which allows you to surf the Internet without leaving any footprints. This means that, whatever you do on the Internet will not be recorded in your computer's history or browser cache.

Bookmark Management: Google Chrome for Mac saves all your bookmarks in one central location–Google Chrome Sync–which makes it easy to access them from any computer with Chrome installed.

Realtime Notifications for Gmail and Google Apps: If you use Gmail and other Google services (like Google Calendar), then this feature will help you stay connected without having to constantly check your inbox. You will receive notifications for new email messages and calendar.

Extensions & Themes: Chrome extensions are essentially small applications that let you modify how Chrome behaves or looks. Many of them add functionality to your browser that isn't built in already. For example, if someone sends you an audio file in the form of an attachment in Gmail, the extension will automatically play it for you so you don't have to download it first. There are also extensions for translating web pages, blocking ads and more! You can also change the look of your browser by installing themes or creating your own using different colors and graphics.

Integration with Google services: Chrome integrates well with Google's services like Gmail and Google Drive. You can sync bookmarks and passwords across devices through your Google account, as well as send emails from within Chrome using Gmail as the default email client. Some features like auto-fill forms or spell checking require you to sign in to a Google account to work, but others work fine without being logged in by using "incognito mode".

Compatibility with Other Browsers: The Chrome browser is compatible with other browsers in that it can import bookmarks from Firefox, Safari, and Internet Explorer. The great thing about importing bookmarks is that you can easily organize your bookmarks into folders, so you no longer have to wade through a long list of favorites or search endlessly for the sites you seek. You can also import your history and passwords for each site to Chrome directly from your other browsers.
Pros
Fast loading and rendering of webpages
Syncs your bookmarks, passwords, and preferences across all your devices
Lot of extensions available that can make browsing easier and more fun
Easy to use, navigate, and understand
Cons
Drains battery life more quickly than other browsers like Safari or Firefox.
3. Brave – Best ad-free browser for Mac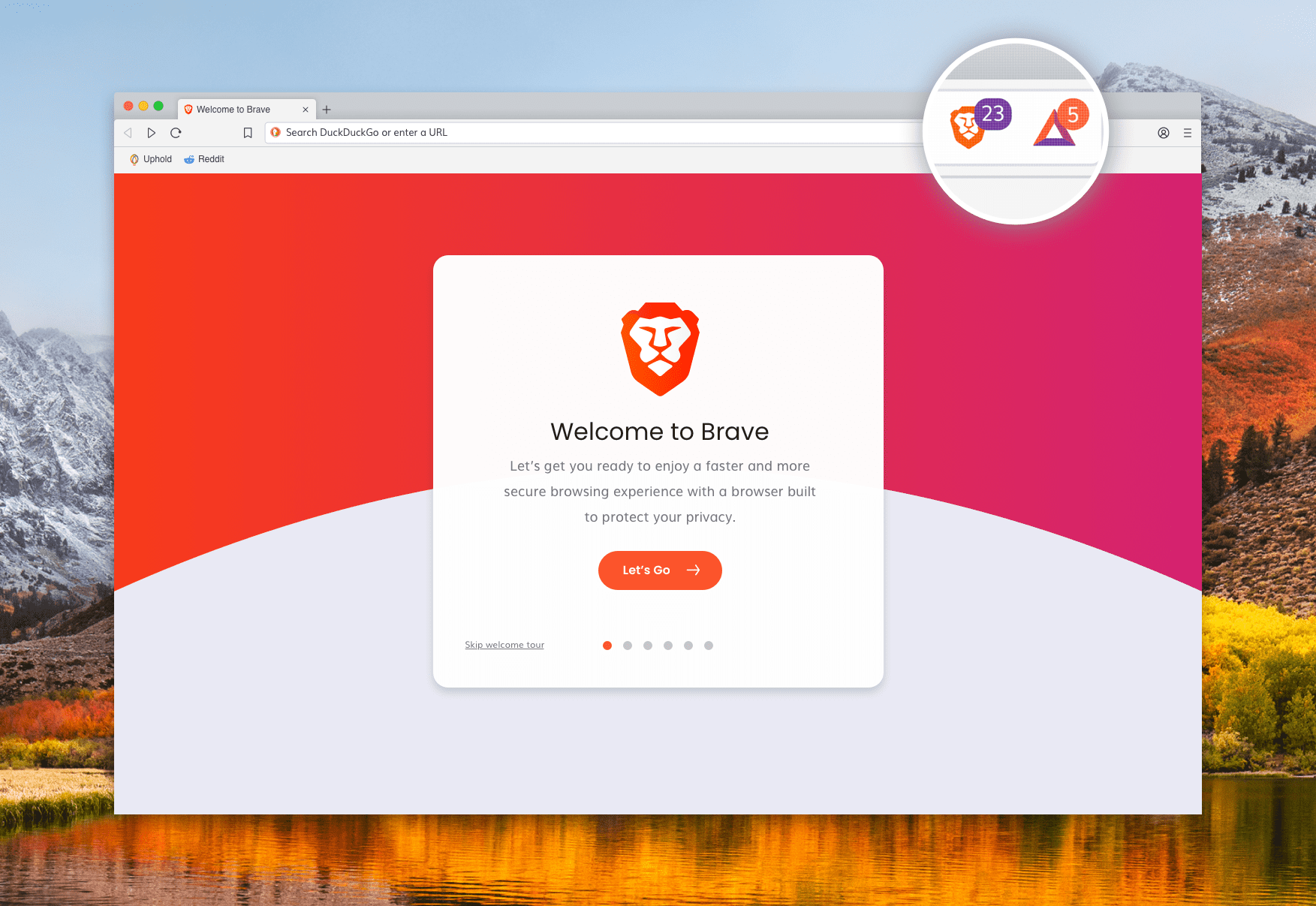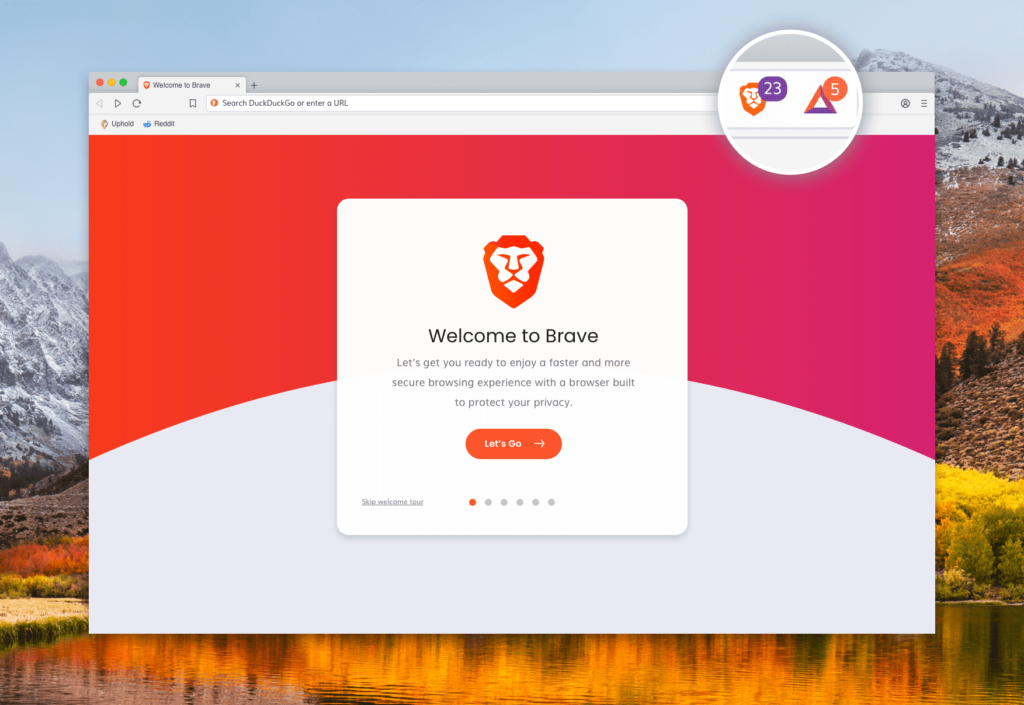 If you're looking for a multi-platform ad-free browser that's secure and lightning fast, Brave is the best option on Mac. This browser is designed around speed and privacy. It blocks the majority of ads by default and its "Brave Shields" protect your data from being stolen while you're surfing the web.
Backed by $2.5 million in Kickstarter funding, this browser is a favorite among techies and newbies alike. For those who have never used Brave before, here are some of its standout features:
Fast browsing experience optimized for speed
Blocks ads and trackers by default (but allows you to whitelist sites that you enjoy)
Simple setup with automatic protection against fingerprinting
Built for security with Tor integration that lets you browse anonymously
A private tab mode to prevent tracking
Disables pop-up ads from automatically playing audio
It's designed to offer an innovative approach to browsing by blocking ads and trackers while remaining compatible with existing browser extensions. Brave doesn't limit you in any way—it doesn't monitor or restrict your activity or force you to use a separate search engine. In fact, it can be used just like Chrome, Safari, Firefox, or any other standard web browser. One of its most appealing features is the way it addresses one of today's biggest annoyances: ad trackers that slow down web pages and invade your privacy by monitoring your activity across different sites.
Browsing on Brave is completely private—no cookies, no trackers. And because it's open source, your browsing experience can be verified. The company's aim is to provide a private, secure browsing experience while rewarding those who make the internet possible: web publishers and advertisers who provide the content you enjoy for free. If you're tired of giving up your data for free services, check out Brave today!
Brave's new search capability is designed to give you more control over how you use the web, where your searches are conducted, and who sees your information.
Brave's Private Search will automatically encrypt your search term and send it as a private HTTPS request through a VPN to one of Brave's servers in Ireland or Germany. The server will then anonymously match it against billions of pages indexed by Google, Yahoo!, Yandex, or Bing. Results are sent back to Brave, which then delivers them to you in an encrypted format so that no one can see what you searched for. You can still see the top 10 results from each engine, but you have the option to click on any link without making it known that you searched for it in the first place.
If you're looking for a browser that is quick and efficient, with some added features to keep your browsing anonymous and secure, then Brave Browser is worth a look. It's fast, it's very easy to use, and it makes the complicated web browsing experience not so daunting to new users. If you're looking for an ad-free browser with built-in script blocking capabilities, then you shouldn't hesitate to give this one a try.
4. Vivaldi – Best Secure browser for Mac
Vivaldi is the best secure browser for Mac. It's the only web browser that offers an innovative way to protect you from trackers and ad-scrapers that try to secretly steal your personal data. For example, if you are searching for a new pair of shoes online, you might see a stream of ads on other websites related to your search.
Vivaldi is built with privacy in mind; it includes a built-in tracker blocker that stops advertisers from tracking you across the web. Vivaldi also gives you full control over cookies and lets you block them as well. Vivaldi makes sure that your data stays private even when using public WiFi hotspots. Vivaldi is easy to use – anyone can get started with their first tab in under 10 seconds.
Vivaldi is a powerful, customizable browser for anyone who values their privacy. The browser claims to be based on the same Chromium foundation as Google Chrome and Mozilla Firefox, but from there it differs in many ways—leaving users with a great deal of freedom over the features the browser employs.
Vivaldi allows users to remove tracking cookies and site data, block third-party cookies, manage permissions for sites they visit, and even choose which elements of the page they would like to keep or discard. A built-in ad blocker is also an option. The browser's URL bar also doubles as a search bar, cutting down on clicks needed to search online. Vivaldi includes tab stacks that allow users to organize tabs in groups that can be expanded or collapsed at will, a feature first implemented by Opera back in 2013.
Vivaldi's main window is clean and simple: it displays the address bar above an area where you can pin websites you visit often—this feature is similar to bookmarks, but Vivaldi browsers don't require importing or exporting bookmarks from other browsers. The standard features we expect from every browser are all found here: tabs along the top of the screen for managing multiple pages at once as well as buttons for forward and backward navigation.
As far as browsers go, Vivaldi offers everything you'd expect from a modern product: Incognito mode for private browsing; Tab stacks for easily managing multiple pages; and mouse gestures for quick navigation. All the modern browser features are here, but Vivaldi goes beyond them with some really nifty extras.
One of our favorite additions to Vivaldi is Quick Commands. It acts like a mini-search bar at the top of your screen that allows you to search through your bookmarks, history, open tabs and more by simply typing out a couple letters of what you're looking for. You can even tag certain pages so they're easier to find later.
In terms of speed, Vivaldi includes features like loading tabs on demand, automatic background tab updates to keep users up-to-date and search suggestions right in the address bar.
In terms of power, Vivaldi comes with features like advanced tab management, quick commands and notes, powerful customization options and a robust mouse gestures system.
Personalization options include free choice of themes, custom URL schemes and keyboard shortcuts to perform actions faster than ever before.
Privacy controls include the ability to enable or disable Do Not Track requests from websites and easy access to security settings like disabling Adobe Flash, blocking cookies or setting private browsing mode. We found Vivaldi to be fast and stable, which was particularly impressive considering how many tabs we had open while testing it. We were able to keep open between 20 and 30 tabs without experiencing even a hint of lag or crashing. We also liked the array of customization options available—you can change the appearance and behavior of the browser entirely to suit your needs. There are several themes to choose from, including ones that mimic popular programs.
Vivaldi is available on Windows, Mac, Linux and Android.
5. Firefox – All round browser for your MacBook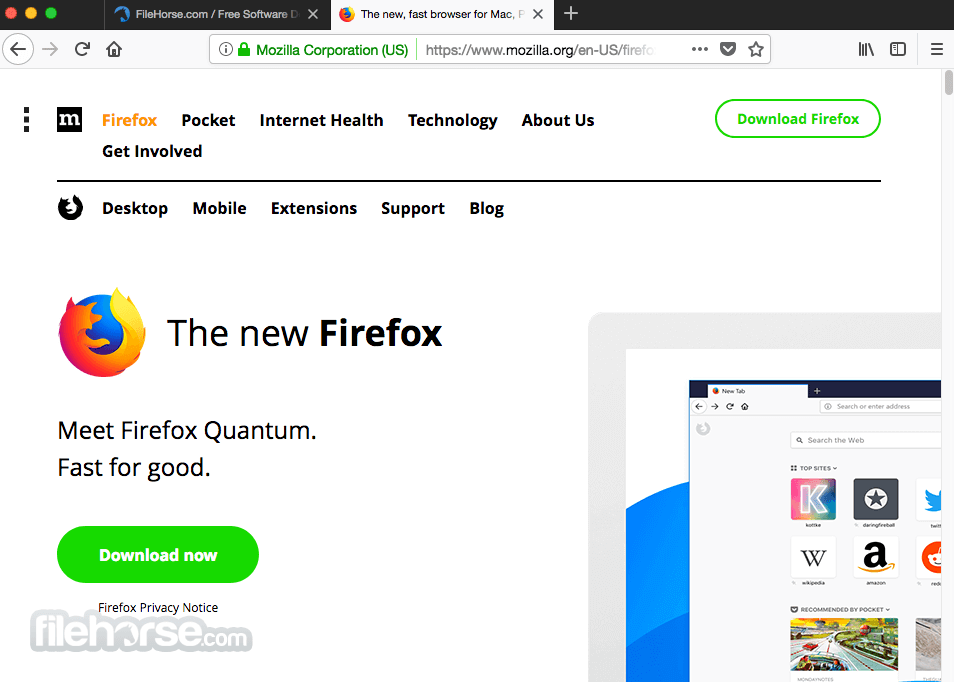 Firefox is a browser that is available in more than 60 languages and has a great add-on system which allows you to customize your browser.
Firefox is a multipurpose browser that is user-friendly, retains an appealing interface and has the capacity to be customized to suit individual requirements and preferences. This ensures that it meets the needs of diverse users and gives them the option to make Firefox their own. The browser is available for different operating systems and this allows users to take advantage of its features on devices with different hardware configurations. Firefox also has a built-in feature that monitors all installed add-ons and ensures they are compatible with the browser. This ensures that users don't face compatibility issues or receive security warnings when they are using third party add-ons.

Firefox is available on all major desktop platforms and comes in several languages, including English, French, German, Spanish and Japanese. This makes it easier for users around the globe to access information more quickly. Firefox has an intuitive design with a minimalist layout. This makes it easy for novice users to navigate the browser without making any adjustments to the layout or interface. Advanced users can customize their browsing experience by changing the theme of their Firefox homepage or even choosing from a range of themes listed under "Custom." The themes are based on different colors and images so there's sure to be one that you like.
The add-ons include the following:
AdBlock Plus, which blocks adds on websites
LastPass, which lets you store all of your passwords
Evernote Web Clipper, which lets you clip notes from websites
FoxyProxy, which allows you to change your IP address
Greasemonkey, which lets you customize the way websites work
Firefox has been the browser of choice for many people since 2004. It's a fast and reliable browser that has grown to meet the needs of most users.
One of Firefox's greatest strengths is its compatibility with other browsers. If you use an Internet Explorer toolbar, it will work in Firefox. If you use a Chrome extension, it will work in Firefox. And if you use an Apple Safari extension, it will work in Firefox as well. No other browser on the market has this power and flexibility.
If you're a Mac user, then you've probably heard about Safari and how great it is—how it can open multiple tabs at once or save images to your desktop by simply dragging them into your dock. Those great features were invented by Apple, but they aren't exclusive to only Safari. You get the same features with Firefox! Firefox also makes full use of multi-core processors for faster browsing, sports a clean minimalist design, and gives you easy access to add-ons that make your Internet experience easier and more efficient than ever before!
The Firefox browser is very flexible, with a large number of extensions (add-ons) that can be downloaded to customize your browsing experience. Some popular extensions include AdBlock Plus, which blocks ads from appearing on web pages; NoScript, which prevents JavaScript from running on web pages; and ForecastFox (Mac only), which adds weather information to the status bar of your browser.
The address bar at the top of the screen allows you to type in the name of any website you know or even a search term you want to find. This is helpful if you can't remember the exact address of a site or if you need to find a new one. The search bar is especially useful for finding specific things like recipes or news events, as it displays constantly updated results from all over the web as you type. You may also use this bar to type in other commands that you'd like Firefox to perform, such as looking up something on Wikipedia or Google Maps.
Mozilla offers a wide range of free services you can use to keep your online life secure and private. Mozilla's Firefox browser has a robust privacy policy that includes the option to block all cookies, third-party or otherwise, and to clear your history when you're done browsing.
The Firefox Focus browser, on the other hand, is highly recommended for users who wish to have a clean slate every time they open the app. It blocks all cookies, history and ads by default, and erases everything when you close the app. Its features are ideal for those looking for a more private mobile browsing experience, who don't want to be tracked based on their mobile activity, or who need a quick way to erase browsing data before sending a device in for repair.
Mozilla offers various tools for the privacy conscious, including Firefox with tracking protection and a VPN. The company also offers more niche services such as Relay, which is a private relay service similar to iCloud Private Relay. This allows you to create email aliases that are only available to you, and can be used for signing up to online services or giving out to people that you don't want to know your real address. It's compatible with iCloud, Google, Yahoo! Mail, Outlook.com, Gmail and more.
6. Opera – A fast and clean browser for Mac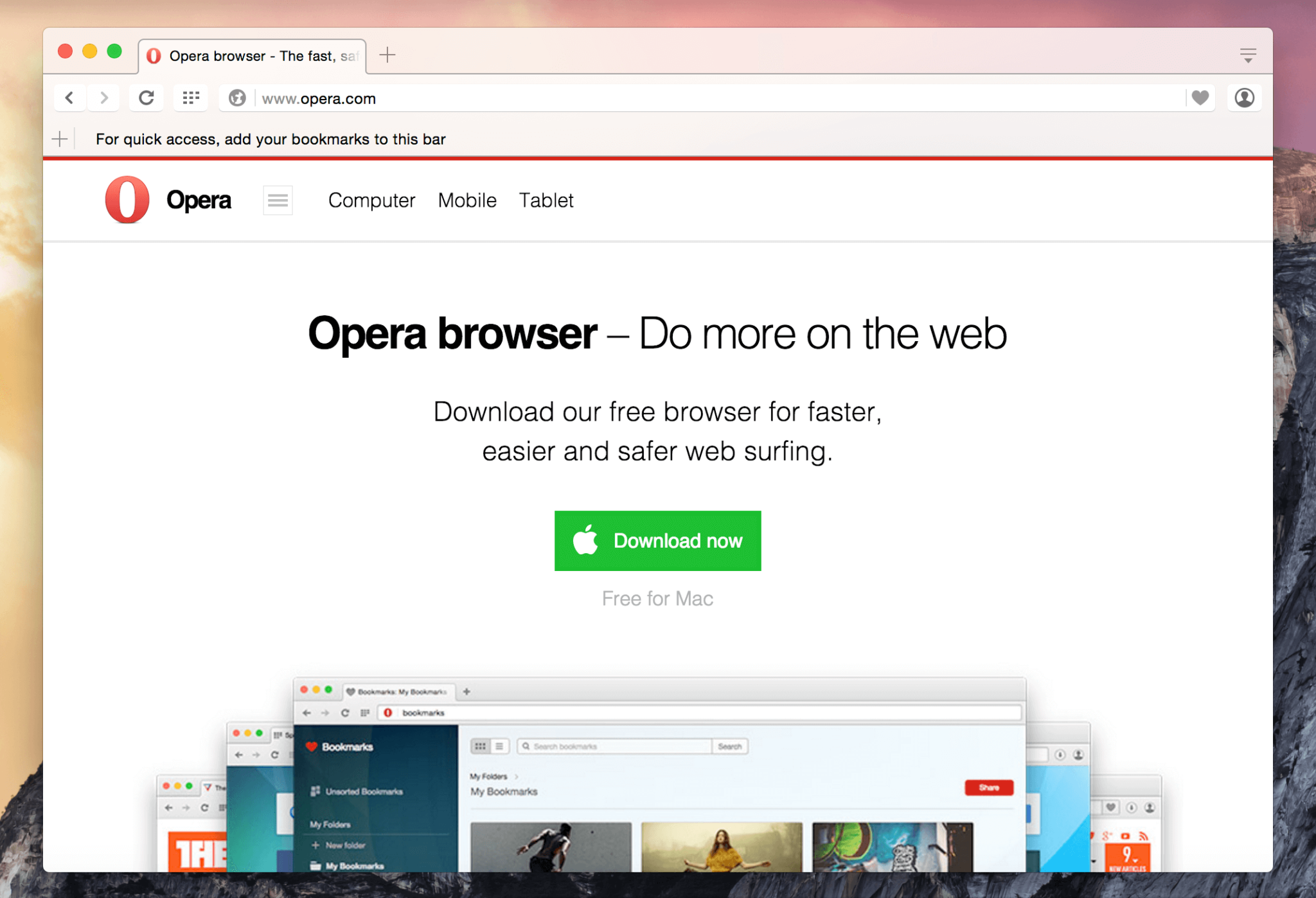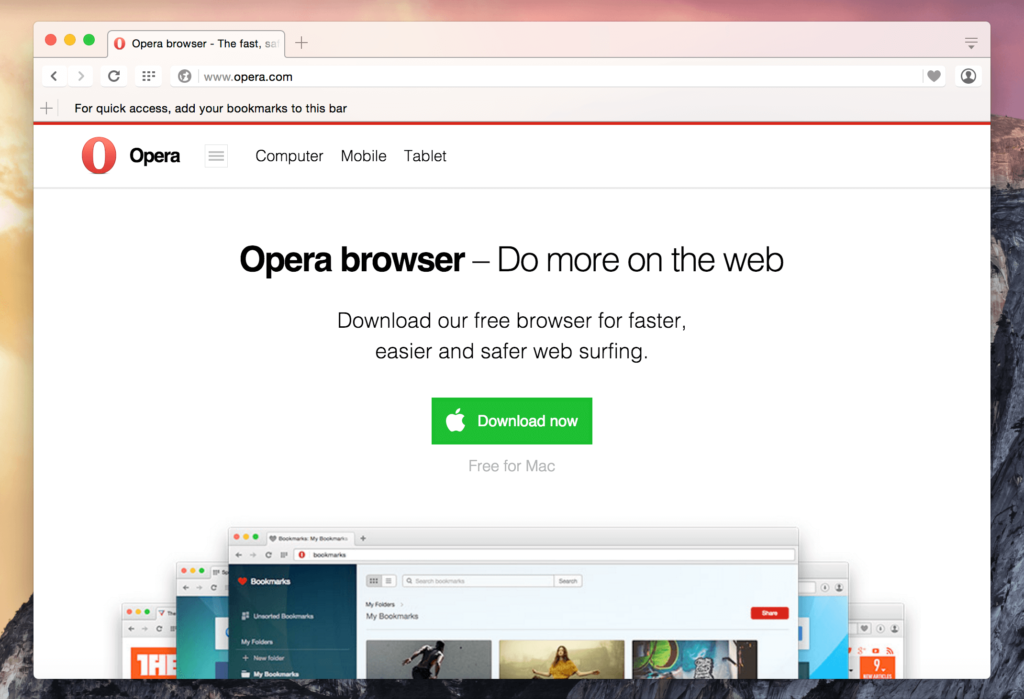 If you're a Mac user, you've probably explored Safari, Google Chrome, and Firefox. But have you tried Opera (www.opera.com)? It's a lightweight browser that's fast and easy to use.
By default, it comes with a few features others don't offer:
It has a free VPN (Virtual Private Network) that encrypts your Internet connection, making it safe for online banking, shopping, and other confidential activities.
A VPN also allows users to access content that may otherwise be geo-restricted by the company providing it. For example, if you're an expatriate who wants to watch your local news from home in the U.S., or if you live in China and want access to Facebook or YouTube, you can use a VPN to do so.
Opera also offers ad-blocking features that work across all browsers—even mobile devices. It cleans out up to 90% of ads before they even reach the page you're reading, which saves not only bandwidth but also storage space on your computer since there are fewer files being downloaded.
Opera is a fast and clean browser for Mac that doesn't crowd your screen with unwanted toolbars, buttons or menus. It gets out of the way so you can focus on the content you want to see, saving you time and giving you more space for browsing. Opera is one of the fastest browsers available for Mac computers.
Opera is a fast, clean browser designed for Mac. It can do everything you need, from checking email and managing your calendar to surfing the web, writing documents and more. Opera's innovative compression technology means that it downloads faster than other popular browsers like Safari and Firefox.
Opera is built on the WebKit rendering engine, created by Apple to power Safari and Chrome. WebKit is also used by most other popular browsers including Google Chrome, Netfront Browser, Midori and more. As a result, all of your favorite content works with Opera: Gmail and Calendar, Facebook, Twitter and your other social networks.
Opera is fast. It uses less memory than other browsers, making it snappier and more responsive. It also has advanced compression technology that reduces data usage by up to 90% with no loss in performance.
Opera is clean. Its tab-based interface gives you a clutter-free browsing experience. And its left menu keeps your favorite sites close at hand.
Opera is private. It saves your passwords and form entries so you can fill out web forms with just a click and without having to type anything.
Opera was one of the first browsers to offer free unlimited data transfers for mobile devices.
Comparison of Browsers
A. Safari
Performance: Safari is known for its smooth and responsive performance on Mac computers. It is optimized specifically for Apple hardware, making it a great choice for those who are looking for a fast and reliable browser.
Speed: In benchmark tests, Safari has consistently performed well, with fast page load times and low latency. It is also optimized for energy efficiency, making it a great choice for users who want to extend their battery life.
Security: Safari is one of the most secure browsers available for Mac, with a variety of built-in features to protect users from online threats. This includes blocking pop-ups and malicious websites, as well as automatic cookie deletion and a "Private Browsing" mode.
User Experience: Safari is designed to be intuitive and user-friendly, with a simple interface and easy-to-use features. It integrates well with other Apple products and services, making it a great choice for those who use a variety of Apple devices.
B. Chrome
Performance: Chrome is known for its fast and reliable performance, with fast page load times and smooth scrolling. It is also highly customizable, with a wide variety of extensions and themes available to enhance the user experience.
Speed: In benchmark tests, Chrome has consistently performed well, with fast page load times and low latency. It is also optimized for energy efficiency, making it a great choice for users who want to extend their battery life.
Security: Chrome is highly secure, with a variety of built-in features to protect users from online threats. This includes blocking pop-ups and malicious websites, as well as automatic cookie deletion and a "Incognito" mode.
User Experience: Chrome is known for its clean and simple interface, with easy-to-use features and a highly customizable interface. It integrates well with Google services, making it a great choice for those who use a variety of Google products.
C. Firefox
Performance: Firefox is known for its fast and reliable performance, with fast page load times and smooth scrolling. It is also highly customizable, with a wide variety of extensions and themes available to enhance the user experience.
Speed: In benchmark tests, Firefox has performed well, with fast page load times and low latency. It is also optimized for energy efficiency, making it a great choice for users who want to extend their battery life.
Security: Firefox is highly secure, with a variety of built-in features to protect users from online threats. This includes blocking pop-ups and malicious websites, as well as automatic cookie deletion and a "Private Browsing" mode.
User Experience: Firefox is known for its customizable interface, with a wide variety of themes and extensions available to enhance the user experience. It is also designed to be fast and lightweight, making it a great choice for users who are looking for a fast and efficient browser.
Which is the best browser to use on a Mac?
The best browser to use on a Mac is the one that works best for you. While all of the major browsers have their strengths, if you're looking for the best overall experience, Safari is most likely your best bet. It's fast, stable, and dependable.
While there are many browsers you can use on your Mac, not all of them work the same way. Safari is Apple's own browser, which is available for free with every Mac download. It comes with a search bar that lets you find anything you want on the Internet, and it has features like a Reading List that lets you save articles to read later, as well as a Reading Mode that removes unnecessary clutter from web pages to make them easier to read. Safari also has a password manager feature that stores all your passwords in one place and keeps them up to date whenever you change them on any other website.
Google Chrome is another popular browser option for the Mac, especially among those who have used it on Windows before and are used to its interface. Chrome adds a lot of extra features, like advanced options to organize tabs by letting you group them together into 'panes' that let you see multiple tabs at once. There's also an option to sync your bookmarks between different computers and mobile devices using Chrome's 'Sync' feature. Safari and Google Chrome are both free downloads, so it just depends on what features you're looking for in a browser: do you want something simple like Safari or something more feature-rich like Google Chrome?
Is Chrome or Safari better for Mac?
I wanted to write about this because I'm really bothered by the fact that a lot of people consider Chrome to be the best browser for Mac. And I'm sure you've probably heard at least one person tell you how great Chrome is, so maybe you feel like you don't even need to read on. But I promise that if you'll stick with me for just a little bit, I can show you some things about Safari that will make your decision much easier.
So let's talk about performance. First of all, when it comes to loading pages and browsing smoothly, Safari wins in a landslide. Firefox used to have problems with both of these things—but not anymore! In fact, Firefox has made so many improvements that they're actually comparable now to the other browsers. So let's just ignore Firefox for now and go ahead and talk about the other two.
First of all, Safari has a much more streamlined interface than Chrome does. It feels less bulky and just faster overall. And because it uses less memory than Chrome does (which is an important thing for people who want their battery to last as long as possible), it's actually helping your battery life instead of hurting it.
What is the fastest browser for Mac?
Safari is the fastest and most battery efficient browser for Mac. When it comes to sheer speed, Safari beats out Firefox and Chrome. It's also been reported that Apple works hard to keep their operating systems running smoothly without draining too much battery life, so Safari is a great choice if you want to save on power while browsing the web (and who doesn't?).
What's the best web browser for mac?
Which browser should you use? It really depends on what you're using your machine for, but in general, I would say that Safari is the best browser to choose for your MacBook. It's easy to use and ties into your Apple ecosystem. However, if you are a computer nerd, like me, or simply want more privacy, there are much better browsers out there. If you want to keep your browsing experience safe and secure from prying eyes and nosey third parties, Tor browser is the way to go.
Recommended web browser for old Mac?
Safari is still available on older MacBooks, and it's good enough for casual users, but Firefox is a better choice for power users.  
A better option for older Macs is Mozilla Firefox. It's free, fast, supports multiple platforms and has many advanced features that are missing in Safari. The only drawback is that you will have to make sure to update Firefox on your own because Apple doesn't provide automatic updates for non App Store apps.