If you're looking for a new MacBook but don't want to pay full price, then you've come to the right place. Getting a new Macbook on sale isn't as hard as you might think, and we can help you find excellent deals in this guide. We'll walk you through some of the best ways to save money when buying a new MacBook.
Macbooks are the most popular laptop in the world. For many people, they're a dream machine that opens up new possibilities for how you can use your computer.
But here's the thing: buying a Macbook can be expensive. A brand new Macbook might not be within your budget right now, but why should you have to wait to get your hands on one?
Although it's not uncommon to find deals on Apple products like MacBooks, there are some other things to consider when deciding whether to buy a new model or an older one. For example, some of the MacBooks that were released in 2017 were updated with Intel Kaby Lake processors, more RAM and storage space. On the other hand, 2015 models are still great machines for many people and are often available at steep discounts from retailers like Best Buy, Target and Walmart.
Getting a MacBook for cheap is not an easy task, but there are some ways to save money and get discounts on Apple products. The best way to get a discount on a MacBook is to buy it used, or look for refurbished ones. One way might be to look online, or in stores that sell used electronics. Another great way to get a MacBook at a discount is to wait for sale events like Black Friday. Stores like Best Buy and Target typically have price cuts on various electronics during the sale—just make sure you check out their return policies if you're buying online.
If you have been out of college for a few years, going back to do another degree you might wonder what updates there are or what are the best laptops to buy now. There are a lot of models and brands currently available but we think that our guide will help you choose the best Macbook for Students.
Another option is to find refurbished Macbooks online. Refurbished computers are ones that companies have fixed up after being returned by customers—they're usually in good condition and can be sold at low prices. If you buy from a reputable source like Best Buy, they'll have a warranty on their refurbished items as well.
➡ Most Useful Apps for Students
Also, you can check out the Apple Store website regularly to see if they have any deals going on in person or online (they may also offer financing options). You can also follow them on social media channels like Twitter and Facebook for updates about sales events throughout the year.
The best way to get a MacBook on sale is to shop around for deals from multiple retailers like Amazon or Walmart.
Here are our top tips on how to get the best deal when buying your next apple laptop:
Wait until the end of the year.
Student discount
Buy a refurbished unit.
Consider Government Surplus.
Look On eBay.
Master the art of negotiations.
Check Craigslist and Facebook Marketplace.
Buy last-gen
Skip AppleCare
Don't upgrade RAM or storage
Check Apple's clearance section.
Go for the 13-inch option.
If you're trying to figure out how to get macbook for cheap, then don't worry: we've got some great tips that will help you find an affordable option.
Let's jump right into it!
1. Buy a Base model MacBook
You don't need to buy the most expensive MacBook to get your work done. The base model is more than powerful enough for just about everyone's needs, unless you're doing video editing or gaming. And if you're only using it for web browsing and word processing, you probably don't even need the newest model. You can save money by purchasing a used MacBook or an older model, and then put those savings toward upgrading other components—like the RAM, storage, and accessories—to get the best of both worlds.
If you decide to upgrade your storage or RAM yourself at any point, keep in mind that Apple uses specialized parts that are soldered onto the motherboard. This means that when you buy from Apple, you can't upgrade your MacBook later on if you change your mind and want more storage or extra RAM. If you choose to purchase from a third-party seller and decide to upgrade later on, be very careful about which parts you use—some aftermarket parts will void your warranty.
When buying a new Macbook Pro or Air, check Apple's clearance section first. They sell previous generation models at reduced prices there.
➡ Best Writing Software for Mac
2. Wait until the end of the year.
If there's one thing we know about Apple, it's that the company loves to revamp its hardware. So, chances are if you wait a little while, newer models will come out and their older counterparts will be discounted. The best time to scope out your options is around the end of the summer, when back-to-school deals are everywhere and you can still enjoy some good weather with your new laptop.
Apple often updates its products at the end of October, and it usually sells last-gen equipment at a discount. So if you want to buy an older model for cheap, consider waiting until November or December when Apple is ready to sell the current-gen models at full price.
➡ Best Plagiarism checker for Students
3. Student discount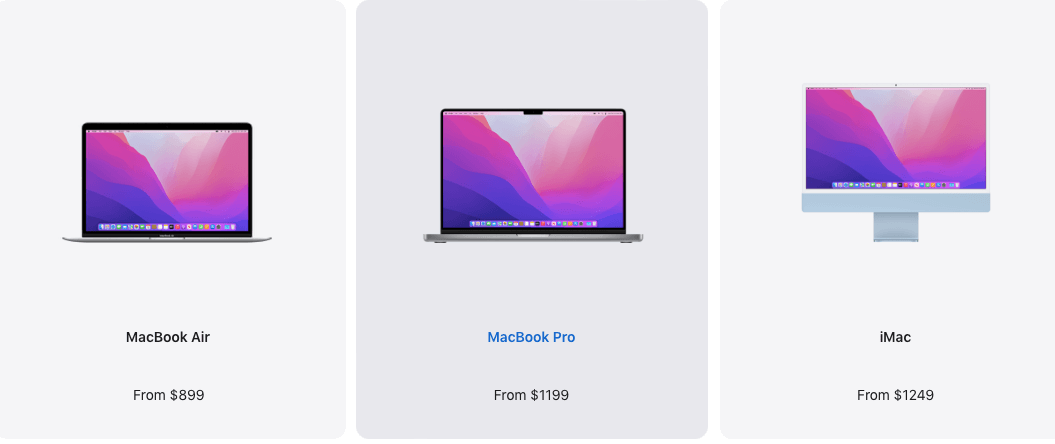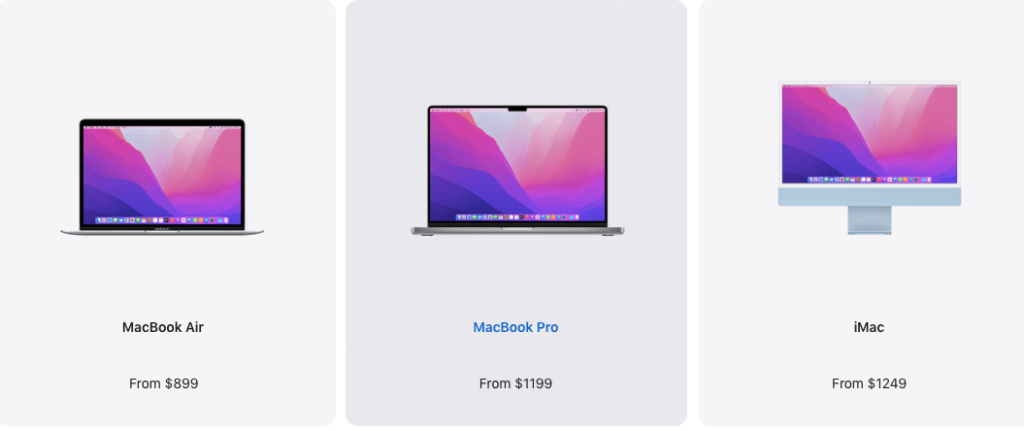 This one is pretty obvious, but if you're a student or faculty member, you can get an educational discount on just about every Mac product! Just head to the Apple website and verify your status through UNiDAYS or other methods.
If you're buying a Macbook for yourself or your child who is going off to college in the fall, definitely take advantage of Apple's student discount program. Students can save up to $200 off on select models if they qualify. It's also worth taking advantage of your school's Bookstore program if they offer deals on Macbooks specifically for students attending that specific institution.
4. Buy a refurbished unit.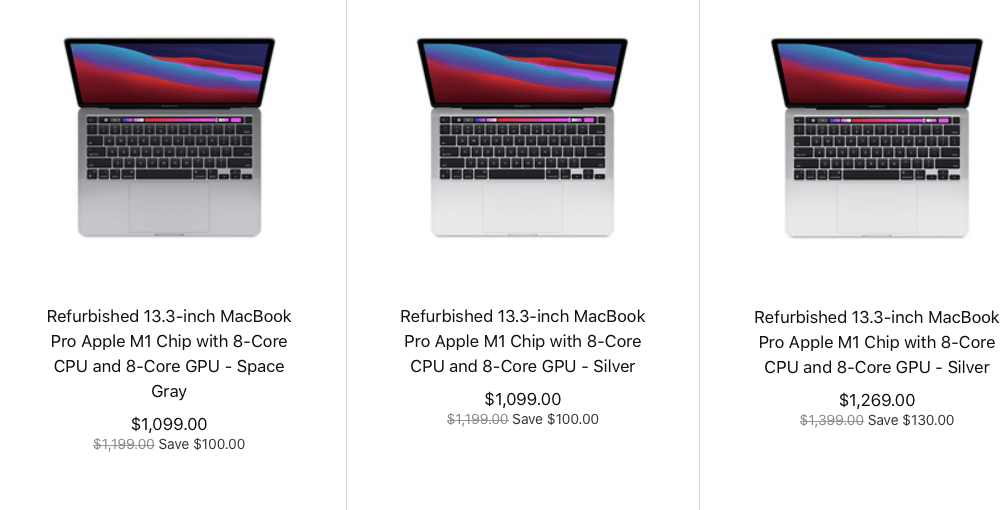 You can usually find refurbished or open-box units at Best Buy or Amazon—but in case you didn't know, Apple offers refurbished units online as well, which are guaranteed by the company and comes with a 1-year warranty. Not only that, but they typically save you up to 15% off of retail price.
Refurbished units come with the same one-year warranty that new Macs have, and they undergo Apple's quality testing before they reach customers. Refurbished units often sell out fast, so check back periodically if nothing is available right now.
If you're willing to buy a used MacBook, consider buying one that's been refurbished by Apple itself. Refurbished products are returned items that have been inspected and repaired by the manufacturer before being resold at a significant discount. If you're worried about buying a second-hand product, refurbished is the next best thing to buying brand new because it's been inspected by a professional.
➡ How to change safari background on Mac, MacBook Air / Pro
5. Consider Government Surplus
Like eBay, this option can be hit or miss because you won't know exactly what you're going to get until it arrives. But if you're patient enough and willing to gamble a bit, you could score a MacBook for much less than retail price. Just make sure it isn't stolen! If the government got it from its original owner, then it should be legit (and likely in good condition).
If you head over to Govdeals.com, you'll be able to bid in online auctions for surplus items owned by the government (and other organizations). They've got everything from office equipment to heavy machinery and vehicles — including laptops. We've seen some previous models of MacBooks go for as low as $100 there, so it's worth keeping an eye out if you spot one that takes your fancy.
➡ How To Take a Screenshot on a Mac
6. Look On eBay.
eBay is usually one of the first places people turn when they're looking for second-hand laptops and computer parts at cheaper prices than retail.
The first place to start is eBay. People often sell their brand-new, sealed Macbooks on eBay because they got the wrong model or decided not to buy it at all. If you see someone selling a legitimate deal like this, snatch it up! You can also bid on older models with some wear and tear on them if that's more your style. Either way, you can usually find a significant discount on new or used devices here.
Oftentimes people list their used Macbooks at a price lower than what they'd get at the Apple Store because they want to get rid of it fast. If you're buying a used Macbook, make sure it comes with all the original packaging and accessories. And if possible, meet the buyer in person as well as test out the computer before purchasing so that you know what you're getting into.
Obviously, don't go for any machine that shows signs of abuse (such as cracked screens or missing keys). But beyond that, try not to worry too much about cosmetic blemishes.
➡ Protect and Check Your Mac for Viruses and Malware
7. Master the art of negotiations.
If you plan to go the used route, you should have your negotiation skills honed before making any purchases. Most of the time, there will be room to negotiate with sellers. Just be sure to do your homework before going in so that you know how much their item is worth and what price would work for you—and don't get pressured into paying more than what you're comfortable shelling out for!
8. Check Craigslist and Facebook Marketplace.
You can often find good deals on second-hand MacBooks. They might be a little beat up, but if you keep an eye out for newer models that have been properly taken care of, you'll save a bundle!
Craigslist and Facebook Marketplace are both great places to go if you're in the market for a used Apple laptop. While there are some risks involved with buying online, you can also score a great deal on an older model that is still being sold at retail price by Apple (or maybe even a newer model).
9. Buy last-gen.
It's a little known fact that the newest version of any Apple product is rarely better than the previous generation. The older versions usually have the same specs, with maybe just one or two minor upgrades (that are not worth the big price difference). Go for the older model to save yourself some money!
The older generation of laptops is usually a safe bet when it comes to finding a computer at a good price. The new models will have all of the newest bells and whistles, but if all you need is something to surf the internet and check your emails, then buying something a little bit older will save you the extra money that you don't really need to spend.
Though there are always new models coming out with better features and more power than the last, sometimes it's better to just buy what you need rather than spending extra money on something that won't really make any difference in your everyday life. If all you're looking for is an affordable laptop to surf the internet on, then buying a last-gen Macbook might be right up your alley.
10. Skip AppleCare.
AppleCare is basically just extended warranty coverage for your new Macbook. And there's nothing wrong with getting it if you want to be really safe, but there are other options out there that can cost less than half as much as AppleCare and cover way more issues and accidents than Apple's plan does. For example, SquareTrade offers 3 years of coverage at $79 (compared to 3 years of AppleCare at $249). You do the math!
AppleCare+ adds an additional year of warranty coverage on top of the standard one-year limited warranty for Macs. While it can seem like a good idea, it also adds another $99 to $349 to your purchase price. Instead of spending more money for extended warranty coverage, buy AppleCare+ only if the laptop you're getting is used or you know that it has a history of hardware trouble.
If you're looking to save some money on a new MacBook, here are some tips I recommend:
11. Don't upgrade RAM or storage.
By default, you can buy a MacBook with 8GB of RAM and a 256GB SSD drive. Most users should be fine with this configuration, especially if you supplement it with an external hard drive. Upgrading the RAM and storage will cost a premium, so these are two options that should be avoided if your budget is tight.
12. Check Apple's clearance section.
While there may not be anything that matches your ideal specifications, the clearance section is worth checking out. You will only find Macs that have been discontinued, but some deals are worth jumping on. For example, at the time of writing this post, there was a 13-inch MacBook Pro for $1,100—a savings of $200 compared to buying it new from Apple.
13. Go for the 13-inch option
The 13in MacBook Pro is more expensive than the smaller MacBook Air, but it's still quite affordable compared to the 16in model and comes with many of the same features. The entry-level 13in MacBook Pro costs £1,749/$1,799 – that's just £50/$100 more than the cheapest MacBook
Wrapping Up
The process of getting a cheap MacBook isn't exactly easy, but it's possible if you look in the right places and exercise patience. You will want to make sure that the retailer is reputable, is authorized by Apple to sell their products, and that they offer a warranty or return policy. Be careful when ordering online and always take the time to read reviews before making your purchase. Purchasing used or refurbished can be risky as well if you don't know how well the product was taken care of, so try to order from someone who gives a detailed description of what they're selling.
Overall, it's good to look around for deals if you're interested in buying a MacBook. You can always choose to buy new if the price is right, and even if you don't find any deals going on you may be able to save some money on repairs or accessories.