Life is Strange: True Colors is hands down the best game in the series, and not just because of its new developer. It's also better than its predecessors because it addresses many of their consistent flaws.
This new episode furthers a compelling mystery story with good pacing, useful supernatural abilities, and dialogue choices that offer more depth and complexity with big and small decisions that impact the story in meaningful ways throughout the course of five chapters.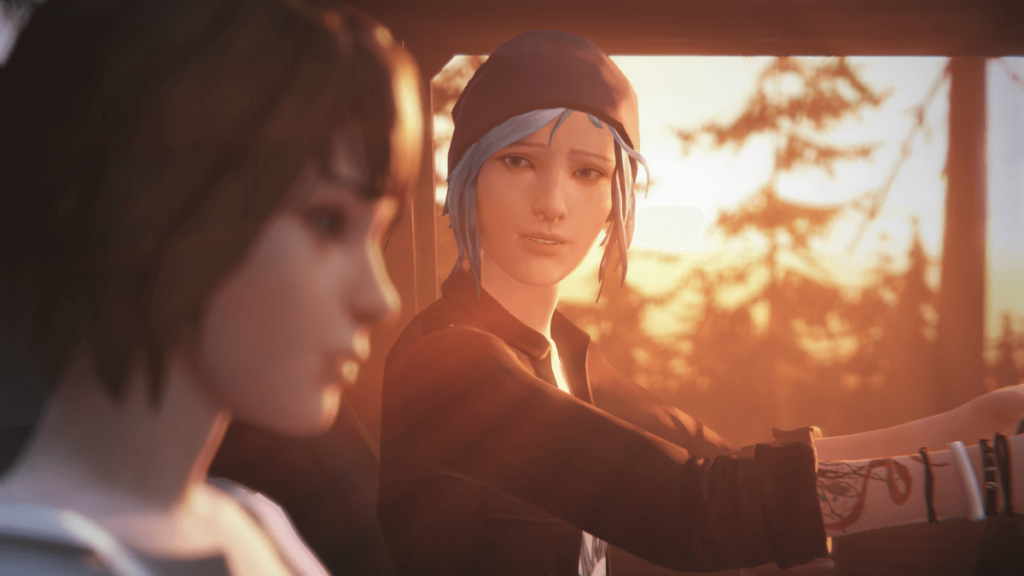 Life is Strange: True Colors is the fifth instalment in the franchise, developed by Deck Nine Games and published by Square Enix.
The game follows Alex Chen, a woman who struggles to cope with her supernatural powers that allow her to absorb people's emotions as well as reveal their deepest secrets.
After she receives news of her brother's apparent death, Alex moves to Haven Springs, Colorado and reunites with old friends she hasn't seen in years.
At its core, LIS: TC is a narrative-driven adventure game and plays similarly to other games in the franchise.
One of the main key features from all the previous games was rewinding time and making different decisions to change outcomes.
However this feature is not available in True Colors; instead there are powers that replace it.
There is one big choice at the end of every episode.
These choices are clearly marked as "key choices" which makes them stand out and they have a huge impact on the game's ending.
Throughout the episodes you can have conversations with different characters by picking specific dialogue options.
Life is Strange: True Colors tells a gripping story about the power of bonds, both good and bad. Alex's ability to empathize with others runs at the core of her journey, and she is a worthy addition to the Life is Strange family.
The drama intensifies when Alex's brother dies in an apparent suicide, prompting her to travel to Haven Springs to learn more about his death. But Haven Springs has secrets of its own, and Alex begins unraveling the mysteries of the town while finding herself in danger.
The narrative veers into typical supernatural territory at times, but it largely sticks with its themes of tragedy, loss and abuse.
One of Life is Strange: True Colors' best features is how it handles dialogue choices through multiple playthroughs.
Each character has different reactions based on your dialogue choices and whether or not you've previously helped them with their problems in previous playthroughs. While this isn't necessarily novel for a choice-based game like Life is Strange: True Colors, it creates a rewarding experience that leaves players feeling like they're helping the people around them.
Even without powers, Alex can still have real impact on people's lives by listening to their problems and offering help whenever possible.
Storyline
The story is set in Arcadia Bay three years after the events of Season 1. You play as a high school senior named Sean Diaz who is attempting to find his missing younger sister, Alex, and begins to discover strange things are happening with Rachel Amber, the girl who disappeared almost two years prior.
There are two primary choices at the beginning of the episode: You can be nice to your new stepfather Mark Jefferson or not be nice.
This choice does not change how you play out much of the game but it does have a profound effect when you finally meet Jefferson about an hour in, which sets up the character arc for Sean throughout the rest of the season.
➡ Sid Meier's Civilization VI Review
At least one side character in each chapter has a subplot that usually embraces identity issues and asks you if their life is better because they left their old identity behind or if they should "come out" as this new person they have created for themselves.
Gameplay
Alex Chen is a young woman trying to find her footing in the world. She's just lost her brother in a tragic accident, and now she has to move back to Haven Springs, where she grew up.
The town is full of memories, good and bad, and there is a mystery to be solved. Can Alex uncover the truth surrounding her brother's death? And what will it mean for her future?
Life is Strange: True Colors' story feels like a culmination of all that has come before in the series. It takes the supernatural elements of Before the Storm, the small town setting of Life is Strange, and the heavy themes of Life is Strange 2 and combines them into one cohesive story that examines grief and loss from a number of angles.
Our protagonist Alex Chen has a unique ability that allows her to see people's emotions as colors. She can also absorb them if she chooses, which lets her take on someone else's pain or sorrow.
This power becomes central to True Colors' narrative as Alex tries to figure out what happened to her brother while struggling with some of her own demons.
➡ Best big and tall gaming chair
Aside from the story and mechanics, gameplay is pretty much the same as in previous episodes of Life is Strange. It is definitely not a bad thing. Dontnod Entertainment stayed true to their brand and produced another fantastic addition to the Life is Strange series. I'm sure there are still plenty of surprises waiting for us in the future. In the meantime, excited fans will be happy to know that they can play True Colors immediately after completing Polarized. And everybody should be looking forward to new episodes of this emotional saga!
Life is Strange: Before the Storm is a mature look at teenage life and its ups and downs. The way the characters interact with each other – from dialogue to facial expressions to body language – is believable, and you find yourself truly concerned for their well-being.
What's more, each of these authors brought something unique and unexpected that makes you fall in love with this universe a little bit more.
 The character models themselves are great, as well, being very detailed and expressive, although the actual lip sync with voices tends to be off occasionally, which can take you out of the experience when it appears.
This can be adjusted by turning off subtitles in the options menu and playing without sound, but this might not appeal to everyone.
In general, though, Life is Strange: Before the Storm looks great – be it through environments or smooth animations – but there are still some stutters every now and then (particularly when zooming in during conversations), making True Colors run worse than its prequel did despite using the same engine.
Haven Springs is, by almost any measure, the best setting one can expect in the Life is Strange franchise. It's quaint, charming, and full of character in a way that legitimately feels reminiscent of small town Americana, complete with its warts and knots.
➡ Best office Chair for Gaming
To see the entirety of this comforting environment, however, one needs to either choose the "Help Somebody" or "Max Must Go to Prom" decision at the end of episode 2.
These decisions essentially serve as a "true ending" of sorts for the game; after all is said and done the player will be presented with a considerably longer credits sequence that adds closure to characters and themes around racism.
Everything feels natural. Even if you choose to completely ignore the clickable and side content, you could still easily play through the campaign in a weekend because, aside from one out-of-place mini-game, there's not much to distract you from the plot other than standard dialogue choices.
True Colors takes all the elements of its predecessors and puts them together in a well-written adventure game. One that's able to convey emotions with varying nuance and depth. After the ending of Before the Storm, I never thought they'd be able to pull off a game as good as the original Life is Strange.
The first game's story and characters were so impressive, it was hard to see how Deck Nine could top themselves. Yet they've managed to deliver an entertaining game in partnership with Square Enix that can stand up alongside its predecessor.
My favorite aspect of Life is Strange is getting to know the residents of my town. Don't get me wrong, the gameplay and graphics are excellent as well as all of the technical aspects, but the characterization is what makes this game stand out from other visual novels.
While they aren't all memorable, I found it cool to be able to read up on the various people who live in this small town and search for their profile in your phone (if you choose to save them) when you don't have anything else going on. Some profiles are a bit cliché – for example, the jock, stoner skateboarder, or hippie girl – but that's part of its charm.
I hope that in future installments in the series we will learn more about these other characters and maybe get some more extended dialogue choices if we decide not to write about them for our class project. If you like visual novels or anything similar, such as Danganronpa, then please check out Life Is Strange. It was well-made, interesting and fun to play with some good character development!
Life is Strange: True Colors explores the origins of several key relationships in Arcadia Bay before combining those foundations into one gripping, emotional tale. It's not just a matter of finding interesting ways to tell the story – there are numerous memorable characters and moments that make this more than just "more Life is Strange."
➡ Best Gaming Chair Under $200
Throughout its three hours, you'll creep closer and closer to revelations about the birth of a friendship and a romance, only for everything to fall apart in a heartbreaking finale that changes how you feel about everyone involved.
The amazing soundtrack also helps to convey the story's themes, which can be equally hard-hitting as they are uplifting. As long as Dontnod continues the series with more stories like this one, I will continue playing them for years to come.
Deck Nine continues their strong performance from the first episode with a more streamlined storyline, more mystery and intrigue, and a few surprises.
Another great addition to the game is that many characters have true motivations compared to previous games where it seemed like the main cast spent most of their time lying to each other over various issues.
➡ Response time vs Refresh rate?
The only downside is that it's a very linear plot spread out over several months, with little to no choice on dates or locations, which isn't unexpected but something about the pacing makes me feel like I could play as if I were dictating her move on Alex's behalf as opposed to playing as a part of it. Regardless, Life is Strange: True Colors is another strong entry into this series and one that fans will enjoy just like any other entry.
The Verdict
Life is Strange: True Colors is a great conclusion to the story of Max Caulfield and Chloe Price. The emotional finale packs an emotional punch after spending five episodes with these characters, and the mysteries surrounding Rachel Amber finally come to light.
With this game, Deck Nine has cemented the Life is Strange name as one that doesn't have to rely on its popular predecessor, but rather lives up to the same promise of being able to immerse players into its world of Arcadia Bay.
All-in-all, Life is Strange: True Colors was a fun and enjoyable game. It offered an intriguing story with fantastic characters in a beautiful world with a mystery that resonated well with me.
While I would've liked to see it last for more than two episodes, I actually welcome Deck Nine's decision to split the game into smaller chunks because of how much weight each one carries. If you are looking for an engaging story with tough decisions, true colors is a fun game that you should definitely check out.
Life is Strange Game Review
Gameplay

Storyline

Graphics

Characters
Summary
All in all, I would gladly recommend Life is Strange: True Colors to anyone and that is why it receives my Gold Award. However, I would still encourage you to try the original first before going into this game as it can be played without having ever touched the original game. I hope Deck Nine are able to keep up the good work with this series and continue to impress, as they have done so far.