When it comes to diets and exercise, people are often left guessing – not only what they should be eating, but how many calories they should be eating. And outside of a general idea of calorie intake, few people are aware of the types of foods that they should be eating and limiting in their diet. Today, I'm going to be reviewing MyFitnessPal's Calorie Counter & Diet Tracker app.
MyFitnessPal has been around for a very long time, and it's still one of the best tools on the market for tracking your calorie intake.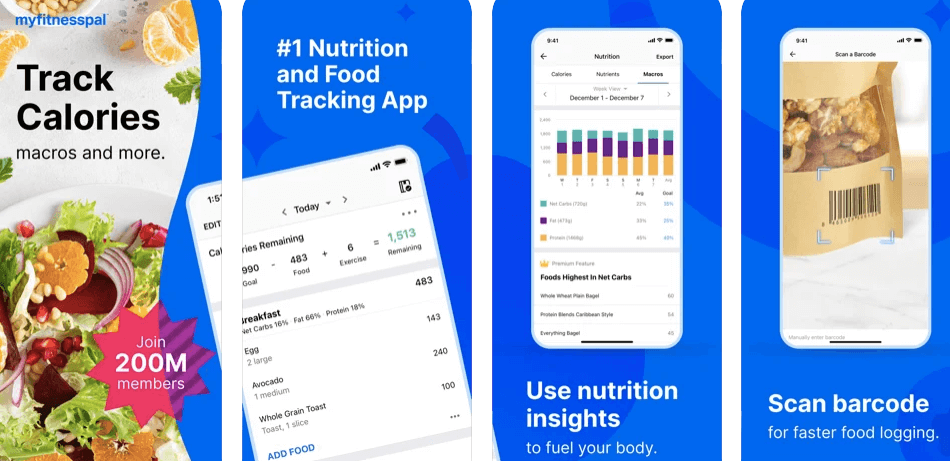 ➡ Best Free Calorie counter app
Millions of people use this app every day (including me, and I wrote this review), so you know it has to have something good going for it, right? This is my honest MyFitnessPal Review and Calorie Counter Guide, which includes everything about this nutrition app that you need to know.
We're all trying to live a healthier lifestyle. Choosing to flip-the-switch from a fast-paced, unhealthy lifestyle to an active, fit lifestyle is the most important step of all. You can wear your "fitness trackers" 24/7 and count your steps, but if you aren't tracking what you eat you are cheating yourself out of true progress. You can also check this must have free food tracker app.
Good sleep is just as important as a healthy diet in keeping your body and mind happy and healthy. The My Fitness Pal app will help you manage calories and Sleep apps will help your sleep hygiene so you can rest better, wake up refreshed, and get ready to take on the day ahead of you.
Now, I know that I personally need to start counting my calories , and more importantly exercising my body more frequently. What does everyone else need? That's where MyFitnessPal comes in.
I've been using MyFitnessPal for about five months. In this article, I'll share my experience with one of the more popular free calorie counter and diet trackers.
Lose Weight with MyFitnessPal
If you're looking for the tools to successfully take weight off, look no further than MyFitnessPal. After signing up for a free membership, you'll be able to log your food and see how many calories you've eaten for the day. If tracking food has ever been too complicated for you, MyFitnessPal makes it easy with their straightforward and convenient shopping list function.
MyFitnessPal makes losing weight easy. Their goal is to help you lose weight fast, track food calories and improve your health. With free membership, you get 24/7 account access, custom goal setting, progress tracking, a billion-food database, and expert support to reach your goals. They even provide healthy recipes and a weekly newsletter tailored to your success.
Most diet programs will set you up with an eating plan, a workout plan, and a bunch of other options, only to leave you confused about what works best for you. MyFitnessPal helps solve this problem by offering daily tools and various ways to keep track of your points, your goals and yourself.
➡ Best Weight Loss App for iPhone
So how do you keep a food diary in today's world of apps and technology? How do you make it easy to create a food journal when you're on the run? MyFitnessPal makes it easy to track what you eat, how much, and how active (or sedentary) you are throughout the day.
It takes just moments to enter information into the app, and your data is presented in an easily readable format. Use this guide to get started with MyFitnessPal to help you set and achieve your weight loss goals.
MyFitnessPal is one of the most popular calorie counting apps on the market. Is this app worth your time and effort? In this MyFitnessPal review, you'll learn what it takes to succeed and keep progressing on your weight loss goals.
This MyFitnessPal review begins with a brief explanation of what MyFitnessPal is. This is followed by the most important features of this app that are supposed to make it more user friendly than an ordinary calorie counter.
Thereafter, MyFitnessPal app and website are reviewed in separate sections comparing it to other similar websites and apps. Finally, the last section highlights the concluding remarks for this MyFitnessPal review.
MyFitnessPal is a powerful app to help you keep track of your food intake, exercise, and health. You can view your progress visually, get reminders when it's time to eat again, and create custom workout routines to track.
They have a large database with foods from your favorite restaurants as well as user-submitted photos of meals. The website also has a large database of exercises you can do for both the upper and lower body, which is especially helpful for quick tutorials on the basics.
MyFitnessPal is a free app and website that makes calorie counting incredibly easy. The app has an enormous database of more than 6 million foods and dishes, so no matter what you eat, it's easy to find the entry for it. You can also enter your own recipes and calculate their nutritional information based on the ingredients used.
The app works with many mobile devices, including Android and iPhone smartphones and the Apple Watch. The MyFitnessPal website also works with tablets, including iPads. There is also a Windows Phone app, but it is not as fully featured as the other versions.
The database includes calories, carbs, protein and fat for each food item, along with additional nutritional information for fiber, sodium, cholesterol and sugars. It also includes tracking for vitamins A and C, calcium and iron. Specific nutrients can be hidden from view if they aren't relevant to your diet.
Users can set themselves specific goals based on weight loss or maintenance (or gain), caloric intake and exercise undertaken. Goals are set on a daily basis for each nutrient tracked in the database.
The app collects data from a variety of different sources to provide users with a comprehensive picture of their health and fitness progress over time, providing overall calorie burn estimates based on the user's weight.
MyFitnessPal is a very strong choice for those who want to track their food intake and manage their weight.
It has the largest food database, which makes it easy to get an accurate calorie count of what you are eating each day.
It can sync with other apps and devices, including fitness trackers and smart scales.
If you have a smartphone, you're likely to be able to make good use of this app's many features.
MyFitnessPal's food database is one of its major strengths.
In addition to the more than 3 million foods in the database, it also includes more than 350 exercises.
The app has a huge community of users that add foods and exercises on a regular basis.
You can scan bar codes or search for your food by name or category.
The app is designed around a comprehensive food diaries so you can keep track of everything you're eating.
A recipe input functionality will help you save time and energy when regularly eating the same foods.
Sharing your progress with your friends on Facebook and Twitter once you configure it to work with them, is a great booster for your motivation.
MyFitnessPal is excellent for diet tracking and calorie counting.
With its huge database of foods, MyFitnessPal is the best calorie-counting app on the market. You'll find nearly every food you can imagine. The app's barcode scanner also lets you quickly add items you didn't search for manually to your food log.
You can set your own weight goal, including a target date for reaching it, and MyFitnessPal adjusts the recommended calorie intake for each day. Adjustments account for whether you've been meeting your goals or not.
MyFitnessPal provides an estimate of how many calories you've burned based on your age, height, weight, and activity level.
It's like having a dietitian, trainer & coach at your fingertips
Set Goals – Customize your personal weight, nutrition & fitness goals.
Track Progress – See progress at a glance, or analyze your nutrition in detail.
Learn From Experts – Hit your goals faster with daily coaching from Meal & Workout Plans.
Connect With Community – Find friends, motivation, and support in our active forums.
It's a totally free tool to help you reach your health goals.
It's free to use, and on its website, MyFitnessPal claims that 80 percent of its users lose weight when they track everything they eat. That's pretty impressive, but then again, it's not surprising—if you're more aware of your food intake, it makes sense that you'd make healthier choices.
As such, MyFitnessPal is best for people who are already health-conscious and know how many calories they should consume in a day to manage their weight. You don't need to be a fitness buff or nutritionist; all you need is the goal of losing weight and the determination to stick with a plan.
Helps in Losing Weight
There are plenty of apps that help you keep track of your calories, but MyFitnessPal is the best in terms of ease-of-use and robustness. It's easy to log your food and activities, and the app provides a wealth of nutritional information. You can use MyFitnessPal on the web or with an iPhone, iPad, or Android device. The mobile apps have all the features of the website.
MyFitnessPal has more than 5 million foods in its database, which is larger than any other calorie tracker I've seen. Most of these foods were entered by users who found them at restaurants or grocery stores, or those who logged their own recipes. This makes MyFitnessPal particularly useful for tracking meals at restaurants.
It also has tons of brand-name products in its database; I didn't find any foods at fast food chains that weren't there, though you do have to enter information like size and number of servings yourself.
You can edit any food in the database to add your own nutritional information if you know it's not correct. You're also able to add new foods manually or by scanning barcodes if you can't find them in the database.
MyFitnessPal Price: Free vs Premium
MyFitnessPal is a free fitness and weight loss app that has a strong reputation for helping people achieve their goals. It's based on the concept of calorie counting, which has been a tried-and-true method for weight loss since at least the 1960s.
There are many other ways to lose weight, but one advantage of MyFitnessPal is that it can work with any diet plan. It's also extremely easy to use, which means you're more likely to stick with it.
MyFitnessPal's effectiveness as a tool comes down to how well you use it. The app provides helpful guidance and suggestions, plus integration with many other popular apps and services, but your success depends on you.
If you want to lose weight, track calories or get healthier in general, MyFitnessPal should be part of your tool kit.
MyFitnessPal has a free tier of service, plus a Premium membership. Premium costs $9.99 per month or $49.99 per year.
With Premium, you get more in-depth analysis tools that help you achieve specific goals. For example, if you want to build muscle mass or lose fat along with weight instead of just losing weight indiscriminately by cutting calories and exercise more (which is how most people think about dieting).
MyFitnessPal has a free tier of service, plus a Premium membership. If you're trying to lose weight, then getting premium is going to be one of the best decisions you make for yourself. When trying to lose weight, it's important that you have an accurate and realistic idea of how many carbs, fats, and proteins you consume on a daily basis.
The free version of MyFitnessPal is most useful for people who already know what they're doing and just didn't have a tool to help them track food.
MyFitnessPal Premium takes all of the features from MyFitnessPal and adds more. It gives you macronutrient and other nutritional information, such as carbohydrates and fiber. It also lets you set different calorie intake goals based on the day of the week.
With a Premium account, you can export entire CSV files featuring your eating and exercise habits to a computer program or spreadsheet. You also get videos, workout examples and other motivating content to help you stay on track towards your goals.
With a premium membership, you'll get access to nutritional and activity tracking tools and further customization options.
For example, you can choose to keep your calorie goal fixed despite how many calories you burn during activity, set different goals based on the day of the week, customize your meal targets based on the day of the week and track what time you eat each item for each meal of the day. This app also integrates with more than 50 Fitbit devices, Jawbone Up, Microsoft Healthvault and Google Fit.
Getting Started With MyFitnessPal
Getting started with MyFitnessPal is relatively easy. You enter your details, and it asks you questions about your diet, exercise, and daily routine to give you a good idea of what you should eat and how you should exercise to lose weight.
The app is intuitive and easy to get started with. Before it will allow you to add any food, however, you must enter important data, from your age and weight to whether you're generally active or sedentary.
MyFitnessPal will also ask if you're male or female, but it already knows that from your gender settings on Facebook. It does all this in one screen so users aren't bombarded, but all the conditions have to be met before it allows you to add food to your profile.
MyFitnessPal calculates how many calories you should eat each day to lose weight and then tells you your daily calorie budget. You can input your height, weight, age, and activity level (sedentary, somewhat active, or very active) to get a more personalized number.
When you sign up for a free account, MyFitnessPal estimates how many calories you should be eating each day to maintain your current weight. You also enter an activity level (sedentary, lightly active, moderately active or very active), as well as your sex and age. It then suggests a calorie goal based on those factors.
The free version of the app lets you add a food item and record its calories—along with the form of physical activity you completed. It also provides detailed data about the types of foods you've been eating, along with suggestions for healthier alternatives.
MyFitnessPal's exercise component is intuitive and easy to understand, but with enough options to please athletes and casual exercisers alike. The food-tracking component is equally useful, especially for someone who is counting calories for the first time. The app will help you learn how to count calories, which charts your progress against daily and weekly goals set by you.
MyFitnessPal has more than two million food items in its database. You can scan barcodes on packages at the grocery store to add them to your calorie and nutrition counts, or you can search the food by name.
For example, type in "whole wheat bread" and the name of the bread will appear along with the nutritional information. If you hit "estimate," MyFitnessPal will tell you how a certain amount of that food fits into your daily calorie goal, but it does not include recipes for any dishes.
MyFitnessPal is a free app that food and exercise enthusiasts will find very useful. Not only is it extremely helpful in record keeping, it lists recommended foods and exercises to accomplish your weight-loss goals.
It also gives you a variety of ways to track your progress, from text and photo logs to bar codes on packages of food items. Best of all, the programs in this app work. Its two-week diet plan had members lose an average of five pounds (though some lost more than 20), and keeping a daily food log yields even better results.
How Does MyFitnessPal Work?
It's pretty simple, actually. Like I said, you log everything you eat and drink, every day. Over time, you provide an incredible amount of data — but that's the good news!
When you're ready to log your food, MyFitnessPal has a full-screen food search interface that makes it easy to locate just what you want.
Once found, adding the food is simple enough. Here in fact, you can give the food you've chosen almost any name you want, and the app will do an exact match and pick up the item. However, there is room beneath the search box to type in any synonym to the term you searched.
The first thing MyFitnessPal asks you to do is enter your current weight and your desired weight, as well as your height, age, and gender. Based on the number you enter, MyFitnessPal guesses how many calories your body burns on a typical day with no additional exercise.
Next, you tell MyFitnessPal whether you're trying to lose, maintain, or gain weight, and the app asks how aggressively you want to pursue your goal. You can gain up to one pound per week, or lose up to two pounds per week, but that's the maximum. You then get a recommended daily calorie goal.
You use MyFitnessPal to record everything you eat and drink each day. When you enter your food, you can adjust the portion size to a fine degree. If you only put one-third of a banana on your plate, it's simple enough to record that.
You can also adjust the serving size to begin with, so half of a large banana doesn't count the same as half a small one. Often, you can choose grams, cups, ounces. MyFitnessPal makes it easy to find the right measurement estimations for you.
The logbook is the cornerstone of MyFitnessPal. As mentioned, it includes both manual and automatic logging.
Users can manually log each food item, along with any activities. Automatic logging also allows you to connect to other apps and devices. If you want to, you can choose just one method or opt for the best of both worlds by choosing your primary method (e.g., manual logging) and setting up automatic tracking for linked accounts that are not supported.
How Much Does MyFitnessPal Cost?
MyFitnessPal also offers a free premium version, which provides more detailed information and more instructional help than the basic free version. You can choose from monthly and annual premium subscriptions.
The basic MyFitnessPal app is free. This option does not include ads or premium features, but it does allow access to the same list of foods and exercises as the premium version. If you want to unlock premium features and eliminate ads, you can choose a monthly subscription for $9.99 or an annual subscription for $49.99 (about $4 per month).
MyFitnessPal is an Excellent Calorie counting and weight loss app
Most of us are aware that we need to eat less and exercise more, but it can be hard for the "I don't have time" or "I just don't have the motivation" excuses to truly go away. When you use MyFitnessPal and its weight loss tracking tools, however, they can go away forever. It doesn't lead a structured program, so it's up to you to set your goals and strive towards them, but the app will provide all the tools you need.
There is no better calorie counting app on the market today.
Free version includes an excellent food database, accurate data entry controls (including barcode scanner), and all the features you'd expect from a pricier app. Premium members get even more useful nutrition charts. Consider upgrading if you need support from a dietitian who is already familiar with MyFitnessPal.
Overall, it's safe to say that MyFitnessPal Premium is a great choice for anyone looking for a calorie-counting app. Its shining feature is the large database of food information and its compatibility with most devices and activity trackers. Its tracking features do require some extra work, but you get more detailed nutrition information than you'd get from other apps.
How it Works?
The way MyFitnessPal works is simple. MyFitnessPal is a free website and mobile app that uses the latest in advanced scientific computing to give you the most accurate calorie counting system available.
Using your age, current weight, height and gender, along with your physical activity level and total calories out from other factors, it can help you find how many calories your body needs each day to reach a healthy weight.
Track calories, carbs, fat, protein and other nutrients for over 300,000,000 foods. Find the perfect amount of calories for your diet with simple tools like: a food diary to keep track of your calories and macros; a diet analysis to see how your diet is working out; an exercise log to see how many calories you burned while exercising; and a barcode scanner to get nutritional information easily.
You can also track your walk and track steps to lose weight. Daily Cycling and tracking steps using pedometer apps also are aa good addition to your food tracking routine.
➡ Best running app for Apple Watch
The app has a powerful barcode scanner that allows you to automatically record the nutritional information of any product with just a few clicks. It can instantly identify packaged items and generate accurate data, making it easy for you to keep your calorie count up-to-date and do away with tedious manual data input.
Conclusion
Along with an easy-to-use dashboard and barcode scanner, you'll benefit from a full complement of diet and fitness tools at your disposal. From exercise and calorie calculators to weight loss and body fat goals, the realistic and user-friendly tools will help you set the course for weight loss success — before, during, and after your program. Best of all, MyFitnessPal caters to all fitness levels and abilities, making fitness simple for everyone.
When it comes time to lose weight or manage your weight, you need to keep track of what you eat and how active you are. But recording everything you eat without the right tools can be tedious at best, or simply impossible at worst.
MyFitnessPal makes tracking your food and activity effortless. With a free membership you can record all the foods you eat, count calories burned during workouts, and log your progress as you work toward your goal weight.
You can also share your meals with friends and get support from other members of your team. MyFitnessPal is the world's leading digital health platform that offers the right tools to help you easily manage your diet, exercise, and overall health.
Sign up for free and get instant access to a powerful web and mobile app that can help you lose weight, track your food and exercise, track your nutritional intake, count calories, and more.
MyFitnessPal Calorie Counter & Diet Tracker Review
Summary
MyFitnessPal provides the tools to lose weight, including tracking your food and exercise with a calorie counter, restaurant calorie counter, and online tools to view your progress. It is easy to use apps that allow you to quickly log your food, scan barcodes of packaged foods, and connect your fitness device wirelessly.