BetterMe is a fitness, diet and calorie tracking app that helps users keep track of their progress towards achieving health goals.
The app offers a variety of workouts to help users burn calories and lose weight. Users can also track the amount of calories they are consuming on a daily basis by logging food items into the app.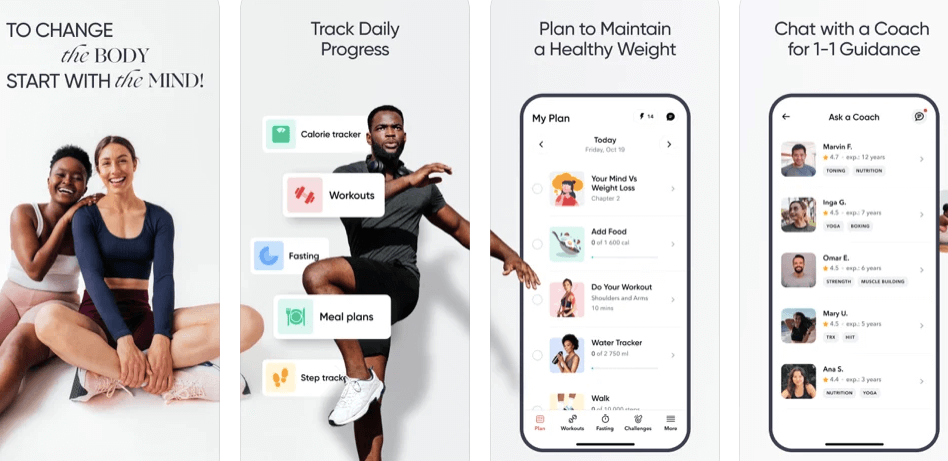 As the title suggests, BetterMe is an app that helps users better themselves through the use of diet and workout programs. The app also has a journal, which allows users to keep track of their progress and stay motivated along the way.
This BetterMe review will explore the app's pros, cons, pricing plan and other features to help you decide whether it is worth buying.
The best thing about BetterMe is its personalization feature. The app asks users to fill out a questionnaire in order to determine their fitness goals and any health problems (e.g. joint issues) that may affect their workout program.
BetterMe then automatically creates a personalized diet and workout plan for each user. This eliminates the need for users to do their own research on what exercises they can or cannot do based on their body type and current health condition.
➡ Best Free Calorie counter app 
BetterMe is a user-friendly mobile application that helps you achieve your weight loss goals. The app offers target-oriented programs and meal planners. In this article, we will take a look at the effectiveness of the calorie calculator and workout plans offered by BetterMe.
Another aspect that makes BetterMe stand out from other fitness apps is its free demo. Users have access to the app's demo version through which they can try out all its features before deciding whether they want to buy the subscription or not. If they decide they like it, they can then choose one of three subscription plans — one month ($49), six months ($79) or 12 months.
I was pleased to see that BetterMe isn't just another calorie tracker. It's a full-blown diet and workout tracker, with lessons on proper dieting as you go along. The app also offers recommendations on what supplements might be useful for your specific goals.
I have a lot of friends who could use this app, because they don't know what they should eat to gain muscle mass or lose weight. There are a lot of people like this out there. If you really want to change your body, you need to know more than "eat less and exercise more"; you need to know things like how much protein is right for you, what sort of fats you should avoid, and which carbs are good and bad.
In BetterMe, the first thing you do is set up your profile. You'll see an option for "I want to…" with choices like "lose weight" or "gain muscle mass". You can also choose whether you want to start a strict diet or eat normally — this corresponds to the calorie targets provided by the app.
BetterMe is an app that helps users of all fitness levels to achieve their goals. With a large database of workouts, information on nutrition and weight loss psychology, the app helps a wide range of people in achieving their goals. Users can find workouts for cardio, strength training, yoga and stretching, as well as nutrition information and lifestyle advice.
➡ Best running app for Apple Watch
Purchasing this app provides access to the entire database of BetterMe workouts. Users can choose from cardio, strength training, yoga and stretching routines that can be done at home or at the gym. There are more than 100 exercises with video guides to show users proper form (so they don't hurt themselves), as well as a built-in timer that lets them know when to rest between sets.
While there are some free apps that help with calorie counting and nutritional information, BetterMe's diet component goes beyond calories into macro and micronutrients. This means users can get healthier eating plans based on the food they want to eat, rather than strict calorie counts based on foods they may not like.
Finally, BetterMe offers resources for weight management psychology. The app has materials on how to get motivated, stay motivated or overcome plateaus or other setbacks. This is one area where many other calorie counting apps fall short.
Some features of BetterMe
BetterMe is a personal wellness application that offers a customized approach to your healthy lifestyle.
The app offers exercise sets for all levels, whether you're just starting or a pro, with the option of using no equipment or going to the gym.
There are a variety of disciplines available, like cardio, yoga, and more.
You will also find nutrition plans created by certified experts to boost your progress with options like intermittent fasting, keto, vegan, and many more.
You can even chat with coaches if you have any questions about the app.
Nothing complicated, just simple exercises with video instructions to help you master the moves.
You can choose from various yoga and meditation sessions, high-intensity interval training (HIIT), bodyweight workouts, stretching sets and more.
To build your own perfect workout plan, you can combine different approaches or stick to one type of exercise.
BetterMe isn't just another one of those workout apps with a generic plan of action that claims to work for everyone. It's an app that's focused on creating unique plans for each individual user. It considers your personal goals, needs, and preferences, and creates a plan that works best for you.
You can also track your walk and track steps to lose weight. Daily Cycling and tracking steps using pedometer apps also are a good addition to your food tracking routine.
And what exactly does this app offer? Well, it has everything! From fitness routines to meal plans, BetterMe is the full package.
How Does It Work?
For the fitness routines, there are tons of different exercises with varying levels of difficulty. You can choose between beginner, intermediate or advanced level workouts depending on your experience and goals.
There are also many different disciplines to choose from like cardio workouts, muscle toning sets, yoga exercises and more! You can do these workouts at home or at the gym – whatever suits you best! There's even a section for "ZERO Equipment" workouts so you can still achieve your fitness goals even if you don't have access to any equipment.
Now let's talk about their meal plans! They have tons of meal plans crafted by certified nutritionists that you can use to reach your specific goals!
It offers a 12-week weight loss program with meal and exercise plans, based on your fitness level and goals. You can choose to lose or gain weight, or simply maintain it.
➡ Best Sleep Tracker for Apple Watch
The app also offers a personalized diet and nutrition plan for users who want to take their training to the next level. The personalized nutrition plan is based on your body type and the amount of time you are willing to spend exercising each day.
Your body type (or "body type") is determined by measuring the circumference of different areas of your body. For example, if you have a large waistline, but small thighs and shoulders, then you would be categorized as an "endomorph." If you have large shoulders but small hips, then you would be classified as an "ectomorph." If you have medium-sized limbs but large hips, then you would be classified as a "mesomorph."
➡ Map My Walk App Review: GPS Walking / Workout Tracker
These categories are important because they affect how your body responds to exercise. For example, an ectomorph may gain muscle easily with weight training but not lose fat easily with cardio. On the other hand, someone who is a mesomorph will burn fat easily with cardio but not gain muscle easily.
It offers personalized workout and nutrition plans supported by real human coaches, comprehensive progress tracking, and cognitive therapy practice-based tips.
These are some of the best weight loss and calorie counter apps that you can try: Noom, Weight Watchers, MyNetDiary, Lose it, BetterMe, Workout by 7M Apps, MyFitnessPal, and MapMyWalk
BetterMe allows you to set up a custom goal for your fitness journey, including the desired duration of the program. You can choose whether you want to lose or gain weight, build muscle strength, improve body stamina, or simply feel more energetic.
The app will then create a custom training plan according to your preferences and current level of physical fitness. If you already have a personal trainer, you can add them to the app so they can track your progress.
The BetterMe app features three main sections: Fitness, Nutrition, and Mindset.
In the Fitness section of BetterMe: Weight Loss Workouts, you'll find daily workouts tailored toward your goals along with guided instructions and videos explaining each exercise in detail. You can also access information regarding your training history.
Similarly to the Fitness section of BetterMe, the Nutrition section will enable you to create customized meal plans based on your preferences or dietary restrictions such as veganism or keto.
Choose from dozens of workouts
BetterMe allows you to choose from dozens of workouts for different levels of difficulty based on your current fitness level.
BetterMe also offers meal plans, which are personalized based on your goals, preferences, and allergies. Meal plans include 3 full meals per day with snacks and shopping lists to make sure you're getting all the nutrition you need.
➡ Strides app review: Goal & Habit Tracker
You can track your progress through the app with a calorie tracker as well as a water tracker to make sure you're drinking enough water every day. The app also features a step counter so you can track how many steps you take every day.
BetterMe also has a community where users can ask questions and get answers from people around the world. The app also features thousands of articles on different topics that cover everything from health tips to recipes for different kinds of foods.
BetterMe app will help you:
Lose weight and keep it off with our personalized nutrition plans and workouts
Follow interesting video instructions to do exercises at home
Make your workout routines fun with dozens of amazing options to pick from
Track your progress on a daily basis and get support from people like you in our community forum
Choose from over 500 healthy diet recipes made with fresh ingredients for any taste and level of cooking skill
Enjoy a wide variety of HIIT and cardio workouts for effective weight loss results for all body areas!
The app is designed to help users achieve their health and fitness goals through personalized meal plans and exercise programs.
Users can choose from more than 800 different workouts that range from prenatal yoga to interval running. All of the workouts are available in short videos that show the user how to perform each exercise. In addition, the workouts are designed so that they can be done at home with no equipment required.
The app also offers nutrition advice with an emphasis on healthy eating habits that are sustainable over time. Users can choose from hundreds of recipes created by professional nutritionists and chefs.
The recipes range from quick and easy meals to dishes that require more time to cook but are still healthy and delicious. The app's recipe database is searchable by keyword, cooking time, and budget, making it easy for users to find the perfect recipe for any occasion.
BetterMe works best if you are looking for:
Weight loss workout plan, weight maintenance, or exercise plan that fits your lifestyle
Tailored nutrition plan that helps you lose weight fast, build muscle or gain weight the right way
Expert help and guidance so you can meet your fitness goals faster
The BetterMe app is designed to make it easy for users to track their progress toward their health and fitness goals. Each workout includes a list of the muscles being worked so users can focus on achieving specific results through their workout routines. The app also lets users input their weight loss goals, activity level, food preferences, and other information regarding healthy eating.
The verdict
BetterMe is a revolutionary new way to get fit, meet your health and goals. This app focuses on community and challenges, which along with GO! sets (workouts), make our different levels of routines.
A unique thing about BetterMe is that the workouts are all in a "YouTuber" format, using music and instructions from their favorite YouTubers such as Cassey Ho, Kayla Itsines and many others. The app itself has a steady stream of encouragement from users and celebrities.
Another positive thing that makes this app popular is its social media aspect. Users upload pictures of their progress including before-and-after photos, motivating people which gives them more incentive to make progress.
For example, If someone was trying to lose 20 pounds in the span of 30 days, here users could post about their progress or set up a group message with another person trying to do the same thing. In short BetterMe has something for everyone from young children wanting to get healthy to adults concentrating on balance aspects such as nutrition or mental affirmations when doing workouts.
Any user looking to lose weight, get in better shape, and feel their best will find a lot to love about the BetterMe app. Not only does it have a variety of effective workouts for both novice and advanced users, but it also transforms fitness into a social experience by encouraging members to support one another. Plus, thanks to the personalized meal plans and hundreds of exercise videos from your favorite names in fitness, anyone who wants a flexible program that fits their lifestyle will have no trouble sticking with it!
BetterMe Review: Diet, Workout, Calorie Tracker
Community Support

Weight Loss Tracking

Value for money
Summary
BetterMe is an app that helps users create a healthy lifestyle while reading your weekly newsletter. It gives you the tools to make a lifestyle change so it is easier to do so.