With the number of obese people growing, more cases of early death due to heart disease and diabetes, various people want to lose weight. Managing your food diary helps you control the amount of calories you consume on a daily basis. Therefore, you can reduce the amount of calories you intake in order to lose weight.
YAZIO stands out with its simplicity and intuitiveness. All the essential functions are embedded in one application, letting you focus on your goals, not side features. YAZIO Fasting & Food Tracker is the optimal solution if you want to lose weight fast, or just maintain a healthy weight and an active lifestyle.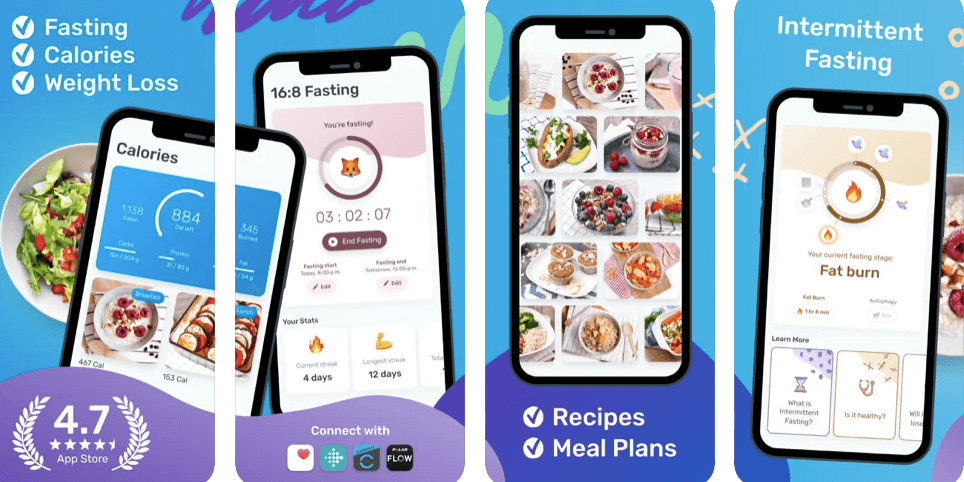 Losing weight is not easy at all, and even the most professional people struggle with it. This is why we have to help them buying products that will make their journey more effective, but first of all, we have to show them that there are good applications out there. That's why this blog post exists, in order to inform users about helpful applications for losing weight and tracking food intake.
YAZIO app helps you manage your calorie intake and track your sleep for better overall health. In the world of fitness, many have lost sight of the importance of sleep – between packing meals into tiny containers and logging workouts in their phones, they've become obsessed with numbers while neglecting the most important aspects of health: hydration, nutrition, and rest. By eliminating food stress, YAZIO helps you concentrate on a balanced diet while providing you with a window into your daily habits.
The YAZIO Fasting & Food Tracker is a powerful diet app that can help you to stick to your calorie budget. Using the stopwatch and diary, it is easy to calculate your daily calorie allowance and stay close to your monthly calorie budget when dieting. The YAZIO Fasting & Food Tracker also allows you to use your overall calorie budget as well as separate food calorie budgets.
YAZIO is a top rated nutrition and health app for Apple Watch. It can be hard to keep track of your diet and all your excercises. If so, YAZIO Fasting & Food Tracker makes it easy for you to track your sports, exercises, activities and then connect all the data together to create a comprehensive overview of your food and exercise habits.
➡ Best Weight Loss App for iPhone
The diet tracker will give you the ability to follow every food item consumed throughout the day. You can set body measurements as goal and then use the built-in exercise manual to document your physical activeness(walking, running etc.) and calories burned.
Control your calories with Yazio Food Tracker
Develop a meal planner and personal diet in just a few moments! With a food diary you know exactly what you eat, how much and the calorie content. A large & clear nutrition chart with bar and pie charts show you how balanced your menu is.
The simple food log gives you a quick overview of the calorie intake. Lose weight with an activity tracker that is compatible with Apple's Health App. YAZIO Calorie Counter / Food Tracker supports all popular diets: Dukan, Paleo, Atkins, Keto, vegan and vegetarian eating. Choose between over 670,000 products from more than 1730 international food brands for your nutrition plan.
Fasting has been known to improve the health benefits of intermittent fasting.  The unique calorie counter and diet tracker will help you monitor your fasting schedule and meal timing as a healthier way to lose weight effortlessly.  No more fad diets, expensive gym memberships or boring cardio sessions!
Whether you want to lose or gain weight, or want to get healthier, YAZIO will help you reach your goals. You can use YAZIO as a calorie counter and diet plan or a weight loss or exercise plan. YAZIO's free Calorie Calculator analyzes your nutrition data and provides you with a personalized nutrition plan for reaching your most ambitious goals.
➡ Best Pedometer Apps for iPhone and Android
After an analysis of your personal and professional data, YAZIO calculates your nutrition requirements, which you can use to set up a healthy diet for yourself. At the end of each week, simply enter your weight in the app and see your progress against your personal goals.
Some Reviews about YAZIO on Social Media
Bev Says "I did it! I actually did it. This is what successful people say when they reach their goals, so why not me? I set my modest weight loss goals for 2022 — to lose just 15 lbs in total and I was happy about that goal at the beginning of this year. It took me more than two months to stick to my YAZIO app, though, so that goal seemed pretty distant. And I started doubting myself. Was it really possible for me? Could I really reach my weight loss goal? Did I even want to reach it ? And then, suddenly, one morning after my work-out, without any calorie overload or crazy diets, I saw a new number on the scale: 155 lbs!"
Daniel Says "So far this year is going great! In fact I am pretty happy with my progress so far. I've lost a total of 15 pounds, and that's despite some temporary lapses in my diet. That aside, I've been able to consistently hit the calorie goal that you set for me. And now I'm down to 210 pounds, which is what I weighed in high school. The Calorie Calculator helps me keep track of the foods and drinks that I consume, and it's interesting to see how many calories some foods truly have. It's also helped me eat fewer snacks throughout the day because it makes me aware of how many calories are in those snacks."
A great diet and weight loss app for iPhone, iPad & Apple Watch
YAZIO is the perfect personal nutrition and weight management solution for any dieter, from the gym rat to the average joe, who wants to lose or gain weight.
YAZIO allows you to create your personal plan with their extensive food database of over 2 million items and track them throughout the day using our Nutrition Tracker and Food Diary. A calorie counter and tracker for (Fasting & Food Tracker) instantly calculates calories, carbs, proteins and fats for each meal.
➡ MyFitnessPal Calorie Counter & Diet Tracker Review
Just input your meals copying from our extensive food database or enter a new food yourself. YAZIO has built-in barcode scanner for quick searching food items or with voice search feature you can simply speak to it.
YAZIO estimates how many grams of sugars and carbs you eat every day and helps in monitoring them. It shows a detailed breakdown of what you eat providing nutritional information and a breakdown of your daily energy consumption including exercise consumed calories.
Whether you want to lose weight or build muscles, YAZIO is the app for you! It makes it effortless to log foods into the YAZIO food diary and will keep track of your progress.
YAZIO also lets you view all your sport, activity and nutrition stats in one place. It tracks your sports, exercises and activities (steps, cycling, etc.). It lets you check your daily calories consumption and burned calories based on your Body Mass Index (BMI) – available only with the in-app purchase. This app helps you assess your diet and achievements by calculating calorie consumption against calorie burning. 
YAZIO app also tracks your weight, BMI and BMR by connecting to Health App. Additionally it documents your waistline growth rate. YAZIO app uses the Watch App to take full control of today's activities – weather it's started, paused or resumed.
The unique Today widget provides overview of all the YAZIO's data in the notification center in a beautiful graph style. With 3D Touch supported devices you can preview all the days in notifications without pulling down or opening the app.
YAZIO Fasting & Food Tracker - Calorie Counter and Diet Diary
Summary
There is no question that setting new year resolutions are great way to get you going in the right direction. But, how many of the new year resolutions do you complete? Last year, YAZIO's Fasting & Food Tracker helped more than 10 million people achieve last New Year's resolutions. But with all the hustle and bustle, how could you find time to set clear goals, improve your eating habits and monitor your progress? This is why you need YAZIO.