The game of golf has been around for hundreds of years and is enjoyed by millions of people in the USA. With all the different forms of competition in golf, it can be hard to find a way to compete against friends and family members within your own schedule.
The new app PardieGolf was developed to bring an easy way for players to set up their own golf contest, complete with various incentives, against anyone from around the country.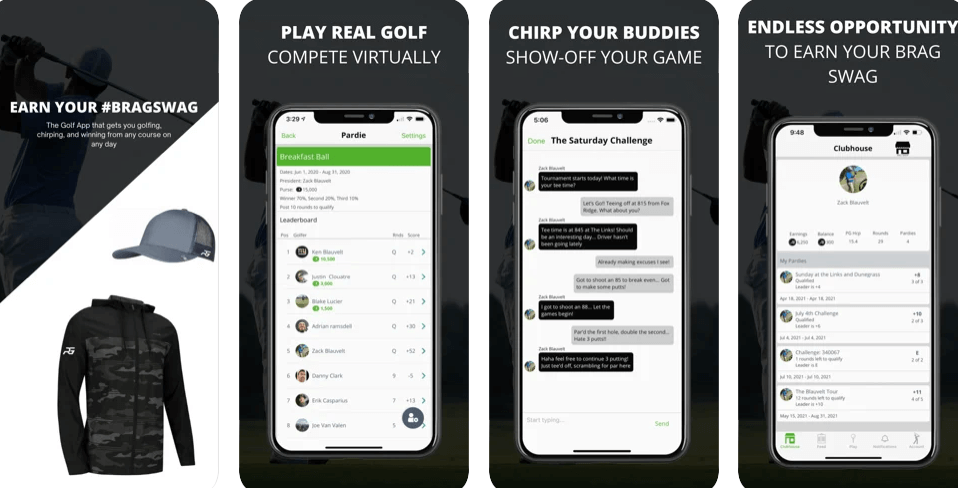 PardieGolf allows golfers to participate in virtual golf contests against friends and colleagues from around the country. PardieGolf turns a round of golf at a real course into a contest. 
Through its well-featured platform, you'll be able to compete in a variety of golf challenges. You can play in daily, weekly, or even annual contests with friends from around the country.
PardieGolf allows users to create contests against friends.
The game is simple: Play  a round of golf, post your score to the app and the lowest score wins!
You can play any course with Pardie Golf.
Use the PardieGolf app to keep track of your golf handicap.
PardieGolf manages all aspects of challenges between players and courses.
PardieGolf allows users to connect with their friends and golf against them at any time!
The beauty of playing online is that you can create multiple tournaments at once and play in many different leagues.
You can even invite golfers from other states to enter your tournament. Each golfer will pay an entry fee (in PardieGolf Markers) which will be put into a purse. Once the contest ends, PardieGolf will calculate who had the best scores posted over the time of the contest and award them with the purse winnings.
This app is great for golf enthusiasts who want to add an extra competitive element to their game or connect with like-minded golfers. It's incredibly easy to use, and creating a tournament challenge between friends is a breeze.
The ability to challenge people from anywhere on any course really takes away some of the hassle of coordinating schedules with other players. It also has a simple design that allows users to focus on their games, not on the app itself.
How the app works:
The app is extremely simple to use. Here are the few steps you will need to take to start playing:
Create a contest
Each contest requires an entry fee. You can use PardieGolf Markers to play. The host chooses the format, the timing, and the amount of rounds  needed to post to qualify for the contest.
Each contest is it's own private group where a "host" creates a new contest and invites friends via email or phone number. A host can create any type of contest they want. The host sets the entry fee and creates the rules for each contest. When a player posts their score from their round it is updated in real-time to all members in the contest so everyone can follow along.
➡ How to Improve your Golf Swing
PARDIEGOLF MARKERS
PardieGolf Markers are the currency of PardieGolf. When you deposit, buy-in or win a contest you will be rewarded with PardieGolf Markers. Earnings can be redeemed for GolfLocker.com gift cards!
Invite players
You can invite your friends directly from your phone contacts or by searching for them using their username. Each player will be notified about being invited to the contest.
Now that you have created your contest, you need to invite people to play. To do this, copy the contest code and send it to your friends via text, email or in person. You can also share the contest on Facebook.
Your friends will need to download the PardieGolf app from the Apple Store and then click Join a Contest under the menu. Enter your contest code and pay the entry fee (in Pardie Markers).
➡ How to practice Putting at Home
Play golf!
After you've created a contest and invited players, you're ready to play golf. The scoring is based on USGA Course Rating which are the same formulas used at your local club for handicaps and rating of each course.
Once you have invited all of your friends, enter your scores for each golfer after each round. The app will show you how much you are winning or losing against each golfer. Once the contest is over, the app will automatically calculate the winnings for each golfer and put those into their wallets.
For example, if you are playing with 3 friends and you all want to play for $5 a piece.
You will create a challenge with an entry fee of 500 PardieGolf Markers, 1-4 people playing, and your desired start and end date.
The contest code will be generated and displayed on the screen. This is the code that your friends need to enter in order to join your challenge.
You can always view your contests in the app.
➡ How to practice Golf at Home and at the Range
Once you have sent out your contest code to your friends and they have entered it into their PardieGolf app, you will see them displayed in the list under the contest code for that particular contest.
You are now ready to play!
Play on any course anywhere in the country and post your score right from the app!
➡ How to Increase Clubhead Speed
Leaderboard
The leaderboard shows all of the players in each contest along with their current standing. The contestants will be ranked according to their handicapped net score. You can click on any player to see their full scoring history including gross score and handicap differential.  
Wrapping Up
The PardieGolf App appears to be a great way for golfers to connect with one another and compete in a fun and engaging environment, while having the opportunity to win some new gear.
If you love golf and want a way to improve, PardieGolf may be your solution. It's simple, fun, and effective, making it a great choice for all golfers of all skill levels.
Overall, I think the app has a ton of potential. If you're looking for a way to meet new people that share similar interests, and want to get involved in real-life competitions, PardieGolf is the perfect app for you. It makes playing golf more social, so the possibilities are endless.
I definitely suggest signing up for PardieGolf and competing in one of their many contests. It's worth taking a look at if you're passionate about golf and want a way to try something new.