Looking for best Mac antivirus software? Follow the below review list to find out which are the best antivirus programs for Mac, MacBook Pro and Air. The list reviews both free antivirus and paid anti-malware programs.
Scan for malware, find detailed info on threats, and block or remove viruses and other harmful software with the best Mac antivirus software! Our Mac antivirus collection includes popular options from Kaspersky, BitDefender, Sophos, Webroot Security, Norton and more.
➡ Top 7 Mac antivirus Software programs:
The world of Mac is a great place to be in, especially if you're a regular user. The apple computers are less prone to viruses or malware, but it doesn't mean that your device is immune from attacks. Even if you don't intend to use your computer for things like online banking or sharing files, there's a chance that you'll still fall victim to these kinds of dangers.
With that in mind, it pays to be informed about Malware and its impact on your Mac. Regardless if you're using a MacBook, Mac Mini, iMac Pro or one of the many other Mac desktops around, it's important you take steps to ensure your device is as protected against these online threats that can steal your data.
Antivirus software is the single most important security tool for your Mac. It's one of the easiest, simplest, and least expensive ways to protect yourself from a ransom attack or other malware infection — and perhaps from the most dangerous threat right now: data theft.
It's true that using antivirus on a Mac is much less common (by about 10 to 1) than on Windows PCs. But you should have it no matter what kind of machine you're running. Because as hackers grow more resourceful, newer forms of malware are emerging, including ransomware (which encrypts your entire hard drive), trojans (which let hackers remotely access your machine so they can steal passwords and other personal info), and phishing scams etc.
For iPhone and iPad security, check out the best antivirus for iPhone. Also, read how to secure your iOS device from phishing and malware threats.

These are the best antivirus for Mac solutions in 2021. If you're looking to stay safe when browsing the internet or receiving email attachments, these options will help you to remain safe from viruses without slowing down your system. Apple itself offers a couple of different ways to protect its MacBook's and iMac's against threats and viruses, but if you want third party solutions, these are the best options available.

I have come up with the list of top 7 antivirus for Mac
Best antivirus software for Mac
⭐Top malware detection and Ransomware protection ⭐
Excellent Virus detection
Light and fast software
Ransomware Protection
Real-Time Data Protection
Social Network Protection
CHECK PRICE
Bitdefender Antivirus for Mac offers free malware detection, powerful Ransomware protection and very good performance. In our independent tests, Bitdefender performed well in malware-detection tests, even against the most current threats. And it proved to have almost no impact on system performance. safeguards against all types of threats, including viruses and spyware. It uses innovative technologies to achieve perfect malware detection, and its minimal system impact helps you get back to enjoying your work or play faster.
Bitdefender's Antivirus for Mac product is packed with features that cater to your needs to protect and identify threats. By knowing which apps have access to your mic, the anti-tracker feature, you can prevent unwanted gathering of data and keep browsing data private.
Loved by Macworld, MacLife, Forbes, The Atlantic, and The Next Web, Bitdefender Antivirus for Mac is the best defense against malware for your Mac. It's fast, light, strong, and easy to use – just install it and forget about it. It includes a Firewall that prevents hackers from accessing your devices and your data, it is super-easy to install and use with its clean, modern interface – all without slowing down your system.
Bitdefender Antivirus for Mac is the only antivirus that's truly lightweight, thanks to a unique scan method that requires very little system resources. It makes no compromises when it comes to malware detection and won't slow down your Mac. The Bitdefender Antivirus for Mac provides speed, accuracy and ease of use without any tradeoffs. This powerful antivirus engine uses proactive scanning to ensure that your Mac remains virus-free at all times, protecting it against both known and unknown malware. It also includes a new Ransomware Protection feature that encrypts your files and backups them in a secret location on your Mac so they remain safe even if someone tries to lock you down.
Bitdefender Antivirus for Mac takes a multi-layered approach to security, scanning and blocking spam, malware, ransomware, adware and other threats before they can infect your computer. Focused on proactive protection, Bitdefender offers safe browsing, ransomware rollbacks and tracker blocking – features that not only help protect your privacy but also offer you a safer Internet experience. You'll see a real-time analysis of your system's security status, as well as the latest threats and what they can do to harm your computer. It has automatic and manual updates to ensure all malware is removed from your Mac whenever they invade your machine—including ransomware. This software also protects you in real-time against phishing attacks while browsing the web.
It comes with a state-of-the-art layered detection technology, heuristic threat detection, security by vulnerability assessment and provides continuous protection.
Also read: iPhone Virus scanner and remover
Kaspersky Internet Security
Best Internet security for Mac
⭐Top Parent Control and online security ⭐
Good malware detection
Security for online Services
Protects privacy & personal information
Parental Controls
Free trial version for 30 days
CHECK PRICE
With Kaspersky Internet Security for Mac, you're protected from vicious online threats and the latest cyberattacks. Advanced technology defend your PCs, Macs, smartphones and tablets from malicious links, identity theft and other online attacks when you search, shop and bank on the Internet. Safe Money technology protects your financial information with extra layers of security when you shop, bank and pay online. Unlike other Mac security solutions, Kaspersky Internet Security for Mac has been independently tested by West Coast Labs to have superior malware protection and outperforms competitive products.
Whether you're a student or home user, now your MAC computer can benefit from the same security features as Kaspersky's top-rated solutions for Windows. Block webcam spying. Stop browser tracking and hide data files from hackers and ISPs with VPN encryption. Kaspersky Internet Security for Mac helps protect your data from threats and boosts your productivity with a number of powerful tools. These include webcam and mic protection, browser tracking blocking. And you can also use Kaspersky Safe Kids to keep your kids safe online, as well as Parent Control features to create reliable internet guidance for your children without having to sit with them to supervise.
This essential solution blocks every kind of malware, blocks dangerous links in emails and on websites, and alerts you about fraudulent websites masquerading as trustworthy ones. With Kaspersky Internet Security for Mac you can shield your data from hackers and all unwanted access, prevent cyber-attacks on your laptop and defend against online threats. With the VPN capability you can easily encrypt internet traffic, and anonymize yourself while hiding browsing history from ISPs and corporations.
Kaspersky Internet Security for Mac is designed to automatically protect your children from cyberbullying, identify dangerous or inappropriate content, and block access to pornographic and other websites. With Kaspersky Internet Security for Mac, you get high-level protection against viruses that stealthily infiltrate your Mac. No matter what kind of malware is lurking online, its malware-detection rates are perfect. The anti-spam module protects from phishing attacks, web attacks and identity theft. You can rest assured that your webcam is protected and hackers will be blocked from tracking you online. It's a comprehensive security package that provides the ultimate protection for your Mac
Best free Mac Antivirus
⭐Top Antivirus and Malware Protection ⭐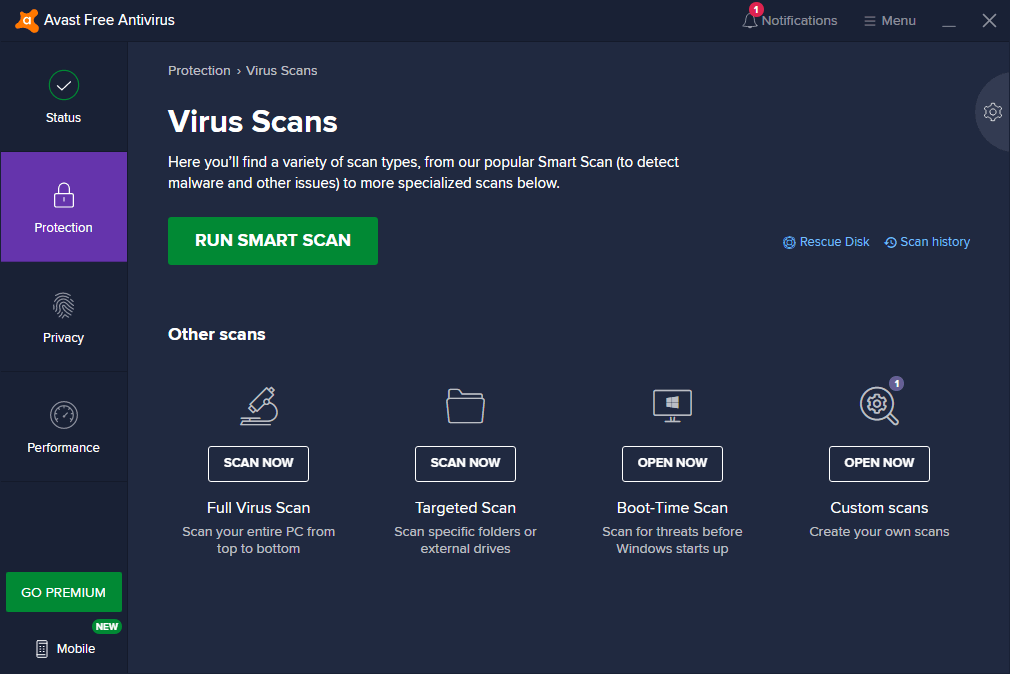 Excellent Malware protection
Easy to use

Good for

widespread malware

High virus and ransomware detection rate

Free
CHECK PRICE
There's no reason to pay for a Mac security program when you can get Avast Free Mac Security. This software is easy to use and works with any operating system. You'll have unlimited password manager, scans your email attachments for threats, and imports any passwords from browsers automatically. Even better? It only has a small system footprint when it's running in the background.
The Avast Free Mac Security antivirus deletes, detects, and prevents threats for Macs without slowing down your computer. This free security suite offers a one-click button to block phishing scams and malicious websites. It also blocks apps containing malware that could steal your bank info or passwords.
With this powerful Mac antivirus software, users get free ongoing virus definition updates and many advanced features, including privacy protection, password manager, and more. It never slows down your system. In a recent AV-TEST comparative study of 18 different Mac antivirus products, Avast's Mac received 16 out of 18 possible points for protection. The other two products that scored perfect 18/18 include Sophos and AVAST's Windows antivirus solution.
It can detect malicious website content and block it from reaching your browser. It also scans incoming email messages and attachments for malware. The program even comes with an external-drive scanner and a browser extension that can warn you about unsecure websites. It uses a single-pane user interface to give you immediate access to scanning, protection, and other tools across your network. It protects you from viruses, spyware, and other malware using multiple layers of defense. Avast Free Mac Security offers a feature set that tops most competitors, including a pop-up blocker so you don't get bombarded with alert boxes every time you visit a suspect site.
Avast Free Mac Security is essentially a collection of anti-virus, anti-phishing and anti-malware tools. All the main security necessities are here, along with extras such as an app locker and ad blockers. Despite its name, the app is not actually free; you can scan your system for bugs and see your results, but without a paid subscription, most features are locked away. As ever with Mac security software, it's worth looking into others before settling on this one.
Avast Free Mac Security is a reassuringly strong antivirus solution. Its malware detection rates are consistently above average, and results are delivered in a no-nonsense way. It's also well designed and very easy to use, with regular updates arriving via an unobtrusive icon in the menu bar. If you want to avoid being pestered to upgrade to the paid-for version, consider using one of its alternatives, such as Sophos Home (also free) or Bitdefender Antivirus for Mac (free for a trial period).
The ultimate Mac security app is available for free with state-of-the-art malware protection that keeps your computer and the data on it safe and secure.
Norton 360 Deluxe
Best Overall Mac Antivirus Software
⭐Powerful antivirus and anti-ransomware protection⭐
Parental controls and firewall
cloud backup functionality

Anti-ransomware

protection

Multi-layer protection

Built-in password manager
CHECK PRICE
The Norton AntiVirus Deluxe package delivers maximum protection and performance across multiple devices. Running on both Macs and PCs, Norton 360 Deluxe includes many of the top-notch features available in other Norton antivirus packages. It comes with a secure online backup feature, the ability to remotely locate or lock a lost or stolen device, 24/7 tech support, a firewall that blocks malicious sites, and spam blocking for your incoming messages.
You also get more features and options than rivals such as Bitdefender or Kaspersky and more importantly, Norton 360's regular updates ensure your system remains protected. Some of the key features in Norton 360 include firewall protection with auto-sandboxing, real-time web protection against malicious websites, network monitoring for identifying vulnerabilities, theft recovery and backup scheduling of scans.
Norton 360 Deluxe has everything you need to protect your device. It's a real-time threat protection so it automatically stops viruses, ransomware, and other advanced malware. And it has a VPN service to help safeguard your online activity when you browse WiFi hotspots, so you can always travel with confidence knowing that your information is secure and private. Norton 360 Deluxe protects against existing and emerging threats without slowing down your device performance.
Another good solution to the conundrum of protecting those with multiple devices is Norton 360 Deluxe. The deluxe version provides protection for five devices including Windows-based computers, Macs, as well as Android phone and iPad. It gives you an enhanced firewall to block hackers and scam artists, while still letting your friends connect; identity protection to prevent hackers from accessing your bank account or credit card information; and parental controls to help keep young eyes safe online.
Norton 360 Deluxe protects your digital information and devices from viruses, phishing scams, malware, ransomware, and identity theft. All-in-one security safeguards critical information and warns you about online threats in real time. With 50 GB of secure online backup storage included for your photos and files, along with parental control software to protect family members on social media sites and games, you are protected online 24/7.
Stop identity theft before it happens, with comprehensive dark web Lifelock monitoring. Norton uses advanced technology to scour the dark web and find your information. Lifelock monitors for threats around the clock, notify you immediately if it finds new postings that include your personal information so you can remove the post or the entire account to help protect against identity theft.
Webroot SecureAnywhere
Best Mac Antivirus for Phishing and bad links
⭐Excellent Identity Protection & Secure Web Browsing ⭐
Fastes Virus Scanning
Good phishing and malware protection

Prevents online threats 24/7

Real time virus and ransomware protection
CHECK PRICE
Webroot SecureAnywhere Antivirus for Mac is a security application that combines cloud and on-device protection to help protect your devices from malicious software. It doesn't just scan for threats; it automatically removes them, and it shields against new attacks by shutting down the tools hackers use to steal information. This fast, effective all-in-one product builds on the strengths of Webroot's top-rated antiphishing and solid on-demand malware protection to include a new cloud service that can automatically clean up infections you encounter when browsing or downloading files.
The team at Webroot has been in the antivirus software business for many years, and the experience shows in this new Mac antivirus program. It's incredibly speedy—not a second is wasted when you click Scan—and is very thorough in its detection and scanning of malware and viruses. Webroot SecureAnywhere Antivirus earned a perfect 100 percent score against brand-new forms of malware known as Ransomware, which can encrypt your files until you pay a fee to get them back. Most other Mac antivirus programs lag far behind the curve when it comes to this scary type of malware.
Webroot SecureAnywhere Antivirus runs quickly, and it also distinguished itself for blocking links from phishing sites. In our tests on Windows, it was among the fastest at scanning and cleaning up malware. Unlike most of its competitors, it scans for malware even while you're using your PC. The independent testing labs at both AV-Test Institute and AV-Comparatives, and has given the VB100 award to Webroot antivirus at Virus Bulletin.
Webroot's SecureAnywhere Antivirus software comes with the rapid-scanning PowerBoost option, real-time behavioral prevention technology, and a simple installation process. A cloud-based technology that protects against malware and phishing attacks no matter how, when or where you connect, this virus scanner is ideal for the on-the-go user who needs constant protection to safely surf, shop, chat or bank online. With Webroot's cloud-based technology, you can rest easy knowing that our powerful security solutions are guarding your digital life around the clock. With mobile compatibility and utilities for all your devices, you can even keep your entire family protected and always connected.
Since it is cloud-based, Webroot SecureAnywhere Antivirus software doesn't slow down your computer and won't interfere with the way you work or play. It uses fewer system resources than other antivirus software, and prevents viruses from taking hold by detecting malicious files before they reach your computer or mobile device. So whenever, wherever and however you connect, you're always safe from the latest cyberthreats.
Sophos Home Premium
Best Mac Antivirus for Ransomware
⭐Top-notch Ransomware Protection for mac ⭐
Excellent Malware protection
Easy to use

Good for

widespread malware

High virus and ransomware detection rate

Free
CHECK PRICE
Sophos Home Premium offers a low-cost solution for families. It can protect up to 10 computers, Mac or Windows, and it has dedicated protections against ransomware. It has dedicated protections against ransomware and for your webcam and microphone. This multi-device security pack not only gives you endpoint protection on the devices themselves but also shields the connection between your devices and the wider internet against cyber threats with additional gateway protection – all for a very low price.
Sophos Home Premium provides highly rated antivirus protection per AV-Comparatives, and #1 rated parental controls per AV-Test. Its web protection blocks ads and malware to protect your children while they are online. And as a premium product, it includes a parent-friendly web filter to stop children from accessing inappropriate websites and services. It protects against email threats and generic malware as well as ransomware, webcam threats and microphone eavesdropping.
It monitors your system for malicious files while you're running other applications, warns you if it sees anything suspicious, and quarantines infected items. Sophos Home is a simple and effective antivirus system that will leave your Mac running smoothly and safeguarded against malicious software. It comes with encryption tools, two-way firewall controls, and several modules that stop you from unintentionally transferring data or infecting your Mac with malware.
It has been independently proven to provide complete protection from the latest Mac threats, including dangerous Mac ransomware, spyware and Trojans. Home Premium allows everyone in the household to enjoy a safer, faster and easier Internet experience whether surfing the web on an iPad at the kitchen table or using your laptop in the living room.
With industry-leading antivirus, anti-spam / fraud protection, firewall, and internet web controls modules, all backed by award-winning support, you'll be able to put your mind at ease – knowing you have the best possible protection against hackers. Whether you're a home or small business user, or large corporation storing critical data, this antivirus program has everything you need to protect your devices.
Avira Free Antivirus for Mac
Best free antivirus software for Mac
⭐Block latest Malware and real-time protection⭐
Real-time protection
Excellent Threat detection

encrypted VPN

Detect

ransomware, spyware, and adware.

Optimised and runs smoothly on MacBook.
CHECK PRICE
Avira Antivirus for Mac is a great solution for any Mac user looking for a lightweight, reliable antivirus solution that doesn't slow down your system. The app blocks the latest known malware before it can cause damage. With Avira Antivirus for Mac, you'll get 100% protection against all of the viruses, trojans and other malware that can attack Mac system. It's lightweight and unobtrusive – it won't use up your system memory or slow down your machine.
It doesn't have any of the extras that some antiviruses include, such as firewall or web controls. That's not to say it's no good – what it lacks in breadth of features it makes up for with excellent virus detection rates. New malware definitions are automatically installed with reglar updates. The Smart guard technology detects unwanted changes on your system and checks every application that wants to run on your computer against a database of over 50 million dangerous components, so you can be safe in the knowledge that you are protected from all hazards.
This powerful tool also offers an Internet shield to protect against advanced forms of malware, and a scheduler enables you to run scans automatically or at regular intervals. Avira Free Antivirus for Mac offers true endpoint security for your Apple Mac. The app launches automatically upon system startup to provide the most comprehensive protection around. Avira's signature scanning speeds can be set to scan either on a schedule or when files are accessed. This way, you can ensure that your system is secured without any sacrifice in speed when working.
What to look for in antivirus software?
The best antivirus for Mac isn't just about stopping all these attacks, but also safeguarding your Mac so it can perform at its peak. Macs tend to run more smoothly and require less maintenance than Windows devices: They don't slow down from malware, security software, or a bunch of unnecessary apps, nor do they need regular patches to operating system flaws or new anti-malware definitions.
The difference between an antivirus and a good antivirus is that the latter cuts down on performance overhead so that you barely notice it's there and includes additional features to protect your privacy. A good antivirus app for Mac will run frequent checks of your files and system components and stay up-to-date with new threats, phishing attacks, and malware. It should also offer you tools to maintain your privacy online, such as encrypted email storage, password management, tracker blocking, or ad blocking.
It's crucial to keep your Mac safe from viruses, all forms of malware, and other online threats. But when you're shopping for a solid antivirus app, you want to pick something that works well without slowing the computer down. With too many antivirus products on the market today (counting paid and free apps), it's no wonder that Mac users have confused feelings about whether they even need virus protection.
Scanning and removing viruses
Assuming you've been asked to install antivirus software on your personal computer, let's look at what you should look for in an antivirus program. Antivirus software should be designed to scan your hard drive on a regular and ongoing basis and identify any threats before it can cause damage.
Keep in mind that good AV software doesn't only have to stop threats from spreading. It should also be able to eradicate malware once they've been found. That way, you won't need to reinstall the OS as often, which can save you a lot of time and money.
A system that scans for malware viruses on a continual basis is a great feature to look for in anti-spyware software. The best ones out there are continually monitoring your hard drive and the information going in and out of your computer; some of the latest software even monitors items stored in the cloud like your Google documents.
Antivirus software should neutralize threats at every phase of their lifecycle. It should prevent, but also detect and remove malware. There are three phases of a threat, infection, and installation—preferably before the infection is complete—and execution. In the case of malware that holds user files for ransom, it's critical that an antivirus program be able to quickly determine which files are harmful and quarantine them. It should then provide users with options for restoring any encrypted files from a backup, or paying the ransom if there is no other option.
Also read: Malware Detection Metrics
Related: A Malware Detection Scheme Based on Mining Format Information
Antivirus Software Performance Concerns
Antivirus software contains a number of different processes—an engine that scans files, a monitor that performs background checks, and more—and generally speaking, the less free active CPU time you leave to it, the better it will perform its job. This is because antivirus software will always prioritize scanning the most active files first (because its behavior can impact startup times or system performance if done poorly). If you set your antivirus to high-performance mode, it should use as few resources as possible without sacrificing security. Good choices for low CPU usage include Bitdefender Antivirus Plus , Norman Security Suite Pro , and Webroot SecureAnywhere AntiVirus .
On the other hand, it's worth mentioning that some antivirus software does include additional components that aren't strictly part of its core antivirus protection. Most frequently, this will mean a spam filter—and on some occasions, possibly even a firewall. But that shouldn't be too much of a concern either: if any of these program feature disrupt your active work while they monitor in the background, you can always stop them to obtain better performance.
I'm sure you've heard the countless stories of how computers slows down after installing antivirus software. It's true that your computer becomes noticeably slower when a full scan is running in the background. But what you might not know is that, this problem only occurs because antivirus software slows down your computer, causing it to run tasks at a slower rate than usual. And since most antivirus programs affect Mac performance most of them will now try to carry out these functions faster in order to compensate. So if you're going to install antivirus at least find out which ones are the best for Mac and which ones are the fastest, rather than just go with the cheapest or free version.
Does antivirus affect Mac performance?
There are many great antivirus programs for Mac, but they all affect your computer's performance in some way. The more comprehensive the protection, the more resources your Mac will need. Even though some of these "system hoggers" may slow down your device, they're not like traditional Windows virus scanners that will completely slow down your MacBook. It isn't realistic to expect any antivirus for Mac to do its job without affecting system performance.
It's commonplace to believe that antivirus software for Mac will slow down your computer. Well, that might be true if you install it while running other resource-intensive software or have a less capable Mac in the first place. But for the most part, antivirus products should not have a significant impact on system performance.
Do Macs need antivirus software?
For most businesses and consumers, Apple's XProtect antivirus program offers enough protection in detecting and removing viruses. However, any Mac that's connected to the Internet has the potential to be a target for malicious coders. That's why you should consider an additional security solution . Top quality third-party antivirus apps can provide comprehensive malware removal and more robust features for real peace of mind.
What is the best Mac antivirus software?
For us, Bitdefender is the best. Bitdefender's new Mac antivirus client does just what you want it to do without trying to confuse you with lots of extras – or bombarding you with ads or other nags. It's easy to set up and simple to use, and scored top marks for malware-removal efficiency in our lab tests. As long as you're happy with its bare-bones approach, it's the best choice.
Conclusion
Cyberattacks are increasing in frequency, as are a number of other security breaches. The problem is so pervasive that it's become a topic of discussion not just among average computer users, but even the average person on the street. But how do you know which antivirus software you can trust? There are so many options out there that choosing an antivirus can be difficult. This is especially true if you don't have a lot of computing experience, which unfortunately is the case with a lot of average computer users.
Using a reliable antivirus software in Mac is a must to ensure security of your system. If you own a Mac, it is not only because its elegant look or comes at an affordable price but because it is perceived to be secured than other PC systems, isn't that? It may be true but that doesn't mean there is no need to have antivirus protection on a Mac.