The best iPhone antivirus apps can help you protect your iPhone and iPad against these Virus and Malware threats. Security threats arise on the internet every day, and you shouldn't take any chances with your valuable digital assets.
For anyone who uses a computer, security is serious business. The nature of Internet threats makes it all too easy to fall prey to viruses, malware, and hacks. As if this weren't already bad enough, there's also the risk of identity theft, not to mention lost files – if you don't back up properly. As a consequence of all this, we're seeing more and more home computer users taking up antivirus software that promises to protect their PCs with minimal fuss.
The below antivirus apps work on iPhone 13, iPhone 11, iPhone 12, iPhone X, iPhone 11 Pro, iPhone 8, iPhone SE, iPhone XR, iPad and More.
These are the 5 Best iPhone antivirus apps in 2022 (Free and Paid): Malware and Virus protection:
Is the iPhone secure? It's a good question, and one I'm often asked. So, is the iPhone secure? The short answer is yes, the iPhone has multiple layers of security in place that make it extremely unlikely that any malware or virus will infect your iPhone. However, just because it's unlikely doesn't mean it's impossible.
➡ Is Windows Defender good enough? How good is Windows defender
Keep your iPhone data safe and secure with the best antivirus for iPhone. Rest easy knowing that if disaster strikes, the best iPhone antivirus app will be at the ready to save your day. Among the many essential tools that are built into today's smartphones, security apps should be at the top of your list. Though the default security tools on iPhones and iPads are solid, an added level of protection from third-party apps is a good idea.
What about Mac or MacBook? Are Mac Systems Secure and What are the best mac antivirus programs in the market?
And if you're using an iPhone, iPad or even Mac, there is a lot of information about you just waiting for some unscrupulous character to access it should it ever land in their hands.
➡ Best antivirus for Chromebook
➡ Do Chromebooks need antivirus ?
We take our iPhones and iPads for granted most of the time, yet there are still plenty of risks we expose them to. Despite iOS being much more secure than Android, it doesn't mean cybercriminals are going to ignore your iDevices.
Also read: Scan, Remove and Protect iPhone from Virus and malware
It's virtually impossible to go anywhere these days without being connected either to a mobile phone network or the internet, so the danger is everywhere. Have security measures in place that help protect you from potentially malicious apps.
A bad antivirus app for iOS means that you have no protection from malware. And since we depend on our mobile devices so much, don's important to protect them. So keep reading and find out how you can best protect your iPhone or iPad using an antivirus app for iOS.
The apps mentioned in this roundup are as good as it gets because they all offer real-time protection and adware blocking mechanisms. This way, you can sleep easy knowing that your private information is going to be spared from hackers.
Far from intimidating us, though, the sheer number of choices available to us is exciting! In our last post on antivirus for Mac , we've provided a list of the best antivirus applications . That post has been read 25000+ times so far. So it was only a matter of time before we went ahead and did a follow-up post with the most impressive antiviruses for your iPhone and iPad - right? First off – what makes an ideal antivirus software for iOS?
That's why we feel it's important for you to be protected, which is why we've selected the three best antivirus software products for the iPhone that we find offer the best protection out there.
But the good news is that security solutions are available to help protect your digital identity. One of the most popular ways of safeguarding your iPhone is to install a powerful antivirus.
Avast Security & Privacy
Best Free antivirus for iPhone
⭐ Top iPhone security choice ⭐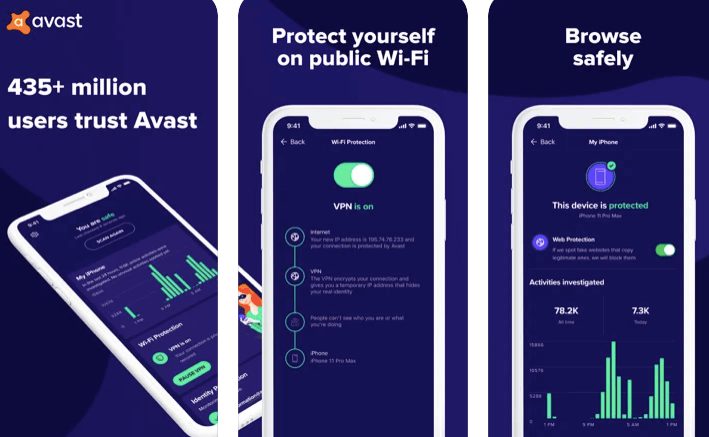 The best-reviewed iOS security app is Avast Mobile Security & Antivirus. The free version of the app includes antivirus, anti-malware, firewall, web filter, identity protection and a privacy advisor — but you'll need to pay $24.99 per year for the good stuff:
A very good virus cleaner for iPhone in 2021.
That includes SMS and call blocking, private browsing, an app Lock feature that allows you to lock certain apps with a password or fingerprint scan and anti-theft features that allow you to remotely disable your device via GPS tracking if it's stolen.
Avast Security is one of the few iPhone antivirus apps that inspects web traffic. It's perfect for users who frequently use public Wi-Fi networks and want to protect their data from threats like Man-in-the-middle attacks. In addition to the antivirus protection, you get phishing protection, a password manager and more.
The company's iOS security app offers the full range of its privacy features, including an app lock , a photo vault , sanitization of browsing history, and enhanced privacy for social media . Avast guards against malware, spyware, phishing scams, and other threats.
Whether you're looking to prevent hackers from hacking into your iPhone or trying to hide private photos in an app that is secure, Avast has you covered. Their free version includes some great features – including virus protection. Check Full Avast review
Best iOS antivirus
⭐ Top rated superior Malware protection ⭐
Avira Mobile Security provides total security for your smartphone. It protects you against viruses, spam and phishing attacks, prevents your data from being stolen and allows you to block unwanted calls. But that's not all: the app also comes with a Free VPN for anonymous surfing and an Anti-Theft feature to help you protect your device against theft or loss.
Avira Mobile Security is a comprehensive and easy-to-use mobile security app for your Android and iOS device. Using the world's most trusted antivirus technology, it will protect your Android or iPhone or tablet from security vulnerabilities, privacy leaks, and malicious websites.
Related: Best Parental Control apps for iPhone and keep your kids and teenagers safe.
This antivirus protects your mobile life for FREE. It's the original free antivirus app that doesn't compromise your privacy. Get powerful protection that blocks malicious websites, alerts for hacked accounts, and keeps you safe from phone theft and other online threats, while still letting you have fun online – no strings attached. Avira Mobile Security is a full-featured security solution for Android devices with no annoying ads or in-app purchases.
This is one of the most effective antivirus programs, with a perfect score in malware protection. With features like Call Blocker, Anti-Theft and Free VPN, Avira protects you and your identity from malicious websites, hackers, and hackers trying to get access to your information.
With the fastest growing mobile security software market in the world and a rapidly increasing number of mobile devices, it is more important than ever for end users to be protected from security threats on their smartphones and tablets. Avira Mobile Security provides that protection, alongside many other features that no other mobile security solution has to offer. Highly recommended antivirus app for iPhone or iPad Users.
Best antimalware solution for your iPhone
⭐ For web protection, and account privacy. ⭐
Bitdefender, the Romanian company founded in 2001, has established itself as one of the most popular antivirus solutions. Although there are several alternatives that compete with Bitdefender, many people still consider it the best option for their computers' security. If you're still undecided about using Bitdefender on your computer, here are some good reasons why you should do it.
➡ How good is Bitdefender ? Is Bitdefender safe ?
Bitdefender Security app offers a range of features to help you keep your phone and your data safe, including a free VPN, anti-theft protection, and phishing protection. You can even use it to remotely locate your stolen device — though in our testing we found the feature wasn't reliable. If you're looking for a good antivirus, however, Avira is one of the best options available on iOS.
It provides top-notch security and malware protection against viruses, Trojans, worms, and other malicious threats. Plus, it offers unique features not available in other antivirus apps. Bitdefender provides complete protection against viruses and malware on iPhone and smartphones/tablets. The app protects you from malware that enters your device via text messages, web content, and infected apps . It also protects your bank account details if you use them to shop online.
Threat levels are increasing day by day and moving around with phones or tablets became a risk for cyber criminals too. Choosing the right antivirus is essential to keep your device protected at all times. That's why we want you to know that at your fingertips, there are many free and premium antivirus solutions that will protect you from online threats without slowing down your iPhone or iPad's performance at any time.
The iOS platform is protected by multiple security measures, which ensures your iOS device is protected from malware attacks. However, you might need to run an antivirus app on your iPhone or iPad.
With the app, you are able to detect and delete viruses on your iPhone or Android device, secure your phone with a free Anti-Theft function, encrypt your private data using Bitdefender's Secure File, browse online safely thanks to Web Protection and much more. Some of these features only work on android phones.
You can also protect yourself against phishing scams with its enhanced web protection feature. Avira's free VPN is an additional layer of security that keeps you anonymous when surfing the web, as well as in search of new files to download.
Related: Best Mac VPN 2021
Overall, Bitdefender is the ideal app for making sure your mobile phone stays safe and secure. It scans your mobile for malware threats, alerts you if your account has been compromised, gives you a GPS tracker, syncs with Bitdefender's powerful antivirus software on your computer, and more. It is simple and easy to use and provides you with everything you need to stay safe while moving around.
Best Mobile security app for iPhone
⭐ Top Malware protection for Phishing and E-mail scams ⭐
Norton 360 the best antivirus for iPhone and iPad helps you protect all your devices at home, at work and on the go with easy-to-use security features. Norton's award winning antivirus software for iPhone and iPad includes Essential, Deluxe, Premium Protection plans that help protect your entire digital life from viruses, hackers, identity thieves and more.
Norton 360 is one of the top selling antivirus software in the world, especially under Windows platform. Norton also has an antivirus app for iPhone and iPad, just as what we have seen in Norton Mobile Security for Android. In addition to all functions of Norton Mobile Security, Norton 360 Antivirus app can also block spam text messages and warn you against unsecured wifi networks. More importantly, it also provides integrated VPN that can help to protect your privacy from hackers and government surveillance.
It scans your emails, social networks, apps, games, and browsing history to prevent you from downloading malware or accessing phishing sites. You can also use it to: – Protect your identity with a password manager. – Browse privately on public Wi-Fi networks. – Securely share files by downloading Norton file encryption software.
Norton secure VPN app is secure way to access your corporate resources from anywhere, Encryption prevents hackers from accessing your private data.
All in all, It is fast, safe and effective. Norton 360 is very popular in many countries. For casual users, it provides some services for free for 14 days. The premium version will provide you with more features as well as unlimited technical support by phone to help fix any problems you encounter.
McAfee Mobile Security
Best antivirus protection
⭐ Good for real-time protection⭐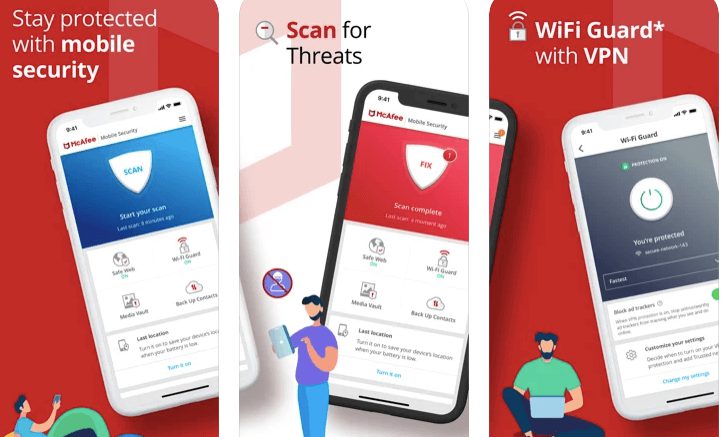 You're busy. We get it. Sometimes you just need to focus on what you're doing, and not be distracted by the fear of an online threat entering your system or a malicious hacker getting access to your personal information. McAfee Mobile Security helps keep you safe when you're on-the-go by providing you with an all-round protection that safes your files, photos and more. It also allows you to locate a lost or stolen device with just a few taps, and helps back up important content in case something happens to the device.
McAfee Mobile Security is a free all-round antivirus app for iPhone and iPad. It provides real-time protection against online threats including spyware, phishing and malware. It also performs regular system security scans to detect wifi attacks and outdated software. McAfee iOS lets you locate a lost or stolen device by using a GPS tracker, alerting you if someone attempts to tamper with your device, and it even backs up important content such as contacts, messages and photos.
With McAfee, you'll never have to worry about your private information falling into the wrong hands thanks to the real-time protection feature, which scans for viruses and spam while you browse the web. The system security scans keep your device updated with the latest version of iOS and prevents attacks from wifi vulnerabilities. When it comes to personal safety, McAfee is a must-have app that helps locate a lost or stolen mobile device using its built in GPS tracker. Check out this free iphone antivirus app now!
As you can see, threats to your online security are many. However, there's hope as there are also many options which claim to offer the best iPhone protection . But which of these private apps can you trust? And how do they stack up in terms of the features they offer and their ability to stop online threats?
It's important to have the best antivirus for the iPhone in place; using the right protection helps ensure your Apple devices stay safe from malware, phishing links, and other attacks.
There are many good reasons to install antivirus software onto your iPhone. Whether you're on transit, chatting with strangers or running a business, there are plenty of things you might be worried about. Let's take a look at why you should install the best antivirus for the iPhone and how it can protect your device from threats.
How to choose the best antivirus app for iPhone?
Antivirus is an important application for iPhone to keep your device safe. Have you noticed there are numerous antivirus apps for iPhone available on App Store, but how to choose the best one? It's essential that you know what you need in an antivirus app and what functions you should take into consideration when choosing one.
Choosing an antivirus app for your iPhone is hard in the first place, and then it gets even harder when you have to choose the best iPhone antivirus app that actually protects your device and makes sure that it doesn't get any kind of viruses, malware or any kind of threats.
So, when you are looking for the best iPhone antivirus app, you should take a look at the features that are available:  backup, data breach checker, online protection, Email scanning, blocking websites, a device locator, a VPN, etc.
Do I need antivirus software for my iPhone?
The answers is, No. You don't need antivirus apps for iPhone or iPad. All the above suggested anti malware apps are for internet security, so that you don't get in to a phishing scam or go to a malicious website that might compromise your data.
But for general use you don't really need an antivirus app for iPhone or iPad.
What's the best free antivirus for iPhone?
These are the best free antivirus for iPhone: Avast Security & Privacy and Avira Mobile Security.
How do I scan my iPhone for malware?
Check For Unknown Apps.
Check if iPhone Is Jailbroken.
Check if Data Usage is high.
Restart Your iPhone or iPad.
Delete Unknown Apps. … 
Clear History and Settings.
Update iPhone and other installed apps.
Use Security Software.
So, What makes an antivirus app great for iPhone?
Well, I think when it comes to antivirus apps, there are two metrics to determine if an application is good: performance and features. Features include the ability to protect all of the files on your device, password-protected settings, scheduled scans, and so on.
Performance is a little bit trickier though. Antivirus software should consume as little of your device's CPU as possible with no impact to battery life. Some apps take up a lot of memory and load slowly or take forever to launch.
How does a good antivirus app look like?
As we've mentioned above, a lot of apps in the App Store can only be considered parasitic by nature. They make everything worse instead of protecting your phone. The best antivirus apps always act as a notification system for new apps that might carry malware and help you keep them off your phone. Most importantly, they don't hang around and waste your resources or energy, like many free apps do.
Do antivirus apps include parental control features?
Yes, iOS antivirus apps can include excellent parental control features. There are a number of things you should consider before getting an antivirus for your iPhone or iPad, the most important of which is to remember some antiviruses are better than others at keeping you safe and secure from online threats.
If you want parental control tools like usage activity reports, content filtering, geofencing (only allowing kids to use their tablet when they are in a specified location) and more, it's important to choose an antivirus with these features.
How I have tested these iPhone anti-viruses and antimalware apps
One of the most popular topics people search for is "best antivirus for iPhone" or "best antivirus for iPad" and stuff like that. People want to be 100% sure that their devices and their precious photos and videos and notes and everything they have stored are safe. It's understandable — we take our smartphones and tablets with us everywhere we go. Many of us store important files on them — including thousands of dollars worth of pictures and videos. We often take them to places where we might be tricked into installing something sketchy onto our devices — such as an app from a sketchy website, or a P2P client.
As an iPhone or iPad owner, you must have come across the need for antivirus protection on your iOS devices. There are over 1.2 billion iPhones in use today. With so many people carrying around their life in their pockets, security is becoming a major concern. Because these devices store sensitive information like contacts, calendars, photos, call logs and app data, you need to know how to stay secure.
As I mentioned previously, I've never found a good anti virus app for iOS that protects against all kinds of threats. When you keep that in mind, it's not surprising that most of the top-rated apps on sites like CNET and PCmag are just derivatives of their desktop counterparts. Many antivirus apps for iOS offer real-time protection and most didn't try to trick users into buying a premium version they won't even need.
It's hard to find antivirus apps for iOS that doesn't sacrifice protection and features to such a degree that you wonder why you pay for it. When I Was making the selection of tested anti-viruses, I started with those bulky monster apps that Windows users still think is okay. That was an easy no-no; those apps would drain your iPhone (or iPad) and cause it to lag and crash.
Now, why am I giving an antivirus app a bad review instead of reviewing one that might actually be beneficial? Well, at this point, there is enough evidence that most iOS antivirus applications don't offer their users the level of protection required to fend off infections. This is primarily because Apple doesn't allow its developers access to APIs. This means that none of them can scan the memory and other critical parts of your device for viruses.
I took into account that most users will be wondering how I tested and selected these antiviruses. I looked at reviews and ratings on the App Store, and regularly tested them by opening infected files and visiting dangerous websites. I also regularly downloaded and installed applications and other content to test each application's behavior in searching for viruses.
I have tested 13 antivirus software for iPhone and iPad, including the hottest releases of 2021, to uncover which ones offer the best protection without affecting your iOS device's performance. Starting from the Apple App Store, I searched for "best antivirus" and then reviewed the top results. From there, I analyzed the apps by the number of installs and user reviews, as well as any notable characteristics such as free vs paid versions and how often they update their program.
Many people think that a security suite is the same as an antivirus, but it's not. An antivirus program protects your computer against viruses, ransomware, trojans and all sorts of malware. However, a security suite will work in conjunction with an antivirus and/or fire wall to protect you from even more threats and attacks. A good security suite should also have a firewall to prevent data leakage such as personal and financial information. If you don't feel safe without having some kind of an antivirus installed, or if you want maximum protection for your device, you should consider using both the antivirus and a security suite together.
To make matters even more complicated, some of them feature entirely different price tags and offer vastly different features depending on your budget. Thus, I had to be very selective when it came to choosing the apps that make it to our list.
Conclusion
Protecting your iOS device with a security app is one of the best ways to keep your private data and personal information safe from prying eyes. Though Apple does a good job most of the time of keeping its operating system updated and secure, it's always a good idea to add an extra layer of protection.
With technology constantly advancing, you'd think that smartphones would be safe from everyday threats such as viruses and malware. This isn't necessarily the case for iOS users, however. Because Apple refuses to allow antivirus scanning apps on the App Store, iPhone and iPad users are left vulnerable to the same threats of viruses and malware as anyone else who uses a computer.
Surprisingly, even though iPhones and iPads can potentially be every bit as vulnerable to viruses and malware as traditional computers, there aren't any antivirus scanners available for these devices. In fact, the only choice you are given is whether or not you want to "trust" an app.
Well, given that iOS is the most secure mobile operating system on the planet, there aren't as many risks for you to worry about. But as we all know, nothing is hackproof and a little extra security doesn't hurt.