Want to know what is the Windows equivalent of Ctrl-Alt-Del on Mac? The Control alt delete on Windows force quits the frozen application or reboots the system, but on Mac you don't have the delete key. And to force quit frozen applications or softwares you use different keyboard shortcuts on Mac.
If you are new to macOS and don't know how to use ctrl alt delete on your MacBook or Mac laptop, then follow the article and we will tell you four alternate ways to use Ctrl-Alt-Del keyboard shortcut on Mac.
The Control alt delete keyboard shortcut on Mac Command-Option-Esc.
There are a couple of other options that you can use on your Mac or MacBook Air or MacBook pro to unfreeze unresponsive apps or softwares.
First we will see how to Ctrl-Alt-Del on Mac:
Use Control alt delete on Mac alternative shortcut
Follow the below steps to know "How do you control alt delete on a Mac or MacBook" to force quit applications.
So here's how to do Ctrl Alt Delete on a Mac:
1. Press Command-Option-Esc on the Mac keyboard. It will open a new window.
2. After the Force quit application windows is opened , you will see a list of currently running applications or softwares. You might see "not responding labels" on those apps that are unresponsive and are causing problems.
3. Now from the apps list, select any app that you want to close and the press on the Force quit button.
Now the macOS will close the unresponsive applications.
Also read: How to delete apps on Mac
Control alt delete :
Using Activity Monitor on Mac
You can also use the MacBook's activity monitor for the same functionality as Control alt delete or Command-Option-Esc; to force close apps.
1. Open the activity monitor from the Finder or Application dock or using Spotlight.
2. Click on any application you want to stop or quit and then tap on the X stop sign button to close the application, as shown in the below pic.
3. Just tap on the Force Quit button and the selected application will be closed.
This is the second alternative for the Control alt delete shortcut on Mac or MacBook.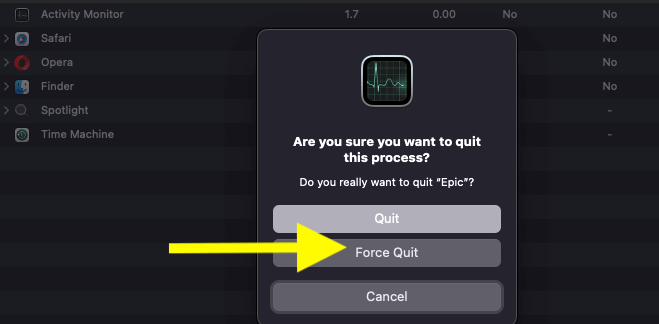 Control alt delete : Using Apple menu on Mac
This is the quickest and the easiest alternative of ctrl alt delete on macOS. You just have to follow two steps to force quit applications on Mac.
1. Go to the top right corner of your Mac and click on the Apple Menu
2. Now from the drop-down menu list, click on Force quit
Control alt delete: Using Dock
This is the third method to force quit application on your MacBook Air , MacBook Pro or iMac.
For this you just have to hold down the Control and Option keys and then long click on any app in the dock that you want to close.
This the third control alt delete alternative windows keyboard shortcut on mac that can be used for closing down unresponsive softwares.
Also read: How to type degree symbol on mac, iPhone

Control alt delete: Using Terminal
If the above stated methods are not working then you can turn to the terminal and use commands to close the frozen apps on Mac. This is the fourth ctrl alt delete alternative method on macOS for closing apps.
Open the Terminal app and then enter TOP
All the apps that are currently active will appear in the terminal app with relative information.
Now find the app that you want to close and then not the PID number that corresponds to that app.
Type "q" to exit the info panel
Enter this command to close the app using terminal
Type "kill111", replacing 111 with the application PID.
All the above methods are the replacement for ctrl alt delete keyboard on Mac. You can use these methods to force quit applications. If you know any other control alt delete on MacBoom trick that we did not cover in this article then please comment below or reach out to us.