I've been using CarPlay in my car for a few months now, and I'm here to share some of my favorite apps that have made the experience even more enjoyable.
CarPlay is an incredible new way to use an iPhone in the car. With it, you can make calls, get directions, listen to music, send messages and more—all from your iPhone onto your car's built-in display. One feature I love about CarPlay is that you don't have to bother with taking your iPhone out of your bag or pocket in order to use it, or worry about accidentally touching the screen while driving.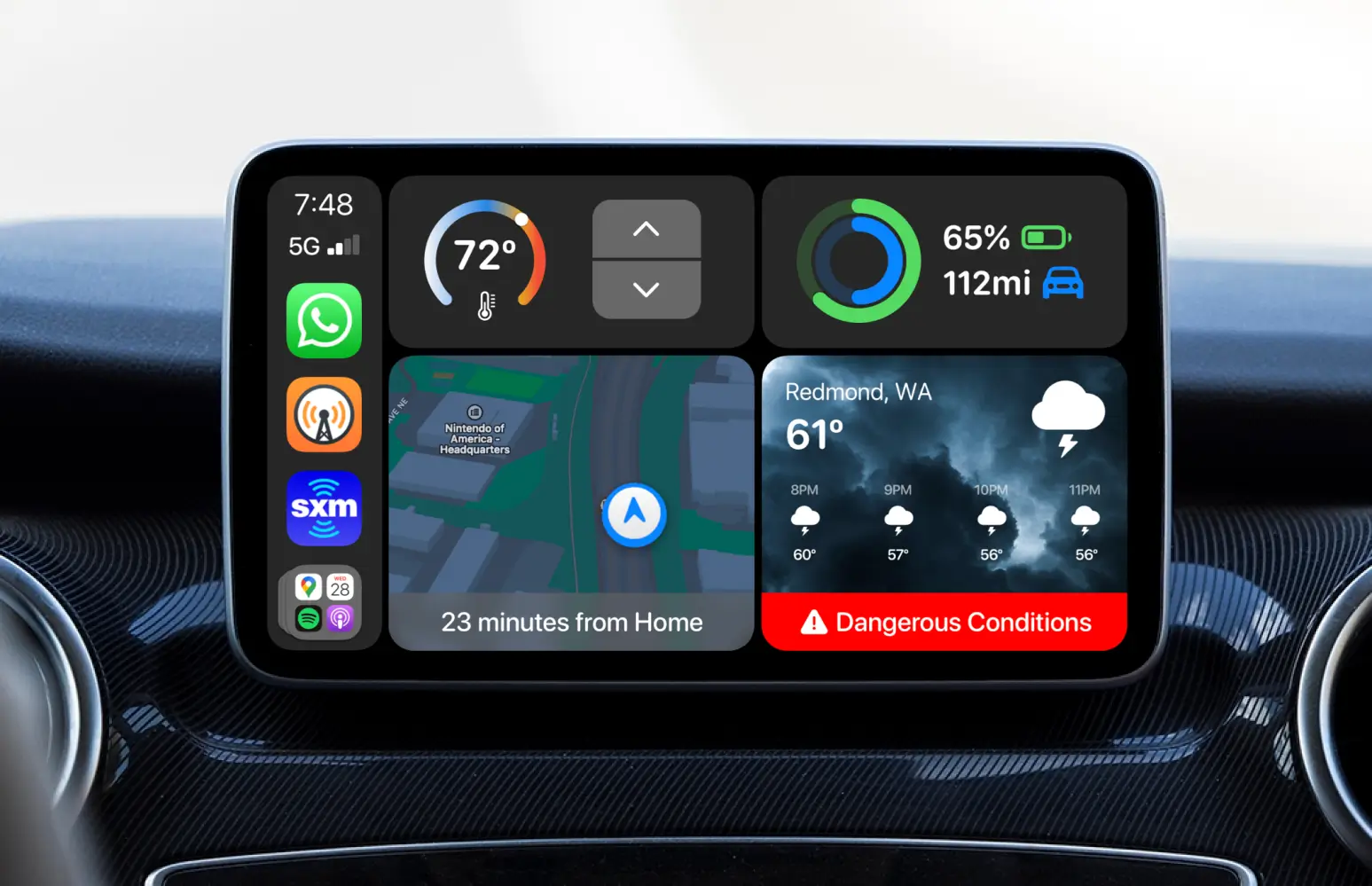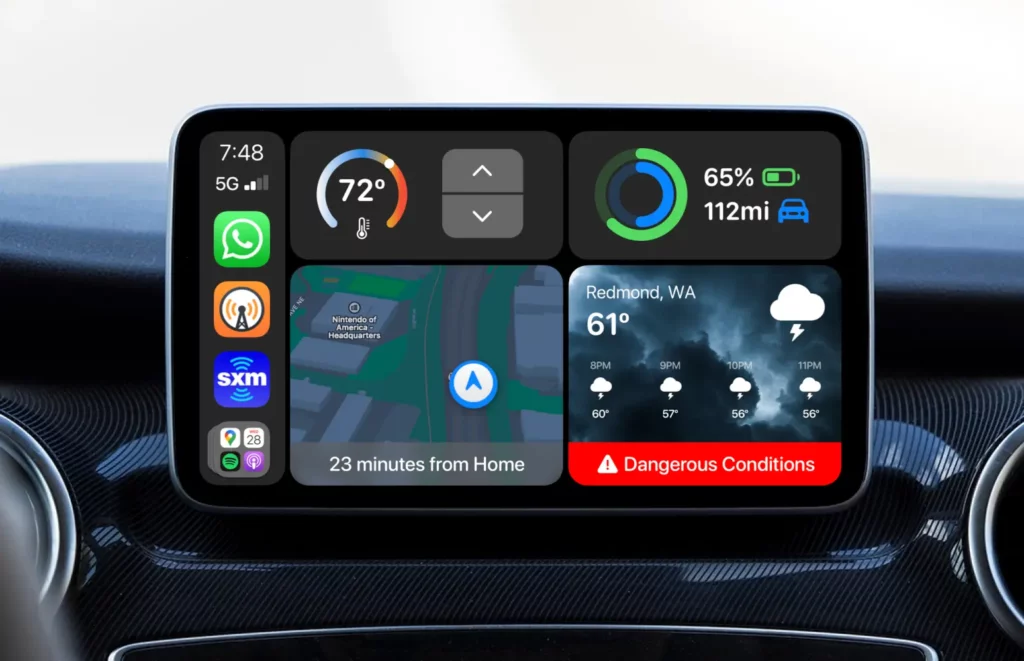 It's a great benefit of using CarPlay with a built-in infotainment system: all you have to do is press the voice button on your steering wheel and ask Siri what you want to do, and she'll take care of it for you.
This being said, there are definitely times when it would be helpful to be able to look at your screen while performing certain tasks—for example, when entering a navigation destination or selecting a song or playlist. Fortunately, there are many apps available for CarPlay that bring their functionality onto your car's display (as long as the app developer has chosen to make the app compatible with CarPlay).
What is Apple CarPlay?
One of the most popular features of the iPhone is its ability to go online so users can stream music, watch movies and TV shows, check email, and use social media. Apple's CarPlay system uses the built-in display in your car to let you do all those things right from your dashboard.
Apple CarPlay is a great way to keep yourself entertained while you're on the road. Just plug your phone into your car's USB port or connect it wirelessly via Bluetooth and you can enjoy everything you usually do on your phone—except now it's on your car's dashboard screen. Your vehicle's dashboard controls will still work, so you'll be able to switch songs, adjust volume, and even make or take calls without taking your eyes off the road.
The idea of CarPlay is that it provides drivers with a safer way of interacting with their phones while on the road. For instance, if you wanted to make a call, you'd be able to do so using Siri without ever having to touch your phone. By doing so, it eliminates the risk of distracted driving associated with taking calls or texting while behind the wheel—you're still able to respond quickly when called upon by a friend or family member without any extra effort. You also won't have to worry about having to find your phone in a bag or pocket in order to change music or adjust the volume—everything can be done right from the dashboard radio display screen.
➡ The Best tracking app for parents
The best thing about Apple's CarPlay is its interface: it's a safe, familiar place to access your phone while you're driving. The home screen holds the apps you need most while you're in the car, and they're organized into categories based on how you're likely to use them while driving. You can play music, check messages and dictate texts hands-free through Siri, and control directions with maps. It all looks great on your dashboard display too.
iPhone integration isn't even new for cars—there are lots of models that have Bluetooth for hands-free calling and audio streaming. What makes CarPlay so much more convenient is its Siri integration. You'll be able to ask Siri to play music, answer questions, and even dictate text messages while keeping your hands on the wheel and eyes on the road. You can also check out Maps and other apps using voice commands.
In fact, Siri is such a huge part of CarPlay that she even uses your voice from your phone's microphone rather than a speaker. This means that when you say "I'm going to be five minutes late," she'll recognize your voice and traffic conditions to figure out how much longer it'll take for you to reach your destination. Plus, she'll even offer suggestions on how you could leave earlier if there's a more efficient route available.
You'll need the latest software for your phone before you can use Apple CarPlay. iPhone 5S or newer models running iOS 7.1 or later are compatible with Apple CarPlay technology.
Below are the
best CarPlay apps

for iPhone

As you start driving with your new iPhone, it's only natural to wonder what apps you can use to make the experience safer and more enjoyable. Apple CarPlay provides a seamless interface for controlling your phone, but it can be hard to know which apps are worth using. One of the best ways to decide is through reviews from people who have tried these apps out for themselves.

Apple's CarPlay is a wonderful option for drivers, but it can be hard to sort through the apps you should download. Here are our top picks for Apple CarPlay apps:
1. Spotify – Best Music CarPlay app
Spotify is the most popular streaming music service in the world, and it's available on Apple CarPlay. This means that you can use your iPhone to control Spotify on your car stereo, and listen to all of your playlists, artists, albums, songs and podcasts. If you have an Apple Music subscription, you can also use this app for on-demand streaming too.
This means that no matter what car you drive, you can keep up with your favorite tunes and podcasts in a safe, distraction-free environment. And with support for both Apple Music and Spotify Premium, you'll be able to keep the beat going even if you're offline.
For me personally, my favorite part of using Spotify through CarPlay is the fact that it's "just" Spotify. I'm a huge fan of their app for my phone, so I was happy to find that it was easy to use on my car's stereo as well. The only thing I have to get used to is not being able to skip around within an album or playlist from my steering wheel—it's just one track after another (or all songs), which is especially annoying when listening to the top hits playlist on Apple Music. But overall, when it comes down to it I'd take this tradeoff any day because I feel more comfortable driving with CarPlay than I do having my phone mounted on the dashboard in front of me.
2. WhatsApp – Best CarPlay messaging app
WhatsApp is one of the best Apple CarPlay apps because it lets you send messages over Wi-Fi by simply dictating them.
WhatsApp is an indispensable tool for communicating with anyone who doesn't live in your house, and Apple CarPlay compatibility makes it a great option for in-car use. It's simple to start up a conversation with someone on WhatsApp—either by typing out a new message or calling them through the app's integrated dialer. It's also easy to transfer over any existing messages from your phone number's default Messaging app, and you can choose whether you want sent messages to appear only on the recipient's phone or both yours and the recipient's phones.
WhatsApp has a few specialized features that make messaging more convenient on the road. You can set notifications to appear as blue bubbles similar to iMessages, which stand out against other CarPlay apps like Maps and Music controls. In-car messaging is also a boon for drivers who are too distracted by the road to take their eyes off the dashboard, so they won't miss anything important while keeping their focus on driving.
3. Google Maps – Best CarPlay Maps
While you can use CarPlay for all sorts of things—from making calls to listening to music to checking your email—one of the best apps available on CarPlay is Google Maps. This app is perfect for anyone who spends time behind the wheel and wants to get from Point A to Point B safely and as quickly as possible.
The voice-activated navigation feature is easy to follow, and you'll never get lost with Waze real-time crowdsourced traffic updates. Plus, with Google Maps' integration with Apple Music and Spotify, you can easily access all your favorite playlists without having to fumble around in your phone's menu system.
There are other great apps on CarPlay, including Spotify and iHeart Radio, but Google Maps has been my go-to since I got my first car and I've yet to find a better option. You won't be disappointed!
4. Waze
Waze is a community-generated navigation app that uses the info generated by other drivers to help you get around town. Whether it's in an unfamiliar city or just your daily commute, Waze is a great way to help you avoid traffic jams, accidents, road closures and police traps so you can focus on getting to where you need to be.
For example, Waze will tell you the estimated time of arrival (ETA) for your trip, and if there's traffic on your route you'll be alerted so you can choose an alternative route. The app also allows drivers to share information about road hazards, closed roads, police locations, and more.
There are a ton of other features that make Waze more than an ordinary GPS app—it's even won awards for its innovative concept and ease of use. So download this one today and let it help you get where you're going faster!
5. TomTom GO Navigation – Best CarPlay GPS app
When you can't get behind the wheel, it's crucial to have a solid GPS app that can direct you. TomTom has long been a go-to source of navigation solutions, and their Apple CarPlay app is the best of the bunch.
TomTom has been a leader in navigation for years, and its app is a great way to take advantage of all that knowledge on the road. The app's interface is clean, with simple buttons to maneuver around between things like maps, directions, current traffic conditions, etc. It also supports Apple Watch so you can get directions even if you're not looking at your phone.
Tons of people already use TomTom's smartphone app for navigation, so when they got into the CarPlay game, they brought with them an existing user base, plenty of reviews from tech outlets and journalists, and a killer feature set. They display traffic, speed limit and speed information on the map itself—no more switching back and forth between screens to check this info. Their app also includes support for even more premium add-ons like real-time traffic information from TomTom Traffic and the ability to plan routes with multiple stops in between destinations.
6. Audible – Best Audiobook for CarPlay
Looking for the best Apple CarPlay apps? Audible is probably at the top of your list, and it should be. The audiobook subscription service has a great interface that clearly shows each title available, and which you can easily download straight to your phone. You can then start listening right away—no need to sync up with iTunes or wait for downloads to finish. There are plenty of books to choose from in every genre, so there's something for everyone. It's easy to use, too—you can control it directly from the Apple CarPlay interface, and your progress is tracked so you don't have to worry about losing your place.
There are also audiobooks for kids, so if you want to keep your little ones entertained on long drives, this is a great solution. (If you're not familiar with Audible, it's like Netflix for books. For a monthly fee, you can get unlimited access to their library of titles.)
7. iHeart: Radio, Music, Podcasts
Assembling a good playlist can be a daunting task. Fortunately, there are plenty of great apps out there that can help. Some of the best Apple CarPlay apps make it easy to find fresh new music or rediscover old favorites.
iHeart Radio , which offers listeners access to hundreds of live radio stations, as well as custom playlists and curated stations based on your favorite artists and songs. With iHeart Radio in your car, you'll never need to worry about being stuck in the car with outdated music again. Playlists are arranged by genre and tailored to specific moods and activities, so you can always find something that suits your needs wherever you're going.
It's also possible to build customized presets for different times of day. This means that when you start your day at 6:00 a.m., you'll hear a mix tuned specifically for the morning drive. When you hit the road for lunch at noon, the radio waves will be filled with the best midday sounds. And once the sun sets, iHeart Radio will automatically switch over to an evening preset to help you wind down after a long day at work or school. There are even some great perks if you're willing to pay for premium features.
iHeart Radio is a must-have app for Apple CarPlay users because it lets you listen to local stations—without ever needing to touch the dial or search through presets. Just open the app, select your preferred category (such as Classic Rock or 80s), and then select which station you want to start listening to. You can also use the iHeart Radio app to listen to podcasts, sporting events and news programs.
8. Apple Podcasts
If you're an avid podcast listener, it's hard to live without Apple Podcasts for your CarPlay device. It functions just like the regular app on your phone, where you can find and add new podcasts. You can also sync up with your iTunes library to download offline episodes of shows you've already been listening to. This is particularly great if you have a longer commute and want to use that time to catch up on your favorite series or learn something new.
9. Phone
The CarPlay integration in the Phone app lets you make and receive calls without taking your eyes off the road. Once you've paired your car with your iPhone, you can enable CarPlay mode on the Phone app and use it to access all of its functions. This is a great alternative to picking up your phone and dialing or texting while driving, which only takes one hand off the wheel. It requires only a few taps to get started with making a call.
It's simple, so you can make and take calls from your car's dashboard, but it also has all of the functions that you're used to having on your phone, like a dialer, voice commands, and access to your contacts. When you open the Phone app while using CarPlay, you can scroll through your contacts or tap the microphone in the search field to call someone by saying their name. You can also touch the Recent Calls tab to see a list of recent calls you've made or received (with the option to call them back), and tap Voicemail in the tab bar to check that feature as well.
10. Messages
Apple's CarPlay is a pretty amazing system that allows drivers to access their iPhone's maps, music, and other apps in the car with minimal distraction. One of the most useful features of CarPlay is its ability to read your messages aloud, freeing you up to focus on the road.
The Messages app lets you converse with your passengers while keeping your hands on the wheel. In order to activate it, you'll need to start a message in the regular Messages app, then tap the "CarPlay" icon in the bottom right of your screen. The most recent messages in this thread will be read aloud to you, and you can respond by tapping the microphone icon in the bottom right of your screen. To dictate a new message, tap and hold the microphone icon for a few seconds until you hear an audible prompt asking if you'd like to dictate; then, speak into your phone's microphone.
11. TuneIn Radio – Best CarPlay Radio app
Apple CarPlay is a great way to listen to tunes on the go. It has a lot of great features, but there are some issues. The first is that it only allows you to save your favorite stations in the "favorites" section of the app. That means there's no way to easily scan through all available stations. The second issue is that when you do have saved favorites, they don't show up in order—instead, they're just a jumble of stations that you have saved (which can be frustrating if you want to listen to a certain genre or channel).
The solution is TuneIn Radio. All you have to do is download it for free on your iPhone and open it up on your CarPlay-enabled vehicle. It works great—you can even listen to local radio stations, which are often missing from Apple's own built-in options. Plus, it lets you stream music and podcasts straight from the Internet, so you can find content that isn't available on AM/FM.
TuneIn has over 100,000 AM and FM stations in its database, so odds are good you'll find what you're looking for. It's also got some cool features like lyrics and sports play-by-play.
12. MLB – Best CarPlay app for baseball fans
The best MLB app for CarPlay is easily the At Bat app. For a fee of $19.99 per month, you'll be getting live baseball games and access to full seasons of replays from the 2014 season and beyond, as well as news and live updates all year long.
You can also receive notifications about your favorite team's games and listen to them on the go with a wide selection of audio content from channels like ESPN, CBS Sports, FOX Sports, and others. Plus, you can watch highlights for free whenever there are none on TV or online. The interface is sleek and intuitive and has a beautiful home screen that makes it look like an easygoing game experience that doesn't compromise on quality or information.
13. Overcast – The best Podcast
The best thing about Overcast is its simple, intuitive interface. The app manages to do many things but never feels cluttered. It's a great break from the crowded, "competition-driven" market of podcast apps.
I love that you can listen to the episodes in a single feed and have a responsive search engine that organizes your episodes by itself. When you click on an episode, you can download it directly to your device and it will autoclose the window when you reach the end of the episode. The service also allows you to skip forward and backward through each episode, making it easy to listen to next or previous one without going through an annoying menu or hitting a button every time you want to catch up.
It's also nice that you can set up playlists within an alphabetical order, which makes it easier for me to find interesting podcasts I've never listened before.
The best feature of this podcast app is that it automatically downloads the latest version of your podcast. You can add new episodes or remove old ones quickly and easily, and it's easy to customize preferences for each one. You can bookmark them as favorites, and there are thousands of available options to choose from in the App Store. The interface is quite intuitive and user-friendly, with a list of playlists that makes it easy to build up an orderly library.
14. NPR One
We all have our favorite podcast, don't we? Listening to a podcast is one of the most important things in my life. And if you love to listen to podcasts as well, you'll love NPR One. It's a free app that lets you listen to your favorite public radio shows and stories from around the world.
In addition to the variety of programming available through this app, it also features six original shows: "All Things Considered," "Morning Edition," "Tiny Desk Concerts," "Fresh Air," "Science Friday" and "The TED Radio Hour." I personally enjoy listening to these shows every morning when I'm getting ready for work. The only thing I wish they had was a button on my phone that turned on the microphone when I hold it up to my mouth and talked into it, like Siri. But that's just me—maybe you have an app for that!
15. PlugShar‪e‬
Plugshare works for all electric vehicles, including Tesla, Chevy Volt, Nissan Leaf, and BMW i3. Plugshare is a handy app to have for those who own an electric vehicle and need to find charging stations quickly and easily. The app allows you to search for charging stations in your area or along your route and can also recommend the best location based on the type of plug that you will need.
When your car is running low on power, you can type in the address of the nearest station to get directions. The app shows you all of the charging stations in your area—you can search for a specific type of charging station (like tracy), or find out which stations are compatible with your specific EV.
16. SpotHero
Traveling to places like New York or Boston can be challenging. Finding the right parking spot, somewhere safe, with a low cost and close to your destination, can be the difference between a good day and an average one. Fortunately, technology has made it easy to find this kind of maneuvering and get it done fast. Now you can use your smartphone to reserve a parking space ahead of time with apps like SpotHero.
This app lets you view available spots in real-time for all major cities in the United States, so you can book your spot before you even leave the house.
The best part about an app like this is that it allows you to take the hassle out of the parking process. Instead of spending money and time on driving around in circles, you can reserve a spot ahead of time—and avoid paying more than you'd like. In the sense of saving time and money, it's a smart move. But what's more awesome is that it's now possible to go back in time and fix that mistake: through technology, you have the power to rewind and redo that last step. This is exactly what Timehop does—it accesses your data from years ago, so you can see what happened in days past without having to dig up old bank statements or letters.
17. Dunkin
If you're a big fan of the coffee chain, you can use the CarPlay app to easily place an order for your favorite items. If you're in a hurry, don't worry: the app is also working on mobile ordering at several hundred locations nationwide.
The food is great and no matter who you are, you'll like the prices. I went there for lunch one time and was pleasantly surprised by how good the food was. They have a variety of breakfast from eggs to waffles to bacon and sausage. I really liked their chicken and waffles, but it's also tempting to try their BLT as well.
Download these top Apple CarPlay apps right now
CarPlay works with many apps, but not all of them. For that reason, it's important to download only the apps you'll actually use. On the other hand, if there's an app you've been looking for that happens to be compatible with CarPlay, this is certainly the time to get excited. Either way, I recommend installing these 17 essential apps when you make the switch to Apple CarPlay.
CarPlay is making our lives easier every day, whether it be Apple Maps on the go, or your favorite music app providing you with all the latest tunes. Now that you know what to look for when downloading these apps, it's time to get behind the wheel and take CarPlay for a spin—just make sure to buckle your seatbelt first!