Want to record screen on your iPhone 12, iPhone 11 or iPad?
With iOS 11 or later, you can record the screen on your iPhone 11, iPhone 12, iPhone X, iPhone SE, iPhone 8, iPhone 12 Pro , iPad, or iPod touch. The new iOS 12's Control Centre makes it a lot easier to get things done on your iPhone. One of the most recent additions is the ability to start recording your iPhone/iPad screen. This feature is compatible with some built-in apps.
Screen Recording is a feature that allows you to take video of whatever's on your screen at any time, and it has been a staple of jailbroken iPhones for years. However, Apple has allowed the option to live on as of iOS 12. In this article I'll show you how to add Screen Recording to your iPhone's Control Center and my favorite apps to use while recording your screen.
Ever wanted to make a tutorial, or record a video of your screen, but didn't have access to a smartphone or video camera to do so? Don't worry, the iPhone 12 has your back. In fact, you can do it right now, without any other equipment.
Screen record on iPhone is not that difficult. However, there are some limitations. For example, you can't record your screen and use screen mirroring at the same time. Some apps may not allow you to use screen recording. For example, if you try to record Skype. Some games may not allow you to record your screen too.
There are a few prompts that come up as soon as the recording is activated. It will count down from 3 with a little red circle around it and a wave sound pattern, then when the time is up, recording begins. Touching the circle will stop it if needed.
How to Add Screen Record to Your iPhone 12
Open Settings.
Go to Control Center.
Scroll down and open Screen Recording.
Tap + green logo next to it.
This will add the Screen Recording to your Control Center.
Now you can easily Start recording your iPhone or iPad screen from control center and lock screen.
How to Record Your Screen on iPhone 12

Recording your screen helps you create instructional videos, demos that show how apps work, remind yourself of instructions needed to perform tasks on your device, and much more.
Step 1: Swipe down from the top right corner of your iPhone screen to Open Control Center.
Step 2: Now touch and hold the Screen Record icon as shown in the below image.
Step 3: Now tap on Microphone to enable or disable the voiceover in your screen recording.
Step 4: Tap Start Recording, and Wait for 3 seconds until the timer goes off and screen recording is active.
Step 5: Your iPhone screen will be recorded until you stop it.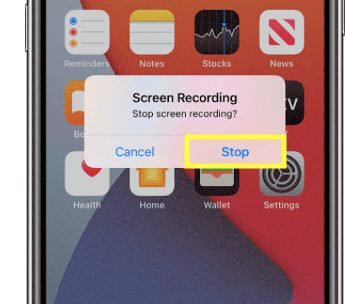 To stop recording your iPhone or iPad screen, just tap on the red status bar at the top of the screen and touch Stop. Alternatively, you can also stop iPhone's screen recording by opening control panel and tap on Stop recording.
It is Perfect for creating how-to videos, Skyping with family, or showing off an epic score in Every game!
Capturing the screen on an iPhone 12 Plus is easy, if you know where to look for the option. It works similarly to the resolution options for choosing which save file format iOS creates when you take a screenshot. This makes it possible to record the screen, add your own audio commentary, and then share it with others in a variety of available formats.
Screen Recording on iPhone 11, iPhone 12, iPhone X, iPhone SE, iPhone 8, iPhone 12Pro Max, lets you record your screen to capture the perfect moment, or help others learn how to use your app. Audio will be captured only if you're using an iPad Pro, iPad (5th generation), iPad Air 2, iPad mini 4, or iPhone SE. Screen recording lets you record your iPhone, iPad, or iPod touch screen and include audio from the microphone.
Previous Considerations
Screen recording has been possible on iOS since the introduction of iOS 8. Back in 2013, Elvin Duran wrote an great article that explained how to add the screen record option to the Control Center of your iPhone or iPad. In his article, he used a jailbroken device for the demonstration which meant you were required to jailbreak your iPhone in order to follow the steps. It also meant that not all iPhones/iPads supported screen recording (those running operating systems below 8).
Conclusion
Screen recording on an iPhone 12 is a great way to record your screen. It comes in handy when you need to capture what's on the screen. Maybe you're trying to learn a new app or show someone how to do something from your phone. The one drawback is if the mic you use with your iPhone has some background noise it'll also appear in your footage.
Screen Recording on an iPhone is a great feature that allows you to quickly record any app or game. You can record anything you see on your screen, whether it's typing out an important email, showing teammates how to do something, or figuring out what went wrong.
In addition to recording your screen, third-party apps enable you to capture your device's live audio, take still images from your video, and even save multiple video clips to different video formats.
Screen recordings are saved as .mov files that are saved into your Camera Roll and can be shared via Air Drop, Messages app, and also sent from iMessage and WhatsApp. The screen recording feature is so powerful that it isn't available to everyone at once. It is only available after you get past the lock screen on the iPhone with Touch ID (or Face ID).
From streaming gameplay to recording a photo booth photo or video to showing friend's how to use a new app, there are many different reasons you might want to record video from your iPhone. Recording your screen will allow you to show your audience what's going on during a task whether it's a walkthrough of a set of tasks or showing off a cool feature. In iOS 14, Apple finally added this feature into Control Center allowing you to quickly access it from anywhere within iOS.