If you've ever wondered how the many productivity champions and multitaskers out there are able to stay so effective and efficient, the truth is that they have a secret weapon: apps. Because let's face it—the only way to get through your daily tasks, from organizing your finances to managing your time, is with a little technological assistance.
Setapp is a subscription-based Mac software library that houses over 240 tools, from the popular AdGuard, CleanMyMac, Clear VPN, and AnyTrans to lesser-known tools like Spotless and Mate translate. With a focus on productivity and creativity, Setapp provides design, development, education and photography tools at an affordable monthly price.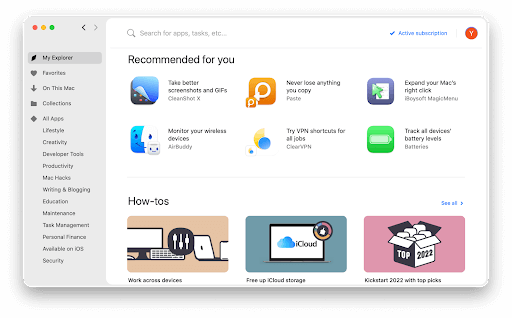 Setapp's new pricing structure is unique in that it provides several tiers of membership based on how many machines you want to install the software on. The lowest tier is $9.99 per month for up to three machines. The higher tiers are $12.94 for up to 1 Mac and iPhone or $14.99 for 4 Mac's. Each tier also includes extra features, such as every app is updated automatically, and annoying ads will never distract you and adding new apps without increasing your monthly subscription.
For the most part, Setapp's tools are organized into these categories:
Lifestyle
Creativity
Developer Tools
Productivity
Mac Hacks
Writing & Blogging
Education
Maintenance
Task Management
Personal Finance
Each category leads to a page that lists all of the apps included in that category, along with screenshots and descriptions of each app's features. Tapping on any individual app opens up more information about its features and usually a video demonstration of the tool in action.
What is Setapp, and why you need it?
If you're reading this, there's a good chance you're pretty invested in your personal productivity and efficiency. You probably have a to-do list you wish was as long as the Great Wall of China, and enough apps to fill up the space it would take to build it. But having too many apps can be almost as much of a problem as having too few.
Finding the right ones for your needs, managing all those different login credentials, and finding a way to pay for everything—it can be a full-time job in itself. Setapp is the platform that makes it easy to get everything you need from one place.
Setapp is an alternative to Mac App Store and a bunch of paid apps in one subscription. It gives you access to apps that are handpicked and categorized by professionals, so all you have to do is to download the app and start working.
For example, if you want to organize your finances, there's a finance management app that can do the trick. If you want to work on your productivity, there's a time management app. And if you want some extra features and security for your Mac, there's an app for that as well. With Setapp, you can access all these apps from one place at one price. Not only that, but Setapp has been around for a long time and has amassed a great reputation as the alternative source of apps for Mac users.
What does Setapp offer?
A carefully curated app store that gives you access to over 240 top-quality business and productivity apps for one low price.
Free trials for apps so you can try before you buy.
The ability to sync between all your devices so any changes are reflected on all your devices simultaneously.
The best part about Setapp is that it has hundreds of premium apps in one place, without all the bloatware that comes with traditional software installers. It doesn't matter how many applications you install on your computer; Setapp won't slow it down.
Ability to choose your favorite apps across all categories
Ability to use the app for free for 7 days
Instantly accessible from Mac and iPhone
All apps are up-to-date and fully functional
All apps in the catalog are tied together into a single subscription, so you can save hundreds of dollars a year on software.
Updates are always free, and all major improvements are included in your subscription.
With Setapp, you don't have to worry about paying for your apps anymore. There are no hidden costs, and no hassle! The world's largest software providers have created the ultimate solution for their customers by offering them the highest quality software apps at an incredibly affordable price.
Setapp is an application that aims to bundle multiple applications in a single package, in order to offer you a wide variety of useful tools. By grouping together powerful applications into one platform, Setapp offers a solution that lets power users get the most out of their work. If you're in the software industry and use multiple programs on a daily basis, Setapp is likely a worthwhile tool to consider.
If you want to save money on software downloads, you should use Setapp.
Productivity
Setapp has over 90 productivity apps that can be used to improve everyday productivity and workflows. Some of the most popular ones include:
ClearVPN is a free VPN service that lets you access blocked content, surf the web anonymously, and protect your data from hackers. It's compatible with Mac, Windows, iOS and Android devices.
Dropshare is a free cloud storage app for macOS and Windows. It lets you securely share files with friends and colleagues or publicly via a link that expires after 24 hours.
2Do is a powerful task manager for Mac that helps you get through day-to-day work with ease. It allows you to focus on what's important while automating routine tasks and offers plenty of tools to help manage projects and stay productive.
Dropzone – this app allows you to automate your file management by allowing it to upload and download files. All you have to do is drag a file into the interface, and it will automatically upload or download it for you through cloud services like Dropbox or Google Drive.
Ghostnote – this app allows you to create contextual notes on anything on your Mac, from websites to images and files, which makes it perfect for students who frequently use their Macs in class.
Mosaic – this app is an ultimate window manager that allows you to organize your apps with ease, allowing you access to all your favorite tools at once.
Setapp Writing & Blogging apps
For writers and bloggers, staying organized and writing well is challenging enough. That's why we've been fans of Setapp for a while now—it's a collection of creative applications that make the process smoother, whether you're working on the next great novel or the next great blog post.
For example, Setapp subscribers can use Ulysses to organize their notes and create gorgeous documents. PDF search makes it easy to find documents on your computer or online, and Pile brings it all together in one place. MonsterWriter boosts your creativity by letting you write in an entirely different font and size, which can be especially helpful when you're working on something more difficult. There are plenty of other helpful applications too—check out what else Setapp has to offer!
Ulysses is a word processor that allows the user to make beautiful documents that are easy to read. The formatting tools allow the user to customize their document to fit their needs.
PDF search is a tool that allows users to search for certain phrases or keywords within PDF files. It also allows the user to highlight sections of the PDF and add notes about what is being searched for for future reference.
Pile is a content curation tool that lets you capture and share your favorite posts, articles, quotes, photos, and more. Sort through the latest internet gems with ease with Pile's simple user interface.
MonsterWriter is an easy-to-use tool for writing long-form text without running into the dreaded "writer's block." Use this app to write your next term paper or post in a blog!
Mate Translate helps users learn the correct pronunciation of words in 103 different languages. Users can select which language they would like to study, and can listen to how that word is pronounced by clicking on the play button.
Price:
Monthly – $9.99/month
Annually – $12.49/month
Family – $14.99/month
Conclusion
The purpose of Setapp is not only to provide access to a large collection of quality software, but also to allow users to save money while doing so. Setapp's creators are hoping that users who pay $9.99 per month instead of buying each program individually will end up saving so much money that they will never want to go back to the old way again. They may even be convinced to try out new programs on the platform that they might not have considered purchasing otherwise.
It's a well-stocked toolbox with a carefully curated selection of popular applications and powerful new arrivals. The developers have done an excellent job of selecting apps that are useful but not overwhelming, or close variants of popular apps. Even better, it seems safe to assume that Setapp will continue to grow in size, further increasing the value for any designer who is already using or might want to try out a suite of applications.
Graphically, the pricing is elegant and easy to use. The system is well integrated, learning from each version and looking more refined with each build release. A less technical person could easily install, run and learn about Setapp in a matter of minutes.