Sleep is an essential part of a healthy lifestyle. Having a good sleep hygiene can improve the quality of your day and lower your stress levels. Maybe you never considered it, but the type of mattress you're sleeping on can have a tremendous impact on your sleep.
However, before we dive into the details of different mattresses, let's first talk about how can we make sure we actually track our sleep.
Just wear your watch to sleep and let AutoSleep do the rest.
With a personalised Sleep Goal, AutoSleep shows you how much sleep you need to feel great!
AutoSleep calculates your ideal bedtime based on how much sleep you want and how long it takes you to fall asleep.
Using Advanced Sleep Analysis algorithms, AutoSleep works out how long you slept, how often you were awake, what time you went to bed and what time you got up.
One quick glance tells everything. A clear depiction of your previous night's sleep.
Understand your sleep with regular notifications summarising how well rested you are feeling and allowing for quick access to trends, graphs and data export.
Autosleep tracks your sleep patterns for the Apple Watch.
➡ Apple watch 7 Sleep Tracking
There are many weight loss apps, running apps, walking apps and sleep trackers. If you are interested in living a healthy lifestyle you can always start tracking your progress the smart way: by using more than one app at a time.
➡ Best running app for Apple Watch
After all, you won't know if your mattress is causing you insomnia until you know how much time you spend asleep each night. This is where AutoSleep comes in. It automatically tracks each and every sleep session using the new advanced sleep tracking feature introduced with Apple Watch Series 4.
AutoSleep automatically tracks your sleep from your watch. It runs in the background and uses your movements to determine if you're awake or asleep. AutoSleep is super light weight and fast, so it won't drain your watch's battery.
Know at a glance how much time you spend in bed.
Review your sleep trends over the last days, weeks or months.
See your average sleeping, waking and sleeping heart rate.
Discover how your sleep trends relate to caffeine intake, walking distance and exercise.
See how much deep sleep you are getting and compare this to average values for your age range.
Share a complete PDF report with another physician or caregiver.
AutoSleep turns data from the Health app into information that is useful for you.
I've been wearing my Apple Watch every day for sleep tracking since the beginning and I'm loving it. But as with anything that's new, you have to remember to set it up correctly and make sure you're getting maximum benefit from it.
➡ Best Sleep Tracker for Apple Watch
It's been estimated for decades that 1 in 5 of the American workforce is sleep-impaired. That should be a clear indicator of how much free time a tracker could potentially save — leaving people more time to relax, read, watch TV, exercise . . . take that vacation you've deserved for so long.
After testing several devices from Fitbit and Jawbone, I came to a conclusion shared by many: there are already too many things in my life vying for my attention that require me to press buttons. Just give me something to wear at night — on my wrist or head — and just let it do its job. When I start seeing things like apps on the Apple Watch that could work without the iPhone or a dedicated app, the promise of all-night tracking seemed right around the corner.
➡ How to Count and track steps on iPhone and Apple Watch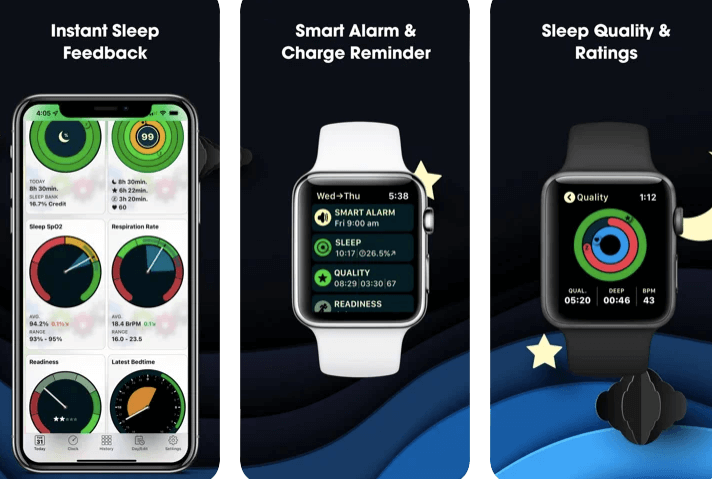 ➡ Which apple watch tracks sleep ?
Advanced wearable technology has led to the release of multiple products that focus on fitness, sleep, and more pertaining to your health. These devices are a great way to track a lot of information relating to your health. However, when it comes to the information related to your sleep, this might be a little different.
Autosleep is Best for: 
AutoSleep provides users with a comprehensive range of sleep tracking features and statistics in a very intuitive and well presented format.

It is best for those who want to quickly and easily keep track of their sleep patterns, but may not have time to input the detailed information that other apps require.
How it works :
For the Apple Watch user, the app allows automatic sleep tracking, which means they don't need to log when they go to bed or wake up. When you wake up, you will receive a notification that tells you how long you slept for the previous night.
You can also see what your 'sleep quality' was like by looking at how often you woke up during the night. If you tap on the notification, you will be taken to an app on your phone that has more detailed information about your sleep patterns.
The app will give you basic information about your current sleeping pattern over time as well as information about your average sleeping pattern and whether you're getting enough sleep each night. The app also provides a calendar where you can look at past sleep patterns to see if there is anything that might be causing any changes in your
➡ Does Apple Watch Track Your Sleep ?
You also get your heart rate graph for the night, you were in bed for and when you turned the lights out. You can also choose to see how long it took you to fall asleep, if you woke up during the night, what time you go up and what time you turned out the lights.
AutoSleep has a beautifully designed Today Widget which shows your latest sleep score with a tap. It provides overnight sleep stats at a glance.
On your iPhone, open the Health App and make sure that an "Allow" button appears next to Sleep Analysis (if not, there's nothing to do here).
Then choose "Allow". If a "Share" button appears instead of an "Allow" button then this step has already been done – but it's important that AutoSleep is in fact allowed to share data with Apple Health. The Privacy setting within AutoSleep will only control whether or not data is actually written to Apple Health.
➡ 7 Best Apple Watch App for Golf
Advanced Heuristics
Does it feel like you never get the right amount of sleep? AutoSleep tracks how long you've slept, so you don't have to. First time tracker? No problem! With their "Advanced Heuristics", AutoSleep works out how long you've slept so you don't have to. You can also monitor your heart rate and quality of sleep with various sleep metrics. Whatever your needs, AutoSleep is here for you.
AutoSleep lets you track your sleep automatically and works out how long you've slept, so you don't have to. Just wear Apple Watch to bed, and AutoSleep will detect when you're in bed, when you fall asleep, and when you wake up.
Using Heuristics you're guaranteed to get an accurate reading no matter how you sleep. Simply go to sleep and in the morning your Watch will notify you of your sleep levels and when you need to wake up. Don't worry about pressing buttons, AutoSleep's algorithms do the work for you.
AutoSleep app works with HeartWatch premier heart & activity monitoring app to help you track your daily activities and sleep duration and movement. AutoSleep writes your sleep information including deep/light sleep, awake time, time to fall asleep, total time slept, heart rate and snoring to Apple Health App (free on the app store).
The app gathers data during the night when you are wearing a Bluetooth 4 BLE enabled device (like compatible Apple Watch or iPhone 5S / 6 / 6+) equipped with a heart rate chest strap. AutoSleep is feature-rich yet easy to use application which tracks your sleep automatically even if you fall asleep without wearing a chest strap or take it off because of discomfort.
You don't have to Wear Apple Watch
AutoSleep is the easiest way to keep track of how you sleep. As everyone is a little bit different, AutoSleep provides a simple setup wizard and an option to tweak the settings if you are a very restless sleeper. All of your data will be stored on your iPhone.
➡ 7 Best Pedometer Apps for iPhone and Android
The AutoSleep Watch app uses your iPhone's sensors to track how much time you spend in bed. Unlike conventional sleep tracking apps that require you to wear a specific device on your wrist during the night, AutoSleep works without your Watch!
AutoSleep automatically tracks how long you sleep in the morning for the millions of Watch wearers who don't wear their Watch to bed. This can add up to months of valuable data. AutoSleep uses the data to understand your sleep patterns and wake you up at the right time, even when your Watch is charging and you're not wearing it!
It calculates the quality of your sleep including: Time in Bed, Total Sleep, Restless Sleep and PAUSE alerts. It gives you daily sleep trends so you can measure how different habits affect your sleep over time. AutoSleep uses a mixture of accelerometer data and iPhone's proximity to track when you are sleeping. It also shows the amount of time spent sitting/standing up and on a train/bus.
Conclusion
The biggest problem with sleep-tracking devices is that they usually fail to track your true sleep quality. Most sleep-tracking devices require you to have a smartphone nearby which not only emits blue light — a known sleep disrupter — but also requires you to press a button to signify when you are falling asleep and when you wake up. With AutoSleep no lights, no buttons, no problems.
If you're constantly monitoring your Watch to see how much time you've been sleeping, you're in luck. AutoSleep does the hard work for you, using advanced heuristics that are designed to learn how long it takes for you to fall asleep and how long you spend in each sleep cycle. Once AutoSleep has worked this out, recording your sleep is as simple as putting on your Watch at night.
While there are a number of options for those who want to keep track of their sleep habits, I've come to prefer the AutoSleep Tracker. It's simple to use and has been tested in such a way that it provides reasonably accurate results. It also tracks sleep period as well as calculates movement during the night.
To sum up, Autosleep is a great concept and is executed well. It can be overzealous in its tracking at times which means it reports less sleep than you actually got, but this is only a problem if you are comparing your sleep to other people's and want to see how you measure up, or if you are worried about the effects of a poor night's sleep on future days.
Sometimes it can miss tracking your sleep completely for reasons that are unclear – for example one night I was up quite late and although I lay in bed until the morning I don't think it detected any sleep time.
Autosleep tracker Review : Apple watch and iPhone
Features

Sleep tracking

Accuracy
Summary
With great features and coming at a low price, AutoSleep is a fabulous choice for any Apple Watch users who are also interested in tracking their sleep. It can even be used without the watch if desired, making it top-quality, regardless of which wearable device you use.