There are many calendar apps that can be useful when managing different aspects of your life, no matter what aspect it is. For example, if you work with teams, you need to know their availability and you can use a calendar app to help you with that. There are also productivity calendars which help you to schedule your day based on how much time you have left before deadlines.
As humans, we're creatures of habit. We can easily fall into a routine which works fine for the first few weeks, but over the months it starts to wear on us. This leads to thousands of people out there working hard at their jobs, and wanting there to be something more to life.
➡ Best Calendar App for iPhone and Apple Watch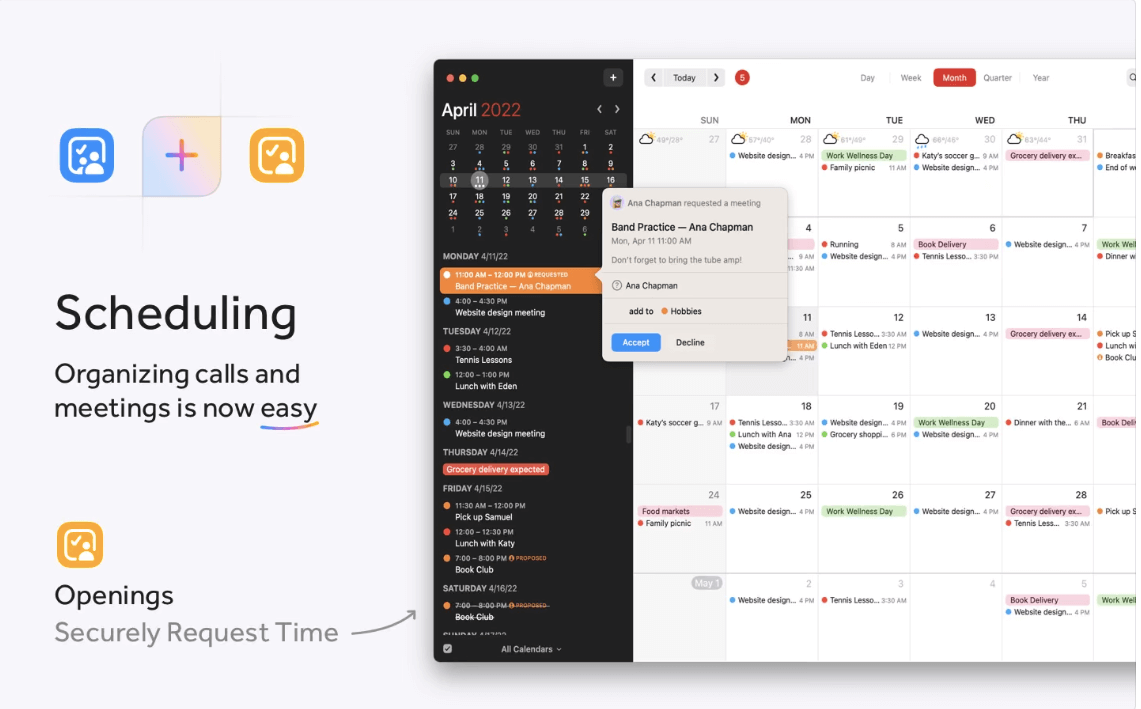 Luckily, there are several apps that you can download to your Mac computer which will help you keep on top of this hectic schedule you set for yourself by making sure that you accomplish all of the necessary tasks. Some people prefer to use service like Evernote to keep notes from their meetings, but I'll show you what app I prefer and why throughout this article.
There are a number of calendar apps available for Mac, but they all have their strengths and weaknesses. In this article, I'll be listing the pros and cons of eight popular calendar apps for Mac:
Calendars are often overlooked in discussions of apps for Mac, but this is a critical piece of productivity software that, in our opinion, should be given more attention. Many applications have calendars, but few are as good as Fantastical's. It looks great, it's elegant and efficient, and even has some handy features for those who use Fantastical on their iPhone or iPad. It would be easy to write a multi-paragraph review singing its praises, but we'll make it brief: Fantastical is worth trying, even if you currently use another calendar app.
These are the 8 best calendar apps for Mac
Choosing the best calendar app for Mac is a matter of need and personal preference.
Some users need a calendar app that is as feature rich as possible, while others just want a basic app that does everything they need.
Here are some calendar apps to consider:
1. Apple Calendar for macOS – the best free calendar app for Apple users
If you're looking for a calendar app for your Mac, your first decision is whether to go free or paid. There are a ton of options out there, but we think that macOS Calendar fits the bill nicely. You can create events and reminders in multiple ways; drag and drop is supported to make it easier to organize your day. It syncs with iCloud and other calendar apps, which means you can use it on your phone too.
The app also has an attractive design that makes it easy to use and it offers a range of display options so you can choose what information you want to see in a view. Some people might be turned off by the fact that this app comes pre-installed on all Macs—it's not exactly something you'd expect to find when you boot up your computer for the first time (unless you're expecting to use the calendar, of course). But if you've got a Mac, it's definitely worth checking out: macOS Calendar has everything you could ask for from a calendar app, and more.
The native Calendar is the best calendar app for Mac, and for several reasons. It's easy to use, and it integrates seamlessly with your Mac, so you'll never have to worry about missing an appointment. macOS Calendar works just as well in Monterey as it did in Catalina: each time you open the app, you'll be greeted by a white screen with bold, dark text labels and colorful icons that make it easy to find and switch between the different calendar views. The macOS Calendar app also makes it very easy to view your schedule at a glance. 
By clicking on any day of the month, you'll be able to see all of your appointments for that day at once with a big font size that makes them very easy to read. And there's no need to worry about missing an appointment when using macOS Calendar—the app will send you reminders before any important events come up, which helps ensure that you won't forget anything important. The macOS Calendar app is also powerful beyond basic reminders and viewing features. If you're trying to plan out your life on a monthly or yearly level, macOS Calendar has got you covered: just click on the "Month" or "Year" buttons in the top left corner of the window and scroll through until you get to exactly what you want.
2. Fantastical  – Best-designed Mac calendar app
I've been a Mac user for about 7 years. I love it. It's stable, does everything I need it to plus some things I never knew I needed. It works wherever I am: home, work, or in a cafe or library. It has refined my accents, improved my workflow and generally helped me become a more productive person. But there are some areas where it's just not up to snuff (I apologize but this is going to be subjective) iCal was an amazing tool in 10.10 but ever since 10.11 came along it's been quite subpar. But if you're looking for the best Calendar App for Mac OS – then look no further than Fantastical which has the best features of any Calendar App.
Fantastical is an app that I've been using on my Mac for several years now. It was one of the first apps that I installed when I got my very first macOS device — and it's remained a staple to my workflow ever since. Having said that, if you're unfamiliar with Fantastical and the kind of app it is, in essence, it's a calendar app that presents information in a clear and concise way. One of the reasons why it's still topping many lists as the best calendar app for Mac is because of its minimalistic interface — but don't let that fool you, its capabilities are extensive, especially as we go forward into a time where calendar apps can also be used to manage your tasks as well.
➡ Best Planner App for Students
Fantastical for Mac from Flexibits is a functional, easy-to-use desktop and menubar calendar that makes keeping track of your appointments a snap. It's got a whole host of really nice features, like a week view, reminders, sharing events on social media, and even integrating with natural language parsing technology to make sure you never have to search for an appointment or event again.
It's one of the best calendar apps for desktop, but with the menubar version, you don't have to stop using it just because you've left your desk. The best part of Fantastical is its wealth of customizability.
If you're looking for a simple agenda view or if you want to get really detailed in your set up, the customizable options here let you go as far as you need to in order to get things just right. If your work and personal calendars are getting too tangled together, there are tools built into Fantastical that allow you to set different views depending on where you are so that you can keep everything organized. There's also a way to sync your calendars with iCloud so that your events will be visible across all of your devices — which means that even if you're not at home on your desktop computer, you can still see what's happening at work on your iPhone or iPad!
➡ 21 Tips To Be More Productive at Work
The free version is great for someone who doesn't need multiple calendars or reminders — simply use it to view your Google Calendar events in a common interface and view them from the menubar. For me, though, I needed something that would sync my home calendar, my work calendar, and my shared family calendar without much hassle — Fantastical handles this with ease.
In addition to being able to view your calendars all at once or individually, you can also fully customize how the app looks using their color palettes. This can be useful if you are working with multiple calendars that may have different colors associated with them — you could make sure that events belong to one color are always shown on one side while events in another color appear on the other side of the screen. If you're working on something like this, you can also customize each individual calendar's colors in case you want them different than your main color scheme — I have one set up with a teal background for my family's shared calendar so it stands out from all of my work calendars.
3. BusyCal –  powerful, flexible, reliable calendar app for macOS
BusyCal is a calendar app that's packed with innovative, time-saving features. It's got customizable views, a calendar set system, integrated tasks, travel time, smart filters and natural language input capabilities. It's one of the most powerful apps on the Mac, and can do all the things Apple's Calendar app does plus more. The calendar system you have should be built to fit your needs—and BusyCal does that by letting you customize it to your heart's content.
The Calendar Set system is one of my favorite features in BusyCal. A calendar set is a group of calendars that you can group together to make the task of managing multiple calendars simpler.
You can even use this feature to track different types of events—you might have a Work set for your work-related calendars and an Events set that groups your family calendars together. You could also create a new set for each project you're working on—so if you're writing a book about dog training, you'd have both a Dog Training set and a Book Writing set. You can then color code each calendar in the set to distinguish between them, or even color code in different ways for different sets.
A lot of the calendar applications we've used in the past haven't had much flexibility with how we wanted to view our calendars. BusyCal gives us a plethora of options for changing things up, making it totally customizable to our needs.
➡ Tips To Be More Productive at Work
I like having the option to display important events in different ways—I can have a compact view that shows only what's coming up this week, but also a more expansive view that shows every event for months ahead so we can plan out what days are best for long-term projects or travel. If you have a hard time keeping track of the little things, BusyCal's integrated task feature might be something worth checking out. Tasks sync with your Google tasks and you can even set them up to remind you about deadlines on a certain day or at a certain time.
You can choose to use natural language input with BusyCal, which means that when you type in something like "Dentist next Thursday" or "My daughter's birthday," it'll know exactly what you mean and add those events to your calendar.
When creating an event, BusyCal now allows you to set a travel time before it begins or after it ends. This means that if you have a long commute or can only meet someone at certain times, those parameters will automatically show up in any reminders or alerts that are added to the event later. The travel time will also appear in natural language input like "lunch with Rob tomorrow from 12-2," so as your schedule changes, BusyCal's calendar will stay up-to-date without any extra effort on your part.
➡ Best Tech Tools for Small Business 
The new version also includes a number of improvements for teams that use CalDAV servers for calendars such as iCloud Calendar and Google Calendar.
The app's innovative approach to handling events will make your life much easier—especially if you're someone who always has tons of things going on at once. In addition to its compatibility with any other calendar service you might already use (like Google Calendar, iCloud or Exchange), BusyCal gives you complete flexibility over how you view your schedule—if you want to see everything on one page with no separations, or have multiple calendars available at once (for example, your personal and work calendars), it can accommodate.
It also comes with integrated tasks for all the things you need to get done. You can add tasks easily from within any view or list, and the app will automatically recognize when a task has a specific due date, respecting the established time frame. If there are multiple people involved in a task, each person gets an individual color-coded entry—perfect if you're working with a team.
4. Microsoft Outlook  Calendar for Mac and Windows
If you're a Mac user and looking for a calendar app that can do everything your default calendar does but better, search no further than Microsoft Outlook Calendar. It's a must-have for any Windows users who are also making the switch to Mac.
This app is easy to use and will have you navigating it with ease in no time. Everything from adding events to scheduling meetings to setting reminders and taking notes is completely customizable. The best part is that all of these features work seamlessly with the rest of Microsoft Office, so you can not only Create, Edit and View your calendar, but also set up tasks, take notes, share information with others and more.
With an intuitive interface and ample organizational tools, this is one of the best calendar apps out there for both personal and business use.
The interface is high definition and made to be very clear, so you will know at a glance whether something has been marked as an appointment or just because you want your friend to call you. You can create new events with just one click and have all of your appointments in one place no matter where you are. The calendar is intuitive and designed to make everything easy for you.
From adding reminders to setting up appointments, this program puts all of your needs at your fingertips. It also allows you to share your appointments with other people and provides a way for them to see when you are busy. For those who are always on the go or need to keep track of multiple schedules at once, this program can make it a lot easier for everyone involved. You will always know what is going on when using this program and never have any problems staying organized or keeping track of everything that is happening.
➡ Most Useful Apps for Students
➡ Best Writing Software for Mac
The Outlook Calendar app has some helpful features that make scheduling events easier, such as color coding. The interface provides users with a week view, day view, and a monthly view of their schedule. The week view shows users a summary of each day's events, offering them the ability to quickly glance at all upcoming appointments for the week. The day view shows users more detail about specific events. A time-scale feature also helps users keep track of time spent on various activities throughout the day.
A built-in search function in Outlook Calendar allows Mac users to quickly locate specific events on their calendar. Users can also print out their calendar in a variety of formats, including PDF and Excel spreadsheets. They can even export all of their calendar information into another application, such as Microsoft Excel or Apple Numbers. This feature gives Mac users the ability to store a backup copy of all event information in one location.
5. Calendar 366 II  – Best Mac app for Calendars, Meetings, and Deadlines
Calendar 366 II is an excellent Mac app that works well for many different purposes, keeping all of your calendars and important dates organized, with great features to make it easy to keep on top of everything. It's easy to see that they've put a lot of time into designing this app, because it has a polished look and feel while still being very simple and intuitive to use. All of the important details are right where you'd expect them to be, with nothing buried or hidden in submenus.
The main screen shows you your daily schedule for the current month, with days that have events marked in color, and any upcoming appointments marked in red. The left-hand side has tabs for viewing your other calendars (you can add more if you want), and there's also a section for notes you'd like to take. I find it particularly helpful when I'm planning out my outfits for the week ahead—I can note which outfit goes with which shoes or accessories so that I don't have to waste time deciding the morning of each day! You can also print out calendars if you want something physical or want to take it with you on the go.
➡ Best Plagiarism checker for Students
Calendar 366 II is a well-designed, easy-to-use, multiple calendar app from the company that makes the popular Calendar for Mac app. It offers a similar interface to its desktop counterpart, but with the pricing and features of a freemium app.
Nothing in life is free, so it's not surprising that Calendar 366 II for iPhone costs $24.99, which may be worth it if you're constantly juggling multiple schedules and need an app that handles a lot of tasks well.
If you're looking for a simple calendar app that keeps your schedule in view without taking up too much of your screen real estate, Calendar 366 II is a great choice. With eight different themes and the option to customize everything from the color scheme to the font size, you can make Calendar 366 II as simple or as sophisticated as you need it to be—it's not just limited to what's on the surface. Spotlight integration allows you to add an event with just a few keystrokes, which is perfect for quickly adding something to your calendar while you're working on other things.
The travel time feature adds time and distance estimates between any two points so you can easily schedule appointments that allow adequate traveling time. Alfred and LaunchBar support lets you create a keyboard shortcut for creating new events, which is a great way to save even more time in between meetings.
The menubar is a very useful space when you're using macOS, so why not use it in your calendar as well? Calendar 366 II is an app that puts your calendar right there where you can always see it. You can change the view to year, month, week, day, agenda or list. It has eight themes for light and dark modes, custom colors, calendar sets, custom font sizes, Spotlight integration, travel time and more. It even has Alfred and LaunchBar support. The app packs all of the features of a full-on application into just the menubar – pretty amazing!
6. Informant – A trusted Calendar app with Tasks and Projects
Informant is a trusted planner app for the Mac, the iPad, and iPhone. Informant's Calendar lets you organize your life, tasks, and meetings into a single agenda. It offers many options for organizing your agenda, with different event types and projects to help you focus on what's important. The app also offers Apple Calendar sync, so that you can stay on top of your schedule wherever Informant is.
Tasks are also a key part of Informant. With Projects, detailed reminders, and checklists, you'll always know what needs to be done and when.
Outside of the calendar itself, Informant offers a few other features to help make your life simpler. Informant has a built-in calculator to provide quick answers when you need them most; it also comes with a Notes section to store information for later access in the agenda or any other app on your computer or device.
➡ Best Apps for Writers right now
And there's more: Informant can sync your agenda with other Macs and iOS devices through iCloud (with support for other services including Google Calendar). You can customize the display to show events in daily or weekly views, add holidays to the calendar (including in-app purchase for even more), and much more!
Informant's Calendar lets you create events with multiple categories, including time, location, duration, notes, recurrence and more. This way you can keep track of when and where each event will take place along with any additional information you wish to include. Whether it's a meeting with a client or a birthday party, Informant's Calendar gives you everything you need to keep track of your busy schedule. The app also features a daily agenda view which shows upcoming tasks and events for the current day or for any other day that is important to you. You can also view these events in monthly or weekly views from within the app so you can see how your schedule unfolds over time.
There are many different views for your calendar, which can be accessed by clicking the three dots on the top right corner of the screen. The colors of your agenda can be changed by clicking on the colored circles at the bottom left of this screen, just under "My calendars".
When you click on a date, you will be able to see an agenda to that specific date that includes all of your events and tasks. If you have an email or text message scheduled to go out on that day, they will be included in this view as well. You can also click on individual events or tasks to see more information about them. You can even click on the event bubble itself if you want to edit it's name or time!
➡ 6 Reasons Why You Shouldn't Buy an iPad for a Student
One thing that sets Informant apart from other similar calendar apps is the ability to merge together multiple calendar apps from other services into one place without having to actually sync them or pay for another subscription service. For example, if you use Google Calendar as well as iCloud Calendar, you can merge them together without being forced into either of those systems. You can also add in other calendars from other providers like iCal or Microsoft Outlook as well.
If you're looking for a highly flexible app that will help you stay on top of all the things going on in your life, Informant should definitely be one to check out if you haven't already!
7. InstaCal – Menu Bar Calendar app for MacBook
InstaCal is one of the best calendar apps on Mac. It's definitely worth it for the price, and I recommend it to anyone who needs to keep track of events and appointments on their Mac.
The most noticeable thing about InstaCal when you open it for the first time is that it's extremely fast. InstaCal can be opened at any time via a keyboard shortcut, and in less than a second you're looking at all of your upcoming calendar events, reminders, and even the weather forecast. You can also add new events just by typing in the event details into a separate window. (You can create a keyboard shortcut to open this window faster.)
Even if you're not a power-user, InstaCal will meet all your needs. It's a powerful tool for planning out your day. You can quickly make changes to events and meetings by clicking on them, and you can invite others to meetings or events without leaving the app. You don't have to go to any other program; all the functions are right there with the calendar.
InstaCal makes it so you can look at your calendar from any point on your Mac, and add new events or reminders by opening the app in a snap. InstaCal can be set up to open with a keyboard shortcut, so you can view your calendar from any screen at any time. The app also supports syncing with iCloud if you use that—just sign in once and the app will start to sync all of your calendars without you having to do anything. InstaCal can also show you your Reminders list, and even edit existing reminders.
There are some other great features, like being able to see your Reminders list in-app, as well as Calendar app information like your birthday or upcoming anniversaries. One cool thing is that you can also add Reminders right from within the app, which can come in handy if you're using both Calendar and Reminders but don't want to switch between them when you need to add something new. All-in-all, InstaCal is an excellent calendar app for Mac users, and I highly recommend it!
8. Mini Calendar – Most convenient way to open the calendar on your MacBook
If you work with multiple calendars and need to keep track of your upcoming events, Mini Calendar is a handy way to see all your events in one place. It's also a great way to keep track of time off and deadlines for your assignments, so you can plan your day accordingly.
Mini Calendar displays the current month in the menu bar or on the desktop. Simply click on it to instantly see all your upcoming events. The calendar can be set to update automatically so that you always know what's coming up next. You'll find an assortment of configuration options that let you customize the appearance of Mini Calendar, such as background images, font styles, event colors, event separators, and more.
• Menu bar icon
• Dock icon
• Configurable keyboard shortcut
• Notifications center widget
• Multiple calendars view
• All-day events view
• Time zones support
• Multi-color calendar support (customizable)
• Different calendar views: Month, week, day, agenda and custom mode.
• Displaying past events
• Displaying future events (scrolling) or not (fixed)
• Showing a reminder for upcoming event with sound alert or not (can schedule repeating reminders)
Conclusion
Before you commit to a calendar app, think carefully about what you want from it. Do you need features like storing meeting information and syncing with your phone and other devices? Will integration with Outlook or other email programs be valuable? Is adding birthday reminders important to you? The best calendar app for Mac will be the one that considers all these use-case scenarios. And once you've chosen the perfect calendar app, you'll wonder why you ever used anything else.
In fact, there are quite a few different terrific options to choose from when you're looking for the best calendar app for Mac. There's something on this list for everyone: a calendar app that works well with Google Calendar, a good option if you like to sync across machines, or one that syncs with your iPhone and iPad. We chose one of the latter because it makes it easy to see your schedule wherever you go.
After careful consideration, we decided that Fantastical was the best over due to its simple, yet powerful user interface. It is built for Mac users and it includes a few features that make it worth way more than its price tag. Fantastical offers seamless integration with other apps on your computer, so you can start an entry in the app on the fly. You can also share your events with friends and family, as well as create reminders from within the program.