There are dozens of calendar apps available for the iPhone, so if you're looking to switch up your current app, or maybe even start a new one, there's no shortage of options. Which one is best for you?
There are a few things to consider when choosing the best calendar app for your needs: what type of interface do you prefer, how many calendars do you need/want to keep track of, and how much information do you want displayed? Below are some of the most popular calendar apps for iPhone and a breakdown of how they stack up against each other.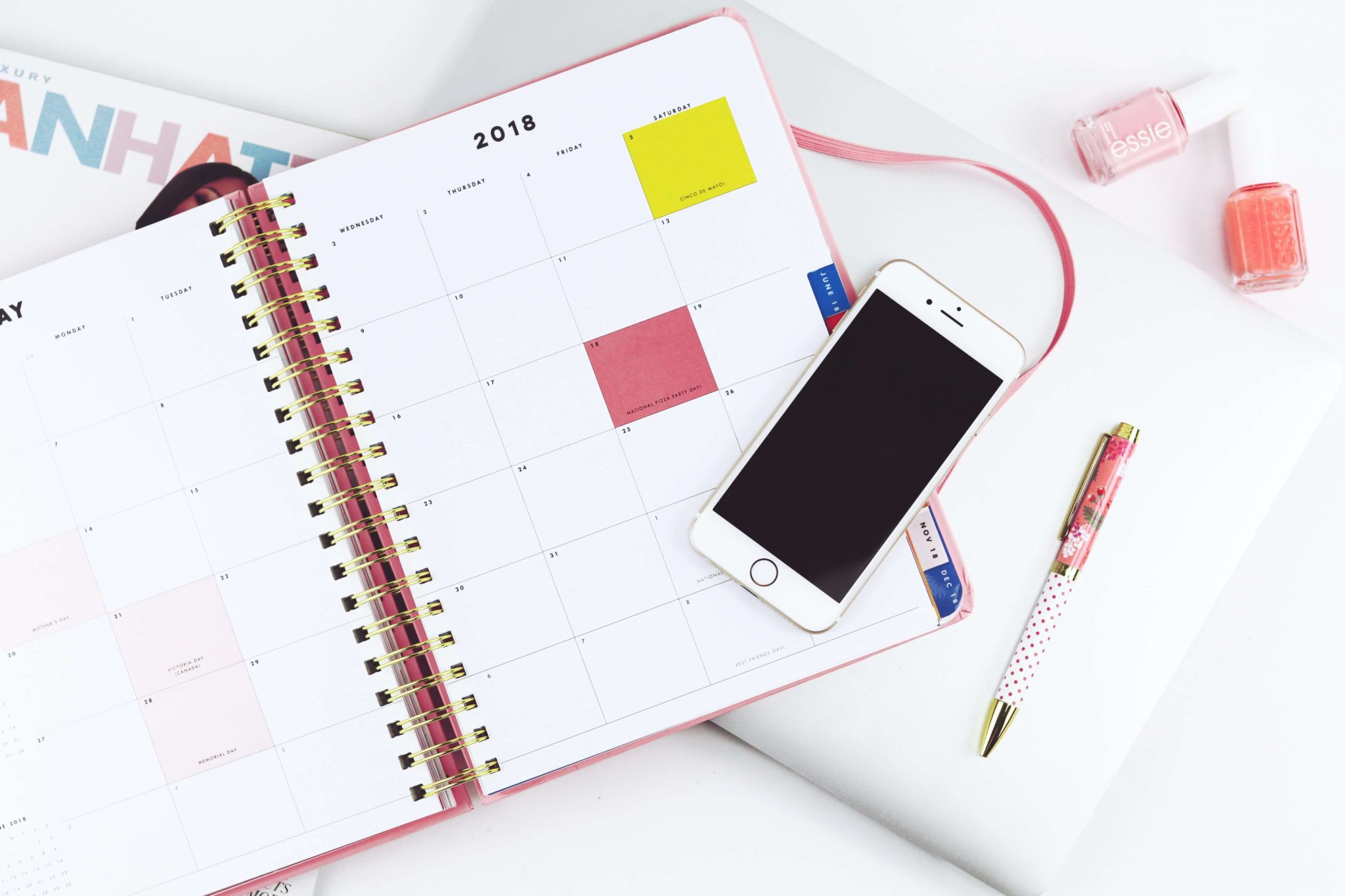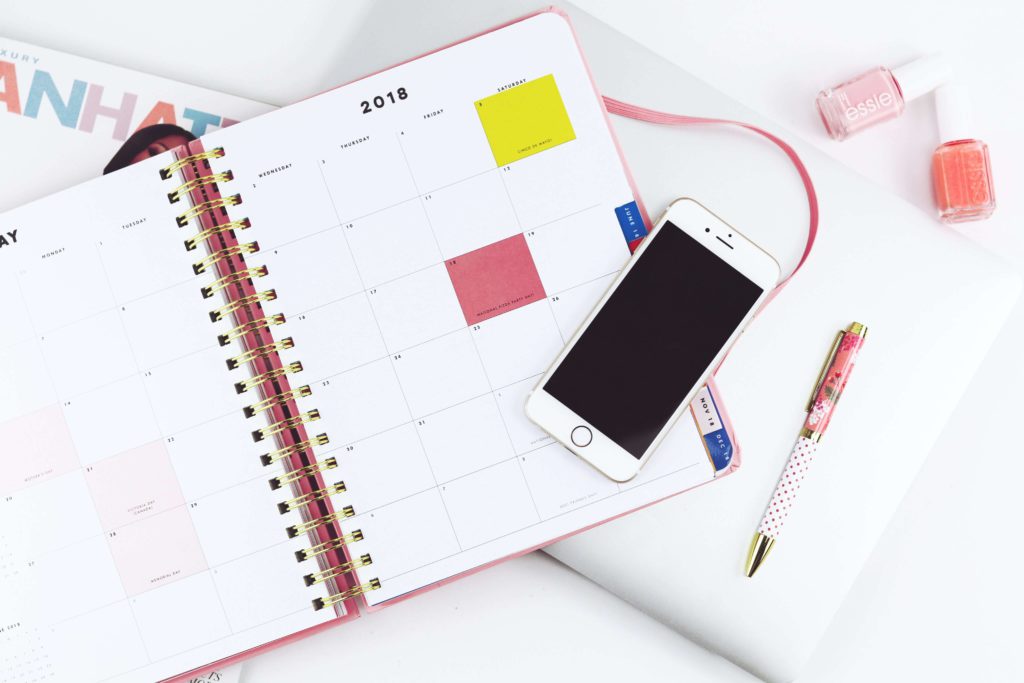 Apple Watch is a great way to keep track of your schedule. It's so easy to add events with Siri, but if you want more control over when you get alerts and what you see in the watch face, downloading a calendar app is the way to go.
In this article, we'll show you how to pick the best calendar app for Apple Watch. We'll explain how to sync with calendars from other apps, like Google Calendar or Microsoft Outlook, and why it might be worth paying for your calendar app instead of using a free one. We'll also show you some of our favorite apps for managing your schedule on Apple Watch.
Being on the go can make it hard to manage all the things you need to get done. Between phone calls, emails, appointments and so much more, it's easy to overextend yourself. But the iPhone can make your daily to-do list a little easier, thanks to its intuitive interface and host of apps for keeping you organized. This list features some of the best calendar apps for iPhones, including Any.do and Fantastical 2.
These are the 10 Best Calendar Apps for iPhone and Apple Watch
There are a lot of great calendar apps for the iPhone, and it's up to you to try them all to find the best one. Here are a few suggestions to get you started.
1. Fantastical Calendar app for iPhone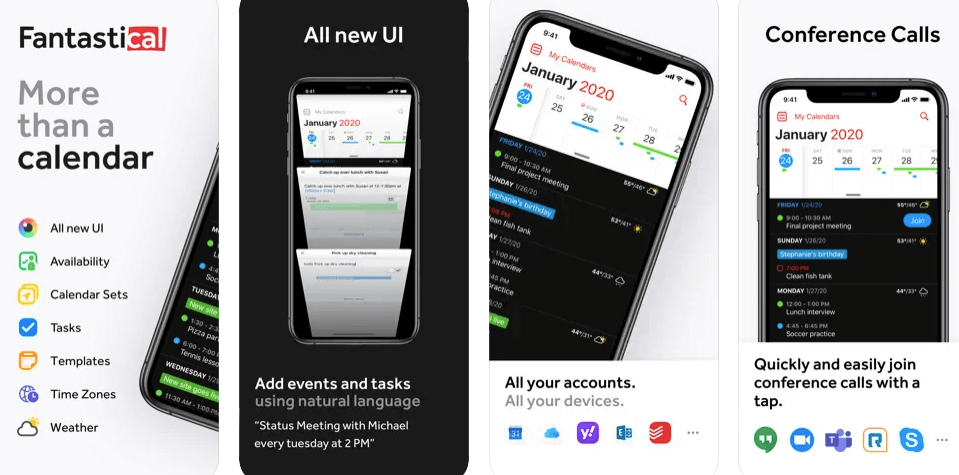 Fantastical is a powerful calendar app for the iPhone and Mac. The app is incredibly intuitive and easy to use, but also offers advanced features for when you need them—like natural language parsing of events, or the ability to create tasks from events.
In the full calendar view, a month view appears in the left pane with the current day's events listed below in a compact form. On the right-hand side of the screen is a large day view with all events organized by hour. The app automatically detects daylight savings time by analyzing your GPS location and sets itself appropriately so there's no need to set your timezone manually.
The app also offers an hourly view, which shows blocks of time dedicated to each event on your schedule for that day. This way, you can see how much time you have actually available—and even see what events are conflicting with each other if you need to reschedule something. You can also tap on any event in this view to see a popover calendar that lets you add new events quickly without having to go into the full calendar view at all.
Fantastical makes it easy to create custom alerts for any event you want: just tap on an event, tap "Edit," then tap "Repeat."
In just a few seconds you can add new events using simple phrases like "lunch with Dad on Saturday at noon", "call back customer service on Monday", or even "last Friday". The event will instantly appear on your calendar where you can edit the title or reminder.
For those times when you'd rather take charge of your agenda by tapping directly on the screen, tap the event to enter its details: pick a color for the text and background, set an alarm, add notes and more — all while staying in full edit mode so you can keep making changes until it's just right. You can even reorder or delete events with drag & drop.
Beautiful Day, Week, Month, and Year views (with event maps for locations)
Powerful natural language event and task creation with spoken reminders
Get a quick look at your schedule with Up Next
Smart filters to quickly display your events and tasks however you want
Quickly access your most recently entered calendar addresses, titles, invitees, and more with the PopClip extension
Tasks support (including to-dos with checklists on iOS)
List view to see your events and tasks in a customizable list that supports sorting by date then title, title then date, date created, date modified, location, or manually
Create an event by typing in a sentence like "Lunch with John on Tuesday"
Set a location, time, invitees, and notes
View your schedule in a list or day, week, month, or year
Customize the app icon with a selection of over 100 icons
Works with Apple Reminders and Google Tasks
Automatic support for DST (daylight saving time) changes
Whether you like to plan your day from top to bottom or take it as it comes, Fantastical makes it easy to work the way you want.
From the moment Fantastical was released many people asked: "I love how easy it is to add events in Fantastical – but how do I use my existing calendars?". In response they created an elegant system for importing calendars from Apple's Calendar app as well as from third party apps.
It's clean, clear interface allows you to focus on what's most important—not just to-dos, but also all your plans and events, which is where Fantastical really stands out. It automatically imports your calendar from iCloud or Google Calendar, and supports all the main event types, including meetings with attendees. Its DayTicker provides an overview of your day at a glance, giving you an at-a-glance view of every event. Its natural language parsing allows you to enter events simply by typing in "Lunch with Alex tomorrow at noon," and then Fantastical will parse that into a perfectly formatted event.
➡ Best Planner App for Students
The app's powerful search function helps you find old events quickly and easily, and includes smart suggestions based on who you have scheduled to meet with often. You can also use IFTTT recipes to connect with other apps to make Fantastical even more useful in your life.
In addition to its great looks, Fantastical includes powerful new features that let you use calendars with ease:
• Use natural language to create reminders and event invitations. For example, type "Lunch with Phil on Friday at noon" or "Get ice cream this weekend". Even if you miss a word, Fantastical will figure it out.
• Add reminders using voice commands. If you're driving or just don't feel like typing, tell Siri what to remind you about and when it should happen.
• Use the Spotlight Widget to see your next event directly from any device's home screen.
➡ Best Writing Software for Mac
Fantastical is the easiest way to organize your life. Just open it and start typing: Fantastical will instantly show you your schedule for the day, your upcoming events and reminders, and a map with locations. Tap on any event or reminder to change its details (like the time or place) with Apple's built-in calendar interface. Creating events is as easy as typing a name, emailing a person, or pasting from other apps. You can even search from Spotlight to easily add birthdays from your contacts.
Fantastical is the best calendar client on the market for Apple watch. Period. In fact, if you haven't tried it yet, there's no time like the present to start your free trial. After that, you can enjoy all the features outlined above and many more.
2. WidgetCal-Calendar Widget for iPhone Notification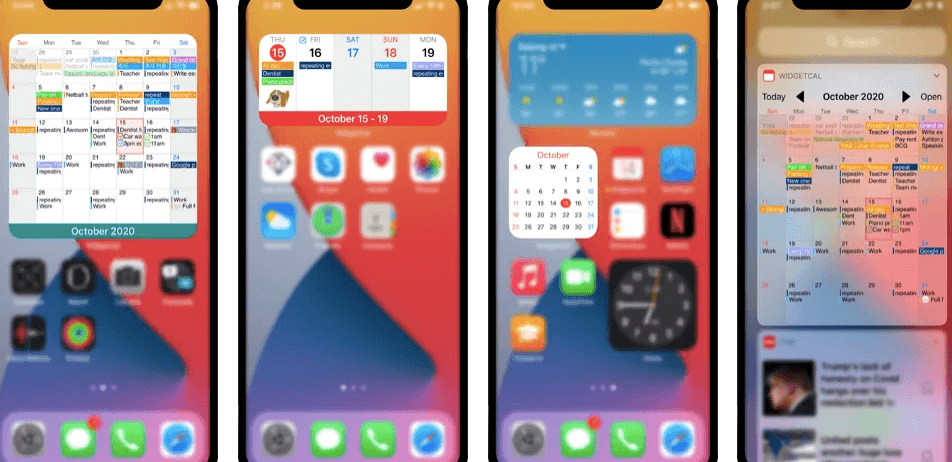 Do you still unlock your iPhone/iPad to check your schedule? If so, then WidgetCal-Calendar Widget is the perfect app for you.
WidgetCal is an iOS app that adds a calendar widget to Notification Center, letting you see your schedule at any time with just a flick of the wrist. Quick as a wink, you can access your personal occasions without hassle. Moreover, this widget seamlessly works with other calendars, which is the most powerful calendar application in AppStore.
➡ 21 Tips To Be More Productive at Work
In this app, you can see weekly or monthly view for your events and reminders with a beautiful layout in Notification Center. Quick as a wink, you can access your personal occasions without hassle. Moreover, this widget seamlessly works with AwesomeCalendar, which is the most powerful calendar application in AppStore.
Widget Cal is the widget of Awesome Calendar displays all events and reminders right in Notification Center.
You can view your events and reminders on the lock screen or inside any app without unlocking your device.
Widget Cal is compatible with Awesome Calendar.
Events and reminders are updated automatically and in real time.
If you delete an event or reminder in Awesome Calendar, it will be removed from Widget Cal automatically.
When you set a new event or reminder, it will also be added to Widget Cal automatically.
Everything you do in Awesome Calendar will be reflected in Widget Cal
Use your widget to keep important dates right at your fingertips.
See upcoming events and reminders in the notification center.
View Chinese and Korean Lunar Calendar.
Keep track of your schedule in an easy, visual way with this calendar widget. The Notification Center shows today's events and reminders. Tomorrow's events will be shown if the current time is beyond 6pm. The notification center keeps up to date automatically and you don't need to launch the app.
3D Touch support on iPhone 6s or later.
Quick Actions on home screen to jump directly to the desired view.
Today Extension for iOS 8 or later. See how many days left before the due date in Reminder App. It's very useful for shopping, travel plan, payday, birthday, etc..
Customizable font and size.
Display events with different colors based on its calendar setting (eg Red for Birthday).
Display reminders with different icons based on its priority (eg a Rose icon for A-priority).
Week/Month view at a glance. Swipe right/left to navigate prev/next month easily. Tap 1st day of next month or last day of prev month respectively to navigate next/prev month. Today is highlighted by green dot circle marker. It can be disabled in Settings if it bothers you.
There are 3 types of widgets:
Daily Schedule – shows the events and reminders of today by date.
Weekly Schedule – shows the events and reminders of today by date along with the events and reminders of last six days.
WidgetCal integrates with AwesomeCalendar, which is a powerful application for viewing, managing, editing calendars on your iPad or iPhone. With WidgetCal, you can see the integrated information (events and reminders) of AwesomeCalendar in Notification Center.
This widget captures your attention only when there is information to be shown. If there are no scheduled events or reminders on a specific day, it does not appear on the LockScreen as well as Notification Center. This is to avoid any unnecessary disturbance.
➡ Best Tech Tools for Small Business 
WidgetCal is a simple calendar widget that serves as an extension of Awesome Calendar, immediately bringing up your events and reminders in the notification center. These widgets, however minor they may seem to be, are great time savers. The ability to see what important events are coming up without having to open a separate application or browser tab is just wonderful. This widget will greatly appeal to text messagers who want to keep their phone free from visual clutter but still know when the next work day is.
3. Tiny Calendar – Simple Calendar iPhone App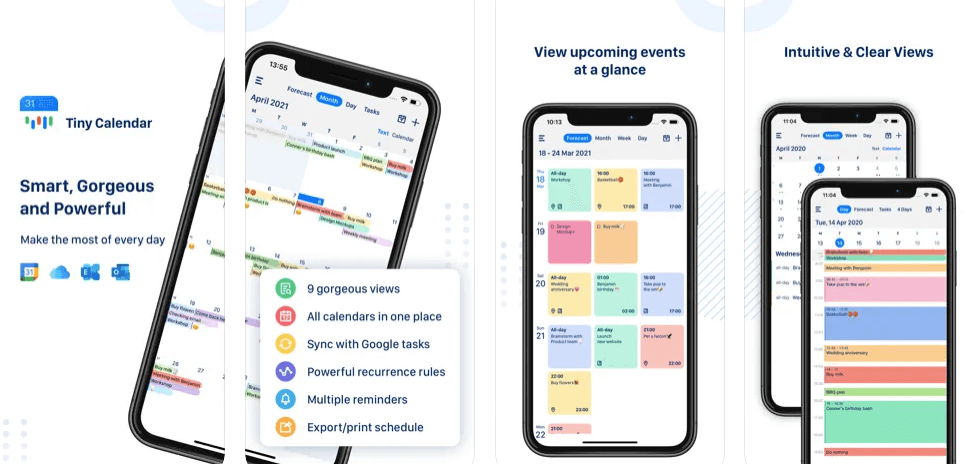 Tiny Calendar was designed to make your daily life more productive, simple and enjoyable. It's a smart calendar for iPhone & iPad that allows you to access and manipulate your events and tasks from all of your calendars easily, plus it's very reliable and handy.
Tiny Calendar is a great calendar app for iPhones and iPads. It's the only calendar app that syncs with all your google calendars, making it easy to view your events and tasks on-the-go.
Tiny Calendar works perfectly with your calendars because it uses strong encryption to protect the privacy of your data. Our apps are always updated with enhanced security features so you can rest easy knowing your data is safe.
With Tiny Calendar, you can:
View google calendar events and tasks in one place
Create new events or tasks on any of your calendars
Search through events and tasks
Set reminders for the events and tasks that matter most to you
Share your events and tasks with others
Stylish layout: -Tiny calendar makes it easy for you to read your calendars at a glance. You can see all your upcoming events in a day's grid view. And you can also see today's events at a glance in the Today section.
-Customizable popup menus: Customize Tiny calendar to fit your needs and make creating new events effortless.
-Smart natural language parsing: With smart natural language parsing, Tiny Calendar recognizes the event time in the original text and parses it into hours, minutes and seconds automatically, so you can easily set up an event without having to worry about time formats.
Inserting an event in Tiny Calendar is easy – all you need to do is type the title, specify the date and time (or let Tiny Calendar help with intelligent time recognition), and add an optional note. The interface will be familiar to anyone who has used calendars before, but behind the scenes Tiny Calendar is using the power of Google Calendar API to make your life easier. For example, you can easily add repeating events that span over multiple days without breaking a sweat – just type 'every monday' for every Monday for a month or 'every second tuesday' for every other Tuesday. And when you edit them later on, they will automatically be added to your calendar according to Google's rules.
➡ Best Tech Tools for Small Business
The same goes with tasks – all you need to do is type in the title and specify its due date, and Tiny Calendar will take care of it.
Tiny Calendar is the easiest way to keep track of what's important to you. It has features like nature language input, drag and drop, gestures and other smart methods to predict your intention and help you create and edit your events more easily. But beyond that, Tiny Calendar works in the background so that all of the events that are important to you will be there when you go looking for them. No more forgotten appointments or missed birthdays—Tiny Calendar is with you wherever you go.
SYNC AND MANAGE GOOGLE TASKS
You don't need to download another app to manage Google tasks. Tiny Calendar syncs directly with all your Google calendars and also works with iOS local calendar to support events on iCloud, Exchange and other calendars.
Tiny Calendar features an easy-to-use interface with nine different views that allow you to work in whichever way you find most comfortable. Whether you prefer the simple day view or the hectic week agenda, it's all there for you to play with and customize. The date picker has also been designed with simplicity in mind—just start typing when you have something specific on your mind, and Tiny Calendar will instantly show you what's happening on that particular day.
Because time is so important, Tiny Calendar comes with a reminder system that allows you to set alarms using natural language input. Just tell it what you want to be reminded of and when, and it will do it for you. You can even use gestures to add events quickly from any other app you're using (like Mail).
Tiny Calendar is a free, feature-rich and clean calendar for your Apple Watch. The app was complicated at times and a little bit difficult to navigate. However, it does have some really great features that make our lives much simpler. Overall, we enjoyed using the app, even though it did have a few kinks and glitches to work out. The support for Google Tasks is probably the top feature for us!
4. Simple Calendar – Easiest calendar app on iPhone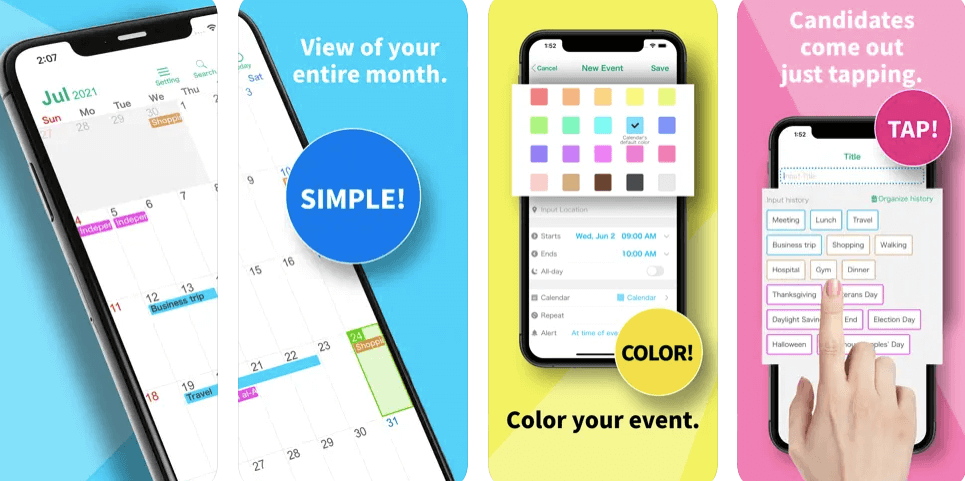 Simple Calendar is the easiest calendar app on the App Store. It's a dead-simple, one-page calendar that syncs with iCloud or Google Calendar. It's perfect for quickly checking your schedule on the go, and it also includes a detailed monthly view.
SimpleCal is a ridiculously easy calendar app. It's one of the easiest apps I've ever used, actually. You can do everything from viewing your schedule to adding new events with just a few taps, and the interface is so simple that you'll be getting things done in no time.
It syncs up with your iCloud or Google Calendar account, meaning that if you've already got an internet-based calendar set up, you're all set to go. If not, you can do all of this through SimpleCal as well, and it's actually easier than a lot of other apps that let you do the same.
When you first log into SimpleCal, you'll go into your settings and choose which account you want to use—that's literally it. If you're already using an internet calendar on your computer or phone, it'll already be set up for SimpleCal as well. Once that's done, tap on an empty space on the day view to add a new event; tap on "Add Event" at the top right corner of the screen, then fill out all the details for the event. When it comes time for your event to start or end, just tap those spots on the timeline and pick what time you want it to be.
Sync : Synchronize with iCloud, Google Calendar, Exchange Server and other CalDAV servers.
Widget : Weather forecast, next 7 days events and reminders in one widget.
Weather : Forecast with current conditions of your city.
Reminders : Location based or time zone based reminders for events.
Customizable interface: The color theme is also customizable. You can find your favorite theme for sure.
Simple design: You can add or edit an event only with a few steps.
Dark Mode: Easy to read at night while reducing eye strain
If you're a busy professional, chances are you've tried just about every calendar app out there—and for good reason. It's hard to find the perfect scheduling solution that provides the features you need, but is still easy to use, simple, and reliable. It's been a difficult search for me as well, but I think I've finally found the one that fits my needs.
I've been using "SimpleCal" for the past few months and it has been an absolute lifesaver for me. It does everything that the big calendar apps do (schedule events, see your day at a glance, etc.), but it cuts out all of the clutter and gets right to the point with its simple design. The layout is displayed in a clear columnar format that shows your schedule in a bright color at the top with your day's appointments directly underneath each other. You can check off events that you've completed at any time during the day and have them disappear when you're done.
The app is as streamlined as possible with easy-to-use features including customizable alerts to remind you of upcoming appointments, tasks, birthdays, and more. A built-in timer lets you set a length of time for each event so that you can better manage your time and be more efficient during the day. The app's intuitive interface has a modern, minimalist design that is clean and easy on the eyes. SimpleCal is the best calendar app on the App Store. It's easy to use and syncs with your existing accounts.
In terms of a calendar app, SimpleCal is one of the best there is. It's simple to use interface makes it easy to organize everything in one place. The design is modern and appealing, and the wide selection of color themes means that you should be able to find a scheme that fits your style. This app is a great option for anyone who doesn't want to waste time trying to figure out how to use their calendar, but still wants the ability to easily access their schedule and keep track of upcoming events.
Overall, Simple Calendar is a dependable and reliable calendar for anyone who is looking for an app that acts as a minimalist organizer. Although there are some things that could be improved, such as the ability to add separate reminders for all events, I'm very happy with this application overall.
5. TickTick: Top Rated Calendar app for iPhone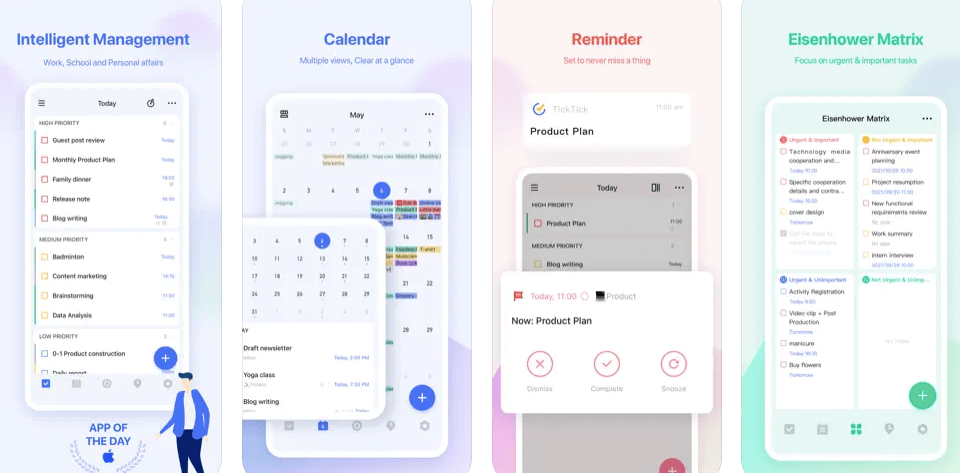 TickTick is a to-do list, calendar and habit tracker app. It offers various functions that help you manage your daily schedule and achieve your goals.
To-Do List & Calendar
You can create multiple to-do lists and organize your schedule by tasks, projects or events. A to-do list can have at most 20 tasks and a project can have at most 15 tasks. The date of a task can be edited before it is completed. For example, if you scheduled a call with someone for Thursday at 11:00 am, but someone calls you on Wednesday afternoon saying he or she won't be available until Friday, you can change the date of this task from Thursday to Friday in just seconds. This way, you'll be able to manage your schedule more efficiently.
As for the calendar, TickTick has a 4-week view and an 8-week view so that you can quickly check what's coming up next week or next month when making plans with others.
➡ Best Plagiarism checker for Students
TickTick lets you appoint reminders for each task and event so that you won't forget anything important. It also syncs with Google Calendar so that you don't have to worry about missing any important Google calendar events anymore!
It's a "one stop shop," meaning you can use it to manage your tasks, appointments and habits. You can also create recurring tasks and set reminders. The app is browser based and has a clean, simple interface. It also syncs with Google Calendar and Todoist, as well as other apps like Dropbox.
The biggest difference between TickTick and other to do apps is its focus on habit management. TickTick allows you to create habits that are triggered by both time and location, so if you want to make sure you go for a run every morning at 6 AM before work, you can use the app to make sure that happens. If you have trouble going to bed early (or staying up late), the app will help you build that habit as well.
The app has three main features:
To-do List: Create to-do lists and add tasks, with notifications to prevent forgetting unfinished tasks.
Calendar: View a daily calendar, or a weekly or monthly calendar with planned events.
Timer: Set alarms to help you keep track of time when working on a task.
The best part about TickTick is how easy it is to use. When you first load the app, you are greeted with a blank canvas that is ready for you to write on. The canvas isn't just a white page though – there are plenty of options that allow you to customize the look of your page. You can choose from several different color backgrounds and add images and even stickers to make your pages more personal. You can also choose from several different note fonts and sizes, which gives each page of the app its own personality.
Out of the box this app already has everything you need in one place: notes, reminders, calendars, planner, tasks… But what makes this app even better is the ability to add other third-party apps into your TickTick experience. For example, I have added my FitBit step counter and my weather widgets into my TickTick notes section so I can see a daily update of my steps taken as well as my current weather forecast.
The bottom line, if you are looking for a simple way to keep track of all your upcoming events, this is the best iPhone calendar app you must try.
Key features of TickTick:
• Sync Tasks Across All Devices
Use TickTick to sync tasks between your mobile device and desktop computer. You can also sync tasks between different computers if you need to use one while traveling or working from home.
• Multiple Reminders
Make sure that you never forget about any given task by setting multiple reminders for it. You can set a reminder for today, tomorrow or any other day in the future, as well as choose which day of the week you'd like to be reminded about a particular task. You can even set reminders for recurring tasks.
• Flexible Calendar Views
Use TickTick's calendar view to see your upcoming tasks in every way that works best for you: as a day-by-day list, as a two-week view or as a monthly overview. The app also includes an enhanced calendar view that allows users to see all their upcoming events.
• Integrate with calendar application: TickTick is designed to sync with Google Calendar (and Apple iOS calendars) so that you'll always have your tasks in front of you on your calendar. Other than the automatic synchronization, TickTick also lets you integrate third party apps such as Trello and Wunderlist into its interface for even more streamlined organization.
• Set flexible recurring tasks: You can set recurring tasks to repeat every day, every week, or even every year. Recurring tasks are not limited to daily ones—you can set monthly or even yearly tasks if you like to plan ahead!
• Create checklists: TickTick lets you keep track of all your steps when completing a given task. Just add them one by one and tick them off once they're done!
• Share task lists for collaboration: Projects are often best when they involve other people.
• Add task via email – You can allow people to create tasks for you via email, for example: "Please send me your March report". You won't need to remember to look at your inbox for new tasks, this way you also won't miss any requests from your colleagues.
• Upload attachments to tasks – You can attach files (e.g. Word documents, Excel sheets) to a task, and then share these files with your colleagues. This makes it easier to collaborate and share information.
• Classify tasks with tags – Tasks can be classified using tags. For example: "coding", "report", "presentation", "Treasury". Task classification helps you find important tasks more quickly and filter them out from the rest.
TickTick's core functionality is its ability to sync across all your devices, so that you can create a task on your phone and check it off later on your computer or vice versa. This means that you can always get an accurate view of how many tasks are left to do, no matter where you are. You can also create recurring tasks, which come with multiple reminders that repeat at specific times or on specific days of the week.
A customizable calendar view lets you see your schedule at any time of day—you can make tasks appear by day, week, month, or year for optimal visibility. And TickTick integrates seamlessly with Google Calendar so you don't have to take any extra steps when adding new events and tasks to manage them together seamlessly.
6. PocketLife Calendar – Best Calendar Organizer for iPhone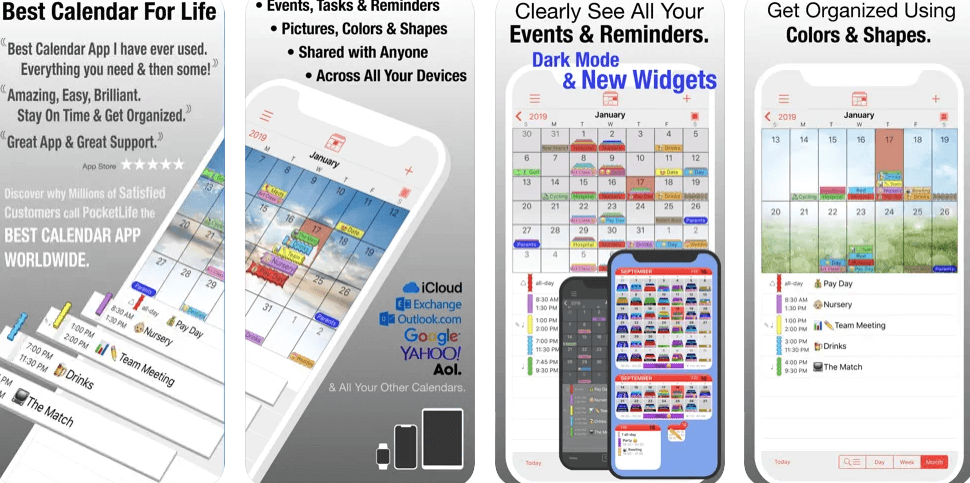 PocketLife is a stylish calendar and task manager for the iPhone. It has been designed from the ground up to be powerful and functional, yet intuitive and easily customisable, so that you can truly make it your own. With the ability to add reminders and alerts, as well as create your own categories, colors and labels, PocketLife will become an essential tool in organizing your life.
With its sleek design, PocketLife is an important addition to any iPhone owner's toolbox.
With PocketLife you can create a custom event on just one screen, set an alert for it, attach a photo and location to it and even attach files to it. This way, you will never forget about anything important again!
PocketLife also allows you to plan ahead by letting you add reminders for future dates. You can set recurring reminders for yearly or monthly events like birthdays or dentist appointments. And if you need something specific, like a reminder in three days from now at 3 PM, PocketLife will make sure that doesn't slip your mind either!
This app is perfect for anybody who wants to be more organized and efficient. From students to professionals and everyone in between: PocketLife is the tool to have on your phone!
It's one of the most simple apps to use when it comes to setting up new events or reminders. You can easily create new dates and times as well as set alarms and notifications. You can also add notes to events (i.e., "Meet with Bob at 11 am on Tuesday") in order to remind you what's important about each event.
A feature that sets PocketLife apart from other calendar apps is its organization into four sections: Today, this week, this month, and all-time. This allows you to see your upcoming events in just one click and be able to plan accordingly—you know exactly how many days are left until your next meeting or vacation.
The app also has more traditional features like recurring events as well as an option to sync across all devices that you're signed into with your Google account. This way, you can access your schedule on your desktop computer or mobile device without having to log in again. Another great thing about PocketLife is that it allows you to change the background color and animation.
The features are practically limitless: create custom calendars for different events and occasions like birthdays or holidays; set reminders for when something needs to be done or accomplished; share calendars with other people so they can see exactly what's on your schedule; sync multiple devices running PocketLife so all your data is backed up and automatically updated; customize individual views in any way you'd like.
The app features two different modes: Day View and Calendar View. Day View is designed to quickly remind you of what's going on at any given point in the day, while Calendar View gives you a complete overview of your week. Every view can be customized to fit your needs—change the theme, font size, event colors, and more.
Each event can be assigned a photo from your library or taken right from within PocketLife, so you'll never forget an important detail (or forget where you have to be). Each event also comes with an optional reminder alert—PocketLife will send you an alert 15 minutes before the event starts or at any time during the event if you need to be reminded. The app also integrates with your contacts so you can see what's going on with your friends—birthdays and anniversaries are automatically loaded when synced from your contact list.
When creating an event or reminder in PocketLife, there are over 20 different customizable fields for setting up exactly how it should appear.
7. Vantage Calendar – Calendar & To-Do List for iPhone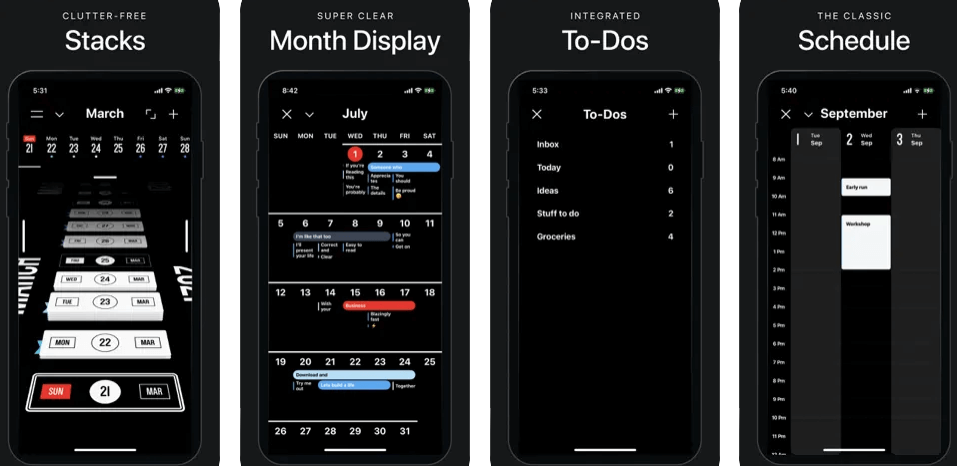 Scheduling is a necessary cog in the wheel of life, but it's also one that many forget to make enjoyable. As you check items off your to-do list throughout the day, your calendar might feel like an afterthought, a place you check to see what else you "have" to do. Wouldn't it be nice if you could spend more time looking forward to the things you want to do and less time worrying about all of the things you have to do?
Vantage is the best way for busy entrepreneurs to plan their days, weeks, and months. It has a clean design that's easy on the eyes and loaded with features that help organize your life. The calendar works well, but even more impressive is its visual cues that make understanding a long list of stuff easier. What are those cues? Colors, stickers, book covers and stacks—they make working with a calendar more like reading a physical book and less like trying to decipher an endless list of bullet points.
The app's most prominent feature is its ability to stack calendar events into groups; these are called projects and allow users who use multiple calendars (work, personal life, family) to keep track of them all by grouping them together in one stack.
There are a lot of ways to make your calendar more visual. You can use colors, symbols, or even handwritten notes to take the mundane out of scheduling. Because Vantage works so well and is easy to use, however, it takes little extra effort to make it more visually appealing—and that's exactly what we did.
Lists of events (and especially tasks) can be hard to parse at a glance. Different colors and shapes help separate different types of events and keep them visually distinct from each other. Stickers and book covers for events can be helpful for similar reasons: you can remember what kind of event it is and how important it is by seeing a photo of your friend's face as you check off an item from your task list, or by seeing a color-coded sticker on your calendar that lets you know which part of the year you have left to plan something.
You can make your to-do list much more understandable by drawing or writing little pictures or notes next to each to-do item. Maybe you have to take a picture of something for work? Draw a camera on the to-do item so you'll remember to bring it with you. Maybe you're making a birthday cake for someone? Draw a little cake next to that item so you'll remember not to forget it at the store.
When using Vantage Calendar, these visual cues are everywhere: on items in your calendar, in the bottom navigation bar and even in the daily planner view. The colorful page tabs indicate which day you're looking at and help you quickly scan through the week or month, while the cover images give a hint as to what's happening that day without having to read anything else—you might see a photo of your dog.
8. Calendars 5 – A smart calendar app for iPhone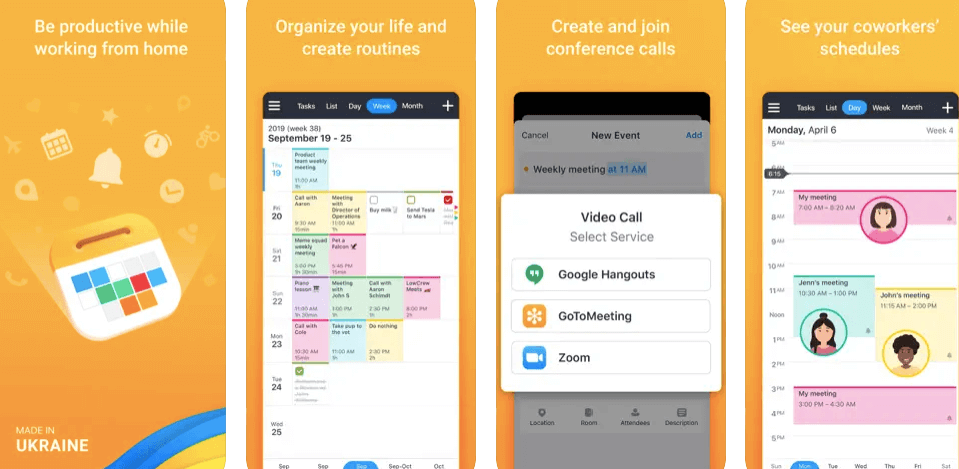 Calendars 5 is smart, excels in both tasks and events, and runs on any iOS device you might have. It's the calendar app you have been looking for.
I have been looking for a calendar app that was smart enough to understand my needs, but also easy enough to use that I could remember to actually use it. I've tried virtually every option out there, from the big names like Outlook and Google Calendar, to specialized apps like Sunrise and Fantastical. I've tried paper calendars, pen and paper calendars, digital calendars…you name it. But every time I would just end up using Apple's native calendar app as I found none of them were all that good at being truly smart about things like location-based reminders or being able to quickly add tasks (as opposed to events) when I wasn't sure if it was an event or not.
Calendars 5 changes all that. It is an all-around great app. The good stuff:
Tasks, a to-do list or checklist feature that lets you manage your daily tasks and get them out of your head and into the world
Multiple views, including day, week, month, year, and agenda views
iCloud syncing across devices so you can always have access to your data no matter where you are or what device you're using
Touch ID support for added privacy and security
The top bar of this app is really useful. You can scroll through months quickly with a flick of your finger, or tap a date to go straight there. There's a built-in calculator right there in case you want to figure out how many days are between today and another date.
Calendars 5 excels at tasks and events; it's extremely flexible, has a clean interface, and allows you to quickly see all your upcoming tasks or events with a minimum of effort. The task view (which defaults to your Today list), shows you the next few actions you have due in bold type with the rest of the list in light text under the date. If an action continues onto another day, it will stay on the same line but will be indented to show that it's part of a series.
When more tasks are added to the list than can fit on one line, they're automatically combined into multi-line items which can be expanded by tapping on them. When you swipe right on a task item in the task view, its details (such as notes) will open in a popup window so you can easily review them without having to go back to the main calendar view. The formatting allowed for task titles makes them easy to read at a glance.
9. Informant 5 Calendar – Excellent calendar planning app for iPhone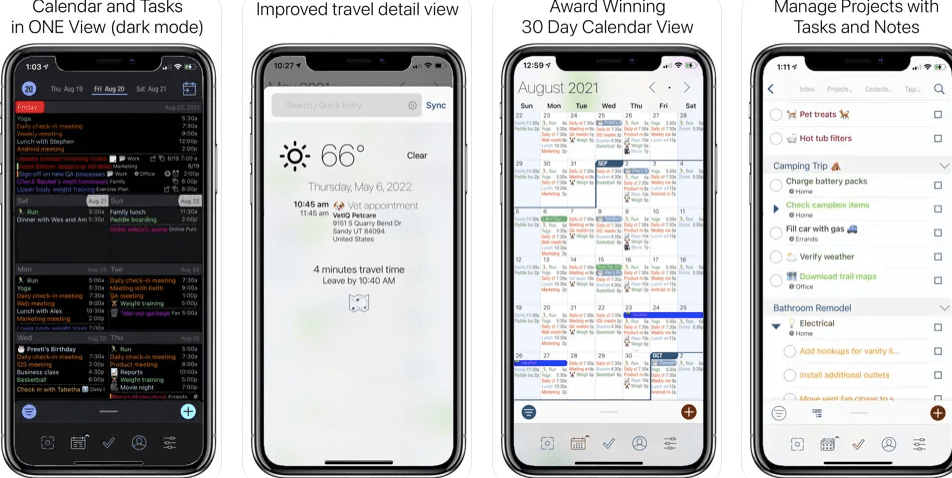 In the digital age, we never lose track of our to-dos, but we can still lose sight of the big picture. The Calendar app on your phone is great for keeping track of your day-to-day activities, but it doesn't show you what's coming up next or remind you when you have a major appointment. That's where Informant comes in. Informant is a trusted planner app that helps you stay organized, with Calendar, Tasks, and Projects all in one place.
For busy people, it's important to plan everything out—from what you'll wear tomorrow to where you're going on that business trip next week, and how much time you'll need to get ready. If the plans are all in the same place, then it's easy to keep track of everything.
Informant is a planner app with Calendar, Tasks, and Projects. The Calendar and Tasks help you keep track of your schedule, while Projects organizes your tasks into areas of responsibility. Many options for agenda organization are available for your agenda view. Informant is an app for your agenda in your pocket.
Tasks are one of the most important features of Informant; they allow you to keep track of all the little things that are often too easy to forget in daily life. When a task is added to an agenda in Informant, it will be displayed at the top of the screen as a "spotlight," so that you can quickly see what has been added throughout the day without scrolling through everything else. If you don't have time to add every single task and need to get back to work ASAP, just swipe one over and tap "Add Later" for easy reminder at a later time.
New tasks can also be added from anywhere on your device's screen by clicking a "+" symbol; this makes keeping track of smaller tasks easy .
The Informant 5 Calendar includes:
-Multiple views for the agenda view
-Integrate Informant 5 with other apps
-Synchronize and backup your agenda to your online account
-Notification alerts on events
-Send invitations to meetings or events
-Bookings that require vetting have a notification sent to other attendees.
-Improved Time selector: now using button pad input, with a new sliding function that makes it easy to change time ranges quickly without having to scroll through all the minutes. We've also included an auto-suggest feature so you can recall tasks more easily and get the exact time slot you need.
-Use Siri to create tasks in Informant. Just say "Hey Siri, remind me to…" and tell Siri your task.
-New weather feed: keep track of the weather quickly and easily with our new weather feed that pulls from forecast.io for accurate forecasts every day.
-Email-to-Task: View emails & easy turn emails into tasks.
10. Google Calendar – Free Calendar app for iPhone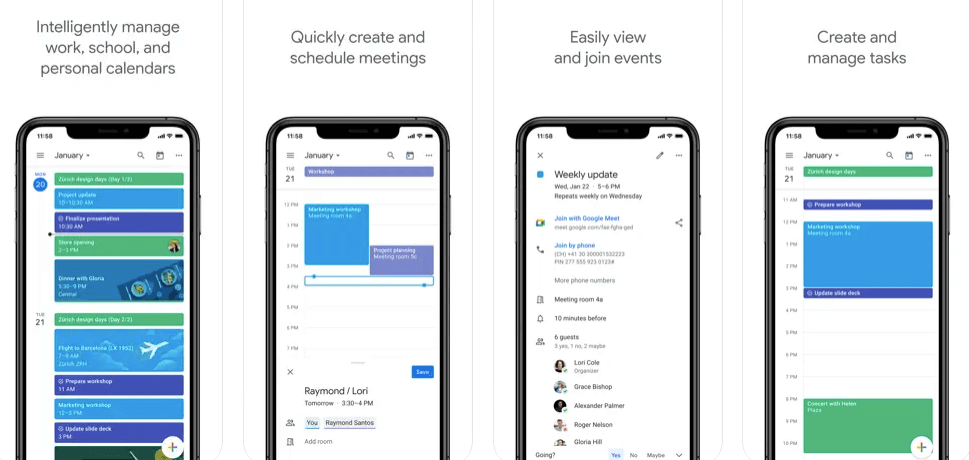 Google Calendar is free and easy to use, and it could be just the thing that you need to help you get organized. You can enter in tasks and appointments that are due tomorrow or next week, which is convenient if you're not using a paper planner. It's also handy if you want to make changes after the fact—you can go online and reschedule an appointment or add a new task without erasing everything else.
Google Calendar is a great tool if you are looking to get organized. If you've never used Google Calendar before, it is a free online calendar that syncs with your computer and other devices. It's very user-friendly and easy to set up. The first thing you should do when setting up Google Calendar is to sync it with your phone. I use my iPhone, so I can access it wherever I am.
You can also sync it with your computer and various other electronic devices. When setting up the calendar, you will be able to add events from your email by clicking on the "calendar" link at the bottom of each email message. You can also add events by clicking on the "+" sign in the upper right corner of any open Google Calendar page. To add events manually, click on the "Calendar" button in the upper left corner. A new window will open where you can enter in all of your events for a given day or month.
After you have added all of your events, click on "Settings" in the upper right corner and then click on "Default view." This will allow you to choose which type of view you prefer to see when first opening Google Calendar (list view or day/week/month view.)
This app allows you to keep track of your schedule in different ways:
-You can enter in all of your daily activities in one section, where they'll appear on the calendar grid with dates and times, or you can create a separate calendar for each category of activity. This way, you'll never have to wonder again if dinner is at 6pm or 7pm—it will always be listed on the Dinner calendar.
-You can attach photos and videos to events that happen within specific dates and times. For example, if someone sends you an invitation asking if you'd like to attend their birthday party this weekend, all you need to do is drag and drop the invitation into your Google Calendar. The event will appear neatly on the calendar with a picture of the invitation and all related information from the invitation time, location, etc.
11. Timepage – A Beautiful custom iPhone Calendar App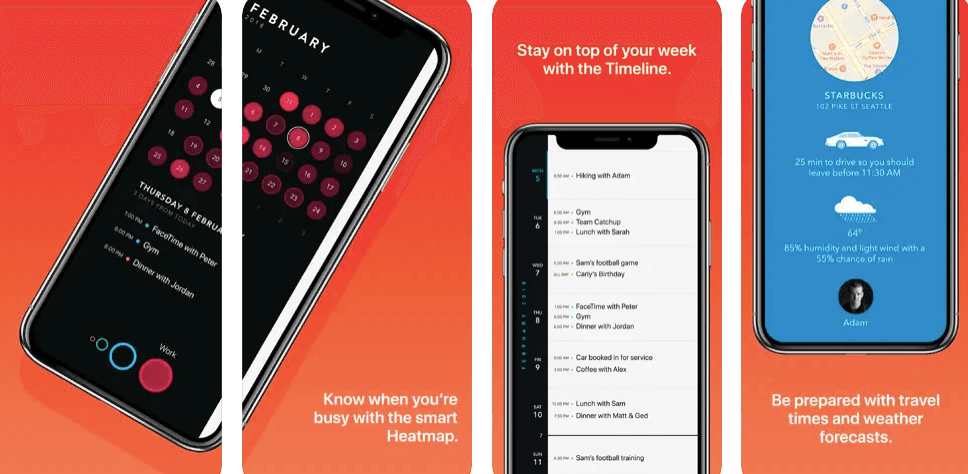 Timepage, the calendar app from Moleskine and Studio Neat, is now available for iPhone. With million downloads, Timepage has helped millions of people organize their lives in a beautiful, easy-to-use way.
The unique Timeline view elegantly combines a mini-month view (with up to 5 mini months visible at once), up to 7 days (adjustable) schedule and event details. The day/week schedule is similar to the classic weekly view but centered on your current day. This lets you see how much time you have left in the day before events or appointments. The event details are shown in a new expanded format that makes it easier to see who's attending an event, on a map or not, whether it's an all day or multi-day event, and if it's private or public.
The new features are just the beginning of Timepage 2.0 — we're working on even more enhancements including support for natural language entry of events, reminders and location based notifications.
In the time-keeping department, Timepage gives you a timeline view for each day that shows all your events in chronological order. You can drag events to different times on the day to reschedule them without affecting other events. There are also options to add notes and photos with every event. In addition to the timeline view, you can see an hourly schedule for each day and add events in specific time slots. The app allows you to see up to seven days at a time (which is helpful if you're traveling or have an upcoming vacation) and lets you color-code which days are business days and which are free days. There's even an option to hide weekends so that you don't forget about them when scheduling appointments or tasks.
The weather forecast feature always includes your location as well as any other locations set as favorites in the app—handy if you like keeping track of the weather at work or home!
12. BusyCal: Flexible iPhone calendar app for managing busy schedules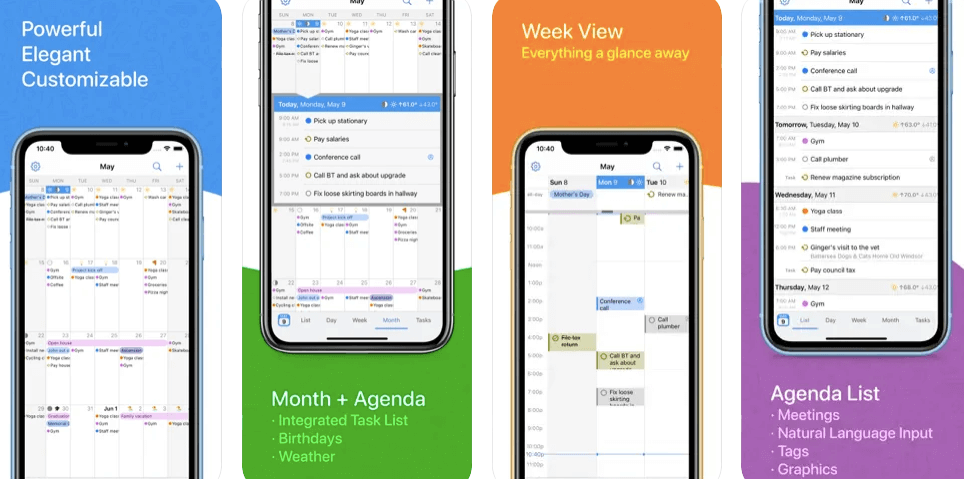 BusyCal is an easy to use task and calendar organizer for the Mac. It's at the core of my daily workflow: I use it to create appointments, events and tasks that help me stay on top of my hectic schedule. BusyCal makes it easy to view and manage your calendar in a variety of ways, from the simple grid-style layout, to a compact monthly view and even a list format that provides you with a quick overview of how your day is shaping up.
BusyCal's unique features include customizable views, integrated tasks, meeting scheduling, travel time, maps integration, natural language input (including the ability to define location by address or coordinates via Maps), alarms (including those that repeat on set days of the week), weather with weather alerts, graphics (including support for AppleScript to add custom images to any event) and more.
My favorite feature is that BusyCal integrates with my other Apple devices, allowing me to sync my calendar between my Mac and iPad so I can access important information wherever I am. From adding tasks on my iPad, to updating my calendar on my Mac, I always feel in control of what's going on without having to constantly check all my different devices.
BusyCal's calendar views provide an overview of your schedule in three different ways: a monthly overview; day view with tasks shown throughout the day; and detailed view of an individual event by day. Each calendar view can be customized to show only the information you need.
BusyCal gives you the power to easily manage tasks integrated into your calendar. You can assign priorities to tasks and set due dates to help ensure that you are on top of deadlines. BusyCal will even alert you when tasks are approaching their due date! You'll never miss another deadline again!
Sharing the same interface as its iOS counterpart, BusyCal is made up of three main windows: the calendar view, which shows your events and appointments; the tasks window, which organizes your tasks into main categories and allows drag-and-drop rearranging; and a side panel that displays any notes you have set up.
In addition to its unique features such as customizable calendar views and integrated tasks, BusyCal offers useful features like travel time, maps integration, natural language input (which automatically guesses what you want to add based on what you type), tags, alarms, search engine that can find events in any category, weather integration with multiple locations, moons phases and calendars for other countries, birthdays (you can add them yourself or it will automatically add them from your contacts), anniversaries, graphics and more.
13. Things 3 – Award-winning personal Calendar manager for iPhone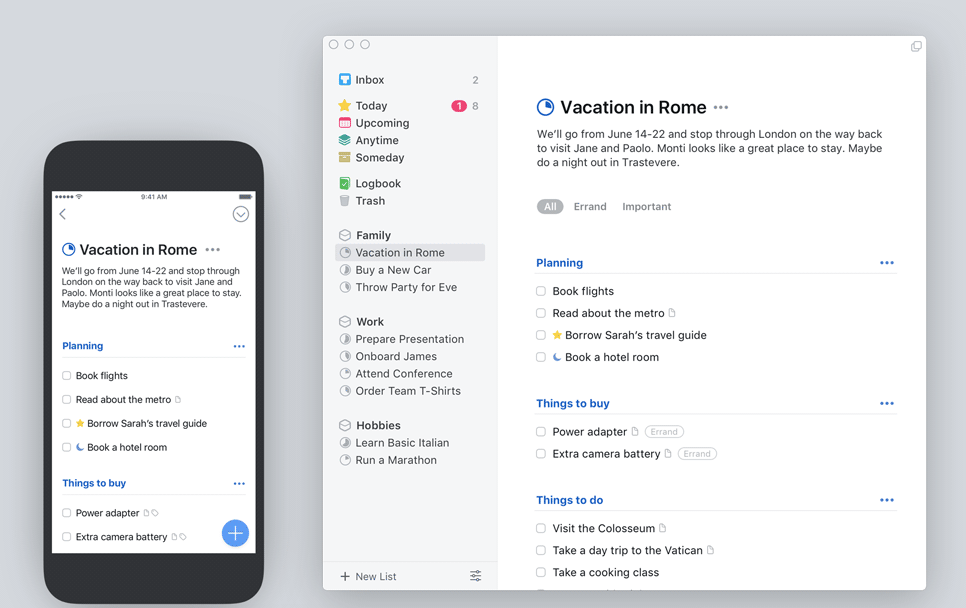 When you think of a calendar, you picture dates and events, but Things 3 is so much more than that. It's a to-do list and a planner for your personal life, but it's also an address book for your professional one.
The new version of Things 3 for iPhone has been rethought from the ground up to give you a sense of your day at a glance. Start with your Today list, where you can see all the scheduled events in a single view: personal appointments, family gatherings, business meetings, and more are organized together neatly at the top of your Today list. Then look below for your tasks and to-dos. Your whole day is laid out before you.
There's a lot more to calendar support in Things 3. To start, you can choose exactly which calendars you want to see. There's the option to show all your calendars, or just pick the ones you use most frequently: Personal, Work, and so on. Then there are the new event popovers. The best way to describe them is as a hybrid between the original Things popover and a calendar view.
Things 3 comes with a new feature called Quick Find. This makes it easier than ever to search for list items, projects, or tags—and even includes support for natural language searches. For example, try typing in "todo with client name starts with P", or "today +todo about my dog". You can even search for projects that are hidden!
They're also introducing the ability to go back in time and see previous versions of your to-dos and projects. Called Time Travel Snippets, they appear as faded snapshots of your items as they existed in previous states. With Time Travel Snippets, you can recall old versions of an item after you realize that what you thought was true is not really what you wanted after all.
This all-new version of Things has been rethought from the ground up: it's got an all-new design, delightful new interactions, and powerful new features that put the power of your personal productivity experience in your hands like never before.
Calendar Events
Things can now be fully integrated with Calendar on the Mac. You can choose which calendars you want to see in Things: Personal, Family, Work, and more. The events are neatly grouped at the top of your Today list. With your to-dos below, your whole day is laid out before you.
Today View
In addition to showing you all of your to-dos for today, the Today view also displays uncompleted items from yesterday and a few days before that. This creates a useful snapshot of what's on your plate right now and what you've got coming up soon—no need to flip between several different views to find everything that's on your agenda for today or tomorrow. And as always, there are two ways to see even more info: just click a date in the calendar popover or open the main view by clicking "Today" at the top of the sidebar.
Multiple Calendars: You now have the option to show or hide calendars in Things depending on which ones are relevant today. You can choose from a number of different calendar types including Personal (birthdays, anniversaries), Work (meetings, deadlines), Lifestyle (shopping lists), and more.
New Todo List: The new Todo List in Things is much more than just a list of tasks—it's now a place for you to capture anything that needs to get done. The power of this feature is revealed when you use it together with Calendar Events; it allows you to plan and capture every little thing that needs to get done as part of an event.
14. Any.do: #1 To do list & Calendar for iPhone
Any.do Calendar is an innovative, advanced and beautifully designed take on the calendar app, task manager and reminder service. It's a must-have for anyone looking to get more done.
Any.do Calendar features:
Access your calendar, reminders and tasks from one app – Any.do Calendar has everything you need to keep track of your daily activities.
Any.do Moment: A daily moment of focus to help you achieve your goals.
Reminders in Any.do are available on all your devices – Whether it's to remember something important while you're on the go or add a reminder that will pop up at the right time.
Priorities: Efficiently organize tasks priority levels with drag & drop gestures.
Any.Do is a simple calendar, to-do list, and reminders app that works across all of your devices—phone, tablet, computer—and integrates with your favorite apps (including Google Calendar). Any.Do's clean design and intuitive interface let you create tasks and events quickly and easily.
Whether it's going grocery shopping or picking up milk from the post office, Any. Do makes sure you never forget a thing. Any.Do is available on iPhone, iPad, Android phones and tablets, Google Chrome web browser, Mac OS X Lion and Microsoft Windows in English, German, Dutch, French, Spanish & Italian.
Lets start with the basics: Any.do is a simple, fast and intuitive task manager that syncs across devices (so you're always up to date), lets you add tasks on the go, organize them into lists, set reminders, prioritize your to-dos with labels and makes sure you'll never forget anything again by sending you timely notifications. (iOS only)
Next we have Any.do's calendar view: swipe right from the home screen to see your schedule for the next 7 days. Tap on a bubble to quickly create a new task or add a reminder. Swipe left to open up your calendar overview and tap on an event to edit its details or add an invitation link (iOS only). If there are events that don't interest you, simply hide them from view in the settings menu.
Any.do Calendar for iPhone is the perfect app for people who need to make sure that their tasks are completed in a timely manner, no matter how busy they are during the day. This app offers a way to keep track of all your tasks and appointments in one place, so you won't have to go hunting around various calendars in order to see what is coming up next. You can use the app to create a wide variety of lists, including tasks that need to be completed, grocery lists, and even fun things like TV shows you'd like to watch in the future. The app's calendar allows you to see at a glance which events are occurring at any given time, so you can plan your day accordingly.
The update includes several new features that allow you to keep track of your daily life more easily than ever before. You can now create reminders that will pop up at any given time during the day—useful if there's something on your mind that you don't want to forget about as it approaches. If you frequently have trouble remembering things, this feature is going to be invaluable for you – it will help ensure that nothing slips through the cracks. The app also has an optional feature that allows you to add photos of your contacts.
The Any.do app is an amazing tool for organizing your life, whether you need to keep track of tasks, reminders, events, or a combination of all three. The Any.do Calendar feature syncs with iCloud and Google Calendar, which means you can use it alongside the calendar on your computer or other devices (like an iPhone or iPad). It's a great way to keep track of appointments, meetings and events on the go.
The app's interface is simple and intuitive to use; when you first open it up, you'll have a clean calendar view waiting for you. If you're looking for something specific, though, the search function makes it easy to find what you need—you can search by name or by date range. You can also swipe from day to day in the calendar view to see what's coming up next week or next month (the whole calendar year is available if you want it).
One of the best features of Any.do Calendar is that it integrates with the rest of the app seamlessly; if there's something in particular that you need to do today or that falls on a certain day in the future, like "Pick up dry cleaning," "Meet with Bob at 2pm," or "Pay rent,".
15. Microsoft Outlook Calendar
The Microsoft Outlook Calendar app is available for the iPhone through Apple's App Store. The app allows users to sync Microsoft Outlook and iCloud calendars to the app on the iPhone.
Microsoft Outlook Calendar provides users with a calendar view of their appointments and tasks. Users can also search for appointments by contact, location, or keyword.
The app includes a calendar view and alerts users when they have upcoming events on their calendar. In addition, it has a notification center that alerts users when they have an event or task coming up that day. There is also an option in the settings menu to allow the app to send notifications for active meetings and events.
Users can create, edit, delete, and move events on the calendar. In addition, they can add new events from the search results screen. When creating an event, users can set reminders for it and invite other people to it. They can choose from several default alert times provided by the app or set custom alert times based on their own needs.
The Calendar app syncs with iCloud, Google Calendar, Yahoo! Calendar, and Microsoft Exchange Server accounts. It also allows users to sync multiple accounts at one time as well as manually sync them using Wi-Fi or cellular data connections.
In addition to viewing individual calendars, you can view all of them together in one place—perfect for when you have shared calendars with other people. The app also makes it easy to add new events directly from the app by letting you add an event via typing or speaking into a microphone.
The app's design is simple enough that anyone can navigate through it quickly. It has four main tabs in the top left corner—Calendar, People, Tasks and Settings. Clicking on any one of these tabs will allow you to access its corresponding features.
To create a new event on the app, simply tap the "+" button in the bottom right corner of the screen. You will then be presented with a new form. Here you can fill out all of the information about your event—the title of it, who you want to invite to it, how many people are attending and what time and day it will take place—and then click "Save." This will add the event straight onto your calendar. You can also edit events by tapping on them if you make a mistake or want to change something about them later on.
Conclusion
So, now that you have seen a bunch of calendar apps, do you know what the best calendar app for iPhone is? If you're looking for one that lets users manage their calendars in an innovative way then we'd highly recommend Fantastical. However, if you love keeping your daily events organized by to-do lists and only need a basic calendar then go with Calendars 5 (Free).
As stated above, Fantastical is a terrific choice for anyone with an iPhone or iPad in need of a solid calendar app. It looks great and it's easy to use. If you're looking for something more robust, however, then it would be worth your time to check out Calendars 5. It certainly isn't for everyone—after all, it does have a few issues—but it's capable of doing quite a lot. Which one you choose to go with will ultimately come down to your preferences and needs as both a user and as a designer.