We're all familiar with the daily task of checking the calendar for appointments, but this task is only getting more stressful as we add more calendars to our lives. On top of work and home computers and phones, there are calendars for the weather, for TV prognosis, for online shopping deals—and that's just the tip of the iceberg. Fantastical Calendar app is a great tool for managing all this information on your mobile devices.
Fantastical Calendar App is a calendar application that provides users with an easy and efficient way to manage tasks. This app is compatible with Mac OS and can be downloaded for free at the Apple App Store.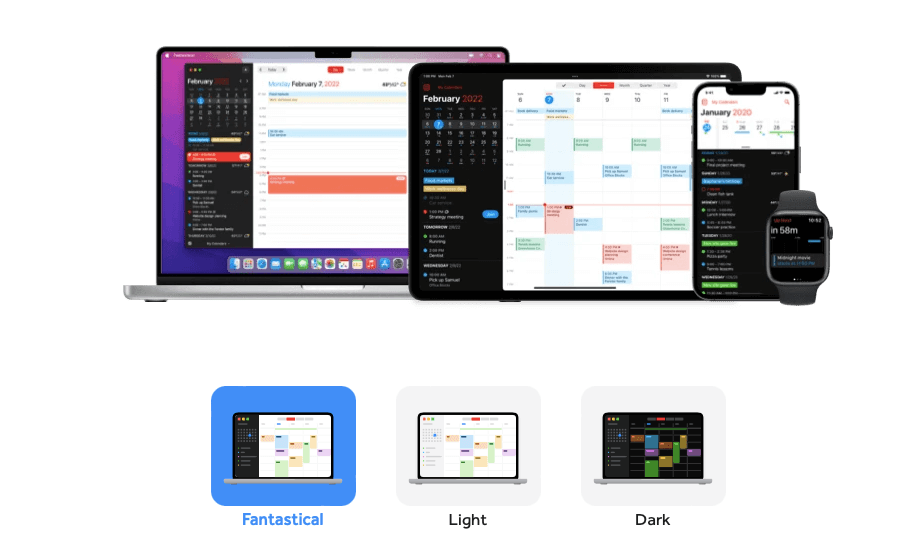 Fantastical is a simple-to-use but powerful calendar management application for the Mac. It has many features that make it an excellent option for most users, including natural language input, multiple ways to view and edit your calendar data, and support for sharing calendars with other users.
The functionality of this app has been integrated into the OS X application, and hence it is not necessary for users to download the Fantastical Calendar App separately. Users can select from different themes such as light, dark, graphite, etc. and choose from three different views: day, week, or month.
The app also allows users to choose different calendars such as business calendar, birthday calendar, etc. for events scheduled in the calendar. Notifications about events are provided through Mail and iCal alerts. These alerts are sent even when the user is offline. The user interface of this app is attractive as it features attractive icons which depict time zones and calendars in a colorful manner.
The device sync feature of this app allows users to view their calendars on their iPhones with the help of iCloud service. Users can add their birthdays in this calendar which will automatically send them reminders on the same day during that month every year. This app supports syncing with several online calendars such as Google Calendar, Yahoo! Calendar and more.
Fantastical app Design
Fantastical Calendar app is a clean and easy-to-use calendar management tool that syncs to iCloud and Google Calendars. It allows you to see your events from all these different calendars in one place, including alerts that sound when it's time to leave or get ready. Its natural language parsing makes entering information a breeze—simply type in what you have to do and Fantastical Calendar app takes care of the rest, automatically converting it into an appointment so you don't have to worry about misspelling anything.
For example, typing "Dinner with Daniel at 6PM on Thursday" will automatically parse it into an event named "Dinner with Daniel" at 6PM on Thursday of that week; Fantastical Calendar app will also let you know if there's already an event with that name when you try adding it.
Fantastical has a unique interface that makes things easy to see at a glance and lets you view your events in different ways, such as list or day view. You can also add calendar events quickly by just typing them out—no need to manually select dates first. Fantastical also integrates with many third-party services, such as Google Calendar, Facebook, and Evernote.
If you sync multiple accounts to your iPhone or iPad, Fantastical takes care of the details that might otherwise get confusing: it displays all the events from all your calendars in a single listing so you can keep track of everything at once.
➡ Best Planner App for Students
The design is pretty minimalistic, with all the basics you'll need: viewing multiple calendars on one screen, creating reminders that can be called up from the notification center, and setting options like how many days to display per month. The app also syncs with iCloud so your calendars will show up on your Mac and other iOS devices you've linked, which is great for keeping track of your plans even if you're not near your phone.
In terms of design and functionality, Fantastical 2 Calendar app for iPhone stands out as a solid choice for tracking your daily activities and appointments. However, there are some features that would make it even more useful.
For example, the app would be great if it had a feature where you could add events from anywhere without having to go into the app—maybe a Siri command or a share extension where you could add an event by just sending an email or tapping an attachment.
The app already has templates for creating events, but they're not always relevant or available.
While the app can sync with Google Calendar and iCloud for those who prefer to use such services, it also synchronizes with Exchange Calendars in a variety of business settings. For calendars that are not synced with Fantastical, the app offers an easy way to manage your appointments that are not on the current day's list.
➡ Best Writing Software for Mac
The interface of Fantastical is very well-designed; it looks like a traditional calendar but includes various unique touches that make it stand out from other calendars available on the market. This includes a feature called "Today," which allows you to see all of your appointments for today in one view within the main screen of the app.
There is also a feature called "Favorites," which allows you to set certain days as more important than others—these days will appear with a star next to them on your main screen for quick viewing and access. All of these features make Fantastical incredibly efficient.
Fantastical Plans and pricing
The basic version of Fantastical for Mac is free to download and use, but does not offer some of the app's best features.
These include tasks support (which will be added in a future update), full-screen viewing of any calendar view, Apple Watch support, collaboration features (which allow users to share a calendar with others for easier scheduling), templates for organizing events ahead of time, and the ability to add birthdays from contacts in your iPhone's contact list.
➡ Tips To Be More Productive at Work
These are all included in Fantastical premium version, which costs $3.33 per year or $5.42 for families with up to five members.
The annual price is a cheaper alternative to paying $5 every single month—a cost that adds up quickly if you upgrade regularly as new versions are released. Both plans offer a 14-day free trial period so you can try out Fantastical 2 at no cost before you commit.
Pricing for the app is competitive with similar apps in its category. The basic version is free and includes all of the features listed above, but it comes with some limitations.
Full-screen displays are limited to one day at a time, tasks cannot be added to the calendar, and collaboration features are not available. Subscribing to the premium version will remove these limitations as well as allow users to add tasks to their calendars as well as create templates.
Fantastical Calendar app fetaures
When you first open the app, you'll be presented with a list of your calendars (email, Google, etc.) at the top of the screen. Tap on one of these to choose which calendars you want to see in the main window. At the bottom of this window are two gorgeous buttons: a moon-phase icon that shows today's date and an icon representing the time of day.
➡ Best Tech Tools for Small Business
The app can sync with your existing Google and Yahoo accounts, get reminders from Evernote and add events to your Reminders list.
You can add several different calendar types to the app, like iCloud, Exchange, Google Calendar and BusyCal.
With Fantastical's natural language recognition, you can type in something like "Lunch with Tim at 123 Main Street on Tuesday at 1pm" and the app will automatically add it to your calendar.
Fantastical will automatically set up time zones based on where you are, so that you don't have to go in and change them manually.
The app is equipped with an alert feature that lets you know when it's time for an event. It also includes a quick entry feature that lets you add an event with a few taps.
See your monthly calendar on an iOS home screen
Quickly reveal a calendar list to add events on the Mac
See a map of upcoming meetings or events on the Mac
Quickly see what's next with a glance at the app icon on your iPhone or iPad
Fantastical also works with your favorite apps and services.
Fantastical has a lot of features that make keeping track of your schedule easier than ever.
Tapping the time-of-day icon brings up your event schedule for that day with all times listed clearly in either 24-hour or 12-hour format. This is a handy feature for those who prefer to keep their days structured by hours rather than minutes.
➡ Best Plagiarism checker for Students
When you tap on any individual event within this calendar view, you'll be taken to another page where you can edit that event's name and its notes (if any). You can also toggle reminders on or off here, which will appear as white circles on your calendar when it comes time for that reminder to go off.
The Fantastical 2 calendar app features a number of great features that make it unique and useful.
First, you can choose between three different icon styles, which is a nice way to customize your device without the need for fancy backgrounds or complicated apps.
The app has a natural-language input feature, so if you type in "Lunch with John at 10 AM," it will automatically set an event for you at 10 AM on that day.
Another great feature is its integration with Apple's Reminders app, so if you want to keep track of things like groceries and bills, you can easily add these reminders to your calendar and be sure not to forget them.
The app has a great week view as well as a month view that lets you toggle between the two for easy reference. You can also share your calendar events with others in iCal or Outlook format, which makes it easy to stay organized when collaborating with others.
No matter what kind of device you have (iPad, Mac, iPhone), this app will let you view your calendar in an intuitive way and get you where you need to go!
Some of the most notable features in Fantastical 2 include natural language parsing and natural language processing. Natural language parsing allows users to create events by typing phrases like "lunch with dad next Thursday at 12pm". Natural language processing allows users to type phrases like "find all my meetings tomorrow" and get results back automatically.
The ability to quickly enter events and see all of your scheduled events in one place, makes this a powerful tool for scheduling.
Besides being able to view all upcoming events on your calendar, Fantastical also allows you to view all of your reminders at once as well.
This way you can see when all of your reminders are due and mark them off without having to go into each reminder separately. You can even set up repeating reminders so you don't have to manually go into the app every day or week.
The ability to view all your reminders at once makes it easy for users to manage their time efficiently, allowing them to focus more on what needs to get accomplished throughout the day.
Fantastical Calendar app – The Verdict
The addition of natural language input and the intelligent suggestions features improve the already smooth user experience of Fantastical. This app is one of the best choices you can make if you want to try a new calendar app.
The layout, the design, and all other technical aspects have been optimized for easy use; this will help you organize your time with ease. The price tag is not negligible, but it's definitely a good investment if you use your calendar frequently.
The best part of this app is the design. The interface is clean and user friendly, with smooth navigation, appealing animations, and handy features. But it isn't all just looks—Fantastical offers plenty of functionality to go along with the sleekness of the design.
It has a slew of extra features not seen in most calendar apps, such as reminders and notes for events, weather reports, holiday lists, and more.
Fantastical Calendar app Review
Sync

Calendar Scheduling

Pricing
Summary
Overall, this is a very well-made app. I'd recommend it to anyone who primarily uses Apple products and wants a good calendar application. If you're looking for more features in your calendar app than Fantastical offers, you'll have to look elsewhere, but if you're looking for a simplistic interface, great design, and an experience that's easy to pick up and learn right away, then Fantastical may just be what you're looking for.