The new age has introduced us to many technological advancements. We are witnessing a revolution in the field of location-based services, which is bringing us closer to our real life. Often we are going on trips with friends and want to know that they are at the same restaurant or some other public place where we can find them easily.
No points for guessing how, but let me share all my thoughts about different location sharing apps, so that you can make your choice easier.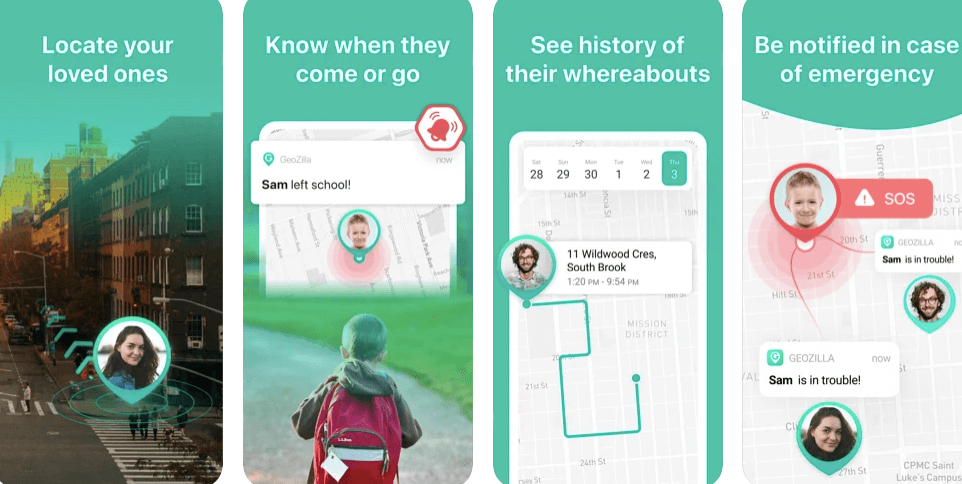 It is common nowadays to share online where you currently are. It can be done by several ways. You can create a journal on social media, add a location to your tweets, or even use tagging in Instagram and Flickr.
Geotagging brings more information to the table by allowing you to visualize the exact location where the photo was taken. A camera app will automatically add GPS coordinates (latitude and longitude) when saving an image. You can then view this data and display it on a map or share the photo with others, specifying the exact location where it was shot.
Location sharing apps have taken off, and it's easy to see why. They provide an easy way to share your exact location with friends and family no matter where you are.
A location sharing app helps make keeping in touch easier than ever before. Location sharing apps require a mutual consent between you and the other individual, otherwise they will not be able to see your current location. There are many different types of location sharing apps, depending on what device you are using. The following are the best location sharing apps available for desktops, mobile devices and smartwatches as of 2022:
There are a lot of people who are concerned about their security. This means that a lot of people want to keep their location hidden from big companies like Facebook, Google, and others. These companies collect massive amounts of user data every day. Breaches are also more prevalent than we'd like and this is why people are more cautious these days.
If you feel like you don't want to reveal your exact location to these companies, you can use other alternatives. You can use location sharing apps for Android and iOS devices. There are different types of apps which provide different features based on what you're looking for in a location sharing app. Some apps may not be worth much because they don't provide many features or have low ratings from users who have tried them out.
However, there are many great location sharing apps available today which offer some very beneficial features.
1 Glympse : Free, Minimal and Easy to Use
Glympse is a location sharing app available for both Android and iOS. The idea is to share your location with someone in an intuitive manner. For example, say you're at a restaurant and you want to share your location with a friend. Or maybe your spouse wanted to know what time you'd be home from work so that he could pick up the kids. Glympse would allow you to send your location without giving a street address or anything like that. The app even allows for a time limit on the sharing, so if it's at the restaurant, it could automatically share for 30 minutes and then stop sharing.
➡ Track Apple Watch: How to find lost apple watch
Glympse is one of the best apps for sharing location information in real time. Since it's location sharing that doesn't take place within the bounds of the app itself, Glympse is surprisingly simple to use. There are no unnecessary steps, limitations, or confusion when sending a Glympse; it only takes seconds to share your current location with someone you trust. Users can be invited to share your location via SMS or email, while the receiver sees a map with a blip every 1 minute highlighting your current location. This is particularly useful for meeting up with friends as well as making sure you don't miss that important business appointment by running late at work.
There's a host of other options as well—sharing through Facebook and Twitter, scheduling a Glympse to last for a set amount of time, allowing your Glympse to be seen by anyone or only those in your contacts list.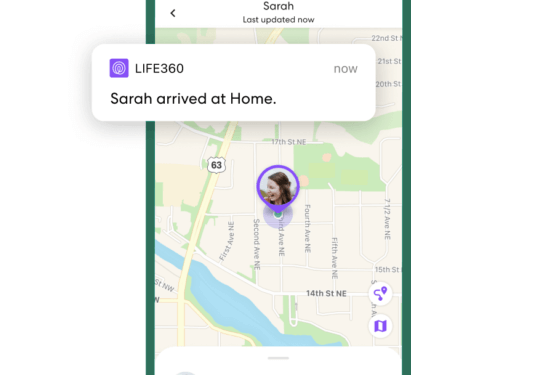 Life360 is a mobile app that combines the power of your family's shared location and advanced safety features, bringing everyone together in moments that matter. Whether you want to ensure the kids get home from school safely or just stay connected with your spouse, Life360 connects your family with real-time updates and one-click alerts.
It allows you to create a private network with all of your family members, colleagues, friends and neighbors. Once you set up your network, you can allow other members in your network to see each other's location on a map when they add their GPS coordinates. You can also use the map feature to let another member know if your child is on their way home from school or how close a spouse or friend is driving to an event.
➡ Does Find my iPhone work when phone is dead
Life360 goes beyond the basic location sharing app by providing safety solutions for everyday life. The innovative suite of family location sharing and safety platform tools allows us to identify potential risks, establish realistic safety plans, and coordinate responses across family members.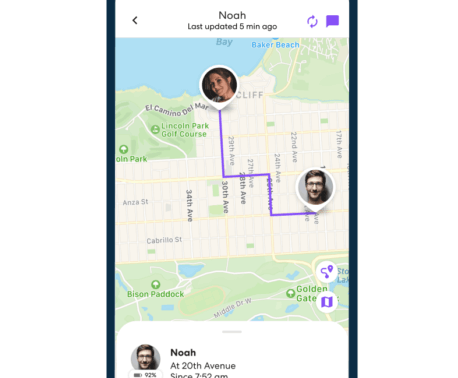 It allows you to share your location and see the real-time locations of your family and friends. Through the app, you can easily see where your kids are at any time. You can also find out who made it to work on time or if they are running late. This can be done while getting all that you require from Life360 like accurate, real-time location information.
You can also set your favorite places on the map so you can get notified when everyone arrives and leaves a location. For example, if you have kids and want to know if they are home from school on time, use Life360 to set a zone around the school. Whenever any of your family members arrive or leave that area, you'll get an alert. To make sure your family is always safe, Life360 notifies you as soon as everyone arrives at your "home" or "work" location.
➡ Does apple watch have gps tracking?
Also read: 7 Most Unsafe – Bad – Worst apps for kids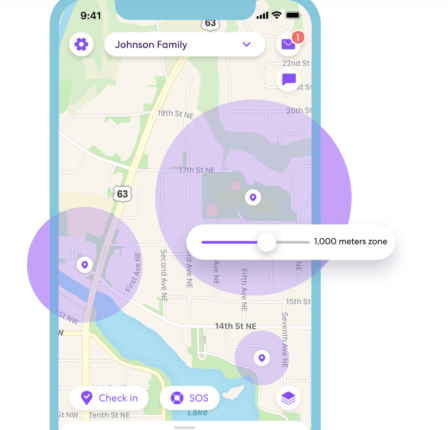 For parents, knowing where your kids are is one of the most important pieces of information you can have! Whether they are out and about with friends, or walking in a dangerous neighborhood, you want to be able to get to your child quickly and safely.
With the Life360 app, you can create "Circles" of people – such as family members and acquaintances – around whom you want to keep an eye on. These circles can be used for two different classes of people – either those that you have specific permission to watch (a Circle of Friends, let's say), and those that you want to keep an eye on but do not have permission. Each Circle has its own customizable radius and appeal options which allow you to extend Family Safety beyond your traditional circle of family.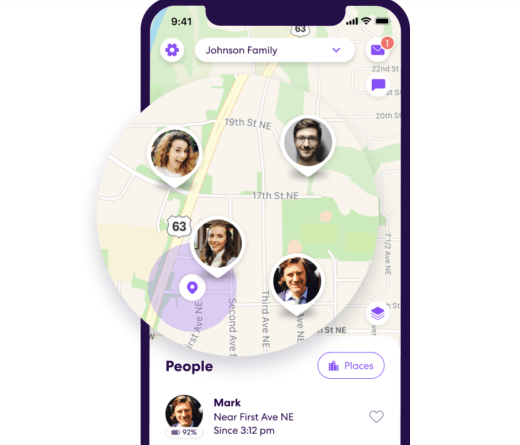 Wherever your family goes, there you are. Everyone in the Life360 family is instantly connected and fully aware of each other's location, all the time. Whether they're on foot, in the car or taking mass transit, every trip and stop is recorded in a live journey log.
With Life360, you can keep track of your family from a distance, share locations with anyone and have peace of mind that everyone is safe and sound. This app offers a number of features including real-time location tracking, voice chat, emergency alert system and the ability to send trackable "bread crumbs" along your route.
How it works:
Download the Life360 app.
Create your private, invite-only family Circle.
Choose the membership plan that fits your family's needs.
3 Google Maps : Best free Location Sharing App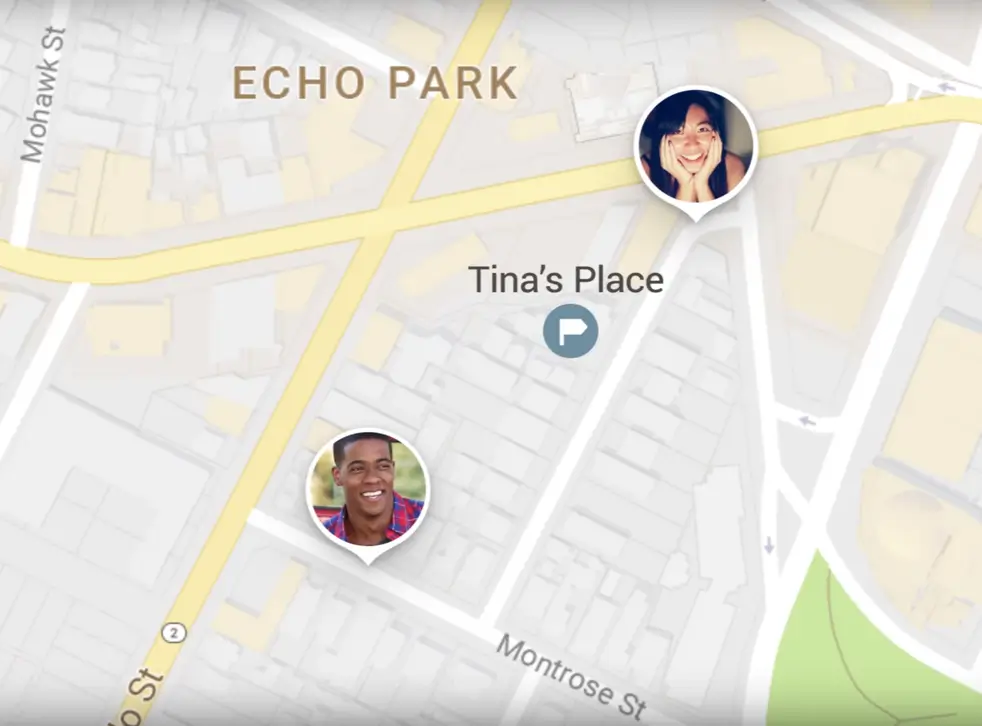 Google has location sharing app feature "Nearby". This app makes it easy for friends and family to check in and see each other on Google Maps. Whether it's meeting up at the mall, going to a movie or simply out at the park, Google Maps allows you to keep track of each other wherever you go. It allows you to retain control by confirming your destination before anyone else sees it. You can also see where everyone is going at any given time as long as you have their approval as well as time stamps for when users are checked in.
➡ How to Share location on Google Maps
Google Maps for iOS relies on a revamped interface and an updated user experience that includes new 3D maps, faster navigation and turn-by-turn voice guided directions. The app also includes new features, such as integrated restaurant reservations through OpenTable, more accurate walking directions, indoor maps in more than 4 million buildings, including shopping malls and airports, and integration with Siri.
➡ How to download offline maps on iPhone and Android
The location sharing apps are pretty straightforward, but if you're looking for one that's a bit less casual and maybe a bit more professional, I recommend using Google Maps. It's sort of the default option. Its location sharing function is actually really good and it's probably the best alternative to Apple's Find My location sharing. You can set it up so that your tracked location is private or you can make it available to everyone. Plus, it's reasonably accurate.
4 Find My Friends : Best For iPhone
To continue the theme of location sharing, another app you might have heard of that does something similar is Find My Friends (Free). Although this doesn't require a third party app or plugin to work, it is only available natively on iOS devices.

It's effective, but it can be a bit slow to set up since the first time it will need to send you an email with a link to accept your invitation to proceed; the second time is much quicker. Once it's all set up, you can easily share your location by choosing from your contacts, entering their email or phone number, or using AirDrop.
➡ LocaToWeb Real time GPS tracking – iPhone Android
I've embedded Find My Friends in other posts before, but it's worth a mention here because it works so well. You can share your location directly via email or SMS, and you can also attach your current location when replying to an incoming text. If a friend has the find my friends app installed on their phone, then you will appear as a blue dot on their map, enabling them to zoom in and out of your location.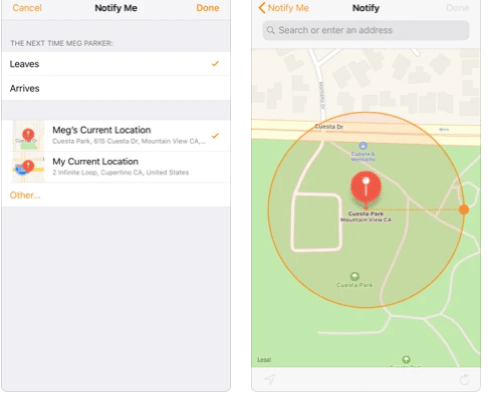 Find My Friends has a great layout that puts the app's information where you want it. Atop the page lists all contacts in your iPhone, either with or without your location: swipe left and choose to Let People See Your Location (default) or Ask Before Showing. To go a step further, you can ask specific groups of people: colleagues, roommates, family members or friends.
It's perfect if you want someone to know where you are on a regular basis. Whether it be a trip to the corner shop, running errands on Friday night or just going for walk around a lake, Find My Friends will help you share your location with those people you see on a regular basis. Plus it's been developed entirely by Apple so that it works flawlessly on your iPhone, iPad or Apple Watch.
➡ How to Count and track steps on iPhone and Apple Watch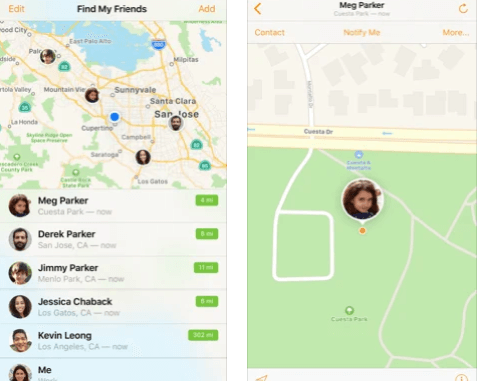 Find My Friends has been designed with convenience in mind, with features and abilities that can really come into their own when shared. If your family often uses an overseas car hire service for instance, you might want to rely on this app to see the exact location of your car at all times, so you can find it easily when you land. You can also see when friends at home are on their way so you can head to a designated meeting place, or stay out of the way if they're running late.
When you use Find My Friends, your location is shared using standard GPS coordinates, so you'll know exactly where your friends are. Plus, they'll know you're sharing your location with them to make it easier to meet up. Each time you allow a new person to see your location, you can choose whether they'll be able to recall your location later or if they can only see it for the next 24 hours.
➡ How to Share location on Google Maps
You can also temporarily "hold" or set an expiration time for each friend's Location Requests if you're only looking to meet up at that moment. With Find My Friends, your location is always private. To prevent any unexpected sharing of multiple locations, there is no option within the app to share a specific location without the other user knowing about it. Whether at home, on vacation or at work – everyone in the Apple ecosystem can now share their location using Find My Friends. Support for 3D Touch gives users another way to quickly access functionality and gives advanced privacy options when using an iPhone 13 or iPhone 12.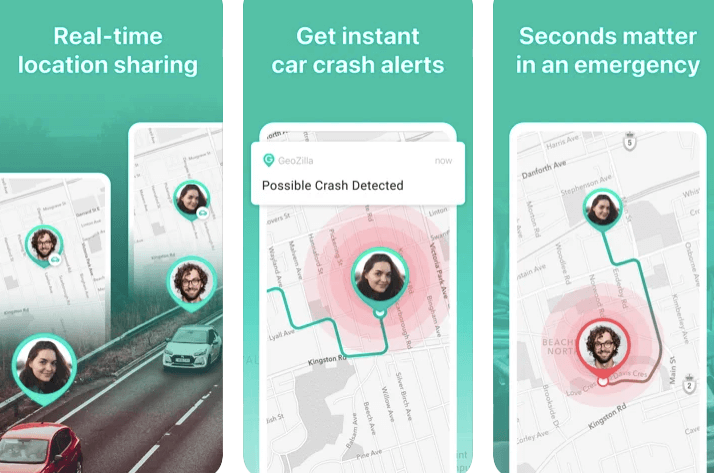 GeoZilla (isn't that the coolest name ever?) is a location sharing app that looks and feels almost identical to Family Locator. Just like a certain other app we've reviewed already, it allows you to know exactly where your friends, family and even pets are.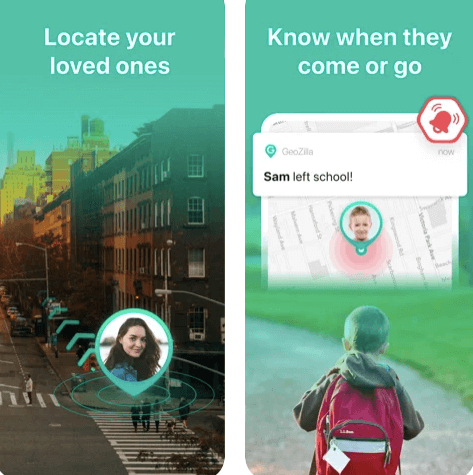 However, unlike our previous entry, GeoZilla actually gives you more than one device per person to find. That might not be as much of a plus as you think — after all, most people have their phones with them at all times — but the feature is nice to have nevertheless.
➡ Can someone track my Phone? Even If it is turned off?
GeoZilla is an easy way to keep track of family and friends anywhere in the world. GeoZilla enables users to share their real-time location, receive notifications when they approach a geo-fence or enter a specific area of interest geofences, track one another's trips to plan meet-ups, get directions to a specific location or your contact's current place, and other location based needs.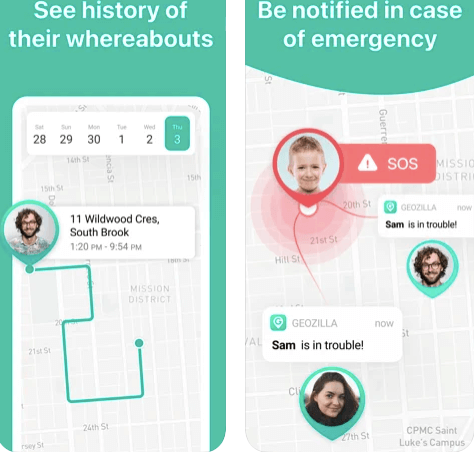 Unlike other location tracking tools GeoZilla's shtick is sharing locations. After a family member adds their location, everyone else can view where they are on a map, get reminders when they reach a certain destination or an errand, and more. It would also be possible to send text messages as well as create groups that can track up to ten different names. The end result is the ability to keep track of people and things in the same way that you do with other forms of social media (say, Facebook), while also respecting each individual's privacy.
No more, "I'll meet you at home" texts when the other three people are already there. No more wondering whether Grandma has remembered to buy her heart medication. If they have Wi-Fi or Bluetooth enabled, they can be tracked down to a street level using the older location services feature.
GeoZilla is a location sharing app that allows you to:
Know where family members are 24/7.
You can see at a glance where family members are located.
You'll know when they leave one place and arrive at another.
Get notified when family overshoots or arrives late.
GeoZilla was made with parents in mind. It allows you to monitor your children's activities safely and efficiently.
Know whether your kids are speeding or using their phones while driving If a child is traveling over the speed limit, GeoZilla will immediately notify you, so you'll know if they're crossing the bounds of safe driving behavior.
Discipline your kids If your kids ignore the rules set by their parents, GeoZilla helps create accountability by allowing you to monitor and control their day-to-day activities as well as view historical data.
Track children's daily habits Using GeoZilla, it becomes easy to keep track of daily movement patterns. This can help you evaluate whether or not something unusual is happening in your child's life.
6 A-GPS Tracker : Best Location Sharing App For Trekking and Outdoors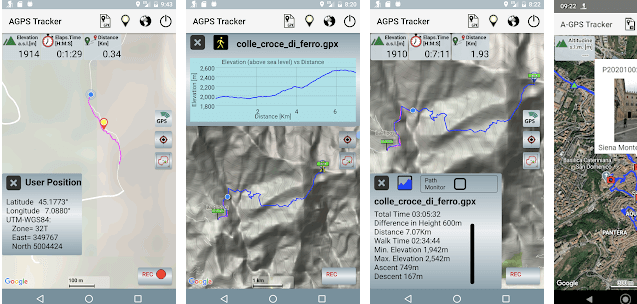 This is an Android app to help hikers and trekkers in marking their routes and avoid losing themselves when returning.
A-GPS Tracker is an application for Android phones that allows you to share with other people your GPS location. This way you can lead some other person out of a cave or survive at least one night in the forest. The original purpose of this app is to accompany hikers. This use case shows the most important features of the app and allows you to get started quickly yourself.
You don't need superpowers to install the app, or to start using it; it only needs minimal configuration. It's lightweight and simple, but powerful and with the cleanest design. It does what it should do and does not waste your battery like crazy (I tested it myself running it on a Galaxy Note 20 for 32 hours straight).
Tracking is a technique that allows you to display the location of a person, pet or object. This can be useful in various situations: when going on a trip, to find your child after school, or to watch your pet. There are various ways to track people. Traditionally, the easiest way has been to ask someone to keep you informed about her location.
However, if there is an emergency or you want more precision in your location tracking, A-GPS Tracker will help you. A-GPS tracker uses a new technology that offers more mobility than traditional GPS systems. It even works in places where traditional GPS does not work, such as indoors and urban areas.
You can add Points of Interests along the way so they know where you are while hiking or biking. The GPX feature will keep your track history and statistics, which is great for planning future adventures. A Track can be displayed on the map, recorded, stored or loaded to/from phone memory and shared with other people. Take photographs along the way and share them with family and friends. Use our GPS Live View to see where you were when taking the pictures, how fast you were going, how long you have traveled since then and where you should be now if still moving at that speed!
Some thoughts on – Best Location sharing apps right now
Every once in a while, you may have need to share your location with someone else. Whether it's for security reasons or for personal monitoring purposes, there are a number of different options currently available across Android and iPhone. When it comes down to the best, however, we can confidently say that Google, Apple and Glympse is leading the way with their apps. It's easy to use, offers everything any two or more people will need for location sharing, and allows for complete control over your children's usage.
The best location sharing app depends on your situation, but all of the apps reviewed here are solid choices for what they offer individually. They're not perfect, but it is easy to see why they would be useful for the right reasons. None of them should be dismissed out of hand, and a solid case can be made for each of them as the best based on your particular needs.
Examining all six of these location sharing apps reveals some interesting trends. All six platforms offer similar services, with developers seemingly working towards a standard set of features for their apps. However, the way in which these features are implemented by each platform is unique. I hope that by examining each app's features and considering each platform's strengths and weaknesses, you will be able to build a better understanding of which app will be best for you and your particular needs.