All Macs are great for graphic design, but there are some models that have the right combination of hardware and software to make the process easier.
When it comes to finding your perfect Mac for graphics design, Apple has you covered. There are a number of different specs that you'll need to take into consideration when looking to purchase a Mac, and also a few factors that will go into your decision-making process.
If you're not quite sure what you want out of your new Mac, or if you are looking to build your own machine from scratch, there are a few things that you should know before beginning your search. 
First, the most important thing is to consider what kind of software you will be using. If you're working with video editing or with other software that requires more power, then an iMac might be the best option for you. If you are doing something more minimal or just working on a few smaller projects, then the MacBook Air or MacBook Pro series is probably what you need. It's important to keep in mind that there are also different versions of each computer (iMac 5K and iMac 4K vs. MacBook Air vs. MacBook Pro).
Once you have made the decision about which model is best for you, then it's time to start thinking about storage capacity if it applies to the model that you've chosen (iMac or MacBook).
In order to find the best Mac for graphics design, you must consider the following:
Retina display: A retina display offers more pixels per inch than any other display on the market today. This means that the eye will see images and text much more clearly and crisply.

Processor: The processor is one of the most important parts of a Mac because it determines how fast your computer will work. If you're using your Mac for graphic design purposes, you need a really fast processor in order to keep up with your projects.

Memory: Memory is also very important because it will help you run multiple programs at one time without slowing your computer down. The more memory your Mac has, the better you'll be able to multitask.

Ports: If a lot of your work uses devices that plug into the computer, such as flash drives or external hard drives, make sure that your computer has enough ports.

Graphics Card : First and foremost, you'll need to think about which graphics card is going to fit your needs. You can find out which graphics cards work with which Macs by visiting Apple's website, but the most important thing to keep in mind is that not all Macs are created equal—so make sure you know what kind of power your Mac can handle before you commit.

Storage : You'll also want to think about how much storage space you want on your computer. Graphics designers tend to have a lot of files and projects, so it's important that your Mac has enough capacity for all of that. It probably goes without saying that more storage means more money—but if you plan on spending a lot of time editing pictures or designing websites and apps, then it's worth investing in a new computer.
Regardless of which model you pick, be sure to read our guide on how to clean a MacBook screen to keep it looking its best.
These are the 6 best Macs' For Graphics Designers
You're a designer, you have your own style. And for you to employ your skills, you'd need the best tools for you to do the job. That's why I'm here to help you find the perfect Mac for your needs. Let me show you how to make the right decision when buying a laptop or desktop computer.
1 14in MacBook Pro – The best Mac for designers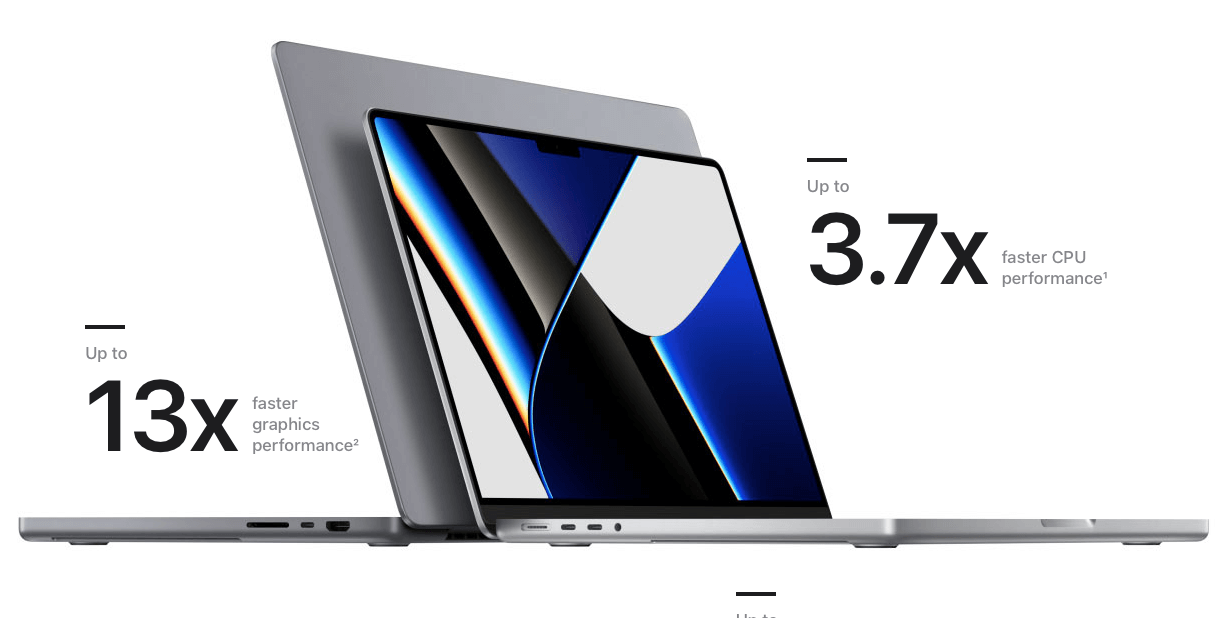 The MacBook Pro 14inch is the ultimate computer for graphics designers. It's incredibly fast, with an 8-core CPU and 16-core GPU, as well as a super high-quality screen that boasts a 1,000,000:1 contrast ratio, XDR brightness of 1000 nits, and adaptive refresh rates up to 120Hz.
It's got plenty of storage space—up to 4TB—and the operating system comes preloaded with the Apple TV app that lets you buy and watch movies as well as stream music and shows from Apple Music and other sources. Plus, Siri is built in so you can ask her what movies are playing at your local theater or even order tickets to one.
With all this power, it's still only 0.59 inches thick and weighs just 3lbs, so it's super easy to carry around. It feels like nothing in your hand! The battery life is also very impressive—you can expect to get up to 12 hours of wireless web or 17 hours of movie playback on a single charge!
➡ Why is my Mac fan so loud? Fix MacBook fan noise
When it comes to a computer for professional graphics designers, many tasks will be easily accomplished with a Mac. For example, iMovie or Final Cut Pro allows you to create high quality videos from your projects. You can also edit photos and create graphics using Photoshop, Illustrator and other popular software.
If you're looking for a Mac that is great for graphic design, you should choose the MacBook Pro 14inch. The 16-core GPU allows you to work with multiple applications at once without any lag time.
The MacBook Pro comes in many different configurations but if you're looking for one that's geared specifically towards graphic design, then you should choose the 2TB version. It comes with 16GB of memory so that your computer won't slow down when you're working on large projects.
➡ Best browser for Mac, MacBook Pro / Air in 2022
The high contrast display allows for viewing both bright and dark images without worrying about the screen washing out. The screen also has a wide viewing angle, so whether you're at an angle or sitting across from your computer, you'll be able to see everything clearly.
The speakers on this device are extremely powerful, so you'll be able to hear everything clearly no matter how loud the music is or how far away you are from the speaker. This is especially beneficial if you need to work in a shared space where other people could be listening to music or watching videos at the same time as you are.
➡ Best External Hard Drive for Mac, MacBook Pro and Air
As an aspiring graphic designer, you want to get a Mac laptop that will let you take your creative vision forward. It's a great time to be a creative person—with new technology, you can design faster than ever before and with more depth. You also want a device that's actually going to work for your profession.
Despite the fact that you have a lot of requirements for your device, there's something great about the Apple MacBook Pro M1—it suits both your wants and needs perfectly because it was made with you in mind! The MacBook Pro M1 has been upgraded from the ground up and is one of the best laptop for professional designers out there.
➡ Best Monitor for Mac Mini (M1) : 4K, Ultra wide
There are many important factors to consider when you're picking out a MacBook for graphic design, but there are a few key points that will make all the difference. The first is the processor—a laptop with an Intel M1 Pro chip will be able to handle even the most complex designs and heavy software. It's also important to select a screen size that will suit your needs. A 14-inch screen is perfect for someone who travels frequently and doesn't need a large work surface, but if you're not mobile, you may want to look at models with screens as large as 17 inches.
2. Mac Studio M1 – Best Mac for creative pros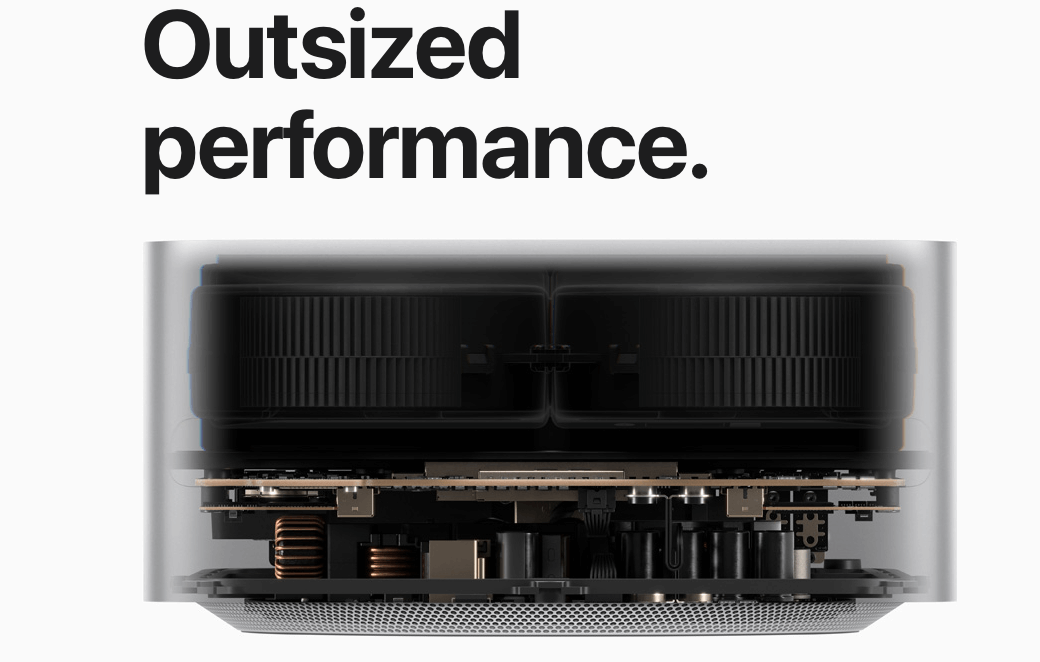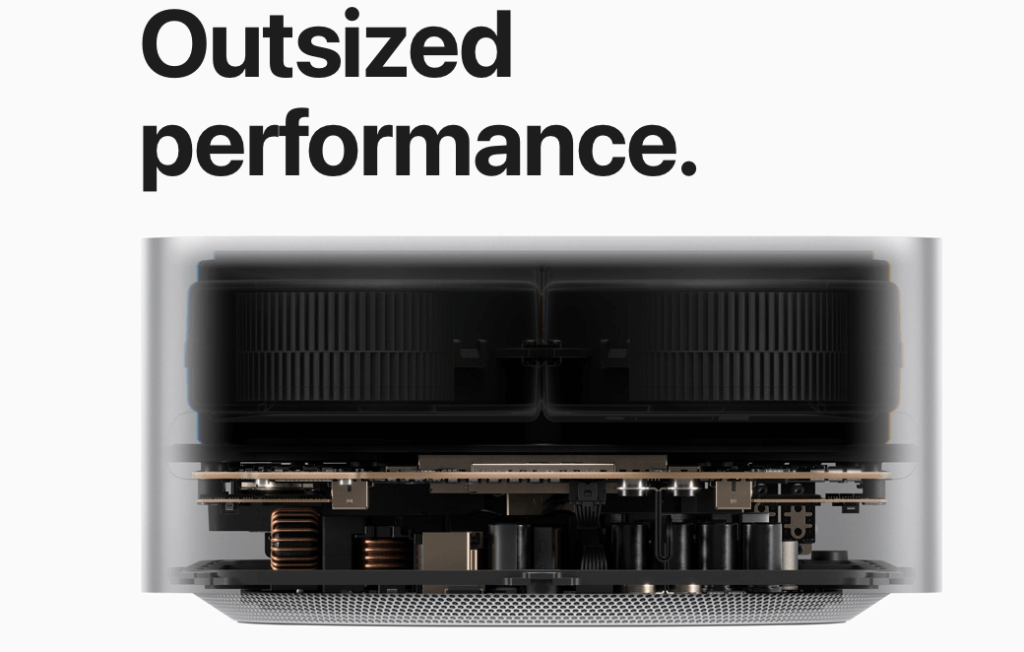 The Apple Mac Studio M1 is the ultimate laptop for graphics designers. It has an ultra-fast 2TB solid state drive, a 24-core GPU, and a 10-core CPU with 8 performance cores and 2 efficiency cores. The Studio M1 has a 16-core Neural Engine, which allows for realtime deep learning and neural network processing, making it easy to create impeccable photos and videos without sacrificing quality. The Studio M1 also has a 32-core Neural Engine, which allows you to process multiple high-end tasks at once. For example, you can edit an image while using AR to scan your subject's body. The Studio M1 has a 32GB unified memory that lets you run multiple apps at once without any lag whatsoever. With the Studio M1, you can display six 4K videos on one screen at the same time!
➡ How to reset a macbook air and MacBook Pro
When it comes to graphic design, Mac computers are the way to go. So which Mac is right for you? The M1 has an Apple M1 Max chip that can handle anything you throw at it, including heavy video editing and rendering. It has a 24-core GPU that can handle multiple tasks at once and an 8-core CPU that can process a hefty workload without slowing down the rest of your computer. The M1 Ultra has a 20-core CPU with 16 performance cores and 4 efficiency cores, a 48-core GPU, and a 32-core Neural Engine, making it perfect for working with huge data sets like those found in photo editing. However, the best reason to choose an Ultra over the Max is its ability to support up to four Pro Display XDRs (6K resolution at 60Hz and over a billion colors) at the same time via USB-C. When you're working on projects for hours on end, having multiple screens open for reference can make all the difference in the world.
➡ Best Monitor For MacBook Pro
When you're looking for a new Mac notebook that can handle your demanding workload, the Studio M1 might be the ticket. With its 10-core CPU, immense memory, and powerful GPU capabilities, it's ideal for the sort of graphics work that so many people need their computers to do today.
The Studio M1's two processors come in two flavors: the Max chip features a faster clock speed and is better suited for intensive tasks like rendering or photo editing, while the Ultra chip is designed for less strenuous jobs like web browsing. It also boasts a whopping 16-core GPU with 48 total cores, so you'll be able to enjoy blistering frame rates on games and other software that takes advantage of CUDA acceleration. By contrast, its top-of-the-line competitors—the Dell XPS 15 and the Samsung Notebook 9—have 12-core CPUs and 8-core GPUs.
It also comes with 32GB of unified memory and 2TB (or 4TB or 8TB) of space on its solid state drive. This means there's plenty of room to store all your favorite programs and files, as well as your computer's OS itself.
The Mac Studio M1 is the perfect machine for graphic designers, photographers, and other creatives in that it has both the power and versatility necessary to create stunning work. It's a bit pricey, but it's worth every penny.
➡ How To Take a Screenshot on a Mac
Visual design and graphic design programs like Adobe After Effects, Cinema 4D, Fusion 360, and Illustrator are some examples of programs that can utilize the extra processor cores to get work done faster than ever before (at least when they're used in concert with hardware like this). You'll be able to edit videos and render 3D animations in real time or near-real time while working across multiple large files in applications like Photoshop without having to wait for hours.
3. Mac Mini – Best Mac for designers on a budget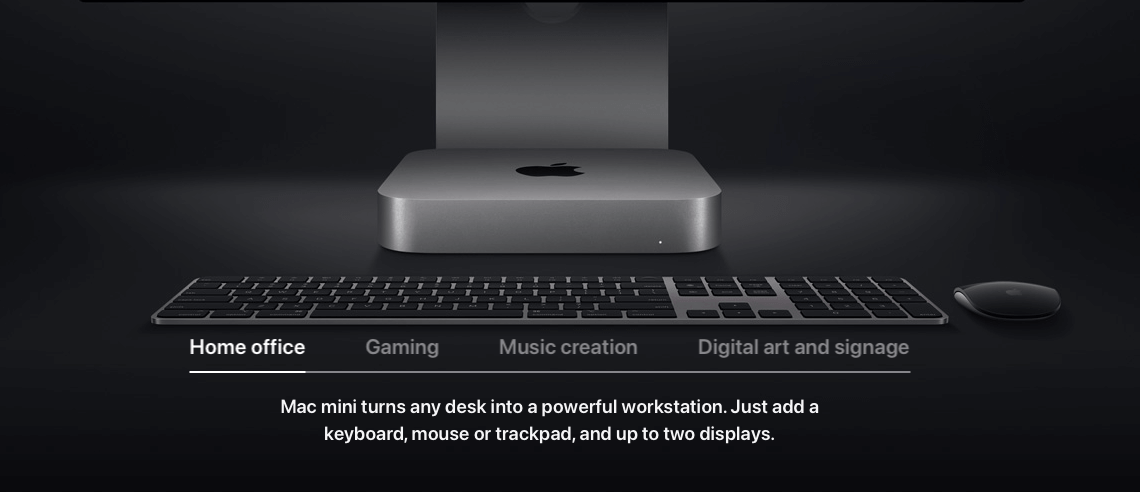 The Apple Mac Mini is the best Mac for designers on a budget.
The Mac Mini has an incredible amount of power packed into its tiny frame. It's small, compact size means that it doesn't take up much space, perfect if you only have a small area to work with. With the Apple M1 chip, 8-core CPU with 4 performance cores and 4 efficiency cores, 8-core GPU, 16-core Neural Engine, 16GB unified memory and 512GB, 1TB or 2TB storage, this computer can handle any graphics design job you throw its way.
This machine can support up to two displays: one display with up to 6K resolution at 60Hz connected via Thunderbolt and one display with up to 4K resolution at 60Hz connected via HDMI. The machine can also simultaneously support multiple displays equipped with Thunderbolt Displays. The 27″ iMac 5K display is specifically made for Mac computers and connects via Thunderbolt 2 ports. And if that isn't enough for you, the machine's support for one display with up to 4K resolution at 60Hz . This is great for those who want to use their Mac Mini for more than just editing photos or videos and who have a need for speed when it comes to rendering their creations.
➡ The Best Calendar App for Mac
The Mac Mini is an excellent choice for anyone who doesn't need a powerhouse of a Mac. This little guy packs a lot of power into a small package and can meet the needs of many graphic designers, especially those with tight budgets.
The Mac Mini has two Thunderbolt ports and two USB-C ports that can be used to connect multiple monitors, hard drives, and other accessories. A wired keyboard or mouse can be plugged into one of the USB-C ports, while a wireless keyboard/mouse set like Apple's Magic Keyboard and Magic Mouse 2 can be connected via Bluetooth.
A very nice perk of the Mac Mini is its support for up to 32GB of RAM. Not only does this allow for more multitasking capabilities, but it also makes the computer much more responsive when editing large files or working with complex images.
With this computer you can run applications such as Adobe Photoshop and Illustrator, Final Cut Pro X, Logic Pro X, and much more!
4. MacBook Pro 16 inch – Most Powerful MacBook for Graphic design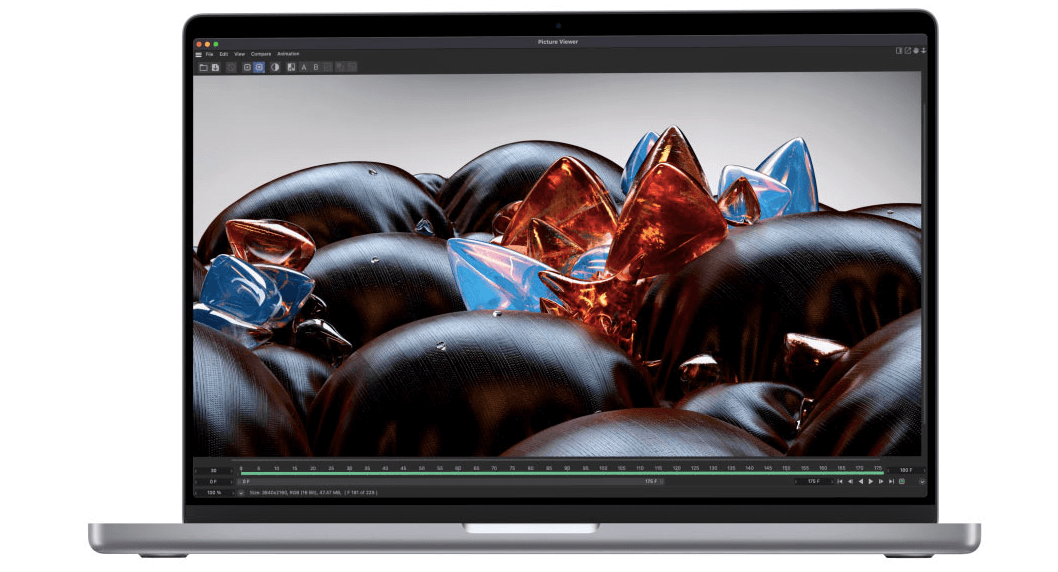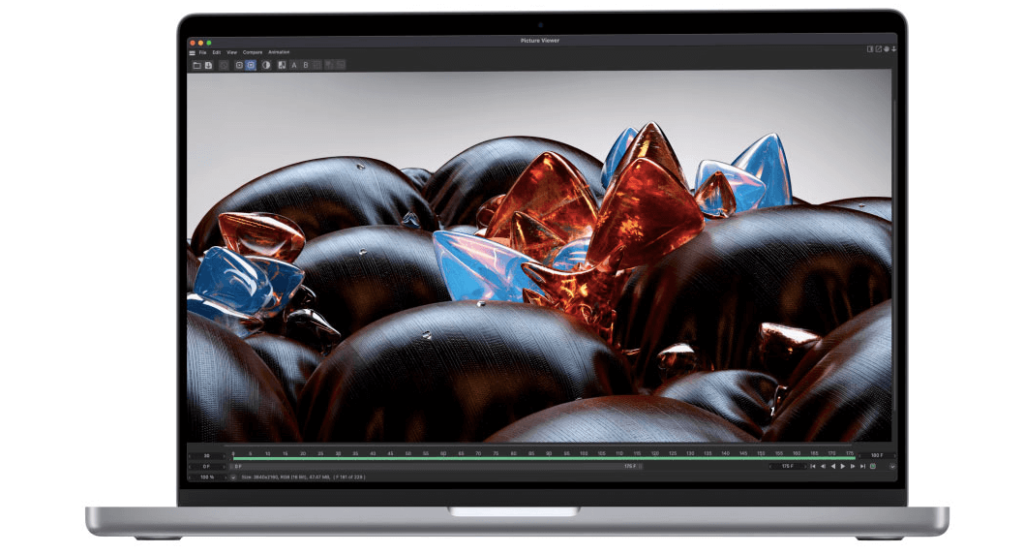 MacBook Pro is the best laptop for graphic designers. This is because it has a 16-core GPU and an M1 Pro chip that makes editing videos, rendering graphics, and running photo-editing applications or using other memory-intensive apps much easier. It also has a Retina XDR display that gives you sharper images, deeper blacks and brighter whites. 
➡ Best Writing Software for Mac
There's also wide color support (P3) which gives you richer reds, greens, and blues. A wide color display gives you greater color accuracy so you can make more informed decisions about your design work. The MacBook Pro also comes with Apple TV app that lets you watch movies on your device with incredible picture quality and immersive sound.
A battery life of up to 14 hours on the MacBook pro lets you work for long hours in one go. If the MacBook Pro isn't enough for what you need, then consider getting the MacBook Pro Max. The Max has an additional four Thunderbolt 3 ports and up to three displays that can handle resolutions up to 6K with one display handling 4K resolution at 60Hz at over a billion colors (M1 Pro). That's not all—the Max can also be configured with up to 8TB of storage.
And when you're comparing the M1 Pro and the M1 Max, take note of the liquid crystal display that Apple has put in place. There are a few levels of quality with these displays, but at Apple they only use the best. And while it may not seem like an important detail, it sure can make a difference when you're trying to do work. The display is what you'll be looking at, after all. And if it doesn't have a good resolution or is too dim or just not right for your eyesight, it can become distracting—even annoying—and that can take away from your experience as you try to focus on your work.
➡ Best Apps for Writers right now
The screen is gorgeous and big enough that you can do all your work on it without having to scroll—it even fits two full pages at once. The keyboard is backlit, so it's easy to see even in dim lighting, and the trackpad has been made bigger so it's easier to click on small things like icons and menu items.
You can output 4K video at 60 fps, 6K video at 30 fps, or 8K video at 24 fps; it's more than enough power to handle anything you need. The display is also record-breaking: it uses technology called XDR (extended dynamic range) that makes the screen 1000 nits bright while reducing glare. There are also new True Tone displays in the latest iPad Pros that make color temperature more accurate based on your ambient lighting conditions—and they adjust that temperature on the fly as you move around.
➡ Protect and Check Your Mac for Viruses and Malware
The MacBook Pro 15″ (2018) has two types of cores: performance cores and efficiency cores. The performance cores are designed to handle graphics-intensive tasks like editing video and rendering 3D models; the efficiency cores are designed to handle everyday tasks like web browsing and word processing, so they use less energy but don't provide quite as much raw power as the performance cores.
The result is a laptop that does almost everything exceptionally well—it can handle heavy workloads and heavy games with equal aplomb.
5. iMac 24 inch – Best desktop Mac for graphic design
The iMac 24 inch is the best Mac to get for graphic design. It's made specifically with graphic designers in mind and here are 5 reasons why.
Not only does it have a beautiful display, but it's also outfitted with an 8-core CPU and an 8-core GPU. This means that you'll be able to run the most graphically demanding programs without any lag or slowdown.
The iMac 24 inch is known for its excellent color accuracy and how easy it is to use in professional settings. The computer comes in a wide variety of colors (blue, green, pink, silver, yellow, orange) so you can pick the one that best suits your personality. The Retina display makes everything on your screen razor sharp, even at 4K resolution.
➡ How to turn on Low Power Mode in macOS
The iMac 24 inch has the new Apple M1 chip which allows it to handle incredibly demanding processes. You'll be able to edit photos, render video, stream live video and more, all while running multiple programs at once.
The 16-core Neural Engine gives you the ability to do machine learning and neural network processing right on your desktop. You won't have to rely on third-party software or be limited by your computer's memory when performing complex tasks like image analysis and more.
The M1 chip boosts your performance and efficiency with 8-cores of processing power, so you can have fast rendering, smooth multi-tasking, and speedy file transfers. The 8-core GPU renders images even more quickly because it's paired with 16-cored Neural Engine, which uses AI to enhance graphics performance and speed up photo editing programs like Adobe Photoshop.
➡ How to Update Mac | MacBook Air | MacBook Pro
Key features:
The M1 chip makes your computer faster than older models without sacrificing energy efficiency.
You get a powerful 16-core Neural Engine that works with the 8-core GPU to enhance your graphics performance and speed up photo editing programs like Adobe Photoshop.
The 1 TB internal hard drive gives you plenty of storage for all your projects.
The USB Type C port allows you to connect to other devices with ease.
There are two models available: one with 256GB of storage, and another with 512GB of storage. The larger model is only $200 more than the smaller one, and it's worth it if you have a ton of files, photos, videos, or music that you're planning to keep on your computer. You also have the option of adding more memory to your computer—it can be configured with either 8GB or 16GB of memory. If you're running a lot of programs at once or are storing large files on your computer, 8GB might not be enough; you'll definitely need the 16GB in order to get the performance you want from your computer.
Apple's iMac line is known for its gorgeous displays, and the 24-inch version is no exception. At 4.5K resolution, it's the highest resolution display currently available on an all-in-one computer. It has a built-in sensor that automatically adjusts the color temperature of the screen to match the light in its environment, making it easy to see vibrant colors whether you're sitting at your desk or working in the kitchen. The new True Tone technology even matches the color temperature of ambient lighting so that whites stay consistent across multiple viewing conditions.
Because this is a Mac, you'll also be able to use it to work with programs like Photoshop and Illustrator, and play games like Fortnite on high settings without worrying about lag or choppiness. You can also expand it with a Thunderbolt 3-compatible external graphics card for extra power if you ever need it—more than enough for photo editing, video editing, gaming and more.
➡ How to sign a PDF on Mac: Write, Add Text in a PDF
There are many factors to consider when choosing the best computer for you. One factor that is often ignored, however, is the display. While the resolution and refresh rate of a monitor may be listed in specifications and on the box, what you see on screen will depend as much on how good or bad your screen is as it does on the resolution itself.
In my experience, there's no better monitor for graphics design than Apple's 4K iMac with Retina display. The screen is beautiful to look at, with the high pixel density giving text a razor-sharp appearance, especially in applications like Adobe InDesign and Illustrator where you're dealing with small type.
Specialized applications like Photoshop benefit from pixel-doubling technologies on the Mac platform that make working in 4K practical by essentially scaling images down to 2K—this is called Retina scaling and it works great in Photoshop and other Mac apps that support it.
It's easy to find yourself staring at this gorgeous screen just to enjoy its beauty—which is more than fine if you don't have anything else to do! But I've found myself getting lost in a sea of pixels when I'm trying to work because I'm distracted by how pretty everything looks!
With the increased pixel density of Retina displays, it can be hard to find the perfect external display. The iMac 24″ is best suited for people who use one external display and want a big screen. It has an extension port that will easily support any standard HDMI or DisplayPort cable. It also supports up to 1 billion colors and has a resolution of 1080p so your graphics will look as good as they can on this size screen.
Bright colors, new patterns, and streamlined designs are what most of us are going for when we replace our old stuff with new. Here's the thing—if you're a graphic designer, your computer is the biggest influence on your workspace. You could have a beautiful new office chair and fresh, crisp-looking furniture, but if your screen is crummy or can't handle high definition video, it's going to be bad for your workflow and hard on your eyes.
For this reason, I recommend getting an iMac 24 inch with Retina 5K display. It has a beautiful design that will create a sleek background for your workspace and its built-in 5K resolution display can handle even the most detailed projects you work on. The iMac takes care of all of the things that you don't want to think about—things like processing power and displaying crisp images—so you can focus on doing what you love best: creating visuals that will bring your ideas to life!
Why designers prefer Macs?
For a lot of graphics designers, the choice is between a Mac and a PC. A lot of people are firmly in one camp or another, but for those who aren't sure which is best for them there are some things to think about.
Despite the fact that most people tend to think of Apple products as being for Mac users, Apple has a lot of fans in the design community. One reason designers prefer Macs is because of the operating system. macOS (the operating system for Macs) is a Unix-based system, which means that it's incredibly stable and well designed. This is also why it's so hard to hack into a Mac. Designers also love that OS X has built-in tools for them, like Aperture and Final Cut Pro. These are high-quality programs that make photo editing and video editing much easier.
"Macs are just easier to use," says graphic designer Stephanie Noel. "They're intuitive and simple to understand."
The simple answer is that Macs are optimized for the kind of work that designers do, whereas PCs and Windows operating systems aren't. Most designers use Adobe Creative Suite programs—Photoshop, Illustrator, InDesign, and so on, which run natively on Macs but require some tinkering to get running smoothly on PCs. And even when a designer's toolset doesn't rely on a specific platform, the creative process is still much smoother and more enjoyable on a Mac because it's the computer that suits their needs best.
The main reason why designers prefer Macs: they're easier to use! This is true in general, but especially true during the graphic design process. The layout of the keyboard is simpler (with less clutter; no extra buttons or features to learn or use), and it's laid out in a way that feels more comfortable for those of us who type frequently. The trackpad makes it easy to zoom in and out while designing and moving around images.
If you're a designer, it's likely that your computer is the tool of your trade: it's how you make money and get work done, and how you express yourself. It's no surprise then that most of us want to enjoy working on our computers as much as possible.
The biggest difference in Macs that makes them more enjoyable is the hardware. The tools we use to create art on the computer—the software—is generally the same across platforms (Mac, Windows, and Linux alike), but even minor differences in hardware can subtly impact how enjoyable or frustrating it is to use a computer for a long period of time. For example, every Mac comes with high-quality input devices: Apple uses its own Magic Mouse and trackpad because they're the best ones available on the market. There's no need to spend extra money on a third-party mouse or trackpad if you don't have to—and if you have used one of Apple's mouse or trackpads before, you know why this is so important.
Macs have always had a reputation for being better for graphics design than PCs, and that's been true for years. The first reason is that they're made by Apple, which is known as one of the top brands in the field. Apple has always been focused on making computers that are beautiful as well as functional. The second reason is that Macs can be customized to meet your specific needs and preferences, which not only makes it easier to get exactly what you want, it also makes the computer more intuitive to use because you're not fighting against it—the way someone who's used a PC their whole life might feel when using a Mac. There's no denying that they're pricier than PCs, but if you do graphics design work, it's hard to say that they're not worth it.
Macs have a long history of being used for graphic design. In fact, Apple's first computer was a Mac built for its employees so that they could use Apple's own software to create brochures, flyers, and ads. It was also a way to get employees excited about technology. Today, Macs are still preferred by graphic designers because they're powerful machines that handle processor-intensive tasks such as editing video beautifully without crashing or running out of memory. The operating system even has an optional feature that prevents apps from draining resources in the background when you're using other apps—a problem that often occurs with Windows PCs.
If you don't mind getting into some technical details, here are some other reasons why many designers prefer Macs:
What designers need from a Mac
The computer is the foundation of everything graphic designers do, so it's no surprise that they have very strong opinions about what makes a good computer. It's important to remember that just like any other profession, graphic design is a wide field with many different specializations, and each designer has their own personal list of requirements for their dream machine. That said, there are some basic things that all graphic designers need in their computers.
For starters, a good graphics card is crucial—this is the component that translates the designer's commands into action on the screen, and it can make or break their experience depending on how much they push the limits of what their computer can do. This means that it's also important to have plenty of RAM (memory), a fast processor (the brain), and an efficient hard drive (the storage space). The last thing you want to be doing is waiting for your computer to catch up with you when you're trying to work!
In addition to being powerful, most designers agree that Macs are more stable than PCs, which makes them great for long-term use in a fast-paced environment like graphic design. Macs also tend to be easy to use and come equipped with high-quality software that doesn't cost extra. When you factor
A large screen: Make sure your monitor is at least 27 inches. It's easier to work with photos and design mockups when you have more space, and it's easier to see what you're doing when you don't have to squint. It also gives you a lot more room for those full-page designs that are so essential for the modern designer.
A powerful processor: It might seem like a waste of money to get a top-of-the-line Mac Pro when all you really need is Photoshop and InDesign (or any other individual app), but the truth is, if you're going to do something like photo editing or graphic design, which requires a lot of power in order to run complex processes quickly, then it's worth spending the extra money on hardware that will make your life easier down the road. If you're going to spend hours working on something, wouldn't it be nice if there were no lag? The only way to get around that is by buying the best laptop for designers, or even just those with too many responsibilities and not enough time.
Also, check out some of the apps that come with your Mac today. A lot of them have features that can save time while designing graphics or editing photos—find out what they are! It's also good practice to take screenshots of all the things in your menu bar so that you don't forget any of your preferences later on (or if something corrupts). Remember: graphics designers often find themselves having to switch from one operating system to another at some point or another—so it never hurts to learn how to use your tools as efficiently as possible!
Must-Have Mac features for Graphics Designers
One of the most challenging parts of transitioning to Mac is learning a new operating system, and it can be intimidating to even think about learning new software (it's one of those things you don't think you need until you can't do without it). However, if you're a graphics designer, there are some features that Mac is just not going to leave out—the kind of features that redefine how you interact with your computer.
Open multiple programs at once:
The ability to open two programs at once is a blessing for designers who use multiple applications for different tasks. Not only does this save time and allow for greater efficiency in completing tasks, but it allows for design work to progress on multiple fronts concurrently. For example, if I'm working on a website design in Photoshop and want to check the color scheme in Safari, I can have Photoshop and Safari open at the same time (which used to be impossible) so that I can quickly make changes as needed. Other programs that designers find useful are TextEdit and Pages (which both make document creation easier) or Preview (for quick image editing).
Composition Window:
Another important feature for graphic designers is the ability to have multiple windows open within one program. The most common example of this would be Adobe Photoshop. Within Photoshop, one window displays your document while another has all of the tools you need for modifying it—allowing you to keep both visible and easily accessible at all times.
Full screen apps:
Working in multiple windows can get cumbersome, especially if they're small windows. With Command+Control+F, you can quickly make all of your open programs fullscreen. It's useful for editing several files at once, or just for concentrating on one project at a time.
Finder Tags
The Finder Tags feature allows you to assign colored labels to a file or file type. For example, if you have a lot of files with different versions of the same logo, assigning them all the same color will make it easy for you to find them when you need them and sort them out later when you need to delete or update the older files.